The on-demand economy continues to develop at breakneck speed: experts predict that by 2025 the market of mobile apps will reach the point of $335B.
Such a rapid evolvement is based on the high demand for online booking and delivery services that take up a large share of the market. 
We all get an uber ride to work/home, order pizza with DoorDash and arrange doctors' appointments via ZocLoc or a similar platform.
On-demand mobile apps match service providers with customers who want to solve a task immediately. With different niches continually expanding, the whole industry flourishes and thrives by making our liver ultra-easy.
We help startups scope requirements and plan the development of their products. Request a free consultation with one of our business development managers if you need guidance.
Get in touch
If you're still hesitating whether or not to join the party, read our guide on-demand delivery app development and draw your own conclusions.
Benefits and challenges of on-demand app development
There are several groups of applications for instant booking and delivery:
Besides, mobile solutions differ by the type of users:
The above names use the concept of sharing economy. It has already transformed traditional business models into more advanced focused on efficient and economical usage of materials and resources.
PwC has a great definition of sharing economy: users share their idle capacities and resources on an on-demand basis usually via an IT platform, based on trust, ascribing particular importance to personal interaction and the community experience, with an eye on sustainability.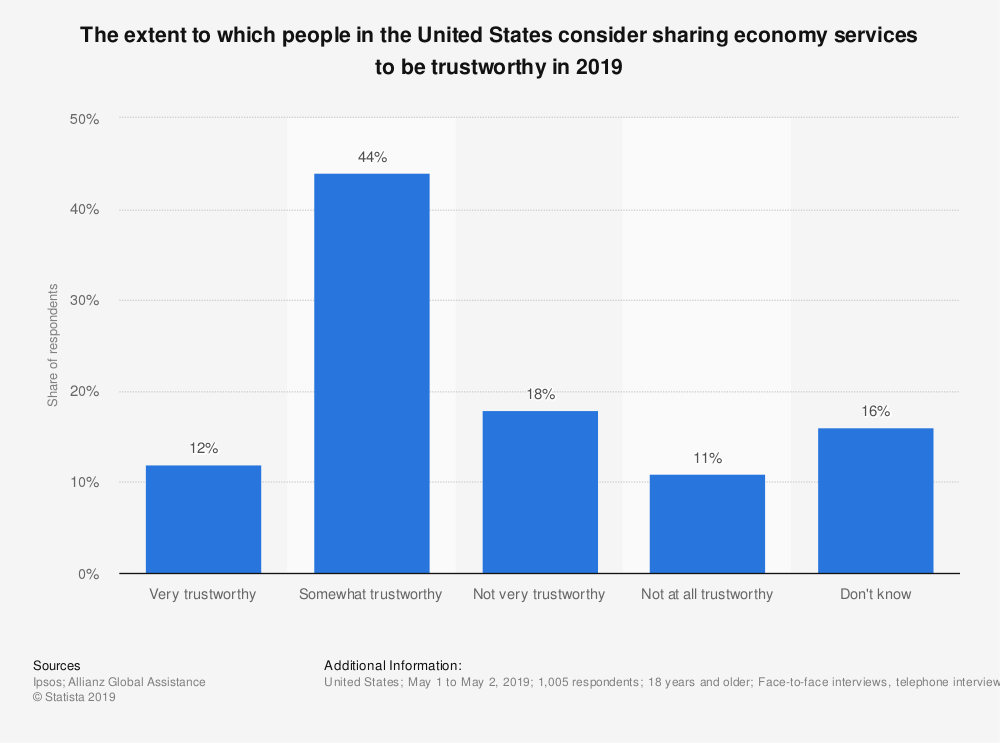 The main drivers of sharing economy and on-demand delivery app development are:
the transformation of consumer behaviour from irrational to more efficient;

technological progress and appearance of new digital platforms and devices;

globalisation and shift from solo to community-based consumption choices.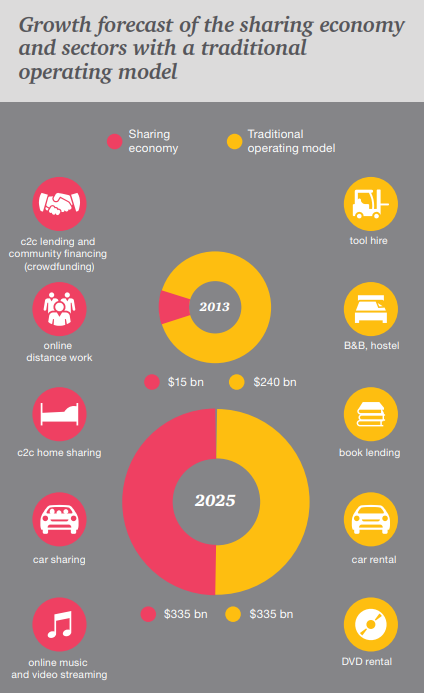 Why do so many companies choose the "creative disruption and enter the "on-demand services sector?
There are several reasons:
successful experience of similar companies grown from startups to multi-billion enterprises; 

the ever-growing demand for sharing goods and services;

opportunities to attract seed capital from investors through crowdfunding platforms;

perspectives to make a profit on mediation between service providers and end-users;

fewer risks and more cost advantages in comparison with traditional business models;

better chances to enter the global market;

ability to control quality consistency and strengthen brand loyalty.
Users and the global community greatly benefit from the expansion of the sharing economy as well.
People get 24/7 access to the necessary products/services on the go. Whenever you feel bad, you can get a medical consultancy just with a tap of a finger.
Sharing economy help people be more cost-conscious and mindful in everything related to consumption.
With Spinlister-like apps, you don't have to buy the necessary equipment, and you can use someone's idle capacities.
Through sharing-based educational platforms and apps, students all over the globe can increase their competence and acquire new knowledge for free.
And, what's more, sharing economy and on-demand applications facilitate peer-to-peer relations. For instance, couch surfing is a great way to make new friends in different cities and countries.
It's a challenging task to build on-demand mobile solutions. The competition is fierce and, to make a difference, you have to deliver value and be unique.
Among the pitfalls turning this domain into a steep path are:
the necessity to conduct solid market research and identify users' pains;

difficulties in choosing the right tech stack to ensure an app's reliability and scalability;

high development costs rooted from sophisticated app architecture, custom design, bespoke functionality;

strict security requirements to solutions processing user data and financial info.
Keep reading to learn core features to integrate into you on-demand mobile app.
Building an on-demand app 101
Since there's a vast array of solutions catered to different user needs, we've decided to combine the main features of on-demand apps in one list.
Live search. No matter, either you deliver restaurant meals to the door or have a database of medical specialists, this feature should be in your app. Predictive search results, advanced filters, and saved results will be of much help in the user's quest for your products or services.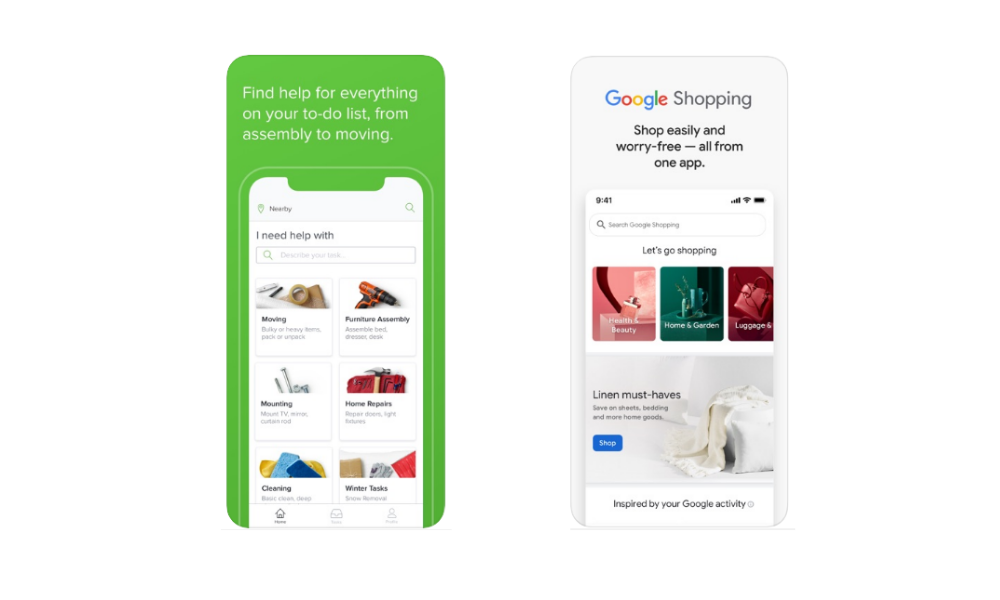 Online booking and ordering. It's the primary goal of on-demand services. The procedure should be easy, fast and engaging. People should be able to complete it in several: find a product/service provider, add to the cart/order/book, confirm a payment. Note that many apps have "Favourites and "Order history features where users can find and repeat their previous orders/purchases.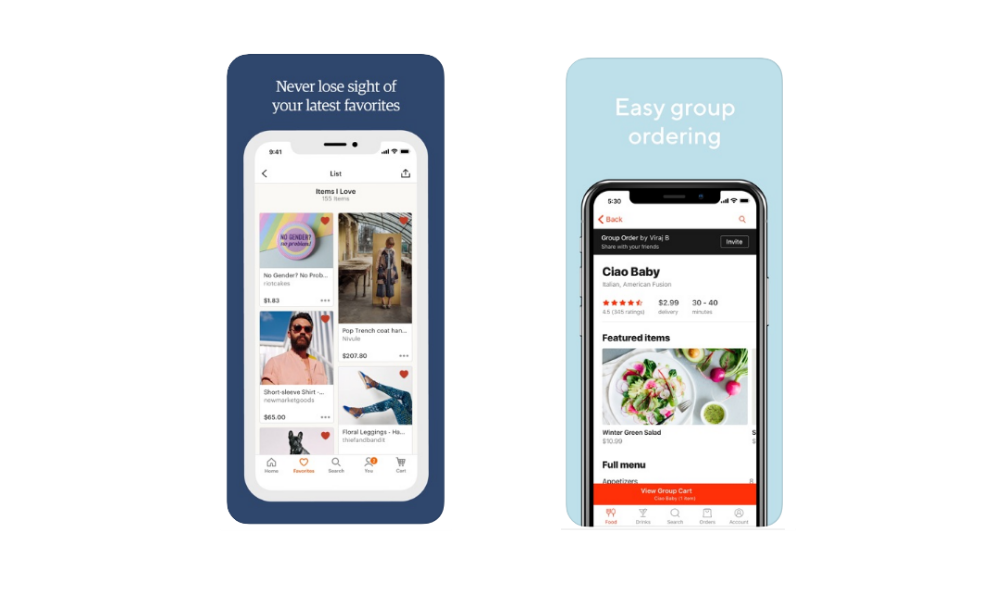 Live tracking. If you have a business in food or grocery delivery, then this function should be in your app by default. With real-time monitoring the order status, clients are always aware of the courier location.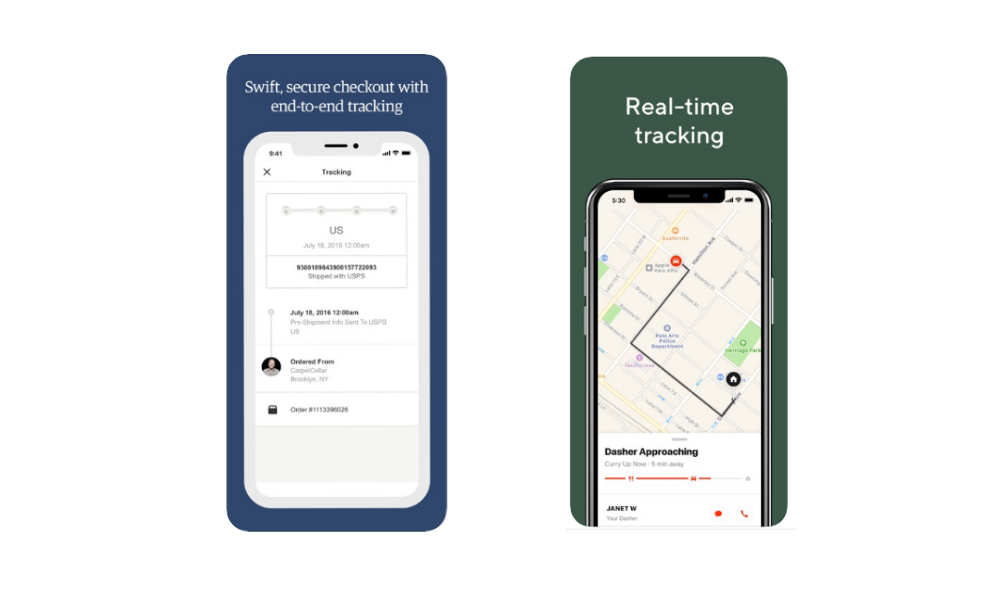 On-time delivery. Another essential thing for your online courier services. Let people order a meal or grocery for now or choose a convenient time slot.
Payments. The chances are that you will integrate the platform with a payment gateway provider. Make sure that users can choose a convenient payment method and rest assured that their transaction will be safe and sound.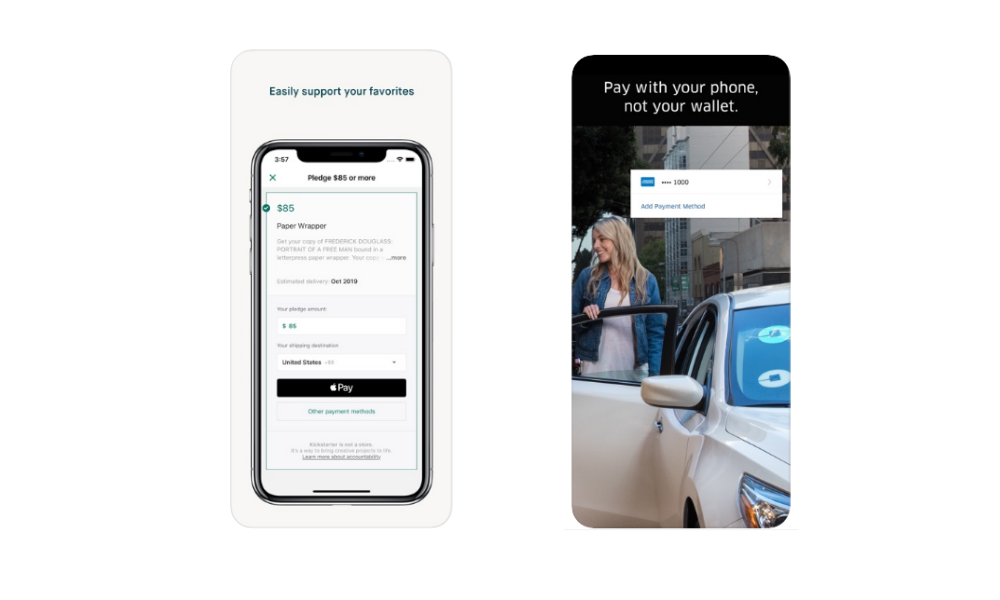 User accounts. Every platform that offers on-demand services should come with personal accounts for users. This is an area where people can store their personal and financial info, tweak settings, keep wish lists and order history. In some apps, you can manage gifts and group orders within user accounts.
Ratings and reviews. Are you like Uber, or Airbnb or Google Express? If yes, you need to add "Reviews module to your platform. People are likely to trust each other rather than catchy headlines and CTAs to make any buying decision, be it a room booking, present purchasing or hiring a secretary.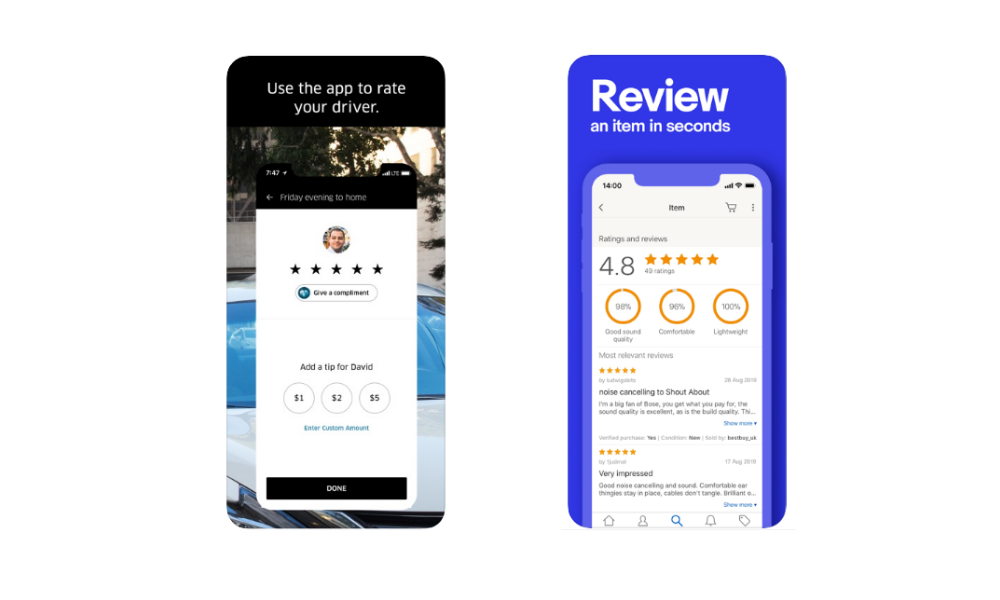 Client support. Any users' issue from how to sign up to resolving payment nuances should be solved in no time. Incorporate a live chat with human assistants or create self-service portals that work well too. If your app is for matching individual service providers with those who need the job to be done, make sure that workers and clients and communicate effectively.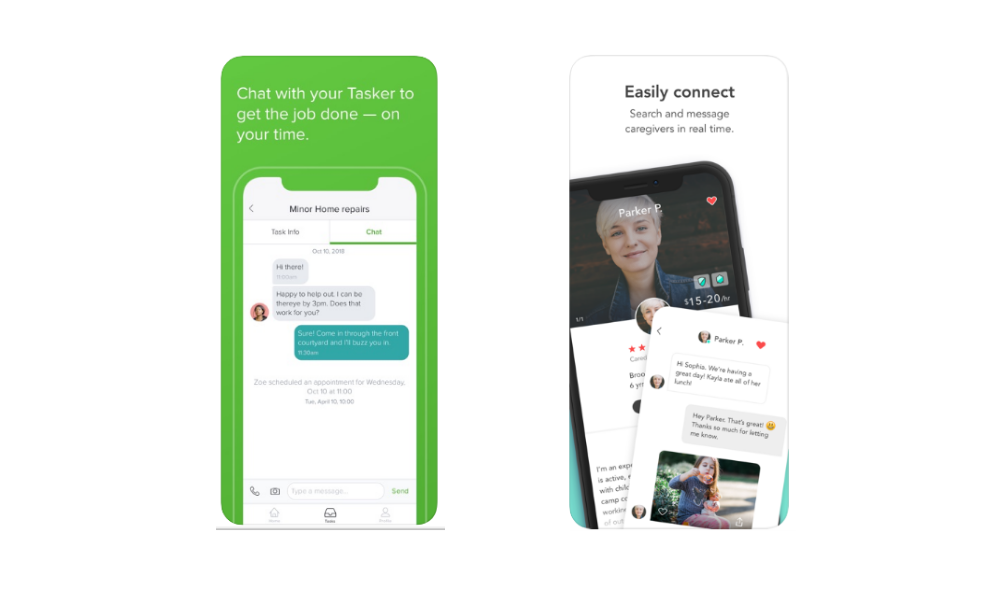 Since on-demand applications should come with admin dashboards for businesses who provide services, you need to consider this functionality as well. 
Features you may need:
customer management;

product management;

order and payment monitoring;

statistics and analytics;

delivery tracking.
On-demand service apps: successful cases
On-demand apps are also known as Uber-like solutions. It means that any company can adapt the model Uber for X to the distinctive features of its business and have a bright future.
Now let's look at other equally successful use cases of on-demand mobile apps.
Bolt
Bolt, previously known as Taxify, is a ride-hailing company from Estonia. Recently the company has done the rebranding to adjust the company name to a new shift in the business vision. 
The company is launching a new service — electric scooter services and the name Bolt better reflects the company's competitive advantage.
In 2018 the company had 10M users in 25 countries, and recently it has expanded it to 30 countries and now servicing 25M users. 
Among the greatest challenges Bolt has faced so far were difficulties in entering the UK ride-hailing market and getting the licence for providing services in this area.
The central belief of Bolt' founders is that being a late entrant can be beneficial: you don't have to educate the market and invest vast sums of money into R&D.
ZocDoc
We've already mentioned ZocDoc in our article about on-demand app developers for doctor's scheduling solutions.
It's a feature-rich helper in your health care journey. ZocDoc users can instantly compare medical professionals, check schedules and book appointments.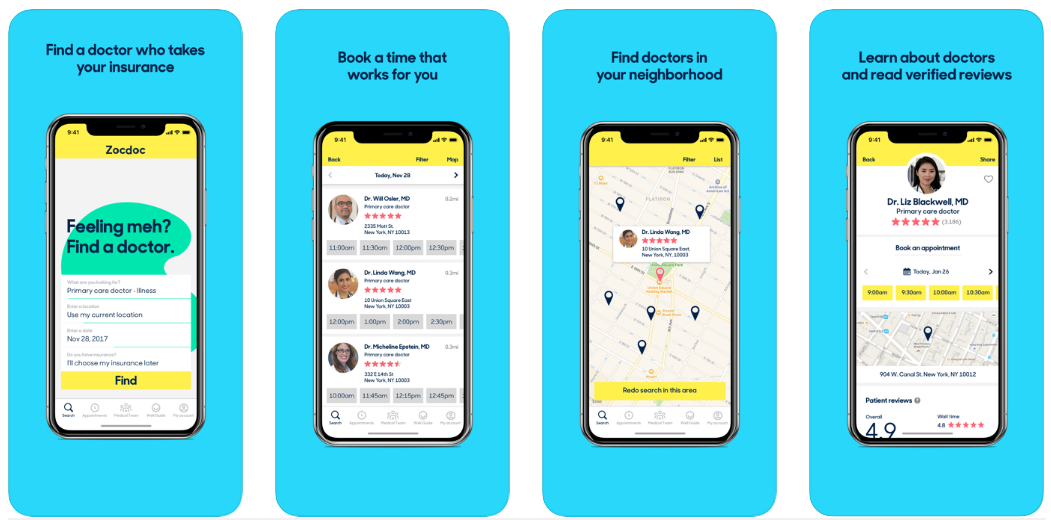 ZocDoc is considered to be a unicorn healthcare startup that is valued over 1 billion and the most-funded American-based application.
What's behind a fantastic performance of ZocDoc? A few effective strategies.
they put the users' convenience in the spotlight by offering same-day appointments, which is critical to mobile healthcare business;

the user-centred approach helps ZocDoc identify clients' pain points and develop features to solve them;

real-time availability of the ZocDoc app allows patients to sync their calendars with doctors' schedules and check unused appointment inventory. 
These strategies help ZocDoc get $113.5M in revenue annually.
DoorDash
If you're about to create an on-demand delivery app for food or groceries, check our blog post with a tech overview of DoorDash features.
In this article, we'll highlight the business strategy of DoorDash that is the leading company in the meal delivery sector.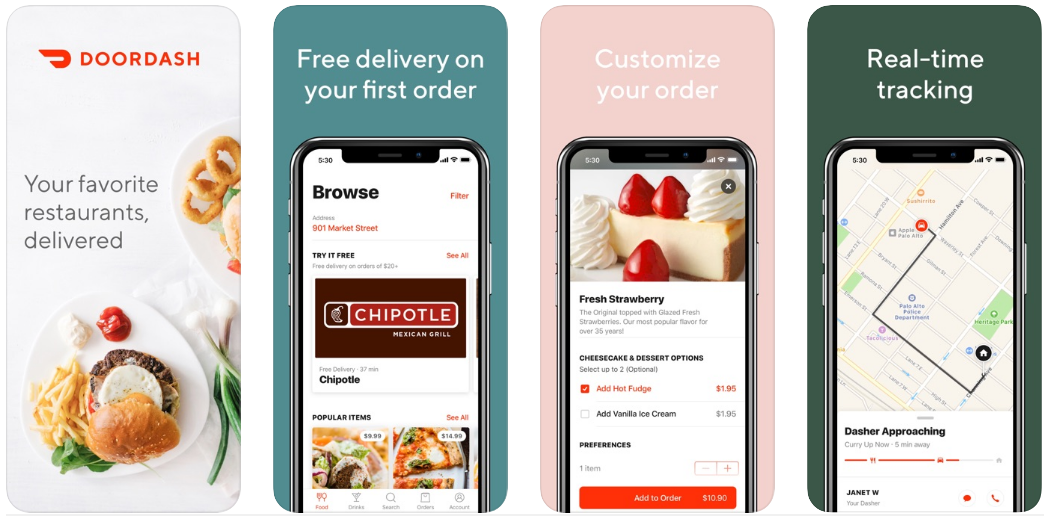 A few facts about DoorDash:
market share —

35%;

an annual increase in sales —

114%

as of October

2018

;

the overall market growth —

40%

as of October

2018

;

the company valuation is reaching

$13 billion.
DoorDash started as an enterprise delivering food around the Stanford campus, and in 3 months, they have raised $120,000 in seed funding from Y Combinator.
Unlike rivals offering food from any restaurant with its own delivery-system setup, DoorDash managed its own drivers. In this way, the company helped local startups grow, provided underemployed people with flexible work, and delivered value to customers.
Throughout the years of its existence, DoorDash has expanded geographically, added new types of vehicles and product categories, applied cutting-edge technologies to provide an excellent user experience.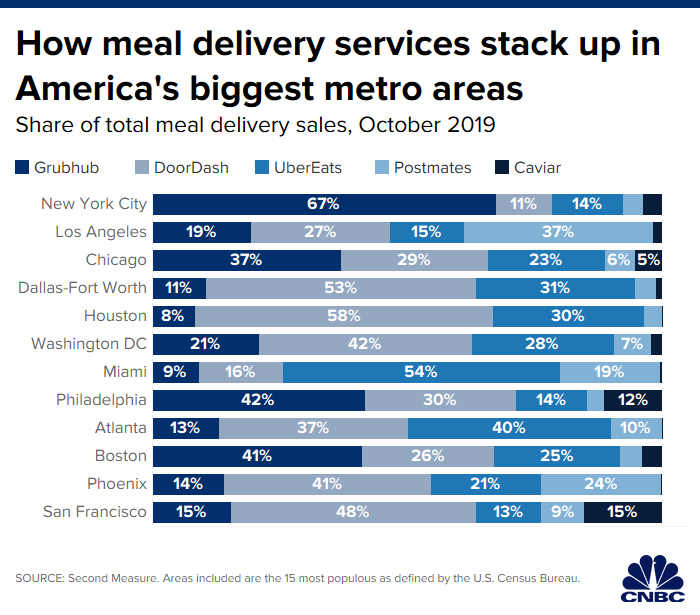 DoorDash now operates in 56 markets and more than 600 cities across the US. 
Cost of launching an on-demand application at JustCoded
We hope these stories of success have inspired you to create an on-demand delivery app for your business niche.
It's always a good idea to delegate the development work to dedicated professionals and focus more on the business evolvement.
We are an experienced tech partner with 10+ years of mobile development practice and dozens of projects in the portfolio.
We can make an on-demand app for any business from lifestyle to healthcare.
Our mobile development services are based on several approaches implemented at each stage of the development cycle.
1. Business analysis
We use strategy planning on the introductory phase to schedule sprints, deliverables and product releases. Careful analysis of the mobile app specifications allows us to choose the right tech stack and create a realistic budget. We work according to the T&M model which implies that clients pay only for the hours and resources spent during the development works.
Cost: from £3,600
2. UI and UX design
All iOS and Android apps are designed according to human-centred principles which turn any product into a users' problem solver. Today cool bells-and-whistles aren't enough, a mobile solution should be handy and provide stress-free navigation, ordering and payments experience. 
Cost: from £4,000
3. Technical implementation
The Agile framework allows us to finish development works faster and makes communication between clients and developers more transparent. For elevating hybrid apps, we use React Native, PhoneGap and Ionic. All the screens and pages prepared on the design stage are transformed into a fully-working solution by our experienced front-end and back-end developers.
Cost: from £40,000
4. Quality assurance
High-quality is our credo. We conduct several usability and performance tests during the development stage and right before the product goes live. The solutions we build are robust, fully working and pixel-perfect.
5. Post-launch support
Product launch is the final stage in the development cycle and a new page in a product's life. We're committed to supporting a product's growth and scale-up. through long-term cooperation — the pillar of our strong relations with clients. 
Cost: to be determined
The cost to build an on-demand app at JustCoded starts from £47,000 for building the under-the-hood functionality.
We'd be happy to walk you through the cost structure and explain how we work — drop us a line!
Get in touch
Resume
Sharing economy and on-demand services have already transformed people's lifestyle and their attitude to consuming. 
Airbnb, ZocDoc, Etsy have millions of active users around the globe and demonstrate the best practice of online booking and delivery.
Our brief overview of top applications and their toolkit is to help you create your own product that will turn the industry upside down.
We can translate technical requirements for any product into a fully-fledged mobile solution. Just give us a buzz!