A few months back we sent out an email campaign to our contact list and announced a contest: the winner with the design we like most gets a Shopify development project by JustCoded free of charge. Now that we've successfully delivered the project, it's time to share what we did, how we did it, and why it was interesting to us.
Why we did it
One fine summer day we at JustCoded were having a laid back discussion about the e-commerce market, latest trends in the industry, and e-commerce platforms in particular. While being experienced in building custom e-commerce sites with WordPress and Magento, we realised that Shopify is still terra incognita for us, and it's high time we started exploring it.
Since it's not very interesting to do a training project nobody will use, we decided to ask our prospects whether they would like to have their Shopify website coded by us. To make the process more exciting, our simple contest was set up. Let's see how it turned out!
What response we got
As much as we'd want to say that we got buried in replies from our prospects, it's not really so since we fixed quite a short timeline and would have definitely got more participants had it been longer. Nevertheless, the response was great! People were very active and reached out to us even if they didn't have a particular project in mind. Some of them already had designs they could work with, while some were just at the beginning phase of e-commerce project planning and didn't yet get to the design phase by the time we launched our campaign. In the end, out of 7 customers who expressed their desire to participate, we chose one client who already had everything ready and was willing to start right away.
The lucky star?
We developed a free Shopify e-commerce store for Antonia Anastasiadi and Paul Blezinger. They have a small business with big ambitions called Talmo. The shop sells stylish Apple certified tech accessories like iPhone chargers packed in beautifully designed cases. They sent us their design which turned out to be nice and tidy and definitely a pleasure to work with.
Once we got all the interested participants, we've had a conversation with every one of them and evaluated their projects. Some of the projects were from design agencies building Shopify websites for their clients and our offer would be an option for them to save some budget. Talmo was more interesting for us because they were a direct client and therefore they were invested in their product – that makes collaboration better for all parties. Of course, the design quality was also something we took into account. Konstantin Boyko, JustCoded, CEO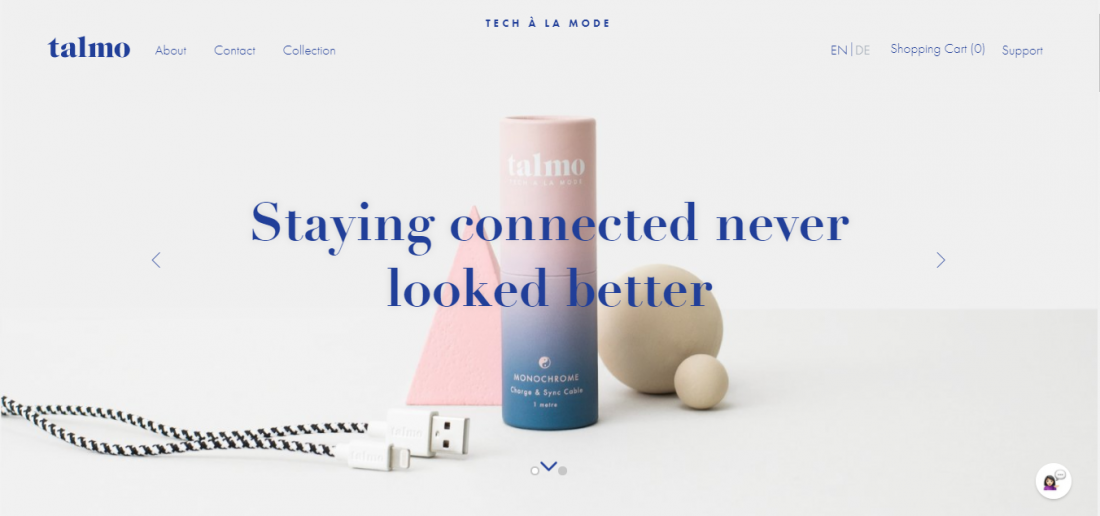 What we built
Talmo is a young company who is just starting their way to success, so the number of products they have at the moment is not huge. While there is nothing revolutionary on the site, it's still good looking, user-friendly for shoppers, features an Instagram feed on the homepage, big imagery and standard e-commerce features like payment integration and shipping. The store is optimised for various screen sizes and looks good on all mobile devices.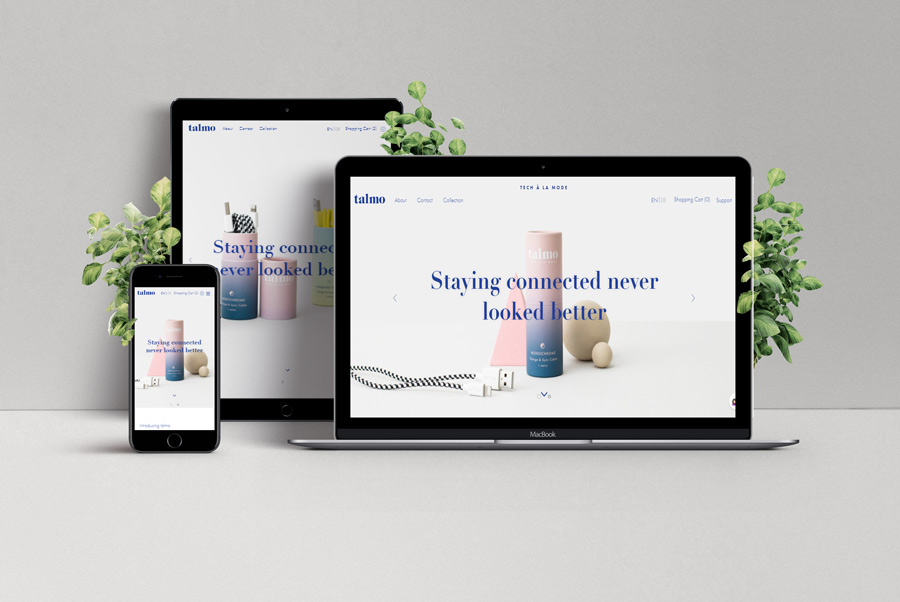 The product page has everything a good product page is supposed to have: bright big product images, a prominent title and an Add to cart button that stands out.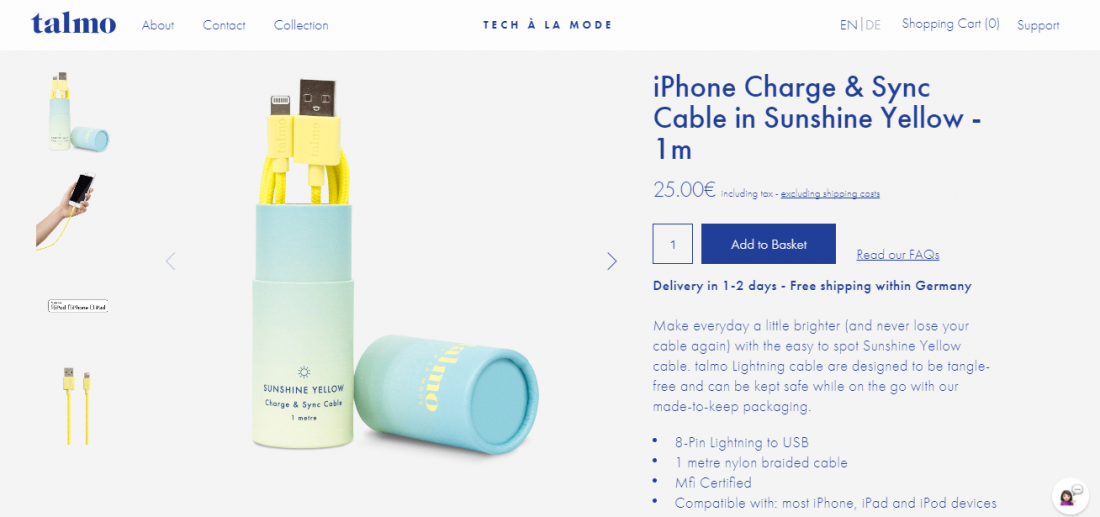 Product description and additional product information is laid out as three custom blocks with a background image.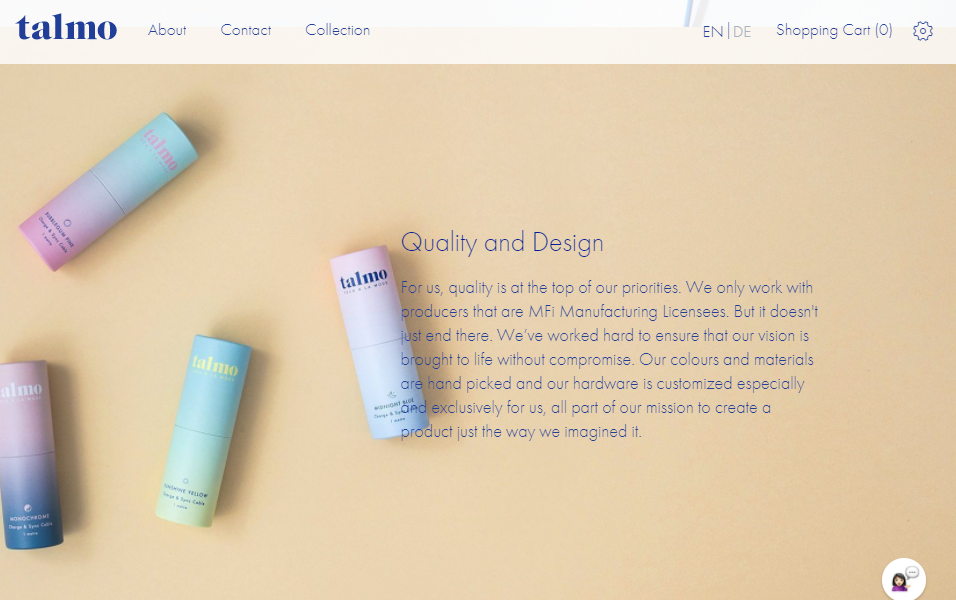 Challenge
While the result is nice, the product page was a little bit of a challenge for us. The thing is Shopify by default shows only a brief product description and in a simple way. In order to display all product information the way it was designed for every product type, we had to use an additional plugin that allowed the creation of custom meta-fields for each product. When it was installed, we pulled the content with Javascript to a corresponding section of the page.
We built a bilingual site, offering English and German content. In addition to standard e-commerce pages (product detail page, shopping cart, checkout), there is a number of static content pages for FAQ, retailer information, corporate gifting, and a cute 'About us' page.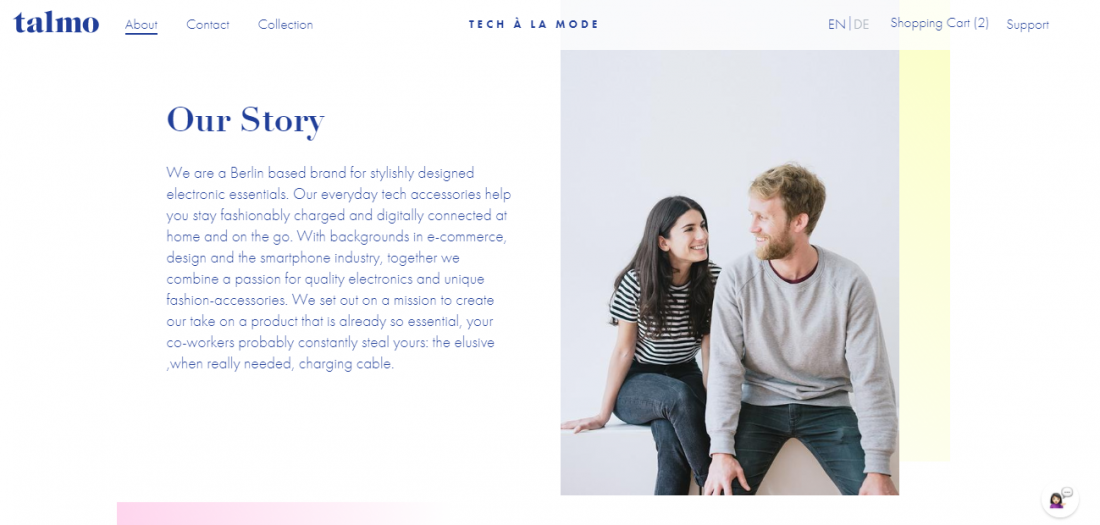 Antonia and Paul were excellent team players. They were very keen on the project, as it was their project. Always answered on time and very quickly. I was pleased to work with them. Alina Bekirova, Project Manager
Our thoughts on Shopify
Although Shopify is new for us, we already knew it was a self-hosted platform and thus had a series of limitations to it. All work is carried out on Shopify's end and there is no way to look into the original code.
Shopify has good technical support. Answers to most of the questions we had can be found on their forum, and in case they are not covered on the forum, we could always reach out to Shopify support specialists and have our questions addresses within 24 hours. The downside is that it doesn't allow customise checkout process. Dmitry Glubokiy, Frontend Developer
What the client says
We were more than happy to work with Paul and Antonia, and we're glad the feeling is mutual.
First of all, we wanted to thank you again for this opportunity. We are so grateful and honoured to have been chosen, and we hope that it was a good experience for you too. The process of working with JustCoded has been excellent. The communication has been easy, and the account management was handled very professionally, leading to a very smooth process. In terms of timing too, we were very happy with how it went. The quality of the development work, as far as we can see, has been exactly what we hoped for. Paul Blezinger, Talmo
What's in it for us?
The client was cool and the project, which took us 120 hours to implement, was fun too. We certainly got a lot of new experience with Shopify while building the website as we had to solve a number of challenges during the project.
We still are not too comfortable with building custom Shopify plugins, however, frontend implementation is definitely something we can work with. Would you like to try it with us? 🙂