JustCoded didn't start coding just yesterday.
In fact, we began innovating in 2007 when the internet was a simpler place and technology hadn't yet entered every facet of our daily lives.
Over the past decade, technology has evolved at an unprecedented rate, and JustCoded has remained at the absolute cutting-edge of advancements.
Our team embraces change and loves taking on new challenges, a combination of which allows us to evolve alongside the latest tech trends. We take pride in the quality of our work and put everything we have into creating successful products for growing startups and building efficient solutions for the FinTech industry.
We're excited to announce that our hard work has paid off — the research firm Clutch recently named us a Top Developer in their 2020 Leader Awards report!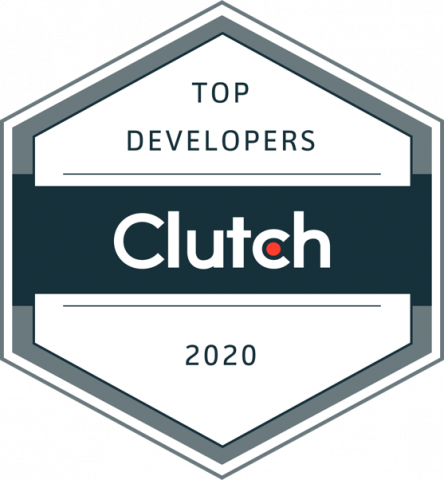 What is Clutch and how it can help your decision-making?
A B2B ratings and reviews firm and research resource in the centre of Washington, D.C., Clutch connects businesses with the agencies that are best equipped to take on their next big business challenge.
Clutch covers hundreds of different sectors, from development to digital marketing to emerging technologies, and ranks service providers based on past clients, verified client reviews, and market presence.
Clutch maps service providers on Leaders Matrices to provide a broad view of the top-performing companies in a particular industry or location.
To be eligible for a Clutch Leader Award, companies must demonstrate an unusually high capacity for delivering top-tier work to their clients. According to Clutch's Leaders Matrix of Top Laravel Developers, we're #1! 

"Having many successful projects in our portfolio built with Laravel, we're proud to be featured as a top software development company on Clutch. Laravel is the main framework we work with at the moment, and ranking 1st on Clutch's is a true recognition of our engineering skills." — Konstantin Boyko, CEO at JustCoded
Clutch reviews
Clutch has become the go-to resource for buyers seeking the best company to hire, and for businesses searching for qualified leads and new projects.
Since launching our profile on Clutch in 2017, we've collected more than 20 reviews and a 4.7/5.0-star rating!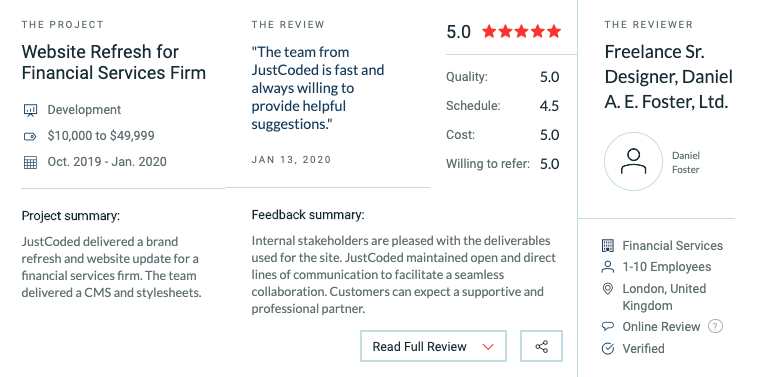 To see more of our reviews, check out our Clutch profile.
We're confident that you'll want to partner with us after reading through some of our past projects — so contact us and tell us more about your business!