Business lending
Custom theme for SME lending platform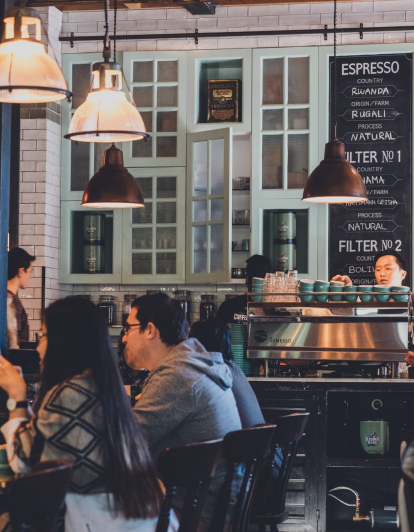 Lenderkit theme

Type

Crowdfunding, crowdlending

Industry
Lenderkit is a framework that allows you to faster build and launch an online investment business like real estate crowdfunding platforms, P2P lending systems, equity funding portals. We created a flexible and feature-rich theme with a focus on millennial investors and fundraisers.
We aimed to create a theme that includes all the necessary parts and that can be configured and adjusted for any niche in SME lending.
Its look and feel is dynamic, bright and speaks to the younger generation of people who have already grown enough to try their hand at investing or starting a new business.
If you are just launching with your crowdfunding platform, this theme will allow you to jumpstart with minimum changes and development required.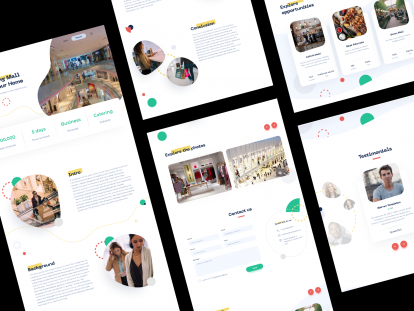 The visual and functional components of any product play a key role in attracting and engaging customers. Our main objectives are to make the theme feel lightweight, but also make its accents stand out and motivate users to keep exploring the platform.
All sections are versatile, which allows you to use them for various investment niches: real estate, peer-to-peer lending, green energy, education etc.
The right accents and flexibility are what makes user interaction intuitive and comfortable.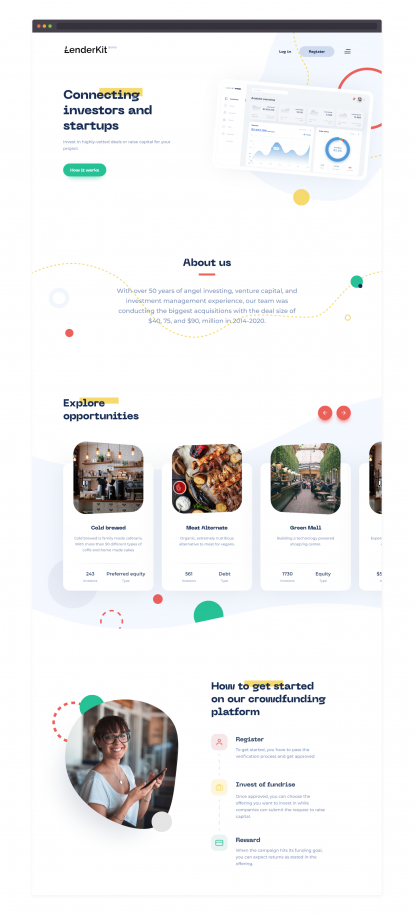 A user has to choose a role that corresponds to their goal: invest funds or raise capital.
To get started, an investor or fundraiser has to pass the verification process and get approved. Once approved, investors can choose an offering they want to invest in, and companies can submit a request to raise capital.
Before starting a campaign, a fundraiser can use a repayment calculator to get an estimate of the amount of money they will need to repay to investors and the platform.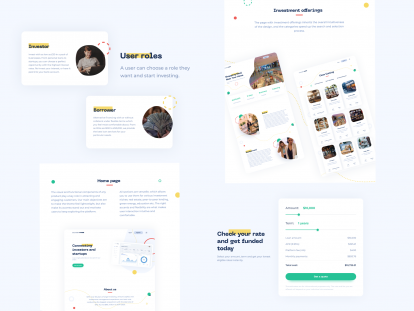 The page with investment offerings inherits the overall intuitiveness of the design, and the categories speed up the search and selection process.
Investors immediately see the type of investment that the fundraiser is looking for — equity or debt.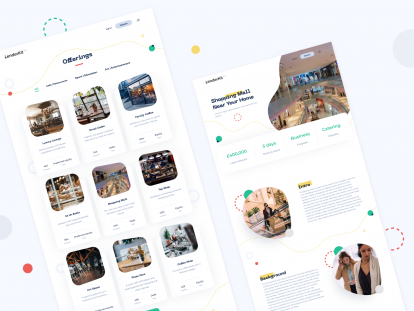 About: d

isplay your business goals and achievements, introduce your team to potential clients, emphasise your strengths and show how you can help your clients.

FAQ: i

t's easy and comfortable to search for answers for the most frequently asked questions. 

Blog: s

hare all the news and useful content with your customers, display relevant articles on business topics and always keep your customers up to date!

Responsive: w

e have optimised the theme for all devices and made it user-friendly. Whether it's a computer, laptop, tablet or mobile phone, your customers will always be able to use all the platform's functionality.