Luxury Shares
Luxury property crowdfunded platform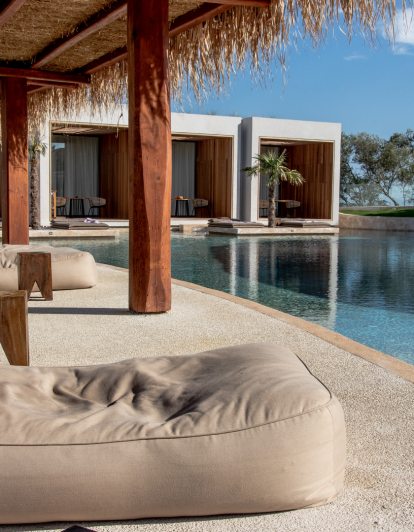 Costa Rica

Country

Real estate

Industry

Fractional ownership platform

Type
Luxury Shares is a first of its kind fractional ownership platform for real estate development companies and property owners. It provides easy access to the fractional market and works with real estate developers, realtors, vacation & travel companies, platforms & websites within travel & real estate markets.
Fractional or co-ownership is replacing timeshare as a much more successful ownership strategy.
Mainly because it works well for both parties and the fractional share purchaser (unlike timeshare) is purchasing real titled ownership that is secure and easy to resell.
The client's idea was to create a tropical/luxury vibe to entice users to want to register and see more about the property investments. Since there's an investment flow in place, we decided to build the platform with LenderKit – an in-house developed crowdfunding software.
The front-end part is powered with WordPress which provides a very convenient way for content and user management.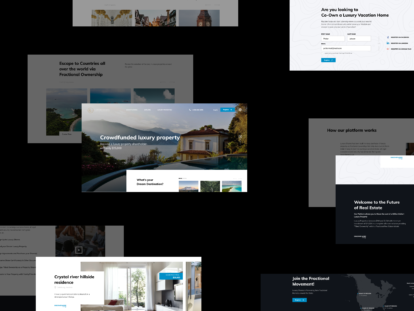 Project
highlights
Luxury Shares is a complex property crowdfunding platform with a lot of interactions between a user and the platform so the best thing to do was to start with the business analysis phase. It helped us better understand how the ground concept of the business, the way it will make money and the functionality needed for various system users.
Through a series of calls and emails, we compiled a list of the core features for the platform that we further elaborated into a detailed requirements specification.
How it works?
The platform will calculate and value the share ownership positions according to the vacation market trends. The rights of use by each shareholder will be defined by the amount of ownership bought via LuxuryShares platform.
Key features:
User SMS verification
Secure payments via MangoPay
Automated KYC/AML checks
Digital currency payments
Walkthrough VR tours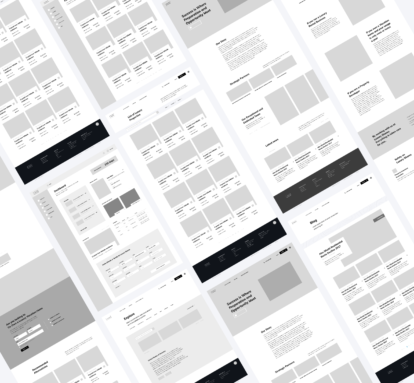 When the business analyst completed the discovery stage and documented user flows and main functionality, together with the UX designer, they started working on UX wireframes which were followed by UI design.
Since LuxuryShares caters to a specific audience looking for high-value luxury property, we aimed to design a platform that would impress and inspire people to look through the properties available for purchase.
Screen-wide images, VR walking tours, bold typography — that's what creates the feeling of owning and immerses users into the world where they have already purchased their dream home.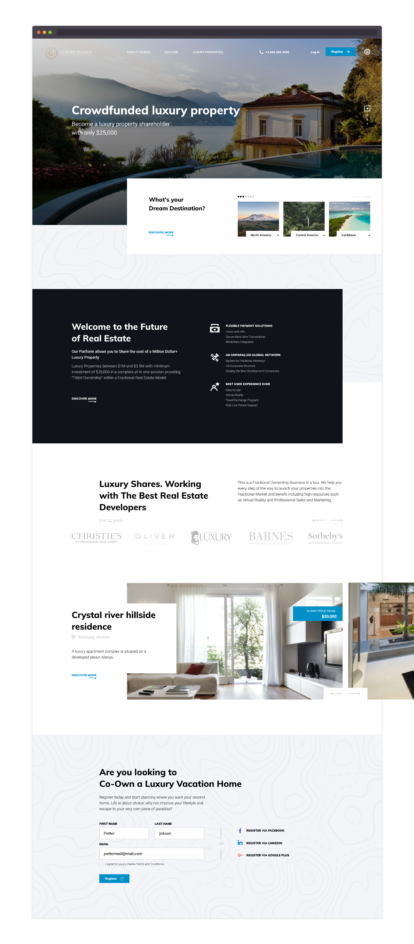 When a user registers and logs in on LuxuryShares platform, they can view available Properties, details, VR tours and other information.
To make a purchase, they need to attach a funding source and go through a straightforward user verification process (KYC) via MangoPay payment provider to determine compliance.
When done and confirmed, the funds will go into Escrow until the attorney provides Share Agreement documents a few days later.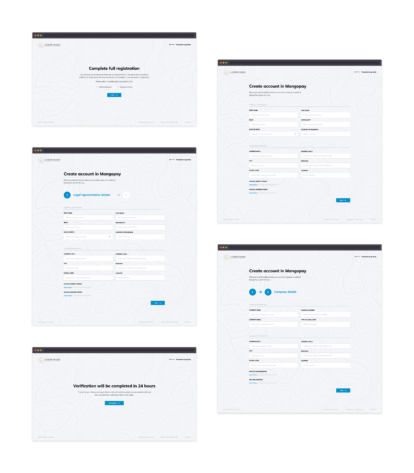 A buyer can purchase ownership of multiple properties. The list of all property fractions purchased is available in the dashboard and provides information about the actual house, amenities, agreements, and available time slots.
Transactions give an overview of costs associated with a particular property. Ownership usually implies maintenance, so all of those spendings are reflected in one place.
In addition, a buyer can add to wishlist other properties they like and contact the developers via a contact form integrated in the dashboard.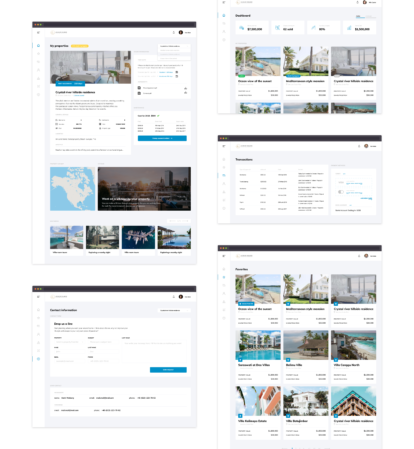 HTML/CSS, WordPress
Laravel
MangoPay
LenderKit
KYC/AML checks
SMS verification
Electronic signatures
Tracking of ads traffic