What makes a green energy investment offering attractive? A product addressing clients' needs, the fundraiser's financial health, or, maybe the community-focused approach? 
The truth is that the combo of these and other factors underpins the project's success.   
Without further ado, let's look at the 3 best renewable energy crowdfunding campaigns and draw good lessons from their experience.
Allpowers — a green energy crowdfunding campaign #1
Allpowers may be the best-known and one of the most successful green energy crowdfunding campaigns.
In 2008, the team of designers and engineers founded a startup with a brave goal to produce the best portable solar power products.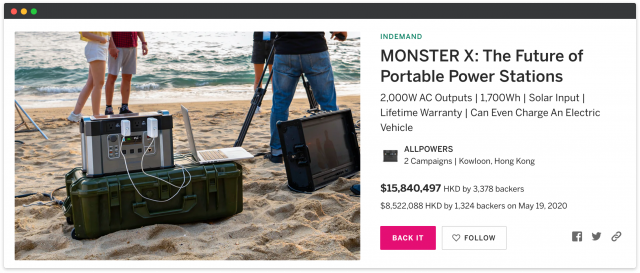 The company launched two campaigns on Indiegogo and both were shocking successful. 
Allpowers Monster, a smart and fast portable power station, managed to attract 369 backers who donated $153 657 to the project. The initial goal was $101 000.
The 2nd initiative, Monster X, turned to be even more successful. Allpowers hit the goal of $8 535 032 HKD and even got an extra $7 326 368 HKD.
What is so cool about Monster X?
its powerful battery can provide

2,000W

of power output, just like a standard wall socket;

it has a massive

1,700Wh

capacity to keep all your devices charged forever;

it can power up to

11

devices at once;

it has two universal solar inputs and other features.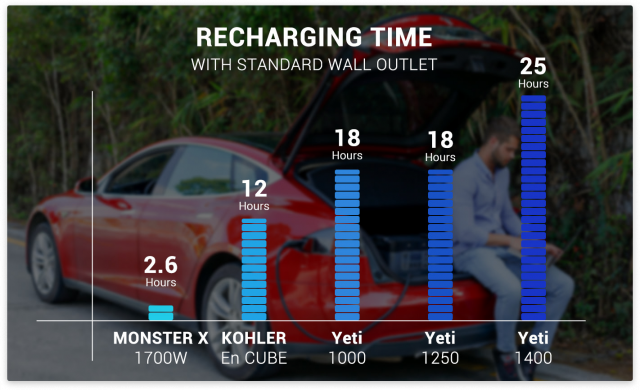 The Allpowers' case study is a great example of how a sustainable energy crowdfunding campaign can rock the audience.
Takeaway
The real power of Monster is that the device solves the pain points of many people. 
Who doesn't want a portable solar battery at a retail price of $1,299? Availability is another perk of both Monsters. 
Allpowers' team managed to integrate its unique profile into machines by engineering and polishing products.
Finally, the fundraiser stayed in touch with the investors by regularly informing them about product updates. Transparency generates credibility. 
You can still back the project and get your Moster X.
GoSun
GoSun is another no less famous renewable energy crowdfunding campaign run on the StartEngine platform.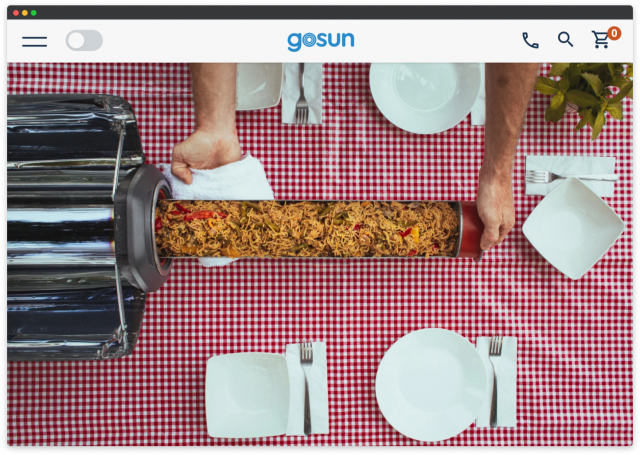 Just like Allpowers, the fundraiser is focused on portable clean and green energy solutions for sustainable investors.
GoSun product portfolio includes portable ovens, fridges, lighting, charging, and water purification, tiny houses, etc.
$3.9M in revenue in 2020, over 100,000 products sold across 70 countries – GoSun's track of records is overwhelming.
Given the rising demand for healthier and eco-friendlier solutions, GoSun's business more than doubled during the lockdown.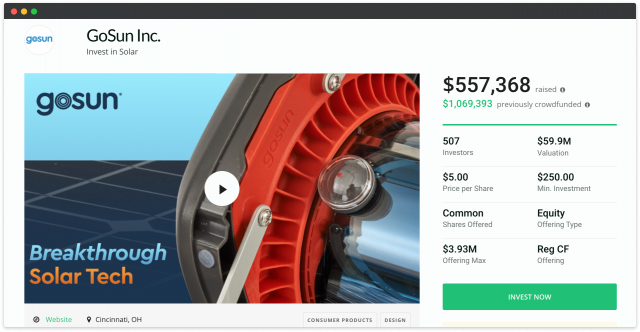 The campaign is now live with $527,799 collected so far and an end goal of $3.93M. Join the squad!
GoSun's products let you:
stay productive even during power outages;

be economical and make an impact;

conveniently travel and live a healthier life.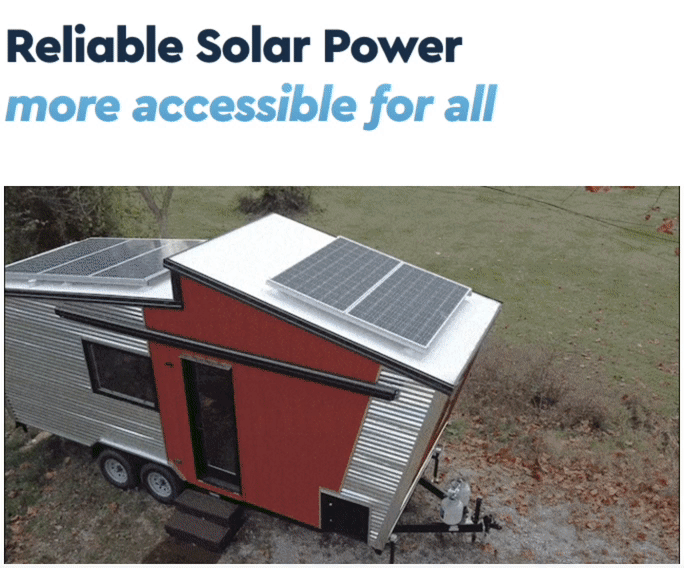 How come that this crowdfunding campaign for sustainable energy project became record-breaking?
Takeaway
First off, GoSun trims its sails to the wind and keeps abreast of the latest trends. Started as a provider of portable ovens, further it extended the product line that is adjusted to UN SDG's. 
Second, the company has a large crowd of supporters who have already funded 9 projects because they match their beliefs: climate change prevention, health improvement, women and children empowerment, etc.
The golden circle paradigm in its pure form. 
The previous experience in successful exits and public IPO's has also helped the team go through all the crowdfunding stages.
GoSun's products are present in developed countries and emerging markets. It's one of the first solar manufacturers with numerous awards (the United Nations Clean Cooking Alliance, UNDP and the American Red Cross).
Finally, the success of a crowdfunding campaign is partially the contribution of LaunchBoom, a global team of crowdfunding experts. 
Solibrium Solar
Solibrium is a for-profit social enterprise from Western Kenya, providing local communities with affordable solar products.
It's on the mission to preserve forests, decrease CO2 emissions, improve the quality of people's life in Kenya. 
Solibrium develops products for home and business such as lights, batteries, solar panels, charging stations.
The project was funded through our client — Charm Impact.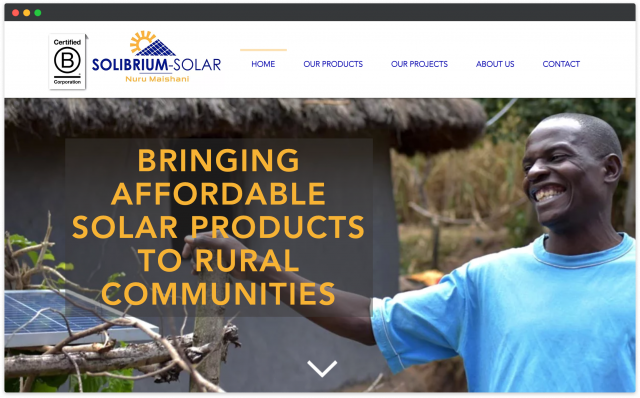 Takeaway
Charm Impact doesn't disclose the amount of financial aid provided, but explains the reasons why they decided to support Solibrium:
a talented team with a

vast experience of engineering business solutions

to solve ESG problems;

the outcomes of Solibrium's work and

a strong financial position

during

5

years:

700

agents that have sold

4,000

solar products in

15

counties;

previously, the company received government grants

to pilot the products and verify clients' demand

;  

impact is the core of Solibrium's mission, vision, and strategy, which

coincides with the Charm Impact's goals

;
Also, the project got a good media coverage, which helped it gain public recognition.  
Consider JustCoded as your trusted crowdfunding platform development partner
Except for the creator's success, a triumphant campaign is also an indicator of the platform's feasibility. Everyone knows Kickstarter for its most-funded projects, among other things.
You can create a powerful portal serving crowdfunding campaign for renewable energy project with specialized software – LenderKit.
LenderKit is a product developed by JustCoded, a provider of bold digital products for growing startups in sustainable energy investments.
How LenderKit can help you:
pitch to stakeholders to prove the business concept;

launch an MVP to test your business idea, enter a new market, industry or apply to the regulatory sandbox;

launch a fully-fledged portal.
Key features: admin back-office, web portal and marketing site.
Don't hesitate, request a demo now and test all LenderKit features.
Get in touch
The bottom line
So, let's repeat. How can you make sure that your sustainable energy investment offering meets its target goal?
If possible, pilot the prototype of your product to test business assumptions.

Demonstrate your background and experience in sustainable energy, your company's ambitions to make an impact;

Show a positive track of records and solid financial state.

Build a huge community of supporters by the means of advertising, through social media channels, etc.

Follow industry trends and listen to the feedback of early adopters. Stay in touch with your crowd.
Wish you good luck with your next crowdfunding campaign for a green energy project!