Crowdinvesting platforms constantly face the challenge of attracting new and retaining existing investors. Without a proper onboarding process and a constant inflow of investors, a crowdfunding business won't be profitable. 
So, let's check how crowdinvesting platforms work to attract retail and institutional investors, what issues they have to solve, and how they are managing to retain existing investors. 
Why you need to attract investors
A crowdinvesting business' task is to match investors with businesses needing funds. Therefore, investors are an inseparable part of the entire business model, and attracting them is needed for crowdfunding to exist.
Investor onboarding challenges
The process of onboarding investors is often very complicated. While other processes are automated and tuned up, investor onboarding still remains manual, labour-intensive, and hard to control. It is handled by multiple teams, including IT, Finance, Operations, Business, Development, etc. It relies on a mix of methods: 
Emails

Excel tables

Cumbersome paper forms
Data is captured across multiple systems and processed manually to find the right fit. 
It is not only very costly, but it also takes time, delaying the fundraising processes, fee generation, or even impacting the company's reputation in a negative way. 
The entire process is difficult to monitor, which may result in sending duplicate information from different teams and bottlenecks which are hard to detect. The absence of automation means that the entire business relies on a couple of specialists who have to rely on suboptimal tools to perform their tasks. 
The process of onboarding institutional investors requires a lot of research to understand what the new investor's legal entity is. That's why platforms have to run a rigorous KYC/AML process whenever a new institutional investor is onboarded. 
Adding the further complexity level, such KYC/AML processes are not performed once only. Platforms schedule periodic KYC/AML to respond to changes that can result in the replacement of the institution's ultimate owner. 
While institutional investors can commit to significant funds, they often come with special requirements and requests. This is another source of complexity. Institutional investors request to invest in projects that comply with a number of requirements, such as a specific sector, location, strategy, rates, etc. The list of these requirements differs by investor. 
Before onboarding a new investor, the crowdfunding platform teams have to check whether these requirements are cost-effective if the platform can comply with them, how much time and effort it will take to accommodate them, whether they are feasible from the legal point of view, and so on. 
Automating the onboarding processes is the key to simplifying and making the entire process error-free. Data structurization is another point that may simplify crowdfunding investor onboarding a lot.
How to attract retail investors
The importance of retail investors is often underestimated because they contribute less than the industry giants.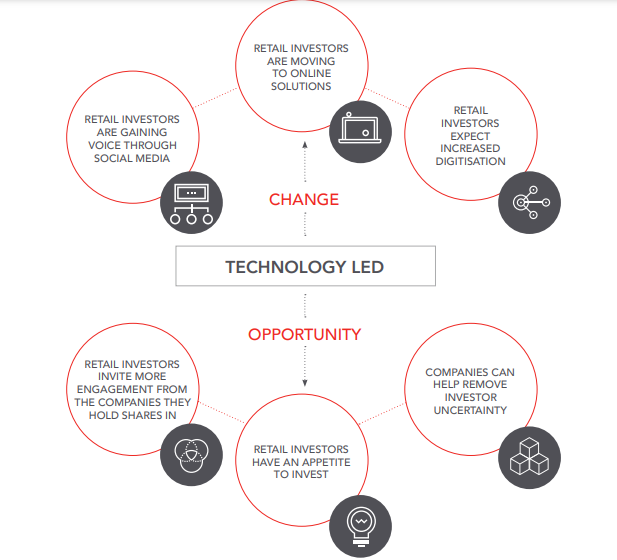 But since 2020, the individual investors' percentage surged from just 10-15% to 25%, and as of May 2022, retail investors have purchased stocks worth $76 million. It means that this investor type shall not be undermined.
Identify investor goals
Individual investors mostly participate in crowdfunding offerings to benefit in the long term, for example, to ensure funds for retirement. It is crucial to understand this to target the right potential investors. 
Save investors' time on research
Those are mostly working people who cannot dedicate much time to researching, collecting information about the project, investing, trading, etc. They rely on the project information available on a crowdfunding platform and social media or they can get information from their brokers and advisors. 
Keep investors updated
Keeping your social media channels updated is another key to attracting the right retail investors. Most investors in the UK claimed they had made at least one change due to announcements made via social media.

They see social media as a legitimate source of information about the issuer and the projects. 
Let investors find you
Individual investors may not know all the details or may have questions about the investment procedures. That's why it is recommended to have a blog where such details can be clarified. A high-quality blog with professionally presented information will also help to attract retail investors from Google and other search engines.
Retail brokers and advisors impact individual investors' decisions. That's why collaborating with them will eventually pay off. The more engagement with them you create, the more positively they will view your platform, and the more likely they will recommend it to their retail clients. 
How to attract institutional investors
Institutional investors are becoming increasingly interested in sustainable projects. The other part of their interest is equity (40%) and fixed-income projects (40%). That's why it is crucial for a platform to provide diversified investment opportunities instead of focusing on one investment type.
Primarily, you can attract institutional investors through wealth managers and networking. Have your platform ready to manage investor relations and provide access to insightful information upon request.
Just as with retail investors, keep high-net-worth individuals and institutional investors updated and offer timely, data-driven and promising projects.
How to automate investor onboarding through crowdfunding software
Automating as many processes as possible can boost the investor onboarding success rate. Various crowdfunding software solutions exist to help you attract investors and fundraisers faster and close deals more effectively. 
One example of crowdfunding software for investor and deal automation is LenderKit.
With LenderKit white-label crowdinvesting software, you get a fully-functional crowdfunding platform to automate all your investment business operations, boost operational efficiency, and facilitate information collection and processing. 
Crowdfunding tools like LenderKit are usually equipped with the Admin BackOffice for the crowdfunding platform owner and a client-facing portal where investors and issuers can monitor their performance. 
The admin dashboard allows the admin of the platform to see all the users who signed up and passed KYC, statistics on offerings and funds raised, and other information needed to access the platform's performance. 
Investors can benefit from a user-friendly investor portal to manage investments, monitor investment performance, top-up wallets, and sell investments on secondary markets. 
The software usually includes integrations like Jumio for faster identity verification or payment gateways like Lemonway or MANGOPAY that include KYC/AML functionality. 
Conclusions
Crowdfunding investor onboarding is a chance to provide a decent first impression on an investor. If the onboarding process is long, tedious and complicated, it's likely to turn investors back. Since crowdfunding platforms spend a lot of money on marketing and client education, losing clients at the moment of registration would be pretty sad and economically ineffective. 
Crowdfunding software allows you to provide a streamlined investor onboarding and offers you tools to follow up investors if they abandon the registration form. It also provides easier communication tools and document management, so you can keep investors updated that have already registered. 
At JustCoded, we offer custom crowdfunding platform development and can recommend various tools to make your life easier. If you'd like to learn more about our services and products, fill in the contact form to book a meeting.