Plenty of crowdfunding software solutions out there built with WordPress or Joomla claim that creating a crowdfunding platform is relatively easy.
It's right for smaller crowdfunding companies or local communities. However, serious business like online investment or crowdfunding needs serious tech foundation that should be well designed and implemented:
investment management;
e-wallets;
payment processing;
performance monitoring;
data security.
In this article, we will go through different industries, business models and tech solutions to give you a better vision on how to start a crowdfunding website.
If there's one particular field we cut our teeth on, it's the development of investment and crowdfunding platforms. Reach out to us for initial business analysis and roadmap.
Get in touch
Quick overview of crowdfunding platforms
Crowdfunding platforms nowadays are countless, and each of them has something of their own to offer—Kickstarter, Indiegogo, GoFundMe, Seedrs—you name it.
Types of products these platforms help get funded vary too and by and large you can crowdfund just everything!
1. Music and art
Artists and bands typically raise funds for their new albums on Kickstarter, Indiegogo or Patreon; however, there are crowdfunding platforms that only support artists. Rocket Fuel, started by Resound Media, is one of them and it's been helping talents to take off their musical career.
The platform uses a combination of reward- and donation-based crowdfunding. Fans can make one-off donations to support artists they like or buy a membership to donate monthly (several tiers available).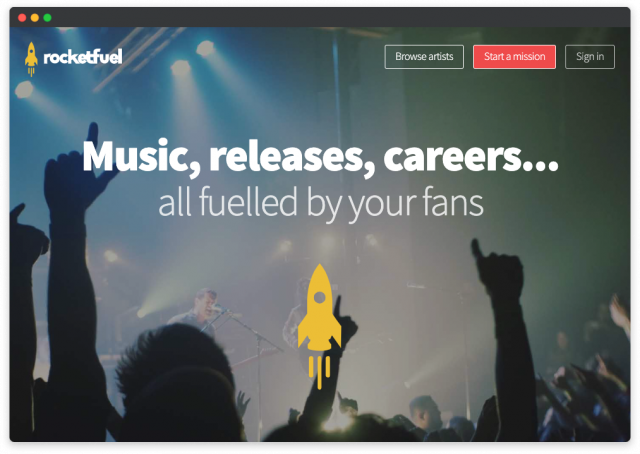 An artist can also raise funds through selling music, merchandise and other rewards.
This type of platform is quite simple and can be built with WordPress or a similar CMS even though there is an e-commerce element to it.
Backers do not any financial return from supporting the artists, so there is no need to build a complex system. If the platform grows bigger or changes the business model in the future (supporters will earn a percentage from future sales, for example), these changes would require a different technology as well as regulatory authorisation.
2. Green energy
The sustainable and renewable energy sector is becoming ever more popular, especially in Germany, Netherlands, and France.
In Germany alone, there are more than 20 green energy crowdfunding platforms that offer investments in projects like solar power parks and energy-efficient housing.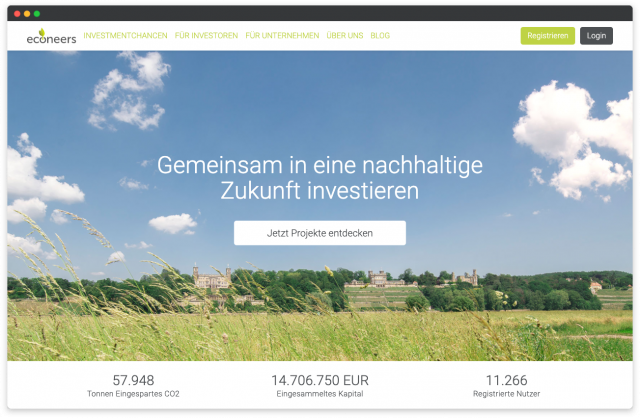 First of all, investing in green energy feels like the right thing to do as it has a huge impact on our life right now and over the long term.
With accelerated adoption of sustainable energy in Europe and other countries, it's clear that green energy projects and startups will grow in number and require funding. If you were thinking of starting a digital lending platform, green energy could be quite a lucrative niche.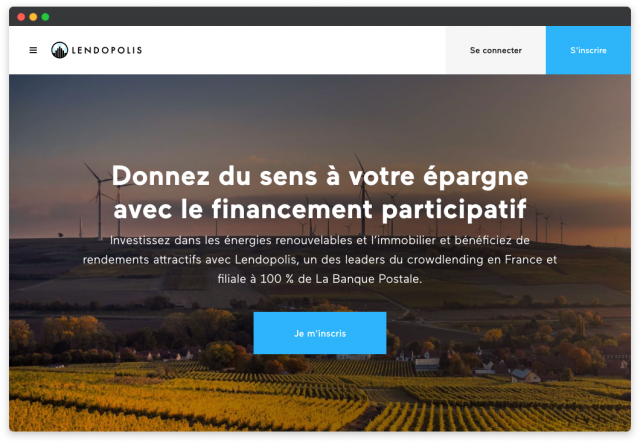 From the tech point of view, crowdfunding platforms in this sector require quite sophisticated crowdfunding software. It's either debt or equity investment model; both require reliable KYC provider integration, client money management, and a regulatory authorisation in most countries.
3. Real estate
Real estate crowdfunding as an industry, according to Forbes, will continue to evolve with an anticipated value of more than $300 billion by 2025.
Even though the pandemic hit hard the real estate market, we keep getting requests to build crowdfunding platforms from all over the world, and this trend is quite stable.
PeerStreet is an example of a classic real estate crowdfunding platform. The company secures loans from the UK network of private lenders or brokers and provides servicing and management of those loans for individual and institutional investors.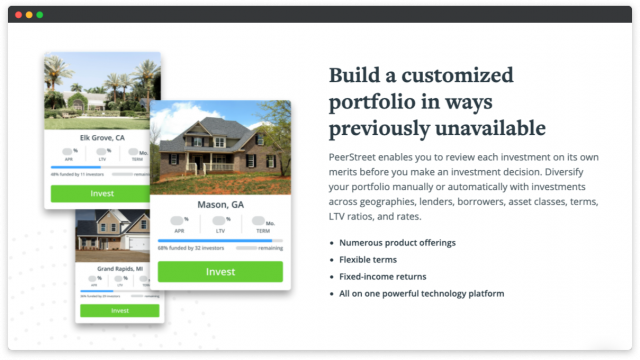 RealCrowd has a retail, industrial, office, and development opportunities open to accredited investors only — those with income exceeding $200,000.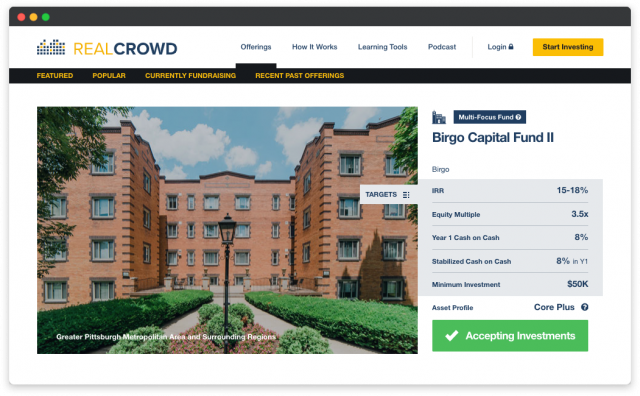 Real estate crowdfunding in Europe is more attractive as it's much easier to enter this market due to lower requirements towards investors as compared to the United States.
Setting up a crowdfunding platform for real estate: JustCoded experience
Online portals for raising funds for property projects occupy an important place in our portfolio.
We're proud that the design and functionality we create for our clients helped their platforms to achieve better performance.
CapitalRise
CapitalRise is a real estate crowdfunding platform based in London who we helped create a custom crowdfunding platform and continue with ongoing improvements to date.
The company offers investment opportunities for prime-property projects and works with everyday backers giving them a chance to take part in projects with attractive returns. CapitalRise provides both equity and debt products by founding the SPV to issue shares or bonds. The investment minimum is £1,000.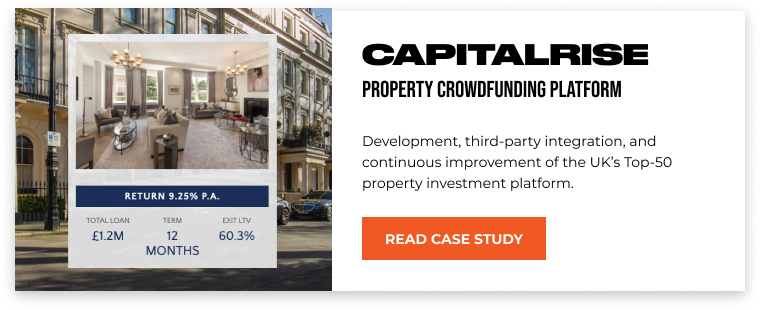 Camly
If you are going to build a crowdfunding platform with EB5 investment opportunities, then we recommend checking Camly.
It's a real estate crowdfunding platform that offers investment in the US property to the Asian market, which we helped build using our real estate crowdfunding software — LenderKit.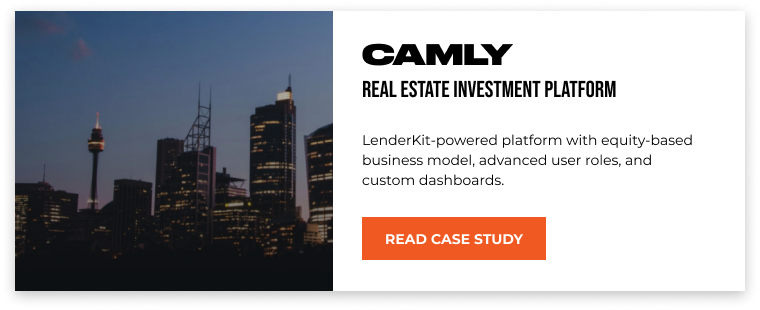 Business models for crowdfunding
Let's get cut to chase and see in detail how exactly you can earn from your crowdfunding platform, how it will work for your customers, and what you need to build one.
Think about your business model before you start writing any project specification or contact web-development agencies; the way you gain profit is the core of your crowdfunding business. The current crowdfunding market has many business models to choose:
Royalty-based
Donation-based
Hybrid-based
P2P lending is the most popular business model since it allows the lending and borrowing of money bypassing any financial institutions which act as a middleman. As reported by Massolution, its estimated fundraising volume in 2015 stood at $25 billion, and the demand continues to grow.
How P2P lending works
P2P lending websites bring together lenders and borrowers.
Borrowers no longer need to go to a bank to get a loan, nor do they have to go through many financial checks. Investors, on the other hand, have more investment opportunities, although accompanied by higher risk.
There is no such risk for the P2P lending platform itself as it just connects lenders and borrowers without putting its assets at stake. However, some companies invest their own funds alongside investors, which generally increases platform trustworthiness for a potential investor.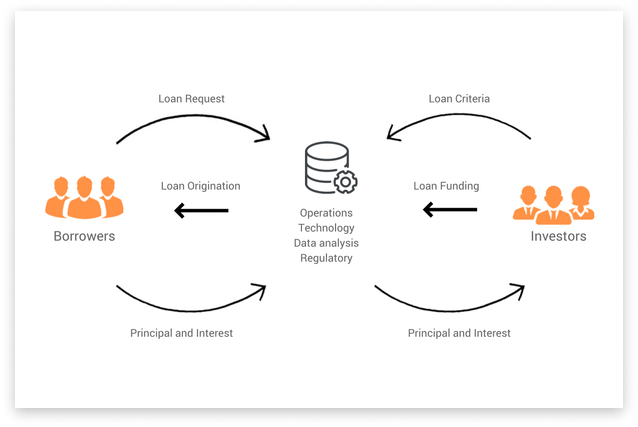 The platform usually performs a credit risk assessment, determines the credit rating and then adds an interest rate to a borrower's profile.
Loan repayments are also made through the platform, and it can be integrated with a third-party system for handling transactions, as well as performing credit history checks and determining the credit rating.
A borrower pays an upfront origination fee which is used to process a loan and put it in place (usually from 1% to 5%), and that's precisely where the P2P lending platform receives its income from.
Best practices for a successful P2P lending platform
Granted you are already familiar with crowdfunding regulations in your country, let's get technical.
A typical crowdfunding platform allows the registration of both borrowers and lenders, which can be united into one flow or broken down into two registration forms for each role from the very beginning.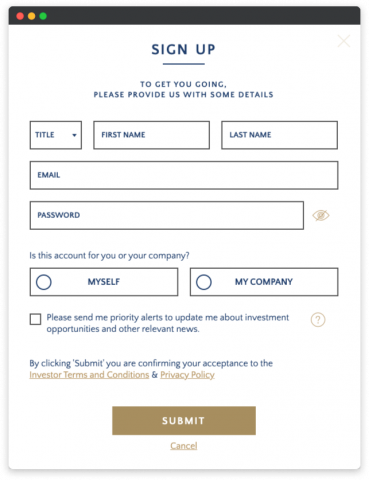 Usually, borrowers should be able to create their campaigns or offerings, describe the details, assign open/close dates, set the funding goal, manage their transactions and repayments.
Some platforms have a manual process for borrower qualification and require them to get in touch with the crowdfunding company specialists first; everything depends on the specifics of your business nature or industry.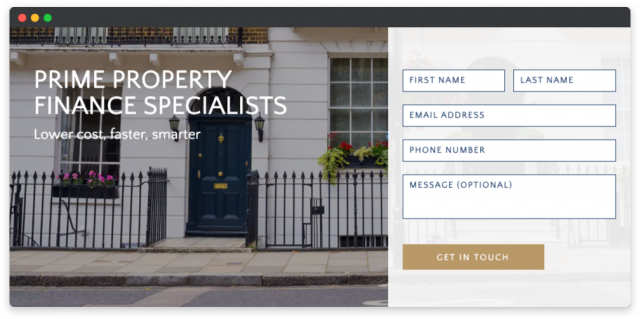 Seedrs, for example, has an extremely easy sign-up for investors (followed by a massive KYC questionnaire though), while startups wishing to crowdfund their projects get a detailed sign-up form right away.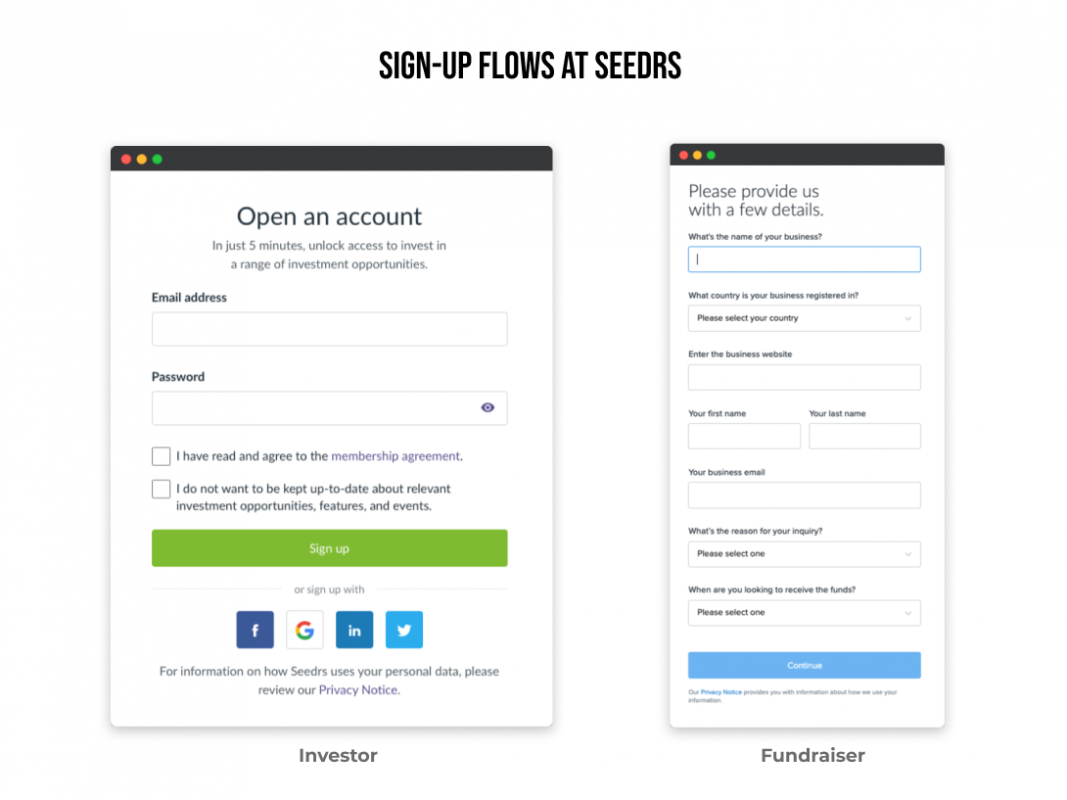 Investors should be able to view available offerings, manage their wallets (add funds), invest, and manage investments (cancel or withdraw). They may also be provided with some graphs and charts to check how their money is working and analyse the trends.
While it doesn't seem very difficult from a user perspective, there's usually a lot happening under the hood.
Investor credibility is the first thing that is checked. It can be done manually, which usually takes a lot of time and involves many people, or it can be automated and performed on the go.
Many services provide KYC (Know your customer), AML (Anti-Money Laundering), and due diligence checks, and it's a good idea to integrate them to provide a higher level of fraud protection.
Some payment gateways offer KYC as part of their service and even provide instant checks powered by optical character recognition.
We partner with several crowdfunding payment gateways and would be glad to give you advice if you need to implement transaction management into your FinTech project.
Get in touch
Summing up the above, here's a list of features you should consider if you decide to start your crowdfunding business:
credit score management,
KYC and AML,
ID verification,
financial statistics and reports,
personal finance management,
support of multiple accounts,
account tracking,
data security,
transaction management,
admin back office.
Keep in mind that the experience should not only be safe but simple and straightforward. Make sure both investors and borrowers understand where they can find specific information, implement a clear structure and navigation, and make the website work perfect on all devices.
Payment gateway: what to choose
Since your crowdfunding or P2P lending doesn't process any payments itself, you will need to go with a third-party solution. It's totally fine as building a payment gateway from scratch is too complicated and expensive, let alone requires special licensing and agreement with a bank.
When it comes to picking the payment gateway for your transaction processing, the sky is the limit; however, not all of the payment gateways you see on the internet have the crowdfunding-specific functionality.
The typical set of transactional actions on a crowdfunding website includes creating online wallets, defining repayment schedules, adjusting interest rates, and returning funds to investors in case the campaign hasn't been fully funded.
Most probably the first thing that comes to mind when thinking of a payment gateway is either PayPal or Stripe, but unfortunately, they are not tailored to online investment flows.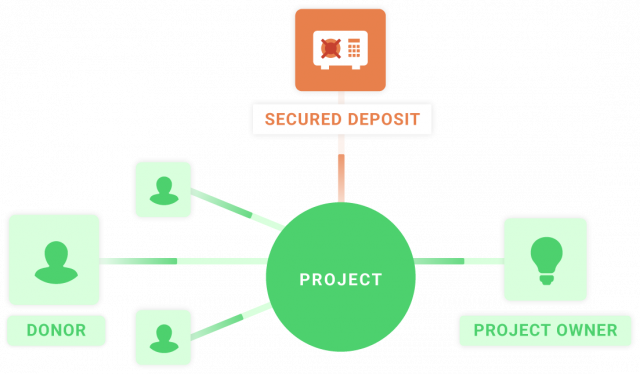 Should you need a reliable payment partner to start a crowdfunding platform in the UK, take a look at LemonWay or Goji.
Both payment gateway providers are excellent in terms of due diligence checks, automated transactions, regulatory support, payment flows tracking.
LemonWay offers numerous benefits for crowdlending and fundraising websites including smooth borrower and investor onboarding, integration via high-performing APIs, handy dashboards. 
Goji solutions can be used for various payment methods and flows, e.g. creating user accounts or executing inbound and outbound payments. What's more, Goji is authorised to provide a white label Innovative Finance ISA to investment managers.
They allow you to create wallets, securely hold funds, collect payments or make refunds to bank accounts as needed while having all the regulatory procedures in place, too.
Remember that the citizens of the UK who hold an Individual Savings Account (ISA) are eligible for tax-free interest on peer-to-peer investments of up to £20,000.
Bespoke solution or a ready-made back office?
Now that we've cleared up the essentials, time to review the options regarding P2P lending platform development and the costs to develop a crowdfunding platform.
There are two possible scenarios here, both having their advantages and disadvantages depending on your current demand and capabilities.
1. Custom crowdfunding platform development
Even though a fully bespoke solution to build a crowdfunding website takes a lot of time, you get your very own platform with full control and freedom to customise it the way you need.
You can integrate it with any third-party system, implement a basic or sophisticated back office, and be in charge of everything that happens under the hood of the system.
CapitalRise is a great example of a custom crowdfunding solution. We built a strong foundation first and then gradually added extra functionality, with more modifications happening as we speak. As the company fully owns the platform, it can adapt to market changes very quickly by altering parts of the platform right away.
If you start working with a web development agency and hire a team of highly-skilled crowdfunding platform engineers and designers, the turnaround of implementing everything a P2P lending platform requires may take half a year.
2. Using crowdfunding software
If you need to get your crowdfunding platform to market or VCs fast, it's worth looking at a ready digital infrastructure that comes with a fully-working back-office.
Depending on the vendor, you can get a platform with a marketing website too (the client-facing part).
Crowdfunding platform development can be way easier with LenderKit – our in-house built crowdfunding software. It's a great choice for an MVP and a solid foundation for a platform that will be further customised.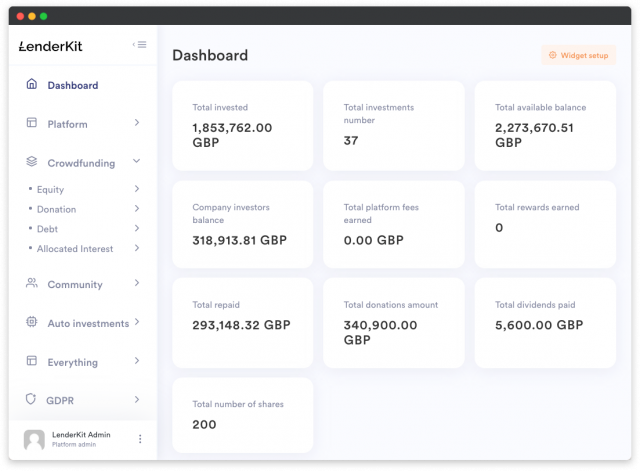 Charm Impact, for instance, built its platform with LenderKit to present it to investors and seek funding for further development. We were able to launch it in less than 2 months using a predefined theme (which we tweaked with Charm Impact colours of course) and will continue to build up more functionality after Charm Impact received the required funding.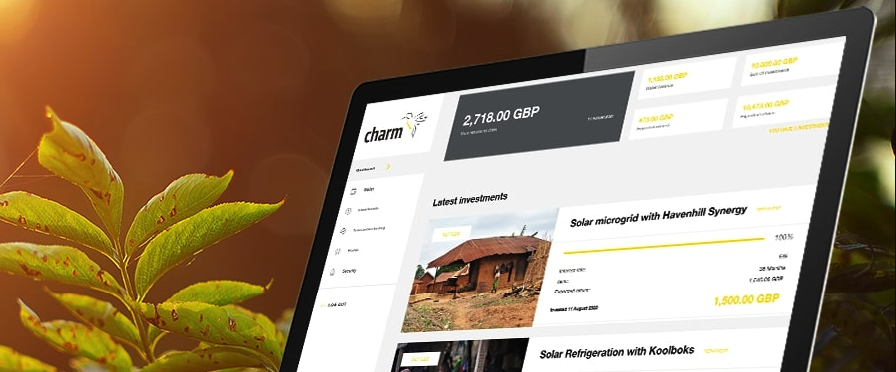 What benefits you get when choosing LenderKit to build your own crowdfunding platform:
powerful front-end and back-end that is fully under your control;

responsive layout and pro design;

automated payment flows, KYC/AML and due diligence checks;

secondary market and third-party integrations;  

ability to add custom features via developer-friendly APIs;

flexible solution that can be adjusted to any regulatory ecosystem;

effortless migration of databases to your servers.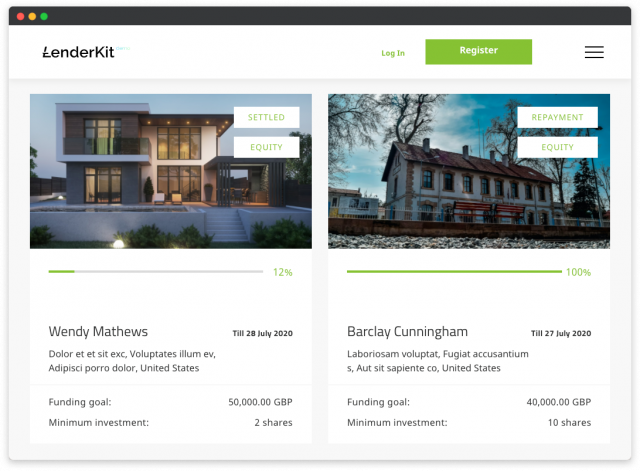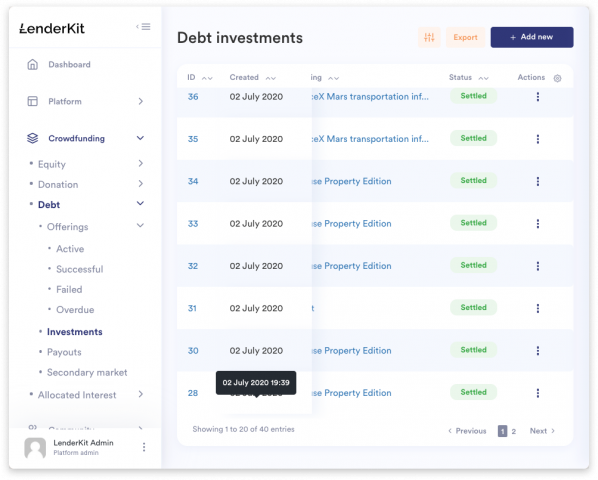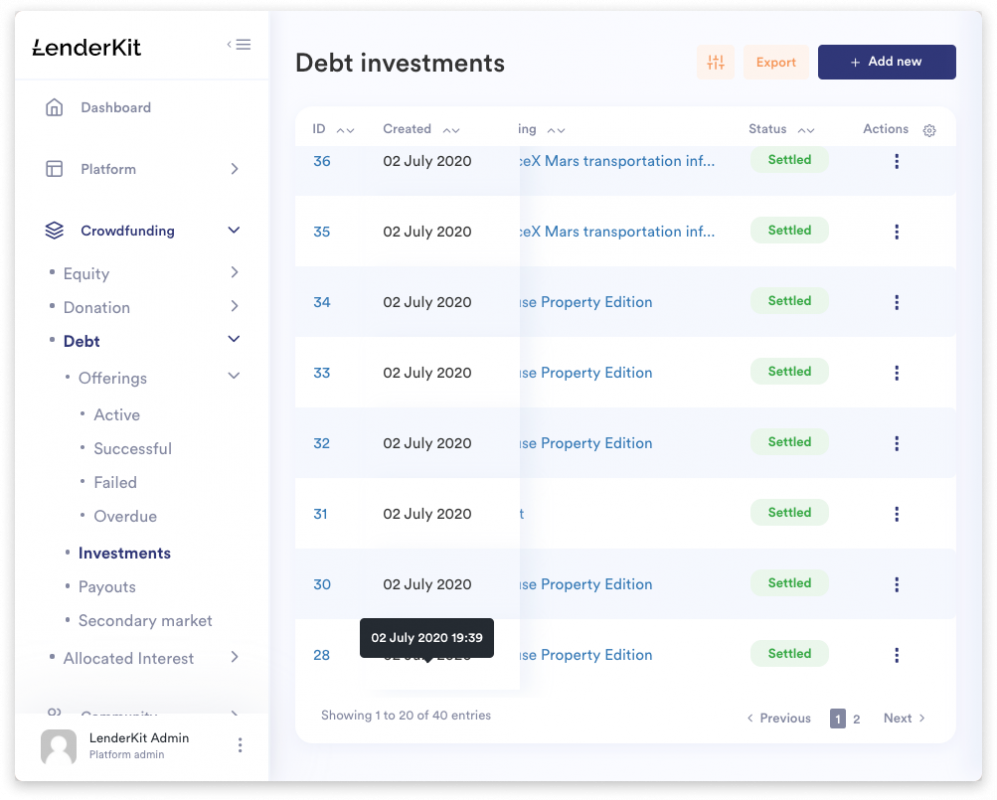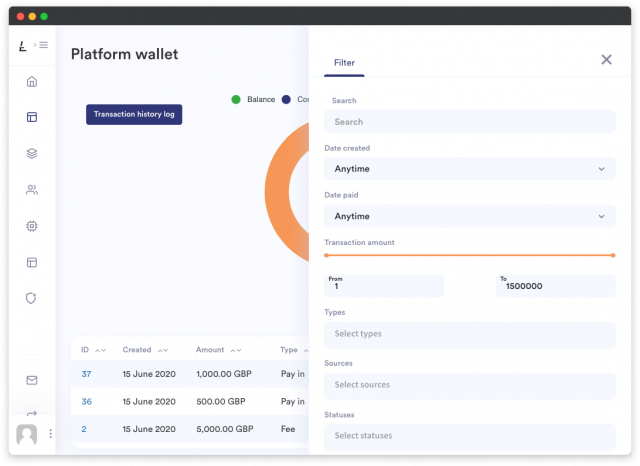 On a side note
No matter how you decide to build your crowdfunding site, never disregard the legal side.
Make sure to hire an experienced lawyer who is ready to assist and never claim that your platform is risk-free – we all know nothing is risk-free. If you're dealing with real estate or securities, the law is not something to be taken lightly. It will be a massive plus if you have someone with extensive experience or education in the banking and finance industry on your team.
If you start your crowdfunding business in the UK, it will have to go through FCA (Financial Conduct Authority) procedures to determine regulatory compliance, so make sure to allocate time to fix probable issues and implement updates according to FCA guidelines.
Ready steady?
Crowdfunding platforms are not only about monetary benefits. Depending on the sector, a crowdfunding site may help you and your investors find this sense of fulfilment that we all are looking for.
Starting a crowdfunding business is just like starting any other business – it's always hard until it's easy. We have built several platforms, gained knowledge in this field, and will be happy to assist you in building a crowdfunding website for you.
Whether you already have a crowdfunding project in mind or start thinking about one – drop us a line, we'll gladly discuss it with you and suggest a solution that fits just right!
Get in touch
FAQ
How much does it cost to develop a crowdfunding platform?

According to our survey, financial companies spend on average at least 89,000 EUR to build a crowdfunding platform. Of course, this is the average amount; the actual cost would depend on the complexity of your business model, integrations, specific regulatory requirements, design etc.

There is an option to buy white-label crowdfunding software and customise its further.

If you are a startup, it makes sense to launch with an MVP first and expand the platform further as you get funding. Talk to our FinTech strategists to find out the cost for your specific case.

What are the crowdfunding regulations in my country?

Regulations are very specific to the jurisdiction where you will operate your crowdfunding business. We recommend to check out the following information:

How long does it take to develop a crowdfunding platform?

You can launch an MVP with basic investment and fundraising flows in as little as 2 months.

Check out LenderKit and schedule a demo to find out how exactly the solution can adapt to your needs.