The latest CNBC Quarterly Investment Guide mentioned shares in crowdfunding projects that remodel homes or purchase commercial property among the ways to multiply the chances to have a hassle-free retirement.
What kinds of projects can a crowdfunding real estate investing platform offer?
Equity crowdfunding: this is the scenario when dividends are made up of rental income. Usually, equity crowdfunding investors have a proportional share of real estate and make money based on both rental profits and when the house or commercial property is purchased.
Debt crowdfunding brings dividends that are about interest income made off of mortgage payments on a particular property or portfolio of projects. In such a situation, you as an investor earn nothing extra when the real estate gets sold. Neither you have a proportional share of any property you invest in.
If you're considering jumping onto crowdfunding real estate investing wagon, here're the pros why you should do this.
Further, we will explore together the benefits of investing in real estate crowdfunding.
A quick snapshot of crowdfunding real estate investments market
We've already done some industry analysis for you to see reasons to invest in property.
According to EY, the RE segment is one of the most fast-growing crowdfunding sections with investors' yields of 10-15%. Back to 2016, the market amounted to $4B and by 2021 it's projected to reach $9B, which equals 7,9% of the global crowdfunding market. 
Now all investments into crowdfunding projects are split between entrepreneurship (40%), social causes (20%), films and performing arts (12%) and Real Estate (6%). As of June 2018, the total amount of money poured into RE projects was $8B.
Who's still on the fence about rationale of property investments, are you :)?
Americas are the largest property crowdfunding market, Europe is on the second place. The largest RE crowdfunding platforms are Fundrise, Patch of Land, Realty Mogul, RealtyShares, CrowdStreet and Groundfloor.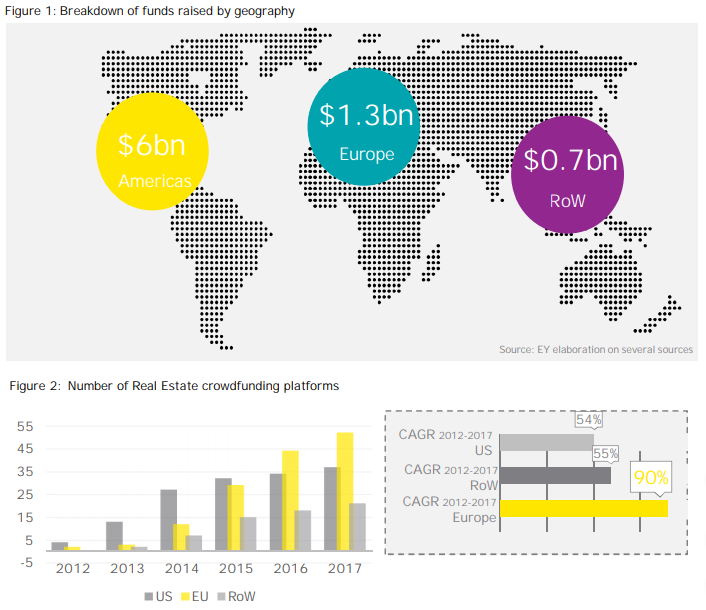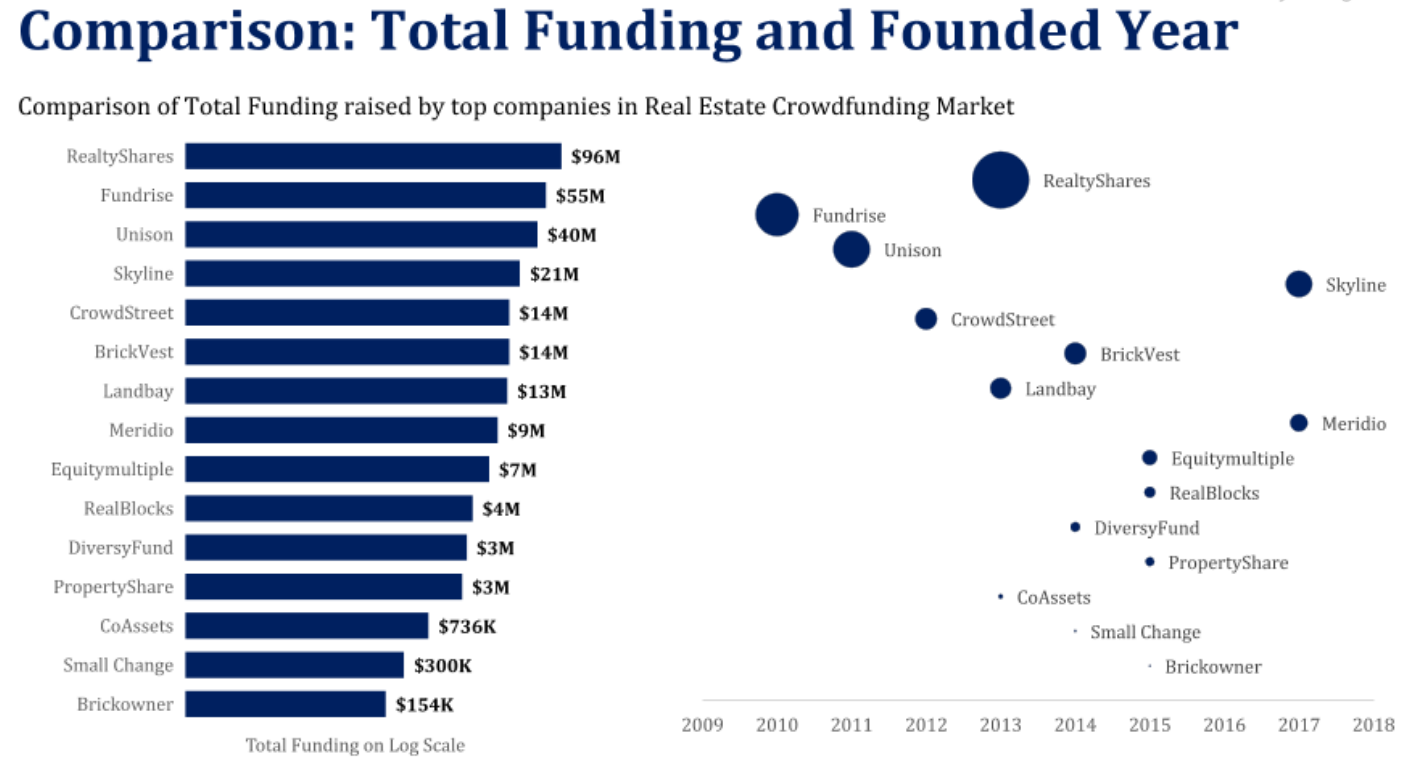 Why invest in real estate crowdfunding
1. Portfolio diversification
Yes, you will hear it often: investing in different types of projects is one of the ways to manage risks.
One of the first things most investors hear is that they need to diversify their portfolio: keep money safe and never put all the eggs in just one basket.
Real estate crowdfunding projects can bear fruit in the long run and bring your substantial dividends.
There's no secret that stocks (especially international ones) are quite volatile and you'd better have a certified financial advisor doing the heavy lifting for you to achieve the best possible outcome.
There're tons of sites where you can read reviews from people who used the service and reflect on their experience in testimonials.
Depending on your risk tolerance, you can choose among residential or commercial project types do not boost return, but reduce the risk.
2. Low-base start
Long time back only high net individuals could afford to make money on real estate.
Now it's no longer the valid notion since crowdfunding for real estate investing made it easier for commoners to have their piece of the pay with lower budgets to entry the game.
Today you don't need to have millions to explore what innovative crowdfunding platforms have to offer.
The entry budget could be as low as a couple of thousands of dollars.
It's a good idea to enhance your net worth in the future by adding a couple of high-flying real estate project that promises a stable return over the years, isn't it?
With such favourable conditions, you don't need to grow the debt and borrow money from family or friends.
To top it off, consider a crowdfunding real estate investing platform of your choice as an opportunity to play around the risk once again.
3. Make your neighbourhood better
Crowdfunding for real estate investing is a way to give back to your local f you chose projects next door. It's a way to have corporate social responsibility for your startup, too by doing good while making money.
Enhancing the life of your community is a great idea to have the best of both worlds and succeed both financially and as a philanthropist bringing innovative projects to life.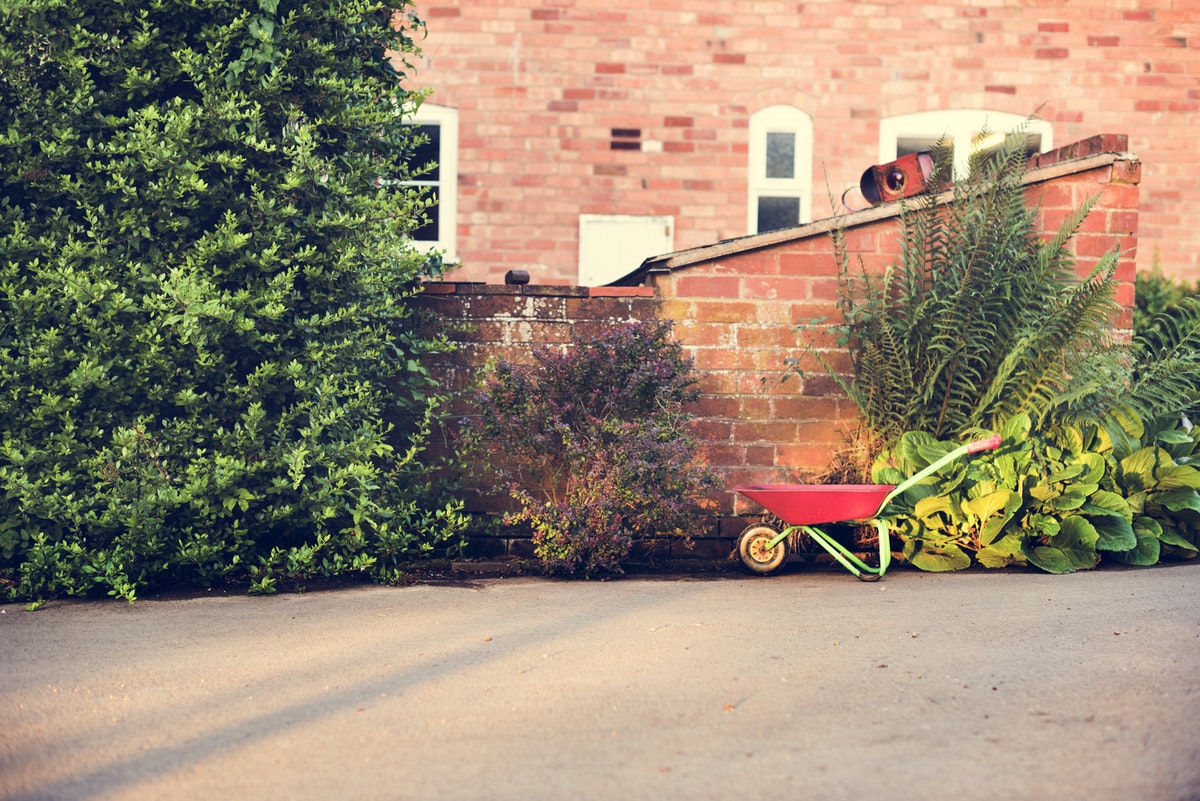 Be sure – your neighbours will say thank you and appreciate the effort while you enjoy the dividends along with the glory.
Sounds like a dream occupation, doesn't it?
4. Free to invest worldwide
Despite a few cases, when you learn how to invest in crowdfunding real estate, you can make money on projects in Brazil or India.
Your geographical location doesn't really matter, and the borders simply vanish for you can choose to invest in real estate crowdfunding outside of your home country.
Real estate crowdfunding offers users a chance to spread their risk across multiple markets and generate juicy return choosing among a large pool of international projects that require credit to start construction or continue the ongoing one.
Put it this way: crowdfunding real estate investing is a great idea to broaden your horizons and reach out to multiple geographies especially when it comes to startup projects in developing countries.
5. Save up on property management
When you own a flat or an office building, you would require either managing it yourself or hire a dedicated agency that would handle all that hassle on your behalf.
So although a landlord status might sound like a feather in your cap at the start, you might regret stepping on that ground later on.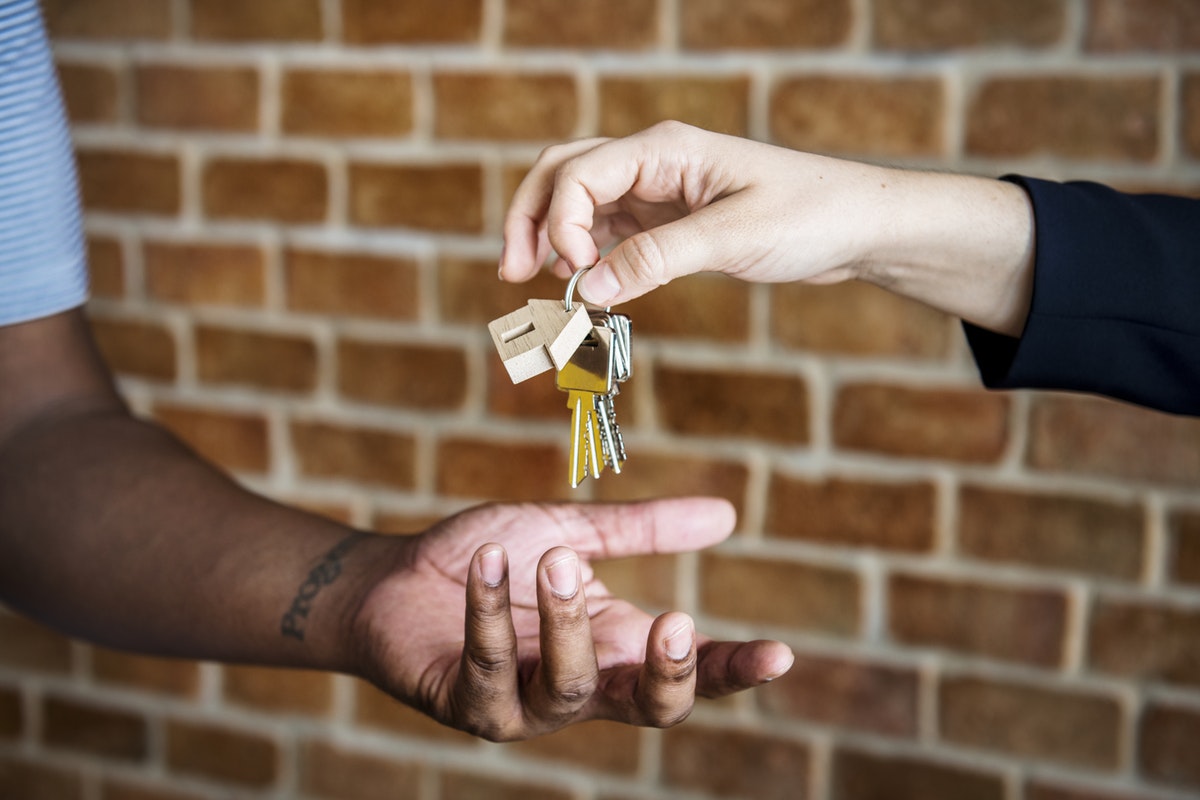 With crowdfunding real estate investing platform of your choice, you have more flexibility and don't need to be in a particular place a call away from tenants that could be quite a maintenance at times.
Not only money matters but the time you can save and spend instead on something other than collecting rent and fixing a leaking roof.
Don't even try to deny it: it's everyone's dream (yours including) to sip mojito under the sun while your daring idea takes care of your financials.
Other reasons why invest in crowdfunding:
tax deduction (this point requires professional advice as some investment products offered by a crowdfunding company may be taxed) ;

stress-free investment process with zero bureaucracy and no middlemen (comparing to traditional investments (bank escrow accounts, securities, gold, mutual funds, etc);

appreciation (property value is going to increase with the lapse of time, which means you can earn profit on property selling);

higher capital value (property creates inflation hedging as the demand for rents always grow with the global economy expansion).
Future trends in RE crowdfunding: what you should expect
Experts and analysts from EY believe that the main trends of the future are consolidation and sector focus.
Until recently, companies have worked mainly with corporate and individual backers but now the focus is going to shift to institutional investors. 
The main goal is to build a sustainable niche, therefore larger companies are acquiring those with fewer capabilities, others are making collaborations to provide stable supply.
Since backers are becoming more demanding, soon we'll see more specialized platforms offering particular investments. 
COVID-19 crises has a great impact on the real estate industry and property finance, in particular. 
Is real estate crowdfunding a good investment or not during the crisis? No simple answer ;( It may be very risky or bring crazy perks.
To keep capital flows and support property development, some companies launch programmes to spur backers' investments. Groundfloor allows angels to get an additional 4% interest rate bonus for 90 days on qualifying investments. The provider continues investment repayments to keep backers interested. 
CrowdStreet has had to reformatted the routine and style of work due to the COVID-19 pandemic, however, they do their best to keep the community connected. Development companies constantly report about project changes and progress to backers. 
Top management returns that institutional investors are now hesitant to jump into new projects but individuals are eager to to obtain a better risk-adjusted return created by the current volatility.
In the interview with Jérémie Benmoussa from the Fundimmo platform, she says that repayment periods will be extended due to the containment of development works, which may change the parameters of RE crowdfunding. Investors should carefully analyse projects aimed at first-time buyers or lower-income households which may have financial difficulties due to the crisis.   
Top UK companies to start crowdfunding real estate investments (our loyal clients)
Recently, we've finished a new project – a website for Glehawk, a leading UK-based non-bank lender providing short-term loans for several types of real estate: commercial and semi-commercial, residential, refurbishment, 2nd charge.
Glenhawk has solid financial resources to provide to property backers seeking investment and refurbishment opportunities.
Reasons to invest in real estate with Glenhawk – an effective loan approval procedure, no exit or admin fees and low requirements to the borrower's income.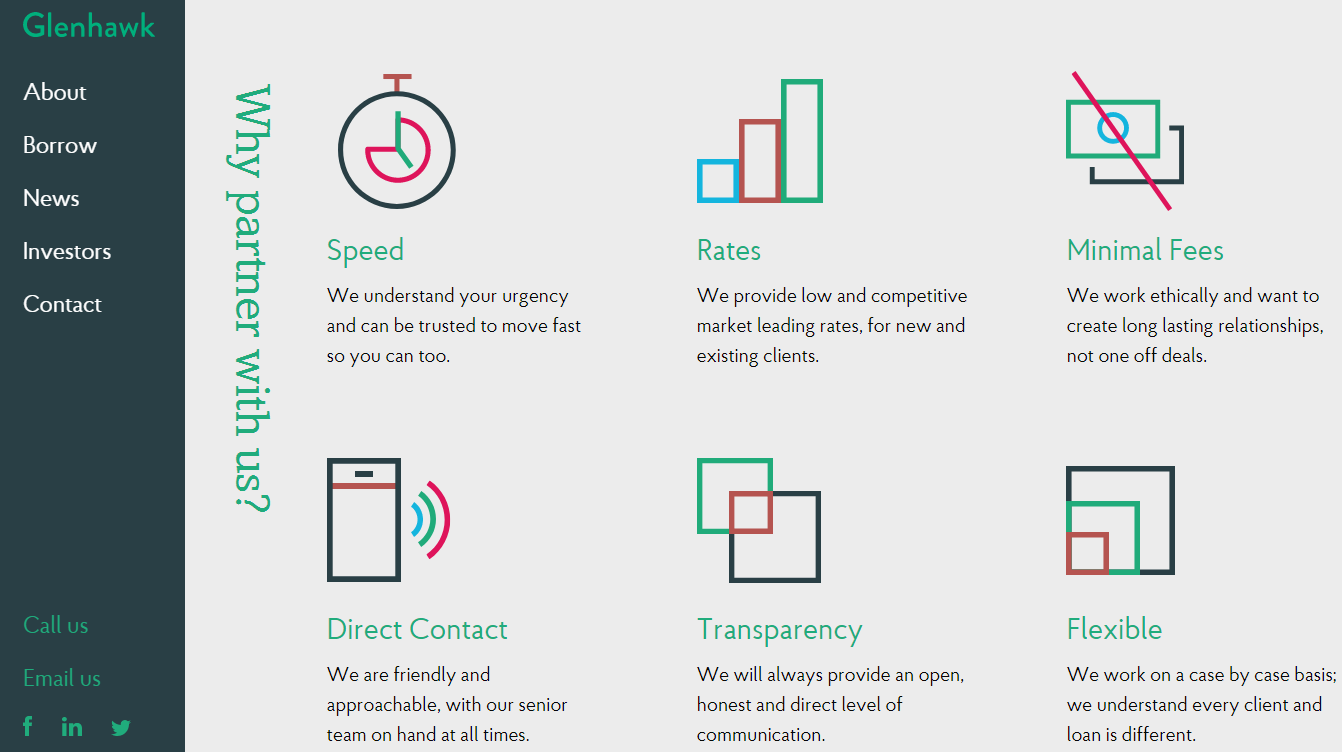 It's your trusted partner in funding professional property developers. CapitalRise deals only with eligible investors and offers to invest in loans secured against prime property.
Via the platform, you can take part in residential, commercial, industrial, retail, and hospitality projects. The team continues working under current conditions servicing new and regular clients.
Main products – equity and debt investments.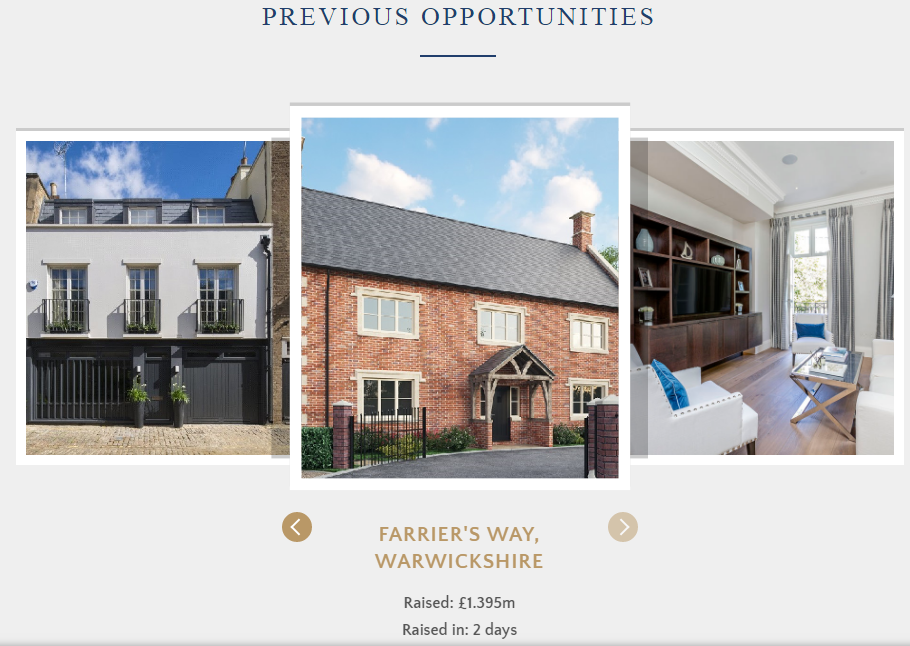 Any investment inherits risks and a good way to eliminate them is to become a co-investor, Shojin is one of our top clients sharing returns and risks along with property backers.
Expected returns via the platform for rental properties are 5% – 12% pa., for crowdlending –  8% – 18% pa., corporate bonds – 7% – 11% pa.
How to invest in crowdfunded real estate with Shojin? Sign up for the platform, find investments matching your goals and preferences, create a portfolio and earn profit.  
To multiply capital, you can always reinvest your earnings.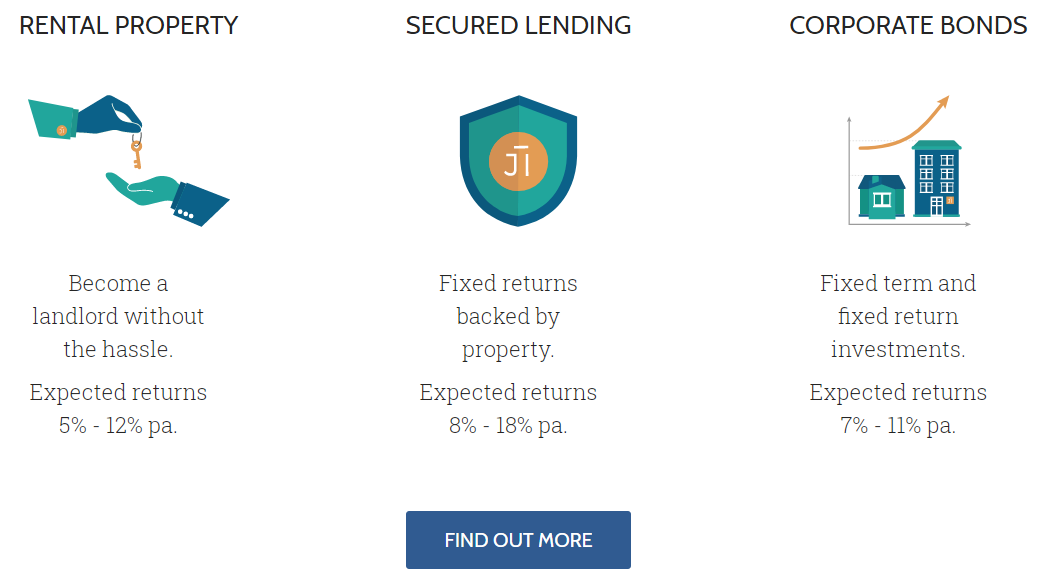 If you have only £500 at your disposal, invest them wisely with Homegrown – another intelligent property provider from the UK.
The platform has strict investment criteria and vets any project submitted for a review.
At the marketplace, you'll find details description of each project – development appraisal, financial assumptions, market reports and sensitivity analysis to help you make up your mind.
Homegrown charges two fees – 5% deal origination fee and 15% profit share.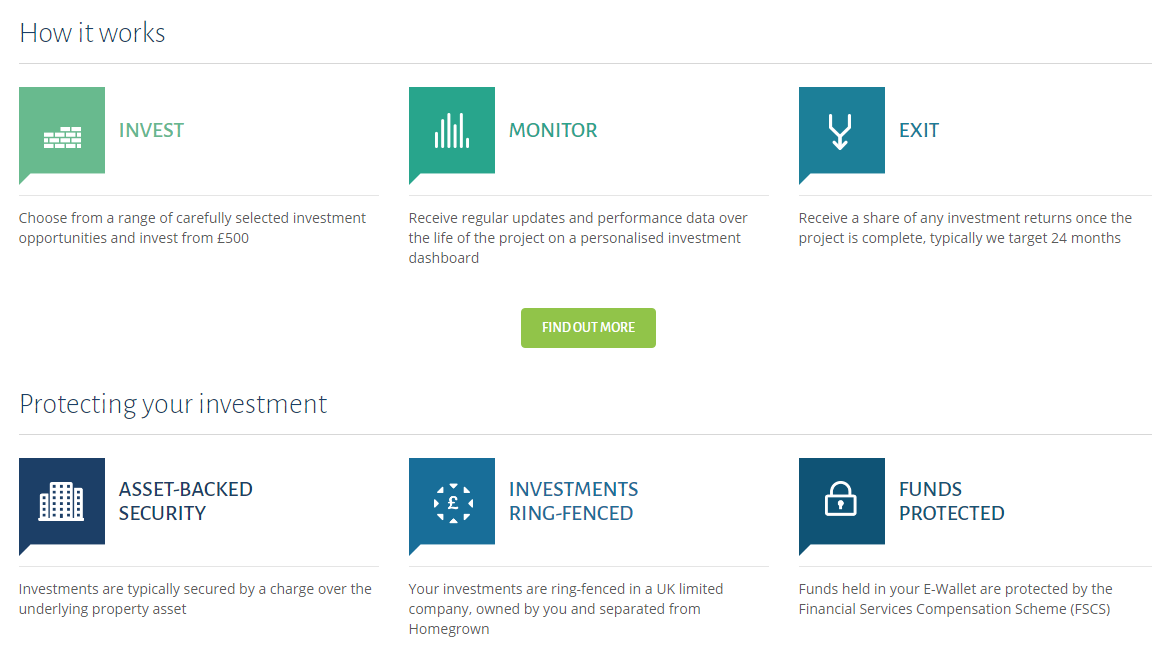 Bottomline
We know it might be confusing whether or not to put your savings in crowdfunding real estate investing platform.
If you're still hesitant, feel free to ask us for professional advice.
Get in touch
To learn more about crowdfunding investing, check other articles in our blog to get familiar with all the options.
When you weigh all the pros and cons of each type of crowdfunding project, it would be much easier for you to make an informed decision.