If Leonardo da Vinci lived in the modern world, he wouldn't have to sacrifice his sleep to master that wide variety of sciences. He'd sign up for Coursera or a similar platform to grasp the depths of the collective knowledge.
The self-paced e-learning model takes education to a new level. Instead of digesting unnecessary materials in a stuffy room, you can choose what you want to learn, when and where.
Besides, you can do it almost for free, not at the expense of your career or private life.
Analysing popular distance education providers, we wondered what makes them so successful. A pricing list? Courses from prestigious colleges or perhaps a set of e-learning platform features?
Today we'd like to focus on the last factor and explain how to create an e-learning website that will be a real blast.
What we will talk about:
Trends in e-learning platform development.
Essential features of an e-learning platform: overview and examples.
Process of crafting a bespoke e-learning site.
Cost to develop a custom e-learning solution.
Trends in e-learning software development
To begin with, let's have a sneak peek at the digital education market, its main trends, players and perspectives.
Fact #1
Before the global lockdown due to COVID-19, experts forecast the global online learning market will increase up to $325B in 5 years to come. The cause is the high demand for cheap educational services with flexible learning schemes and the ever-growing need for corporate training.
For now the pandemic has already forced the $600B higher education industry to move to the online realm.
Fact #2
With the pandemic spreading throughout the world, new trends in online education may influence the future situation:
even the most conservative educational institutions have started the transformation towards digital, which boosted the development of innovations (AR/VR elements, live TV broadcasts, educational influencers);

new alliances between IT companies, educational organisations, and governments are mushrooming; they aim to develop online education systems and make them accessible to all students;

there might be an adverse effect of the global digitalisation — a gap in the education quality and access between advanced economies where students have more opportunities and third world countries.
Fact #3
Corporations are becoming the primary users of online education models. The employees of 77% of US companies join training camps organised by Udemy and Coursera.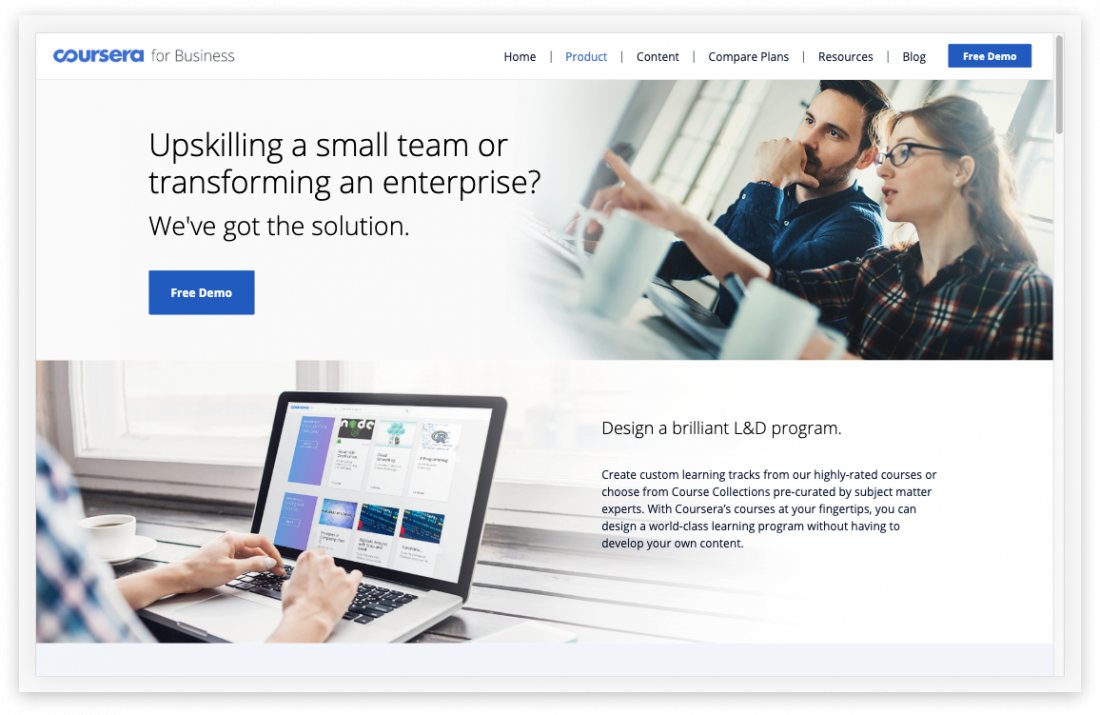 Corporate users choose e-learning platforms because it's a cost-effective and fast way to develop the competence of their in-house staff.
Besides, virtual courses are likely to increase the retention of knowledge up to 25–60%.
Fact #4
Every dollar spent on online educational activities leads to a 30% increase in a company's productivity (wow!).
Productivity is essential not only for a particular enterprise or organisation. It's also necessary for humanity as it improves its living environment.
Fact #5
67% of companies provide educational services for mobile users. On the one hand, it helps businesses meet the demand. On the other hand, gives them a competitive edge over rivals.
Is it the right time to try your luck in e-learning course development? Based on the facts, the answer is definitely yes.
Such niches as tech skills, self-management and personal effectiveness, formal learning are gaining momentum.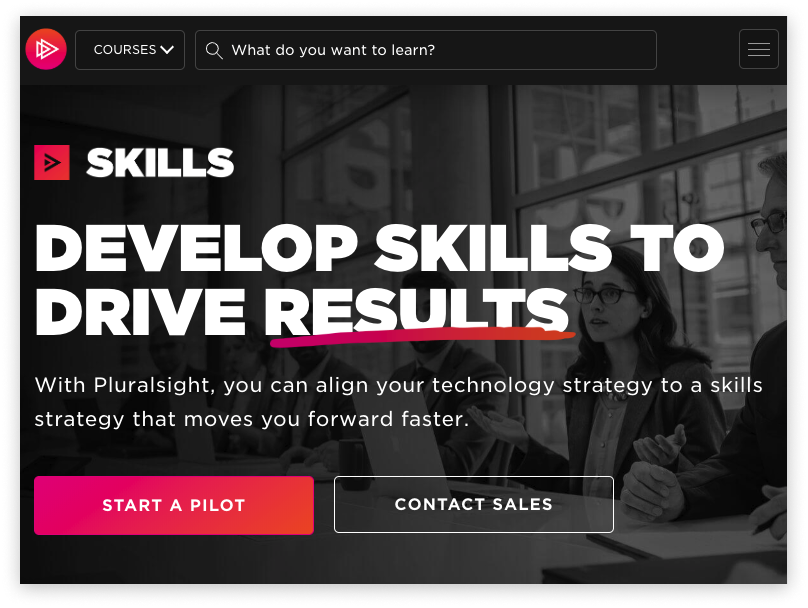 If you opt for them, your probable competition might be:
Core e-learning platform features
Independent review platforms publish hundreds of users' testimonials about their experience with online courses.
The majority of them are about insufficient or lame platform functionality which makes students interrupt studies.
What capabilities are key for portals with online courses? How to create an e-learning website with a perspective for scaling up?
We are moving on to clear things up.
Virtual offices for users
Given the scope of opportunities provided by online educational portals (courses creation and selling for teachers and program enrollment for students), they should provide personal areas where all users can fulfil their tasks.
First off, you should think about how the user will sign up for your portal. Several options are more preferred than registration only via email. 
Create an online learning platform with authentication via socials, and it will save users' time and efforts.
Personal profile settings and options depend on the user type. Lectures will need tools to build and market courses, edit programs and tasks, track students' progress, add events, manage and share documents, etc.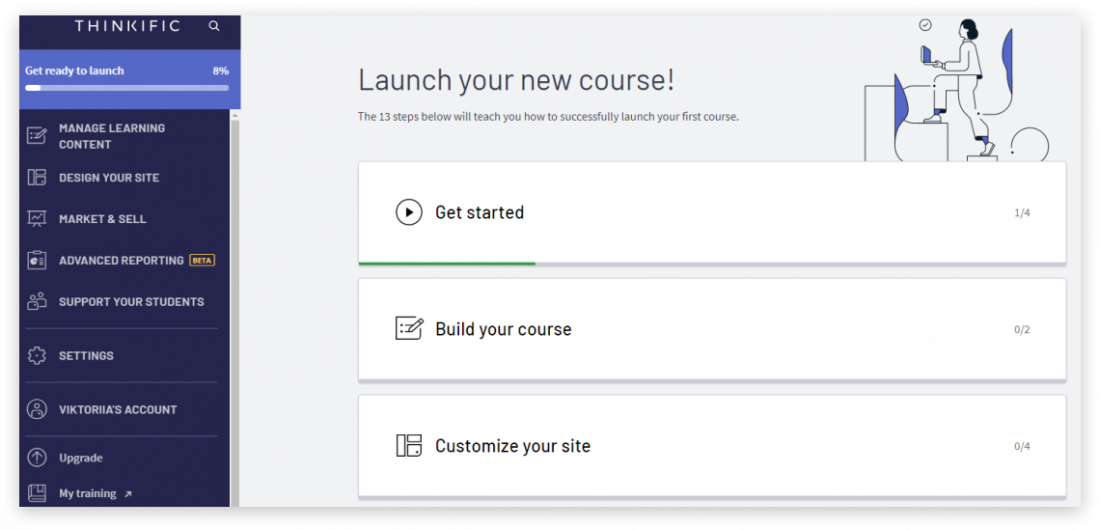 Top online learning platform features for students' accounts:
profile settings and personal info;

courses and their status (in progress, completed, active, inactive, etc.);

purchased subscriptions;

access to the Help Center;

calendar.
Provide interaction
Interactive web design has already become a buzzword. It includes different elements encouraging users to take specific actions.
For instance, a visitor can use a search function, share a website in socials or complete a sign-up form. All this is about interactivity which improves the browsing experience.
Websites with online courses are interactive by default as they offer more personalisation to the audience.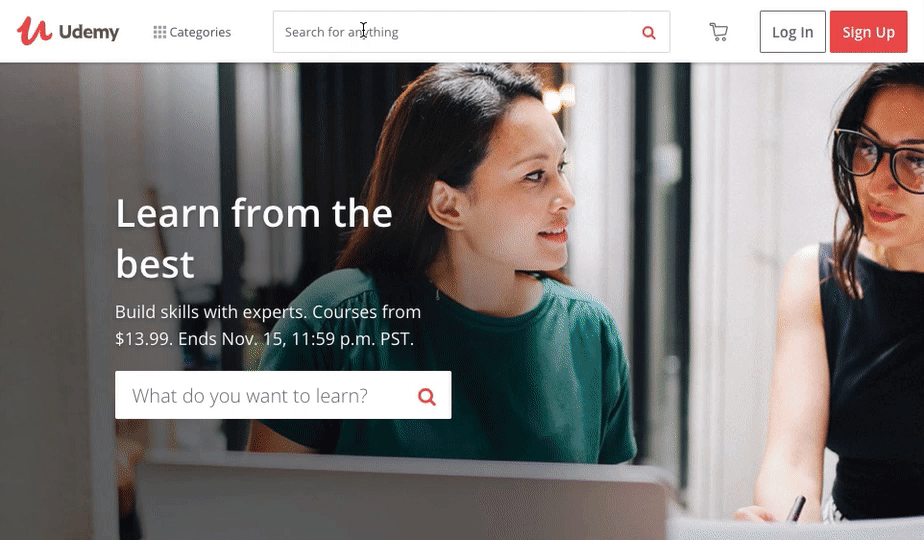 Users fulfil simple and complex tasks in an interactive environment of e-learning platforms:
searching and selecting courses;
commenting and discussing;
enrolling and submitting works.
Interactivity should be understandable and useful. For instance, learners can navigate to a page they're looking for in minutes or enjoy the video content without interruptions.
Otherwise, you can transform the interactivity risks into riddles and mysteries.
Offer it for free
The delivery of distant education services has the commercial concept at its core.
Learners compare online courses, download syllabus, and only then decide to enrol or get a free trial.
The latter is essential as, unlike real shopping, students are unable to test the thing they're buying.
Some platforms like Coursera offers free enrollment for a trial period which is usually up to 7 days. To continue studying, you should pay a certain sum of money.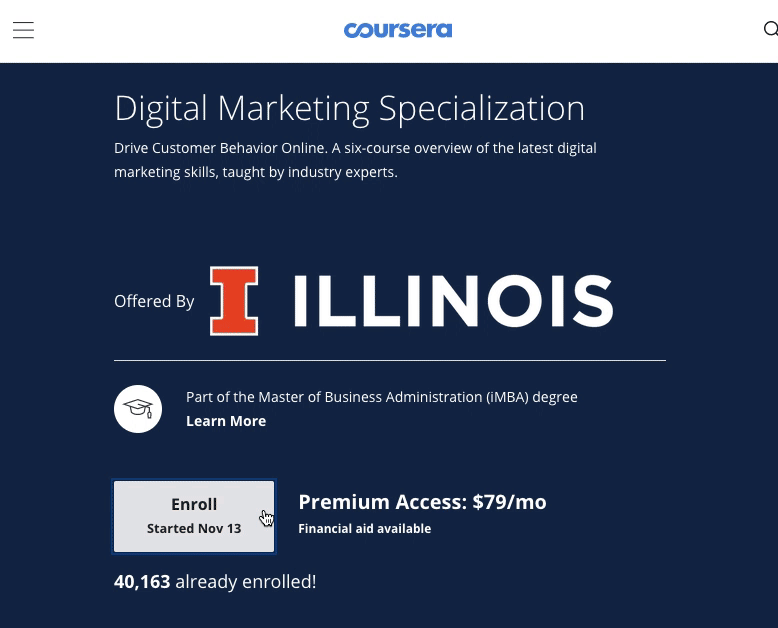 Others like Skillsoft are eager to provide free demos with temporary access to content.
No matter what shape a demo takes, it creates the feeling of trust, reliability and respect. It makes users believe that they have the freedom of choice.
I want this and that!
The first thought that might come to your mind when you land on a website like Udacity is "OMG. I don't know what to choose.
Online learning platforms boast about the number of courses they offer. Coursera has 2,400 online classes. Udemy is breaking all the records by offering 130,000 programs, unlike Docebo, which provides access to only 20 free courses.
No matter how big or small you're going to be, you have to make sure that learners can easily find a course in your catalogue.
We like how Udemy copes with this. Once you type in the keywords in the search bar, the system offers results grouped by categories.
For instance, you'd like to dive deep into the basics of digital marketing. Udemy selects several courses for you, including programs for beginners and advanced masterclasses.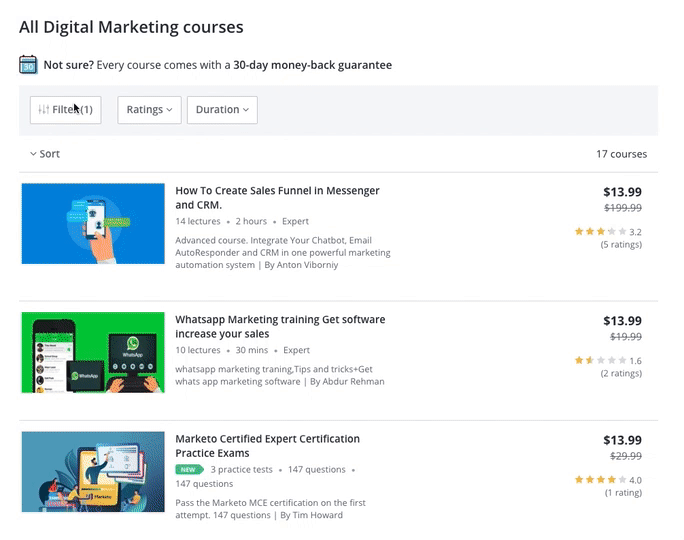 Right under the search results, you can find a featured course with a breakdown of its topics and instructors.
To view all the courses on digital marketing, you can use a filtering system and select only those with a 5-star rating or duration of 17+ hours.
This approach helps the user not to get lost in the ocean of information and make an informed decision.
Admin dashboard
All types of e-learning platforms — corporate educational websites or global distance learning providers — necessarily have admin dashboards for managing every aspect of the platform.
Admin dashboards should come with the functionality for organising, managing, monitoring and reporting about course activities.
If you seek an easier way to build an e-learning platform, there are off-the-shelf tools like Docebo or uQualio to help with user management on your side.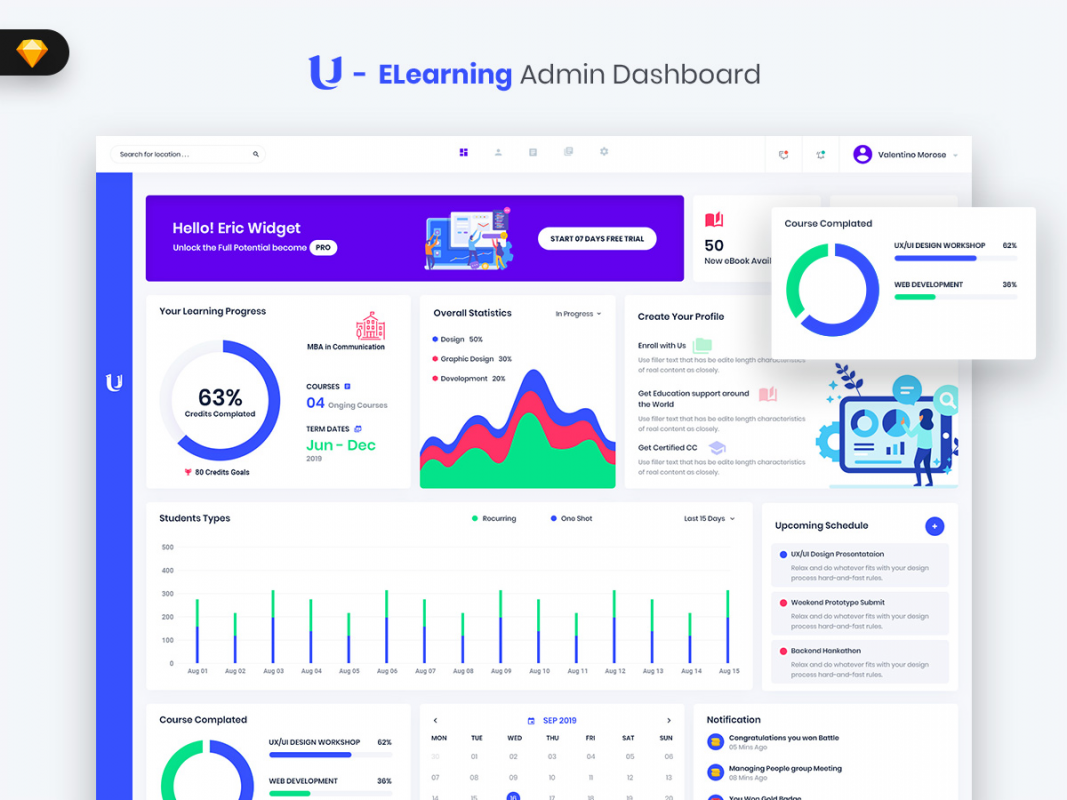 If you are more prone to hiring professional engineers, consider these basic functionality modules:
courses management and tracking;

user account management;

user profile visibility;

user records import;

users grouping;

user profiles merging;

statistics and reports;

user notifications;

admin settings;

platform events.
Need someone to fulfil your extraordinary business idea? Drop us a line and let's discuss possible solutions.
Get in touch
Pay and start your learning path
The pricing policy is another factor influencing learners' choice.
You may choose to sell basic courses for fun money or offer professional training programs for membership fees.
In any case, the purchasing process should be smooth, quick and secure.
When the user proceeds with the checkout, they want to see different options:
credit/debit cards of different payment systems;
PayPal or alternative payment gateways.
Your task is to ensure clients that whatever method they opt for, the transaction will be done instantly with zero risks of the fraud.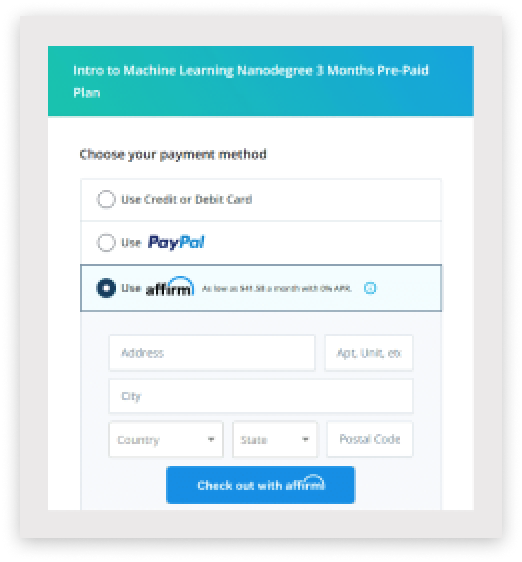 Alongside traditional methods, Udacity offers to pay via the Affirm provider. Coursera allows using Discover and JCB cards. Docebo provides free coupons that make the course price very appealing.   
The power of personalisation
During the development of an e-learning platform, it's essential to keep in mind the pain points of your clientele.
Some platforms offer basic personalisation options like choosing a custom avatar, payment method or setting email preferences.
Others, more advanced platforms, let you sync your calendar with courses deadlines, tweak notification or request learner data reports.
We like the custom options in Coursera accounts. Here's what users can do there:
set the timezone and language;
connect LinkedIn profiles;
add calendars;
turn on tracking notes & highlighting activity.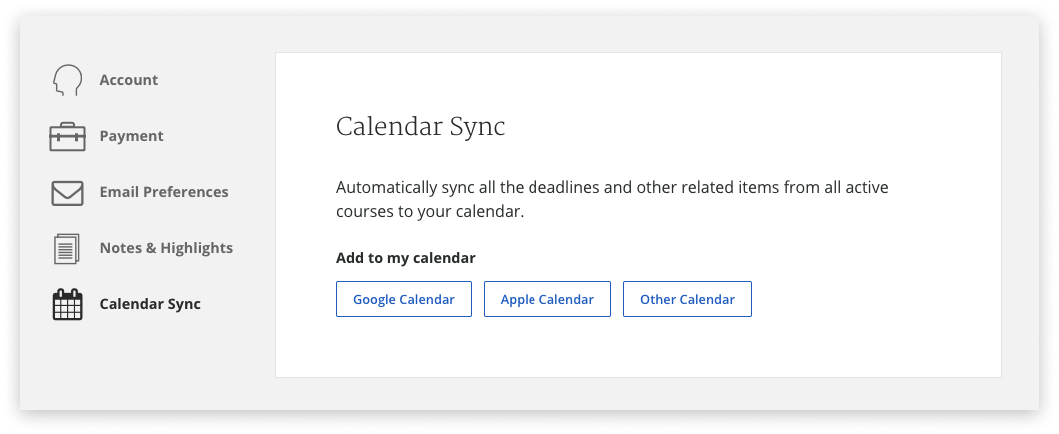 Another side of customisation is the support of multiple languages. The globally operating platforms offer the same course in different languages.
Also, you can demonstrate an individual approach to every student by adding analytics to their dashboards. Using stat, learners can track their progress and receive updates on submitted tasks.
Real classroom simulation
Despite the advantages of online education, it often lacks the collaborative aspect.
People enrolled in a programme have to grasp the knowledge themselves without a human mentor or peer.
Communication is critical since it creates an inspiring environment and healthy competition.
We know how to create an e-learning platform that will give a feeling of in-campus lectures with coffee breaks.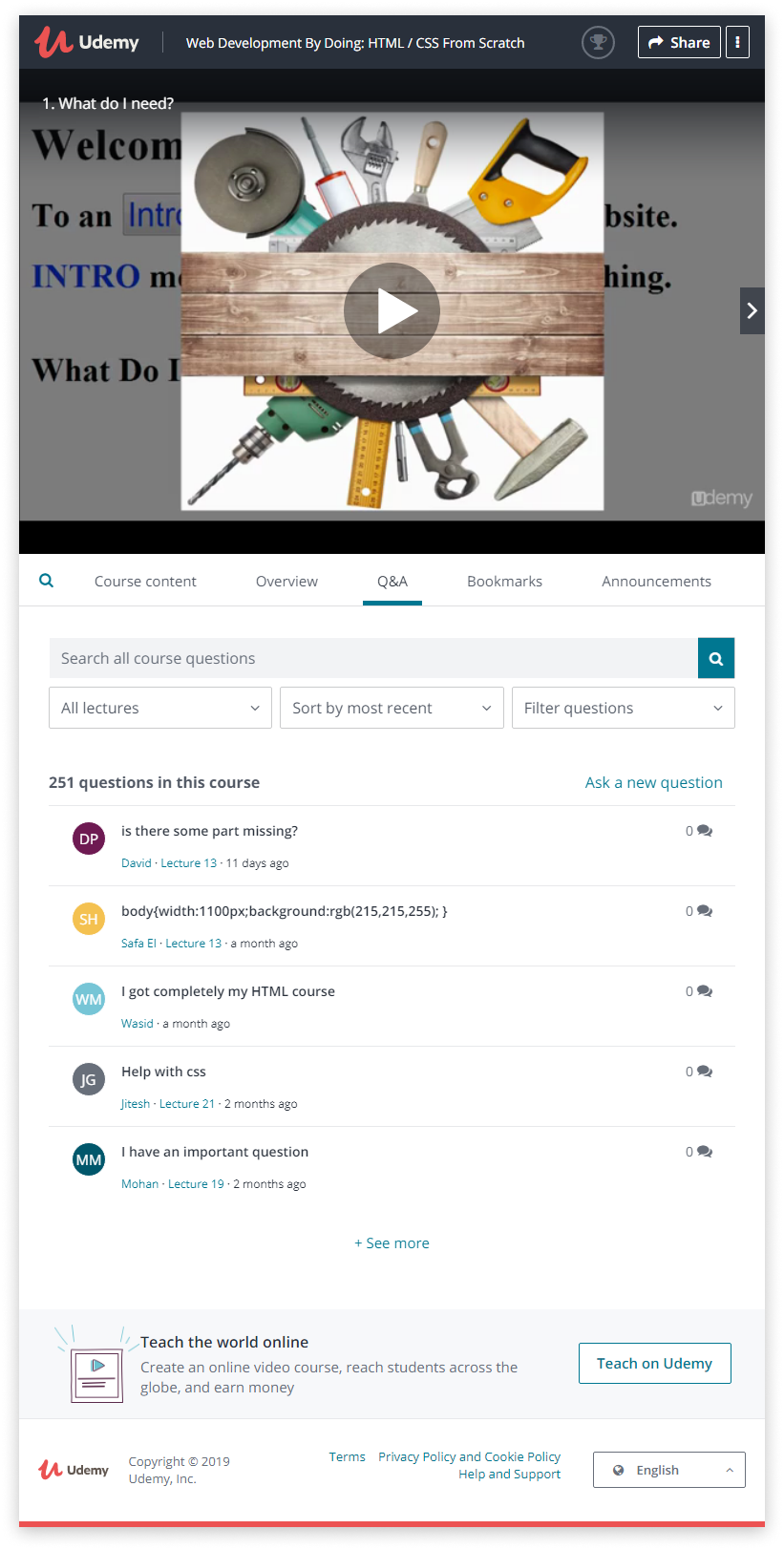 First off, materials should come in video and podcast formats with the teacher explaining the topic.
To boost discussions, develop forums and virtual rooms where the students of a course can ask questions and share ideas.
Also, it's important to let users get in touch with the mentor; chats and messengers can work well to an end.
Helping hand
At the planning stage of e-learning platform development, think well how you'll be supporting customers' inquiries.
Since your website is going to experience a heavy load, you need sufficient resources and capabilities to handle it.
How do top platforms manage with this?
Coursera has a well-structured Help centre with topics providing answers to FAQs. If a user has a particular inquiry, they can get in touch with the team by email.
If you're a Skillsoft user, you can reach out to the tech specialist by Live Help, phone, or email.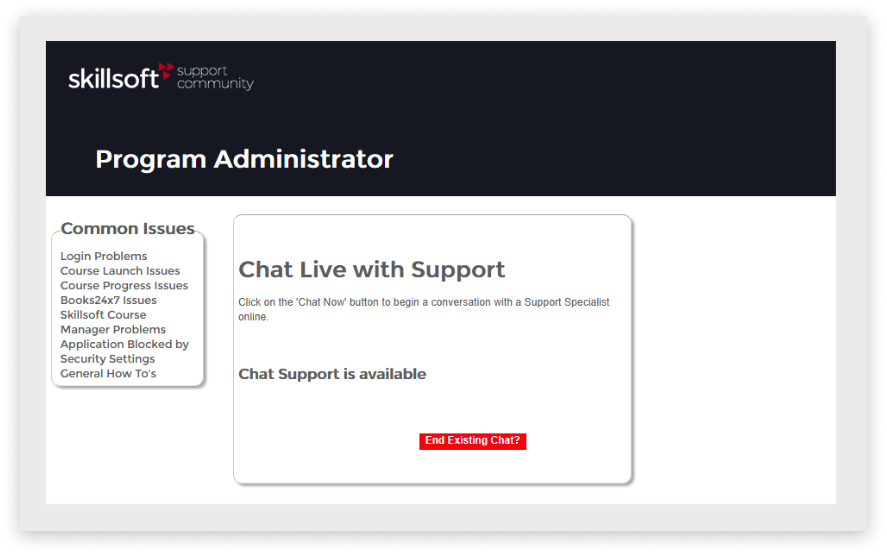 Udemy students can send a request right from their personal dashboards. Once they appear on the Support page, they can find the question in the FAQs or use a help chat.
Share everything
Videos, podcasts, online presentations, interactive materials – the range of learning materials is huge. Does your portal need to support all these formats?
Probably yes. 
Make an e-learning website where teachers can upload and share various multimedia files and assets from old-school PDFs to richer content.
Think about files size limits, their compatibility with mobiles and offline mode and accessibility option to give or restrict access depending on the user role. 
And getting back to the format question, VR is becoming a new hot trend in distance learning. Just imagine that a picture or video about the chemistry experiment is transformed into a realistic scenario where a student can take part in. It will be your WOW among other education platform features.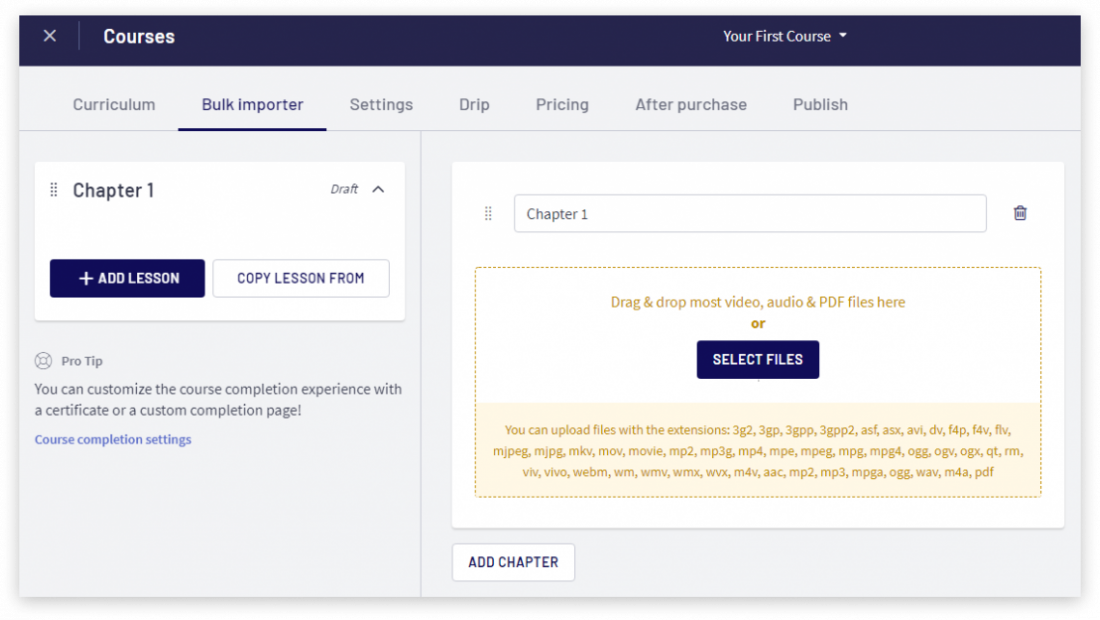 Other e-learning portal features to consider: reports and data analysis, online webinars and other events, gamification, blog.  
How to create an e-learning platform?
Either you're going to walk this path on your own or with our company, you should now what milestones a typical development process has.
Discovery

. During the first call, our business analysts will find out what requirements and

features of an e-learning system

you have. We'll dive deep into the specifics of your business, analyse target market and investigate competitors. Finally. we'll come up with requirements specs and tech suggestions.

UX/UI design.

The results documented on the previous stage help us create user flows and journeys that will be a base for the future UX of your platform. Through user research and wireframing, we align the visual design with your business goals and clients' needs. 

Development.

When all the assets are prepared for engineering, our programmers get in the game. Our development process is well-established so that you can be confident that your budget estimates and deadlines will be met under any conditions. We work according to the

time-and-material approach

allowing us to be flexible and transparent.

Post-implementation support.

If you'd like to start with an

MVP

, we're happy to offer our assistance and

develop e-learning platform

with extended functionality. The post-launch services we provide include tech consulting, ongoing development, UI and UX improvement. 

   
Cost of education platform development
Design requirements and online learning platform features greatly influence the final price in the contract. 
Check what it takes to build an e-learning platform below.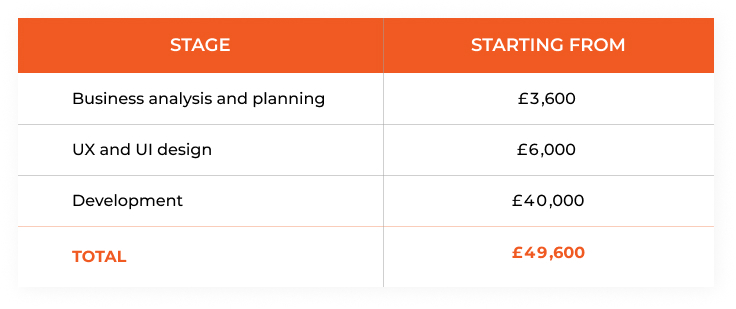 Conclusion
The providers of online learning services have revolutionised the education sector in a short time.
Getting degrees in different sciences and disciplines has become a lot easier.
Even college students can succeed in career development and personal branding.
Corporate training and staff education is no more a pain in the neck.
All this is thanks to a robust and feature-rich functionality of sites like Udemy and Coursera including:
interactive design;
free trials;
alternative payment options;
custom settings;
professional support;
easy-to-use course catalogue.
Hopefully, this article will give you some basic understanding of what is the core of an e-learning website. Ping us if you'd like to discuss your e-learning project!
Get in touch
More articles on custom e-learning website development are to come. Follow our blog and never miss a post.