Of all types of business, the real estate industry is one of the most client-centric.
To satisfy a wide range of сustomers, real estate agencies need to have a 360-degree vision of every client.
In the past, it was tough and, sometimes, even impossible because facts were missed, information was misunderstood or misinterpreted.
Today, thanks to the development of cloud-based customer relationship management software (CRM), keeping clients' records has become more comfortable and more productive.
So, how to build a CRM software for real estate and what functionality should real estate client management software have?
Let us brief you about all this.
Merits of CRM software for a real estate agency
First off, what does CRM mean in real estate?
In general, CRM solutions stand for customer management software helping users manage, attract, retain clients, carry out transactions and close deals.
Buying/selling homes is a complex thing and, if for an independent agent it may be ok to manually organize contact information, do relationship management, schedule viewings, etc, for big agencies it's just impossible.
This is the moment when automated CRM helpers jump into the game and take the routine daily tasks.
What's more, online systems not only automate business flows, they help companies with marketing and selling. 
SuperOffice reports that the CRM industry is going to demonstrate $80B+ in revenues by 2025.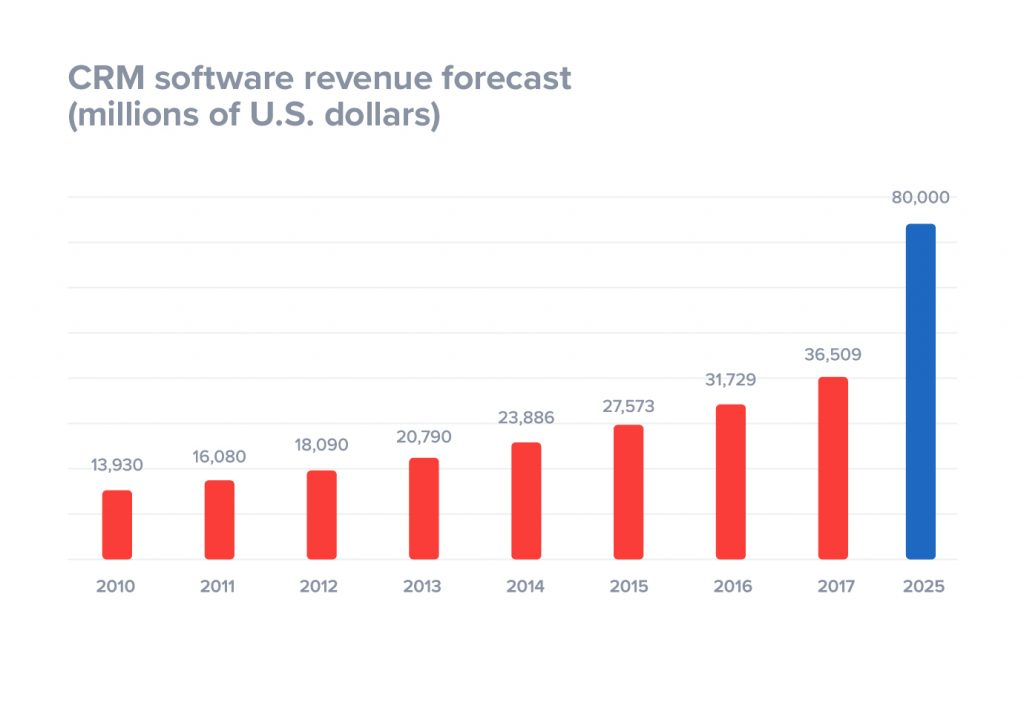 BuyerZone states that 91% of enterprises with 11+ employees use CRM systems in client management, which means that even small businesses find these solutions useful.
What's more, according to Agile CRM, each dollar invested in a CRM solution brings $8.71 return.
What's behind such incredible popularity?
As cloud-based solutions, CRMs allow companies to get updates on clients' data any time and from anywhere.
However, CRMs can benefit online brokers in a few other ways.
Better deal management
One of the most obvious reasons why you should incorporate CRM into your business is to achieve your sales goals.
Agile CRM has collected amazing facts about companies who use CRM tools for dealing with clients:
Using CRM systems leads to a 29% increase in sales, 34% – in sales productivity and 42% – in sales accuracy.
Thanks to customer relationship management software, conversion rates are likely to grow up to 300%.
CRM tools can help companies shorten sales cycles by 8 to 14%.
The software comes in a bundle with visual dashboards where users can view the full picture of the sales funnel.
Tracking the deal's progress, adding tasks, setting up meetings, using the info from deal cards, scheduling appointments are among the tasks users can fulfil within the sales pipeline modules.
It's clear that the real industry these days is a slammed due to COVID-19 situation. The number of deals has dropped globally because of social distancing requirements and safety measures.
However, sales and leasing deals are still available as people will always need to have lodging.
Realtor.com ran a series of interviews with industry experts on the pandemic consequences.
One of the takeaways related to houses that "gone stale" aka have been listed for a long time. Historically, such properties risk being abandoned as their attractiveness is directly linked to the time they're on the market.
RE agents cope with this problem by personally liaising with clients through their own channels and social media. To this end, real estate CRM solutions can be of much help in promoting "on hold" assets.
Efficient client info storage
The clientele is the most valuable asset of any company and business.
CRM software for real estate agency is super helpful when it comes to sorting and keeping customer data.
Statistics demonstrate that commercial CRM usage positively impacts customer retention. Every interaction, be it a call, email, chat message or a short talk is carefully recorded and can be retrieved in case of necessity.
Knowing more about your clients and business partners can help you boost sales and deliver bespoke solutions.
With tiny details such as preferences, use cases, activity history, you'll be able to provide excellent customer service and gain a competitive advantage over rivals.
Advanced conversation management
As a rule, CRM solutions for real estate have built-in tools for enhancing external business communications — automated follow-up emails, reminders, custom email templates, live chats, etc.
By automating the communication channels you can omit mistakes when entering customer contact info and provide relevant feedback.
Custom templates can be helpful in case you track the performance of your email campaign – message opens, and link clicks.
Better lead attraction
According to a recent survey, more than 60% of companies admit that CRM software has a significant impact on the business results and its growth.
Leads management modules to help businesses cut time spent on preparing for meetings, complete vital follow-up activities in time, easily find documents or contact details.
By recognising customer behavioural patterns and readiness to buy or rent a property, you'll be able to apply the right tactics.
What's more, some CRM software such as HubSpot, has an embedded predictive lead scoring allowing property agencies to see which lead is going to become a client.
Efficient meeting arrangement
Thanks to the synchronisation of emails, calls and calendars, you can easily discuss meetings time with leads and share arrangement details.
With the calendars integration feature, real estate agents create and share links with anyone – team members, prospects and partners – allowing them to decide whether or not the set time is appropriate for them.
Besides, using group calendars to inform all the meeting participants about the upcoming event can greatly enhance team management.
Enhanced process management
CRMs are key to customers' happiness and satisfaction.
Tickets work great for standardising and organising internal business processes.
Agencies and companies assign tickets with requests from clients to appropriate specialists, set their priority, and track performance. All this lets business owners provide relevant feedback and deliver excellent customers' experience.
Reporting tools contribute to process management improvement. With built-in reports, you can monitor the performance of your team, identify the bottlenecks and areas which require your close attention.
Core features of CRM software for the real estate industry
There is always some luck in the misfortune. The global lockdown is a great opportunity to set up for post-quarantine changes and future success.
Here's a rundown of activities you can take up now:
keeping in touch with existing clients and generating leads;

adapting to the new reality with AR/VR technologies;

continue education and get new skills;

searching for

real estate CRM features

to automate your property business. 
CRM software development starts with recognising the audience's pain points and planning a proper toolkit.
We've analysed the best CRM software for the real estate industry and made a list of essentials your product must have.
1. Marketing automation
Advanced CRMs have integrated modules for marketing campaigns automation, where users can create and fulfil campaigns and tasks, track, set and adjust the budget, create personalised emails and a whole lot of other things.
With off-the-shelf templates, users can run efficient email and drip campaigns, analyse metrics and derive information about prospects.
Since the content strategy is super important nowadays, you can make real estate CRM software with easy-to-use content editing and formatting features.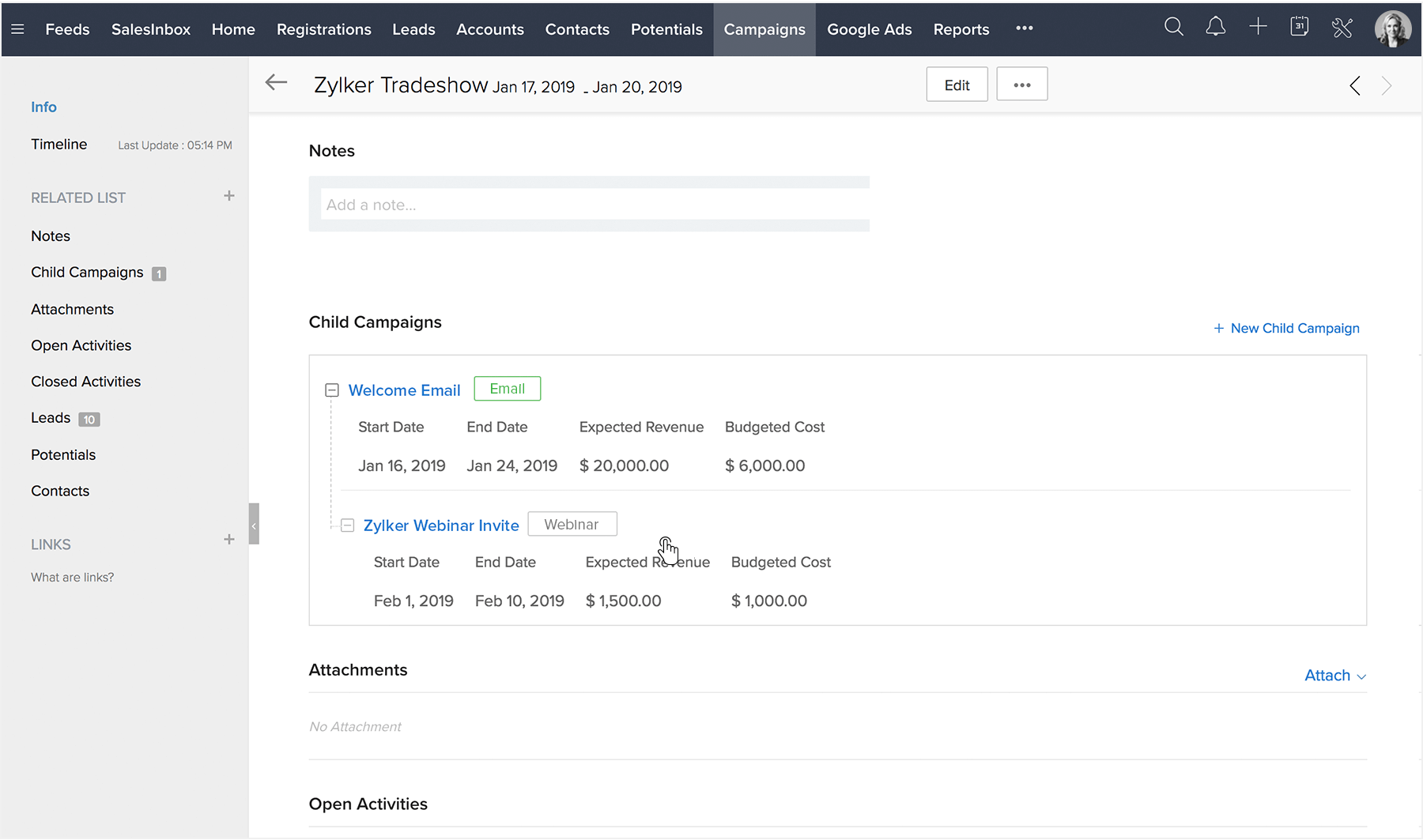 2. Deal management
There is hardly any CRM for real estate brokers that doesn't offer deal monitoring.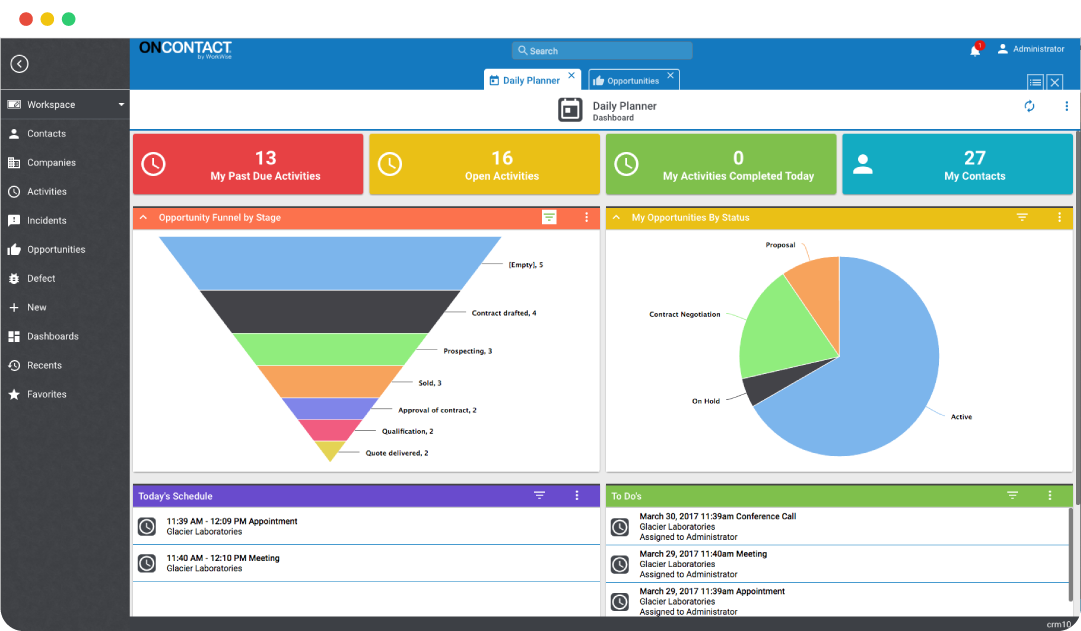 Sales pipeline, deals or opportunity manager (different products have different names for this feature) is responsible for managing and monitoring sales at various stages of the pipeline.
Smart managers provide RE agents with guidelines allowing them to move from the preliminary to final stages of the sales process.
The info of each deal is stored in the CRM system so that property brokers can easily view it at any time and use for making predictions.
By digitising the sales process, clients structurize it and prepare notes for the staff on what to do at each step.
3. Reports and dashboards
This feature is no less important than the previous ones. Without superb reports and dashboards, your CRM might turn to be useless.
To make informative decisions, users need a visual review of their current activity.
We recommend creating revenue metrics grouped by type of activity (property buying/selling, renting), area, agent, etc. This will help agency owners identify both efficient and inefficient marketing campaigns.
The knowledge of deals duration allows users to apply these data in simulation models and predict the future outcome.
Also, with analytics, it's easy to understand the nature of unsuccessful deals to cut their number.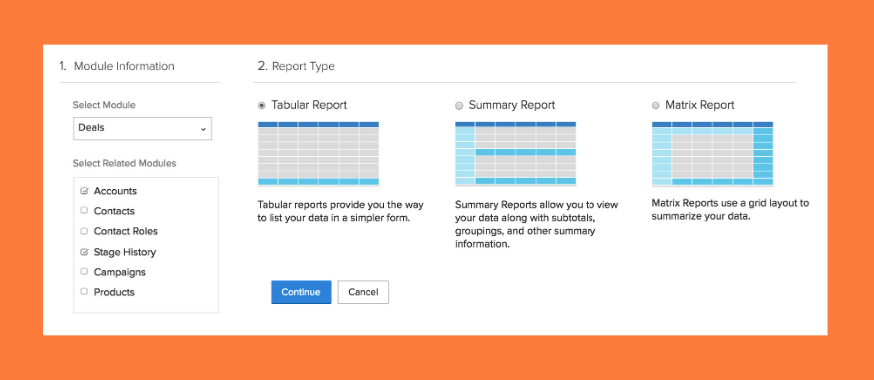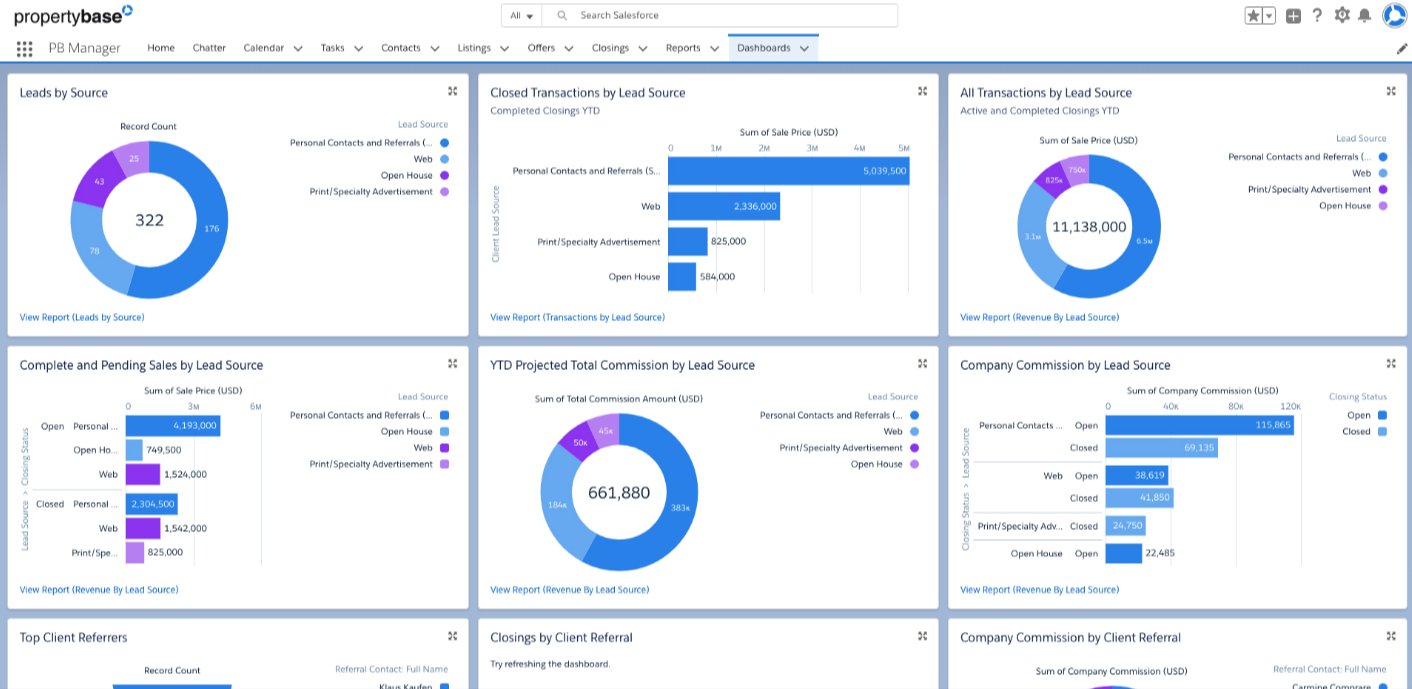 It'd be great if your clients can view all the reports with key metrics within one dashboard.
The last tip – add functionality for scheduling report releases, clients will like it for sure.
4. Real-time communication
Customers satisfaction directly depends on the service a property company provides.
Some CRM systems have integrated chats for facilitating communications between the seller and buyer; others offer one-click-to-call options.
For instance, HubSpot CRM includes a real-time chatbot, FreshSales has a Freshcaller feature for making calls right from the CRM dashboard, Zoho – an AI-based virtual assistant.
The importance of CRM in real estate communications is now important as ever.
Realtors are doing video calls,  discussing instituting drive-up closings and running online auctions. All this requires the deployment of various communication channels in one solution, that's why CRM systems with multiple integrations may be your go-to.
Such a functionality lets real estate brokers quickly reply to clients' requests, share documents, give advice, and, what's more, keep the history of clients' activity safe.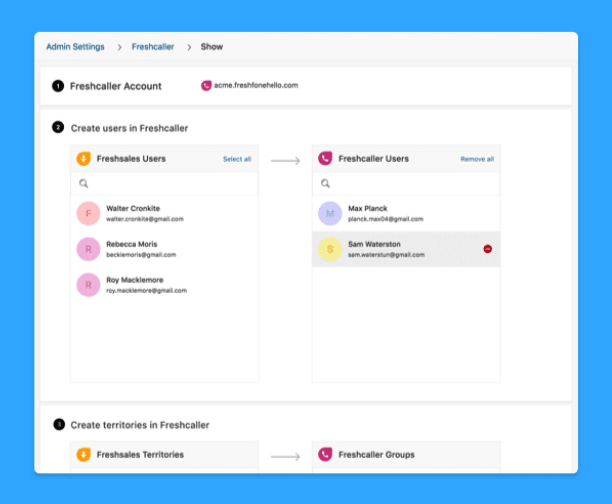 5. Multichannel sales
If your target audience provides different services or operates on various markets, then you should consider elevating a multichannel sales manager.
For instance, real estate agencies can earn money on providing independent home's value assessment services, assisting in home buying-selling deals, and doing consulting.
All this requires different eco-systems for completing sales scenarios and the multichannel manager can be of great help in this case.
Make sure that users can create different sales models, each with its stages, control the progress and export/import data from/to other systems.
6. Document flow automation
Feature number 6 in our list implies putting the document flows on autopilot.
To let clients get rid of amounts of the paperwork and decrease the time needed for creating, approving and sharing docs, develop a module responsible for these tasks.
For example, with the BPM online software, users can choose a template with a predefined design and layout to create a document.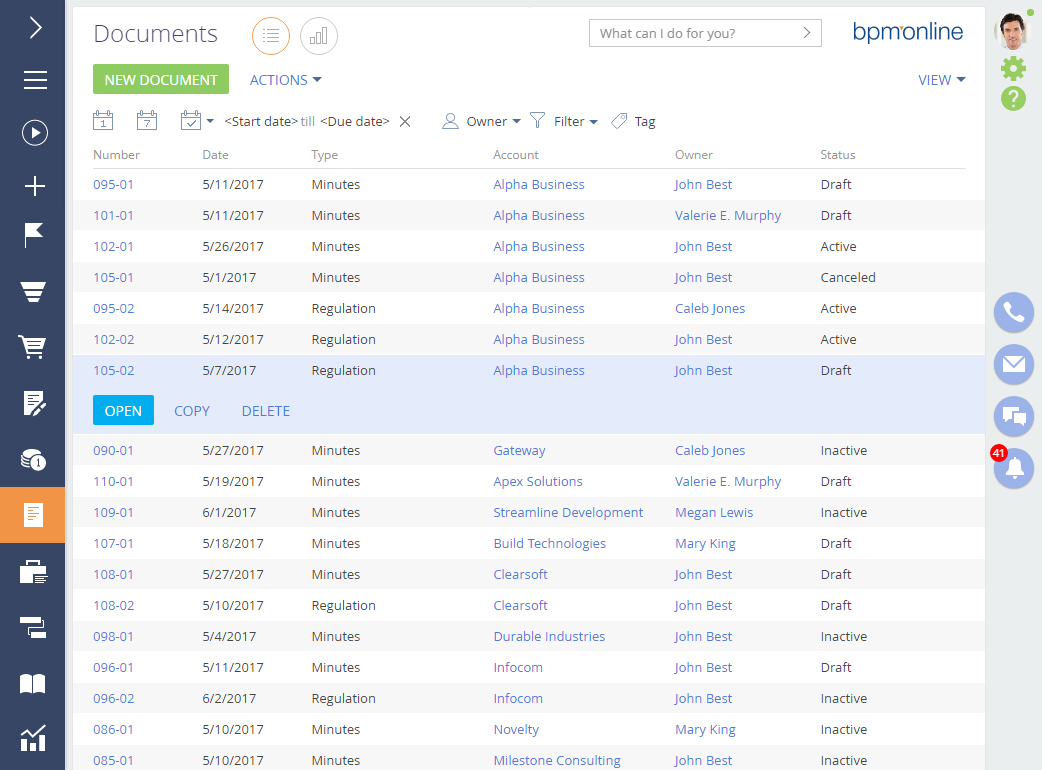 The ready-made doc can be easily distributed across the whole system, attached to a specific deal, client or lead or sent to a recipient.
Another example of excellent documentation management is Zoho library allowing users to effectively organise a filing system and assign roles with pre-established rights to certain specialists.
7. Mobile CRM
In today's world, with mobile traffic amounting to more than 70% of the entire traffic, mobile CRM solutions are essential.
Zoho, for instance, has powered its CRM with an app offering mobile users a seamless user experience.
Instant card scanning, emails and follow-ups templates, real-time reports and statistics, meeting scheduling, leads search – are among the features it has.
You may want to copy some features from the Freshsale CRM app. We like its clients' systems with calendars synchronisation, taxi ordering, push notifications, noted and comments.
8. Contact management
When you start creating a CRM software for real estate agency, remember about the contact management feature.
Building strong relationships with client is hard work and lengthy process where any little mistake can cause negative consequences.
To facilitate this process, real estate agencies look for solutions with a built-in contact manager.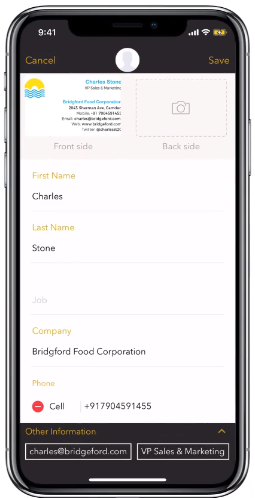 The base functionality should include effective contacts manager, access to the communication history, deals tracker, events scheduler, clients search, reports and analytics builder.
Keep in mind that RE brokers are not very tech-savvy, so your interface should be intuitive and straightforward.
With unprecedented changes we're experiencing now, the attitude to the clientele among realtors has changed as well.
In the Realtor.com piece we mentioned above, house agents say they're more eager to be valuable to their clients than push them to make deals. Some reach out to customers from the contact list to check whether or not they need a helping hand with daily errands, while others provide mental support.
With smart CRM software for real estate agents like Zillow Premier Agent or  Agile CRM, you can store all the valuable insights like clients' preferences, needs and behaviour patterns for future business interactions. 
9. Integration with fav tools
No matter how feature-rich or easy-to-use your CRM platform will be, it should be painlessly integrated with other products.
For this purpose, a CRM system should be compatible with Google solutions, MailChimp, click-to-call products, contact form 7, Magento, and others.
You may start with a limited set of third-party tools for the first versions of your product and expand it at the post-launch stage.
The integrations mentioned above in your package will attract clients that already work with other client management tools.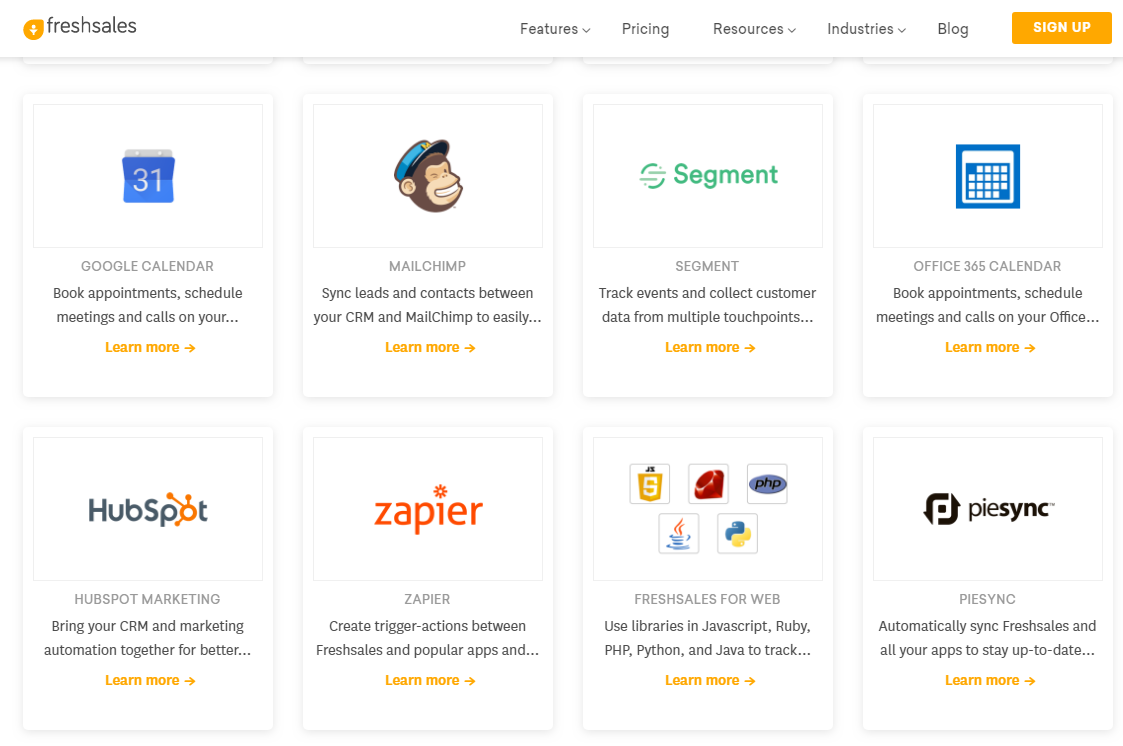 Coronavirus has pushed RE agents to try their luck with virtual tours and video viewings. 
For instance, Edie Waters, a realtor for HomeLight, says in the podcast episode "Real Estate During COVID-19: How Top Agents are Adapting to Coronavirus" they run Facebook Live or video conferences in Zoom for virtual open-houses where every participant can view a venue.
Customers virtually walk through the front door and take a tour around an asset guided by a realtor. The goal is to let buyers/renters have an experience as if they're physically walking through a home.
There are automated tools like Zapier for integrating CRM for real estate agents and business software like Zoom, so you can import all the date and save it in your online customer manager.  
10. Scheduling software and client portal
Finally, pay attention to a client portal, a place where landlords, home buyers and renters will be able to schedule a meeting, share docs, communicate with agents, and monitor transactions.
To increase engagement, you may add some customisation settings allowing clients to set a custom theme, fonts, and colour palette, choose an avatar or change a logo.
What's more, integration of your client area with the support desk will let clients receive instant support right then and there.
For instance, WorkWise has OnContact CRM 24/7 Self Service Portal where people can log in and find the answers to hot questions themselves.
This modern approach helps to avoid numerous problems connected with human mistakes and long waits.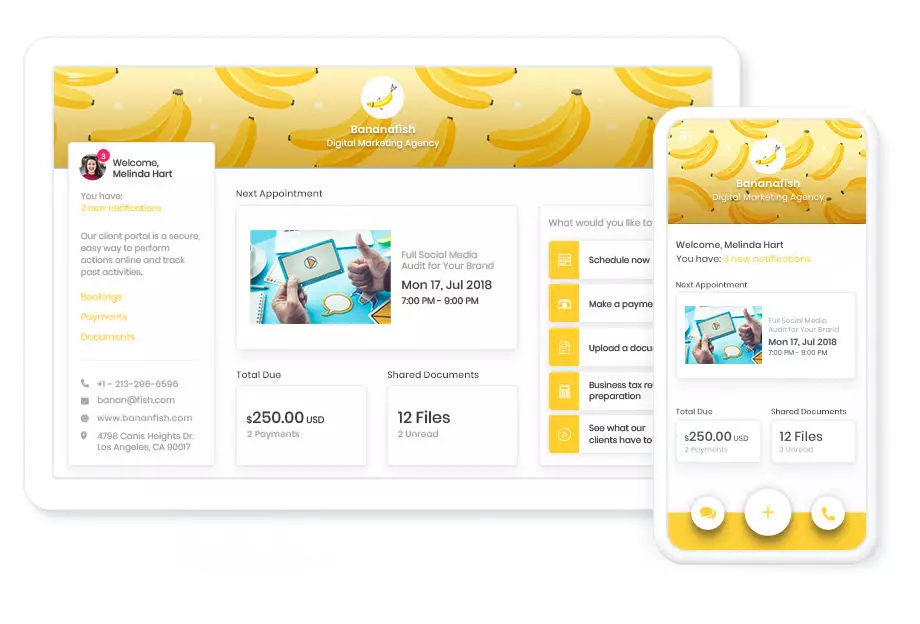 TOP CRM software for the real estate industry
Unlike off-the-shelf solutions equipped with standard features, custom real estate CRM is fine-tuned specifically to your business flows and needs.
Real Estate CRM software development at JustCoded
Creating CRM solutions for real estate business is one of the areas we focus on, although we can't disclose a lot of the projects.
One of the most massive examples of a real estate CRM that we developed in the past combines an enormous amount of features in one solution.
Its interface is not super modern as we developed it quite a while ago, but it's an ultimate all-in-one solution that helped our client keel everything in one place.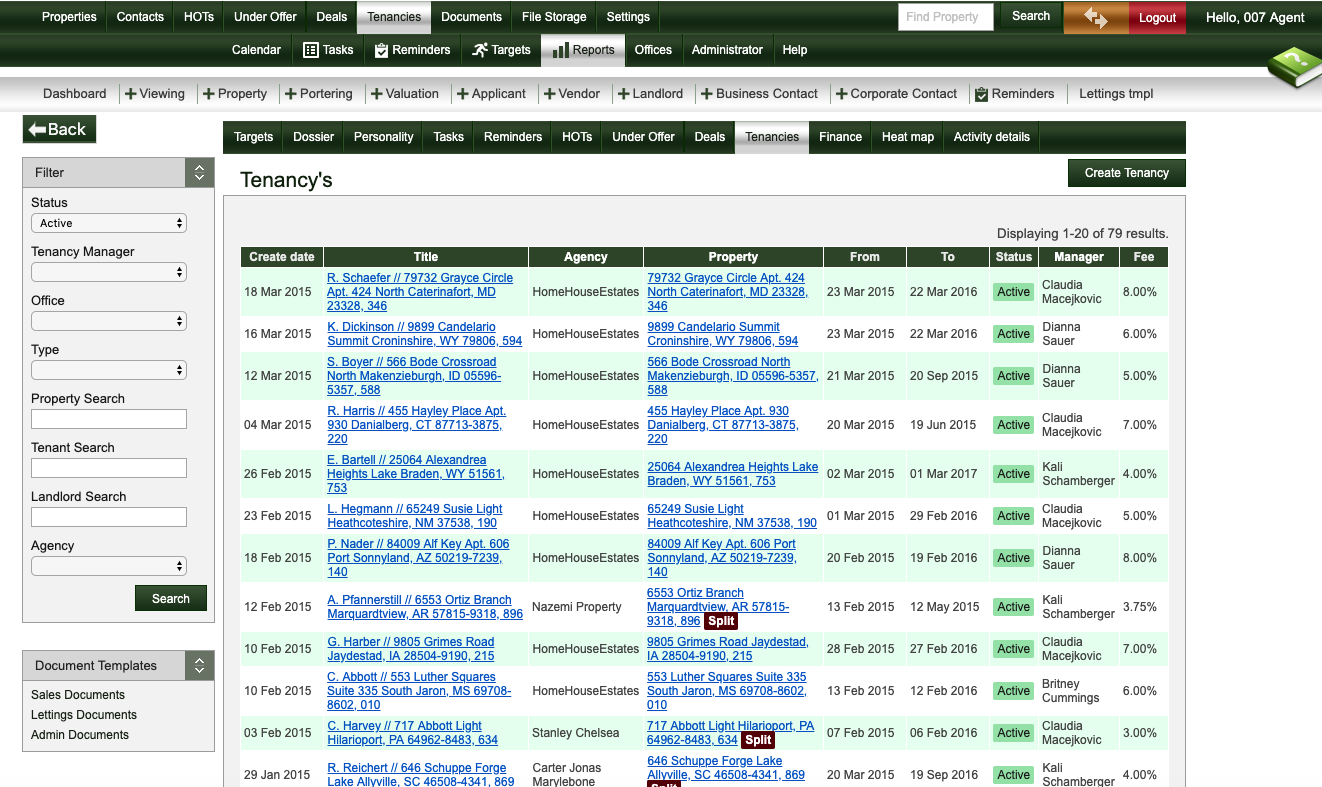 We work both with startups and established companies, elevate products from ground zero and redesign existing systems, build white-label platforms and develop custom software.
The dedicated team model and T&M approach help us to deliver bespoke solutions for property companies, real estate agents and crowdfunding portals.
Want to have a closer look at our projects? View our portfolio on Clutch.
What does it look like to work with us?
In short, the development process consists of several stages. We start with the discovery and business analysis, continue with design and development and end up with the ongoing support.
On average, real estate CRM solution development cost starts from £47,600. We develop sophisticated CRM software that helps our clients solve plenty of pain points:
the usage of multiple third-party tools;
inefficient communications between clients, vendors, staff, leads, etc.;
non-user-friendly interface of native software;
no area for leads and prospects;
non-mobile-friendly design;
poor analytics functionality;
the lack of automation in business processes. 
Building CRM software for the real estate agency: Takeaway
We hope that the main aspects of CRM development for real estate we've covered will help you to simplify your business and accelerate sales.
To sum up:
When sketching the functionality of your software concentrate on the core features such as contact and leads management, business processes and workflows automation, marketing tools.
Make sure that your product is mobile-friendly and easy-to-use.
Follow the highest standards of security to make your software powerful and robust.
Keep updating and improving your program to cater to the user needs.
Tell us if we've missed something or share your experience of building CRMs for property companies in the comments section.