A short quiz, shall we?
You have never tried your hand at investing and decided it's high time you did that
You'd like to sign up with an investment site but don't know what option to choose
You've got an account on an investment platform, but you're going to move your funds to another provider
If you answered yes to at least one of these statements, you came to the right place.
In this article, we will discuss how to choose an investment platform, take advantage of any investment tool, and survive in the ocean of online brokers.
Enjoy reading!
Choosing the best investment platform for your needs
Buying and selling stocks, trading futures, and investing in exchange-traded funds is no longer the priority of seasoned backers.
Today's realities make the stock market available almost for everybody – a first-year student, a mom on maternity leave, or a senior citizen. The huge demand for micro-investing has resulted in a real boost in the industry and fostered the appearance of myriads of online brokers.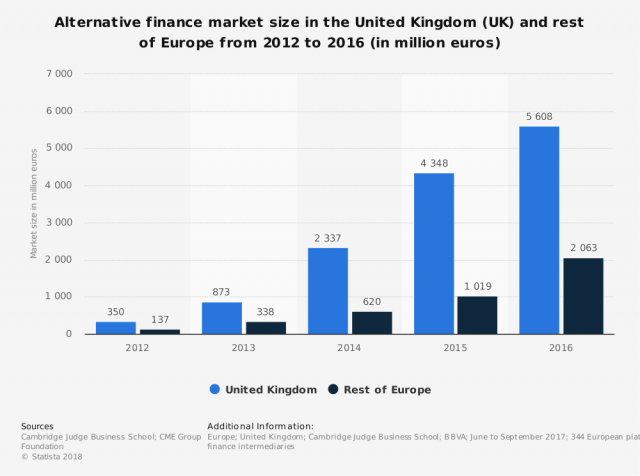 Their variety may surprise even a well-informed backer, not to mention a complete novice.
One may think it's not a big deal to pick up a portal and create an investor account. However, the abundance of online investment platforms can play a low-down trick.
But we know how to help you and make the whole thing not so painful – all you need to follow a few tips.
6 tips to follow when choosing an online investment platform
Choosing from a diversity of online investment companies may be a pain in the neck as well as a real breeze. The odds are even.
Everything depends on your approach  – either you take the process seriously or let things take their course.
Even though you shouldn't invest more than you are ready to lose, it doesn't mean you can just let it slide and pick the first investment platform on the Google search results page. Just a few days ago the Financial Conduct Authority that regulates financial services in the UK issued a warning to investors about investment scams. In 2018, the amount of money lost to fraudsters was £197 million.
Convincing enough? You bet.
1. Prioritise needs
Before you all go "ok google what is the best investment platform for beginners, think about your needs and make a list of requirements to a financial website.
You may consider achieving your investment goals as the highest priority or seek the most user-friendly portal or want to be serviced as a royal person. Once you've made up your mind, start researching.
2. Research
If you're a first-timer, start with digging into the fundamentals of online brokerage.
You may need to understand basic definitions: what ETF, ISA, and SIPP stand for; know the difference between share dealing and currency trading; learn the pros and cons of futures.
Browse Investopedia, read informative abstracts, watch tutorials – dive in the investment business, in other words.
Some investment platforms care about their clients by creating their own educational centres with tons of useful info.
Run down the list of top investment platforms, they usually provide a brief overview of the specifics of each broker, its pricing policy, benefits, and limitations. However, such ratings are quite subjective, which doesn't mean that #1 broker is your perfect fit.
Another option is to scan Q&A forums such as Quora and Reddit where people share their successful and less-than-successful stories. You will eventually bump into one or two investment platforms that suit you best.
3. Vet reputation
For online brokers, impeccable reputation and good reviews are key to success. Almost all websites have areas where people can leave comments describing their personal attitude to a provider and its services.
In addition, search for independent reviews written by investment advisors of financial analysts that provide deep insight into all the ins and outs of a company.
If you are not prone to believe someone's opinion on money issues, here's a checklist for your own CDD check:
study a company's "About us" page and learn about its background;
search for the personal records of each member in a Board of Directors;
read legal documents and White Paper;
find a company in Regulatory Disclosures and review its performance;
contact support in case you have questions related to a company's business pattern.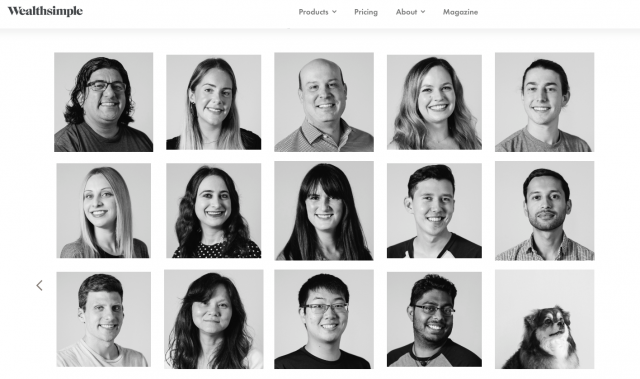 4. Test the waters
So, you're certain that your choice is robust and secure, what's next? Give a try to your future partner in money-making. You will never know whether or not you two match each other until you use the investment services for the first time.
Some websites like M1 Finance let users open free accounts others like Robinhood offer entirely free trades.
Ally Invest, for instance, makes it possible to get started with small amounts of cash – $500.
E-Trade provides 60 days of commission-free trade so that you can test the platform without taking significant risks.
Testing the waters is vital for your understanding of how a website is set out, what features you can use, how the investment process is organised, and the assistance works.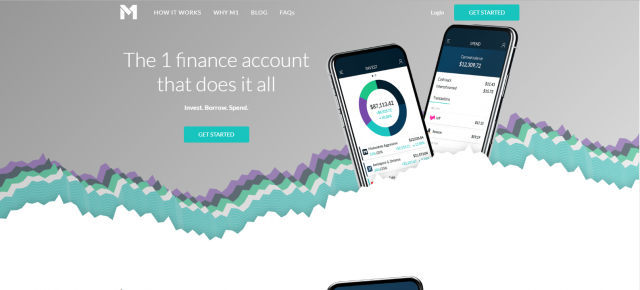 5. Compare opportunities vs. risks
Did you like everything when trying a demo version of your online broker? If yes, then let's compare the investment options you have and the potential risks you can bear.
For beginners who have not built a portfolio of preferred assets, new platforms provide enough opportunities – stocks, ETFs, options, and cryptocurrency.
Professional investors tend to deal with online brokers offering a large choice of investment products such as mutual funds, bonds, CDs, annuities, and forex currency. More options mean a more balanced portfolio, on the one hand, and more commissions and risks of being left with nothing on the other hand.
Most of the companies charge a commission between $4.95 and $6.95 on every trade, some of them, Vanguard, in particular, levy commissions according to an account balance; others offer bonuses depending on a trading volume.
You may pay attention to discounts and bonuses which best online investment sites use to entice traders but don't forget about exit penalties you must pay in case of leaving a platform.
6. Ask for help
Certainly, every financial website offers assistance in everything from how to use a platform to the ways of building a winning investment strategy. However, the level and quality of the help greatly vary.
We like websites that provide instant support aka live chats and call-backs and those who strive to minimise users' efforts in solving different tasks. For instance, M1 Finance gives prompts to users on every step in the signup procedure.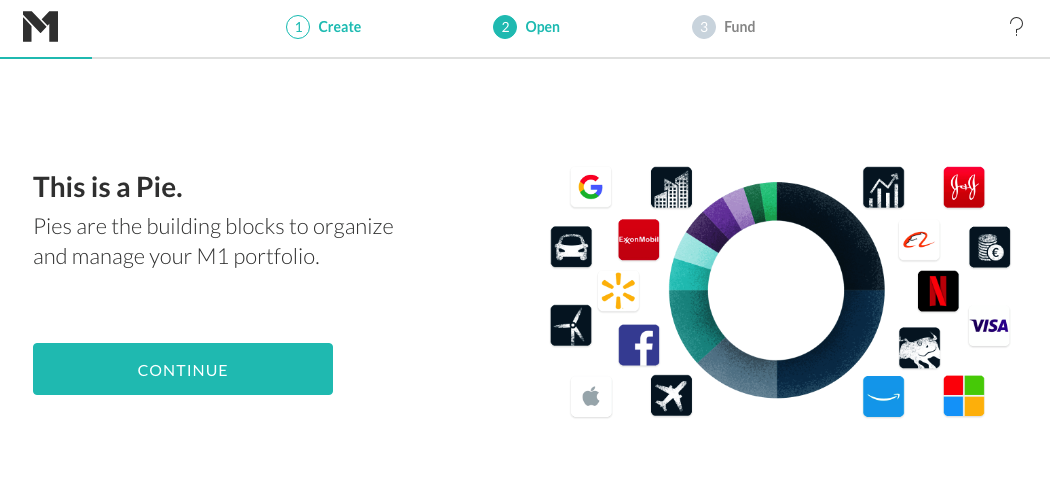 It's cool if an online broker has a live community of peers and expert staff who is ready to provide a helping hand.
In this case, you can get answers to all your questions, learn about recent news and financial events, and get tips on how to optimise your portfolio.
Picking the best online investment platform: comparison of market leaders
Now when you know how to pick the best online investment platform, it's time for action.
Here is a quick rundown of leading investment supermarkets in UK and US you may use in your research.
IG is a well-established investment provider based in the UK.
The company offers two options – share dealing and IG smart portfolios. The former is for those who prefer DIY investments, and the latter is ideal for clients who seek a hands-off approach.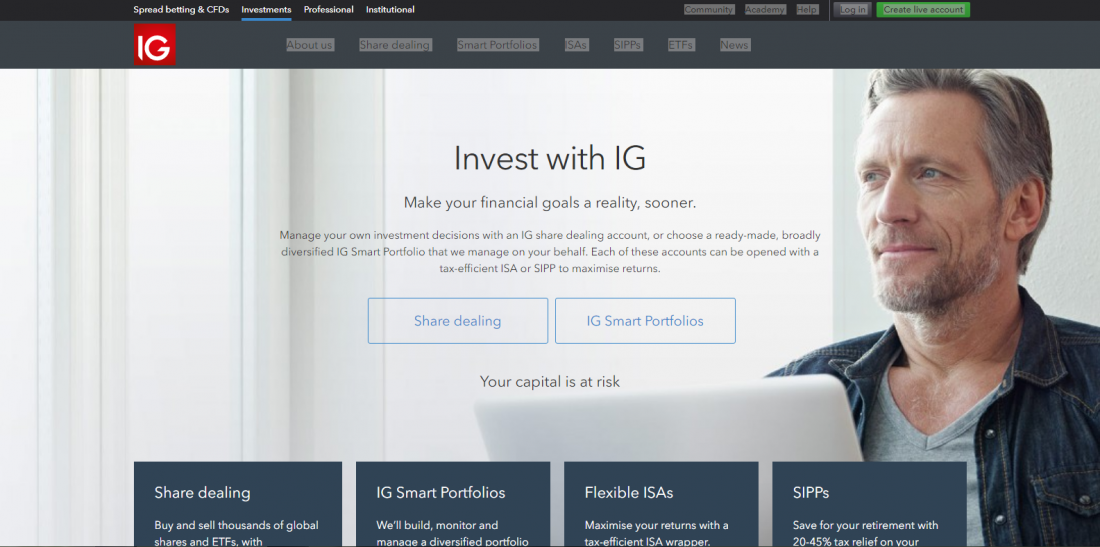 Whatever account you choose, you can opt for an ISA with tax incentives or a SIPP geared towards retirement savings.
As for their pricing policy, the share dealing feature is available for £5 if you place 10+ trades a month.
For those who are willing to open an ISA or SIPP account or take part in international trading, there are additional fees. IG runs a super cool educational campaign that includes forums, blogs, tutorials, and guidelines, which makes it a good option for beginners.
Interactive Investors
It is another online brokerage player from Foggy Albion.
Interactive Investors allows opening trading accounts, ISAs, SIPPs, and accounts for ISA juniors.
The very last account is aimed at those parents who worry about the future of their children and already have either trading or ISA and SIPP accounts.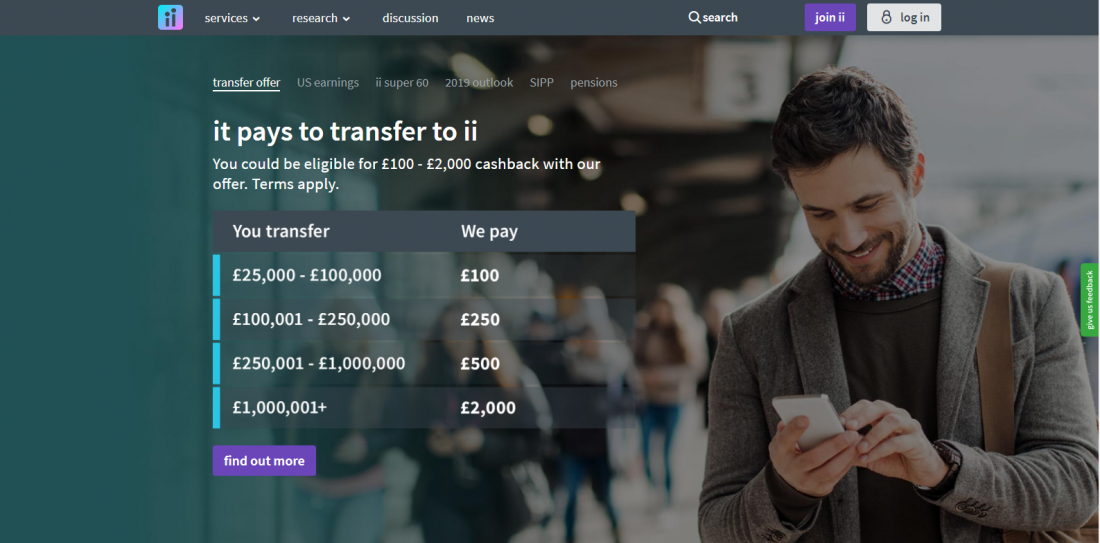 Interactive Investors do not charge for opening accounts, money transfers and they have no exit fees.
Instead, you must be ready to quarterly payments of £22.50 each, pay a £10 commission for each trade and £1 for each investment made.
When you drop by the Interactive Investors website the first thing you see is special offers like cash-back, free digital subscriptions, and gifts.
SAXO Capital Markets Share Dealing
If you're an experienced investor based in the UK, then you must have heard about Saxo Capital Markets.
The selection of investment products offered by the platform is amazing – 30,000 options and 36 available international exchanges.
Saxo Group provides multiple services grouped by categories – partnership models, trading software, and investment management. The Saxo platform is rather expensive as its solutions are mostly oriented to institutional investors and wealth managers.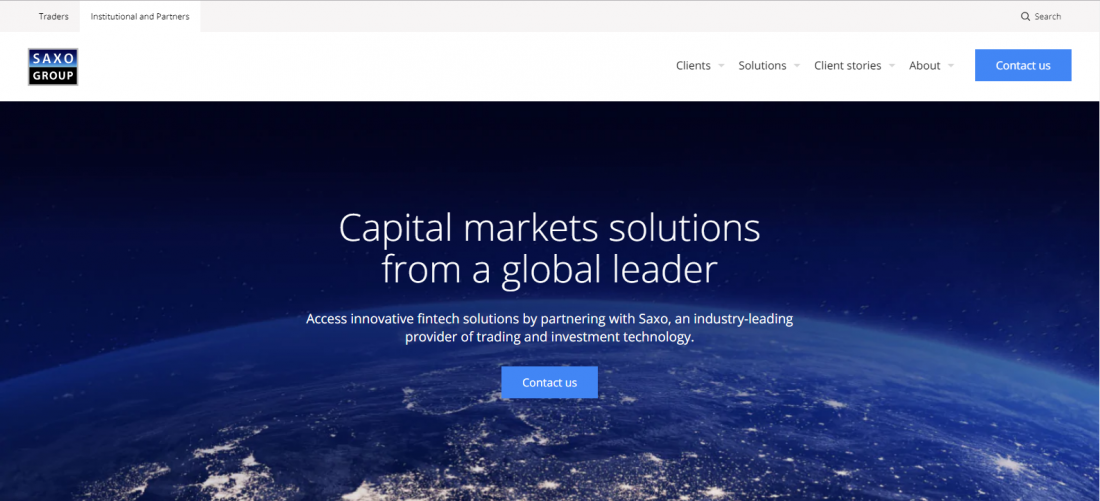 If you've decided on the Saxo market, be aware that they charge a 0.12 % annual custody fee for Stocks, ETFs/ETCs and bonds.
For the rest, their pricing system is very sophisticated and requires getting deep into all its peculiarities.
E-Trade
Did you decide to roll the dice with an American online broker? Great! Then go to E-Trade.
E-Trade is an optimal solution if you're only about to start your investment path.
Once you've registered your account, you can choose to invest on your own, get outside help or delegate this task to professionals.
In the first case, you decide on your own what investment tools suit your strategy best.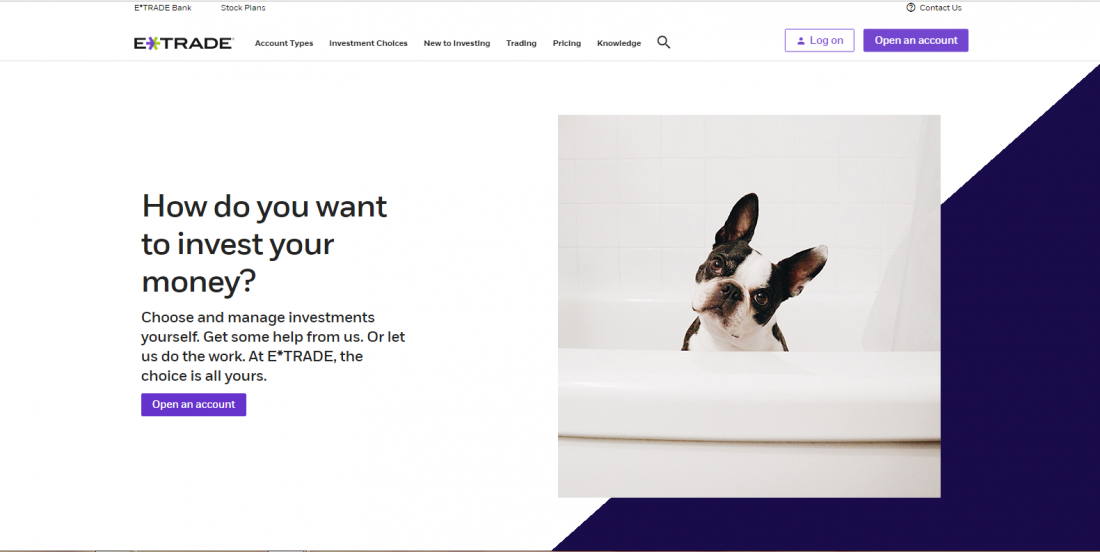 The only fee you pay is $6.95 per stock and options trade. Also, there are 250+ commission-free ETFs and 4,400+ no-transaction-fee mutual funds.
If you opt for free pre-built portfolios, the team will give you tips on what assets to invest in and what tools and resources to apply when monitoring your portfolio performance.
However, you should have at least $1,000 for mutual funds and $2,500 for ETFs on your investment account.
Finally, for those who choose Core Portfolios, E-Trade gives professional assistance in building and managing an investment portfolio.
For a Core Portfolio be ready to pay 0.30% annually.
Robinhood
This completely free mobile portal stand out among the best investment websites.
We fancy the Robinhood mobile application because it allows on-the-go investing, trading and portfolio monitoring.
As a majority of firms, Robinhood proposes stocks, ETFs, options, and crypto for getting started in the investment business.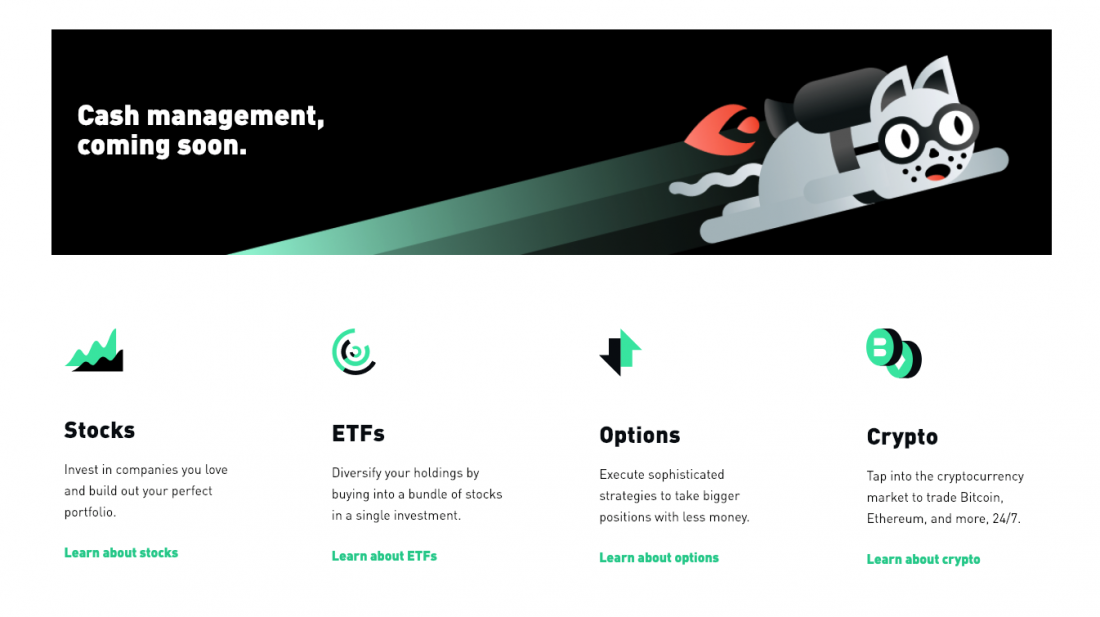 The platform is no-frills, yet it has all the essentials which you may need to augment your capital.
There's good news for those who are in the quest for a cash management service. Robinhood is going to deliver this feature in the nearest future.
Charles Schwab
Being the last in the list doesn't necessarily mean being worse than others.
The Schwab investment portal is very conservative in terms of design and features.
When you open the Home page, you understand at once that this is a very solid investment broker.
Clients can open various kinds of accounts according to their investment needs – Brokerage, IRAs, 401(k) Rollovers, etc.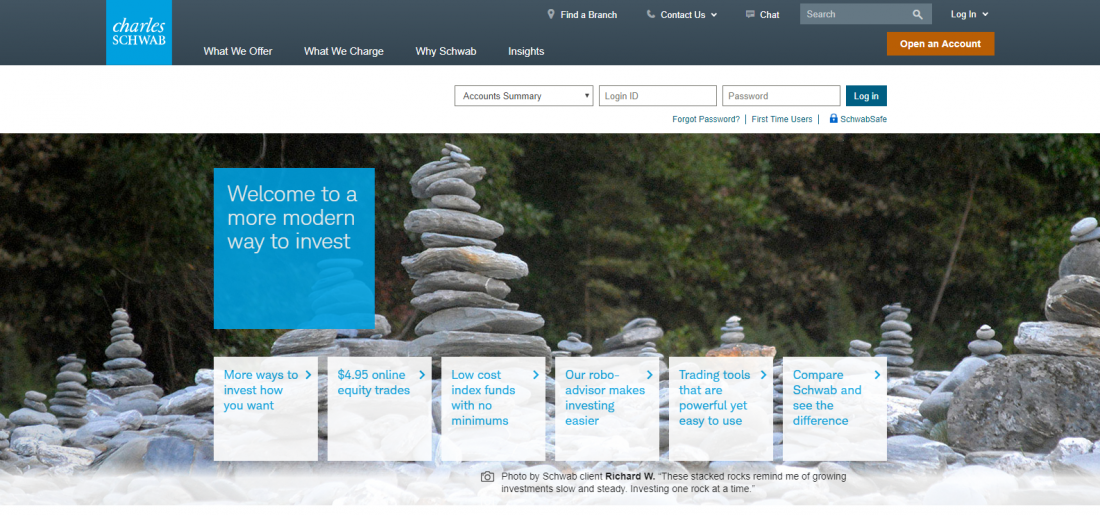 Schwab will suit better for pro backers. However, newbies also may find it appealing.
The company claim not to charge fees on opening and maintaining accounts, but they have a detailed guide on the commissions related to buying and selling activities and investment management.
If you are a big fan of automated investing, try the Schwab robo-advising.
Our experience
Let's imagine that you'd like to invest in property projects, where you should go then?
We suggest that you test one of the companies whom we helped with investment website development — CapitalRise or Shojin.
CapitalRise focuses on super-prime property and provides access to exceptional investments in this area.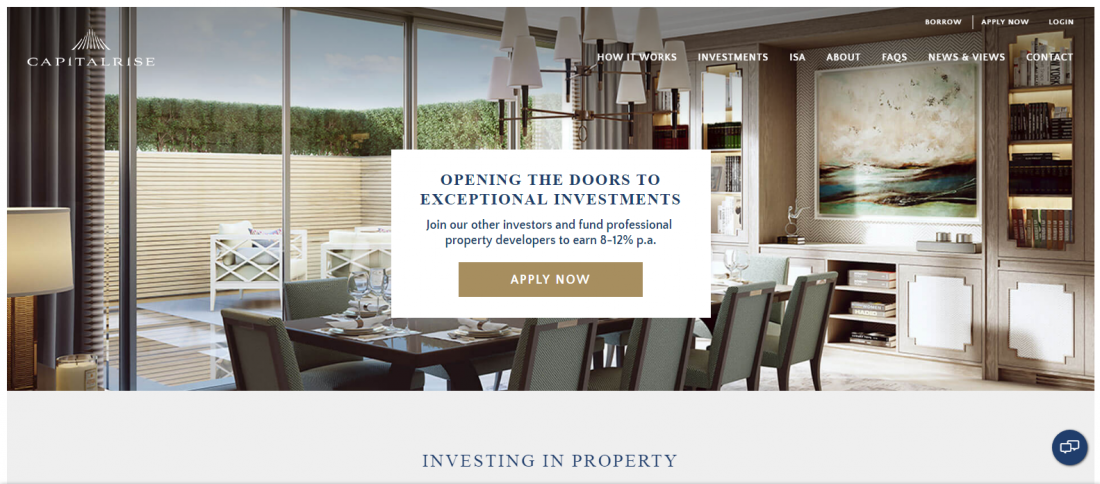 All you need is to create an account, view current projects, run your own CDD, an invest funds in a preferred property.
CapitalRise requires the £1,000 minimum investment account and charges no joining and operating fees. Clients may benefit from opening a tax-effective ISA account that implies gaining tax-free returns.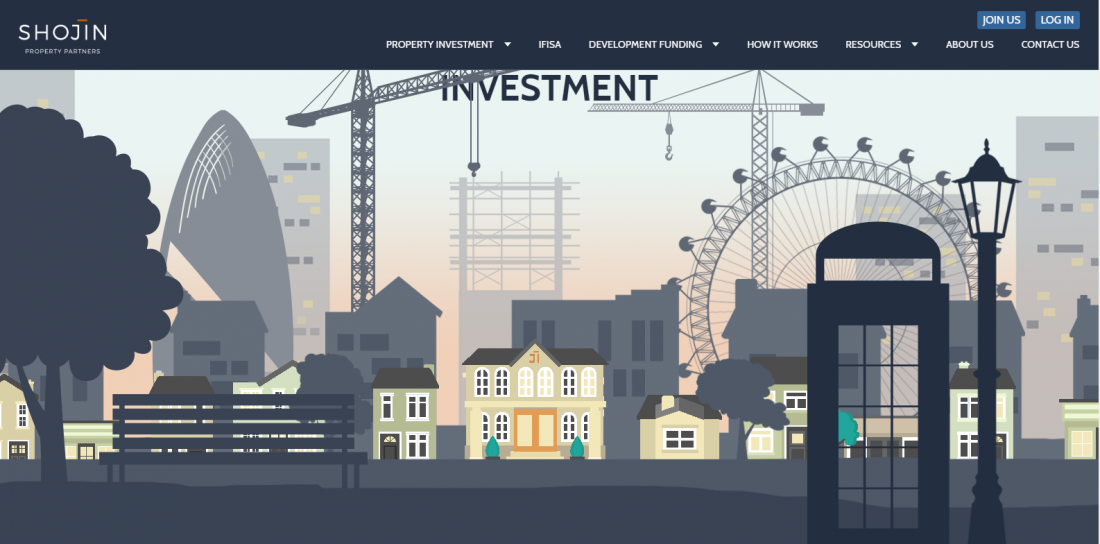 If you seek for co-investors in property deals, then the Shojin site may be helpful.
Shojin focuses on a rental property, secured lending, and mini-bonds. The investment process with Shojin is as easy as ABC – you sign up, select a project, and invest.
They charge 0% management fees and invest their own assets alongside their clients. Just like CapitalRise, Shojin offers innovative ISA (IFISA) accounts with tax-free wrappers.
All in all
Having too many choices is always stressful. It's especially true for someone who's decided to take up online investing.
The market is saturated with options to any liking be it services for amateurs or platforms for professionals, social investing or supporting real estate projects.
There is no best or universal solution for everyone, what works for your neighbour won't necessarily suit you. That's why it is important to be well aware of your financial intentions and listen to your gut to choose the right investment company.
And keep in mind our tips 😉
Want to know more about online investing? Drop us a line and stay tuned not to miss lots of new posts.