The emergence of mobile money technology has changed the payments industry.
For those who have no access to banking services, mobile money provides financial inclusion. This is one of the main reasons why mobile money is booming in Africa, where over half of the population is underbanked, but 8 out of 10 people have a mobile phone. 
Another factor that drives African mobile money adoption is the low accessibility level of traditional banking services. In many regions, people must drive many kilometers to access limited bank branches, whereas mobile money is accessible from almost anywhere with an internet connection.
Finally, mobile money enables transactions by using a nick rather than a bank account number, which is easier and more familiar to people in the region.
In 2019, from $690.1 bln in mobile money transactions made worldwide, $456.3 bln was exchanged in Sub-Saharan Africa. In 2021, the continent's mobile payments volume surged to over $701 bln, which accounts for almost 70% of the total volume of mobile payments.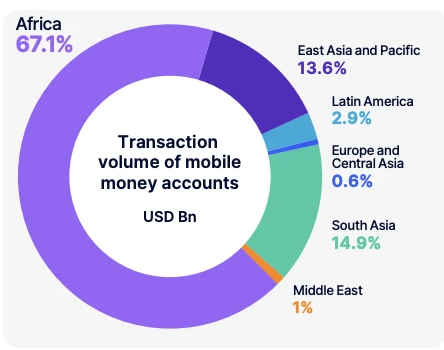 What is mobile money?
Mobile money is a financial service that enables users to handle all the financial operations (receive, store, and send funds) from their mobile devices. It doesn't require you to have a bank account. A user can access the service through a mobile application, a USSD code, or an SMS.
These services are provided by telecommunication companies and supported by an extensive network of licensed agents. By using mobile money services, users can deposit cash in their virtual wallets, make purchases, pay for services, and send funds to other users.
Transfers in mobile money are cheaper than bank transfers, and users can avoid fees for withdrawing funds from an ATM.
How can FinTech benefit from mobile money in Africa?
Mobile money in Africa offers multiple opportunities for FinTechs. One shall understand, however, that new businesses are developing in a constantly changing environment and the mobile money market is still evolving, and to determine potential business opportunities, investors shall understand the specifics of the market and its maturity stage.
Emerging markets
In some regions, such as Côte d'Ivoire and Senegal, the mobile money market is still in its early development stage. Most transactions are performed in cash or involve an agent, which drives up the cost of a transaction.
While there are immense opportunities in such markets for FinTech and startups, investors shall understand the peculiarities of a local market to drive adoption. Also, businesses shall have sufficient funds to support losses in the initial phase. Therefore, emerging markets are better for banks, telecom companies, or well-funded startups. The latter shall look for local experts to understand how to grow correctly. 
Markets in the growth stage
In some countries, such as Mozambique, user adoption is growing rapidly. New mobile money providers pop up constantly, which leads to an increase in competition and forces the companies to improve their services and offers.
It leads to the growth of transactions made in mobile money. There are established systems that enable almost free transactions in the same network.
A startup that chooses the right strategy and enters the market at this stage can yield very high returns. Those investors can succeed who have deep knowledge about the market and have a very high-risk appetite. 
For crowd-investing businesses, such markets can offer immense opportunities if the business owners manage to organize all processes correctly and build trust among customers.
Mature markets
One of the best examples of a mature market for mobile money is Kenya. M-Pesa controls over 80% of the market in the country. 
Most transactions occur within the M-Pesa network. Therefore, those FinTech companies and startups that are willing to enter the market may consider integrating this network into their solutions. Considering that such markets already enable users to send and receive payments freely and safely, and the adoption of mobile money is high, there is great potential to start your mobile crowdfunding platform and raise funds from a broad audience. 
Opportunities that mobile money offers
Mobile money offers multiple opportunities to businesses that aim at expanding mobile money services beyond mere transactions and include more complex financial products and services such as insurance, lending, and similar. It will contribute further to the financial inclusion of the African population by providing people access to a more extended set of financial tools.
Another way to use mobile money is to provide support to small and medium (SME) businesses. This is where crowdfunding can play a significant role.
SMEs are a crucial driver of the economic growth on the continent. However, they face numerous challenges when trying to get loans from banks and other established financial institutions. Crowdfunding, in collaboration with mobile money providers, can give small and medium businesses access to loans provided by the public. 
Finally, sending and receiving donations is convenient by using mobile money. Thus, donations-based crowdfunding platforms also can use this technology to develop their businesses.
Crowdfunding market overview in Africa
Crowdfunding has a strong potential in Africa. However, it shall overcome multiple challenges to realize its full potential. 
For example, international platforms such as GoFundMe are popular in the North of the continent because they attract backers from developed countries and rely on flows common to developed countries. However, their expansion is limited because they do not address some peculiarities of the local market.
Smaller local platforms, such as M-Changa and Akkabo, are highly important for the development of crowdfunding in the region because they consider local needs (e.g., the lack of internet penetration) that international platforms leave without attention. 
M-Changa
M-Changa is a Nairobi-based online and mobile money crowdfunding platform launched in 2014. It developed an ecosystem that allows individuals to create a crowdfunding campaign, ask for donations, and collect funding through a mobile phone. All campaign data, such as the total raised, also can be checked from a mobile phone.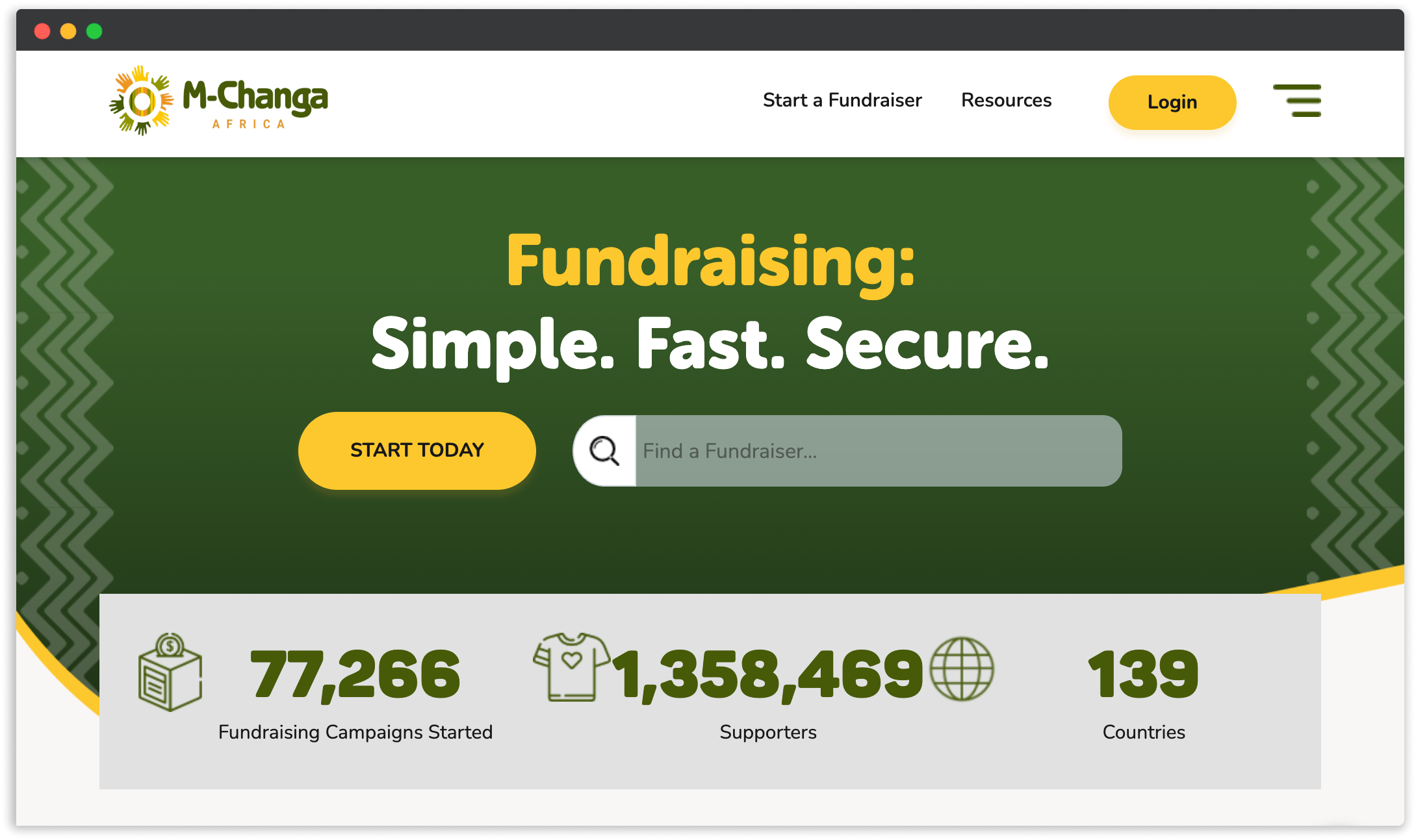 The platform helps to raise funds for all types of projects: personal aid for paying medical bills, wedding fees, non-profit organizations, and businesses looking for funding needed for their growth and development.
The platform charges 4.3% on all money raised, along with payment processing fees.
Akabbo
Akabbo is a Uganda-based crowdfunding platform that allows individuals to donate online or via a mobile phone. The platform is very versatile. It supports donation-based and reward-based crowdfunding campaigns.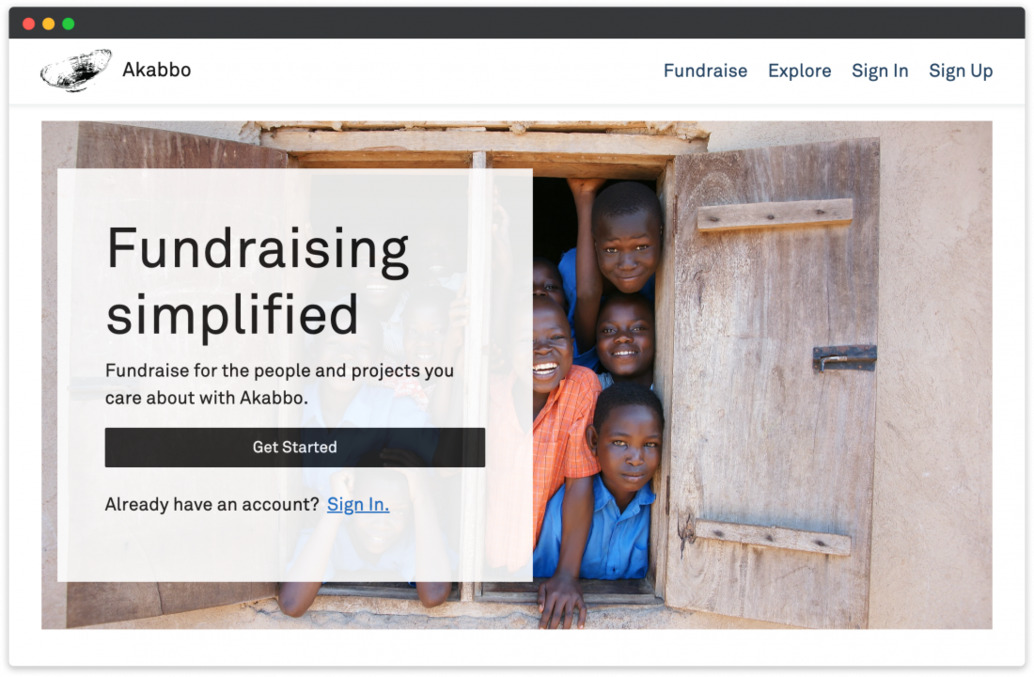 Akabbo offers business owners, who are going to launch campaigns, guides on the best crowdfunding practices, emphasizing the importance of having a clear goal and reaching out to the potential audience on social networks.
If the project meets the fundraising goals, Akabbo charges 7% of operational costs. Those who don't meet the fundraising goal but still wish to keep the raised funds pay 8% of operational costs to the platform.
Zidisha
Zidisha is a P2P lending platform that allows all types of projects to get loans. It was founded in 2009 in Senegal but soon started operating all around Africa by connecting lenders with borrowers.
In Kenya, Zidisha works closely with M-Pesa, which enables the platform to send loans from their accounts directly to the mobile accounts of borrowers.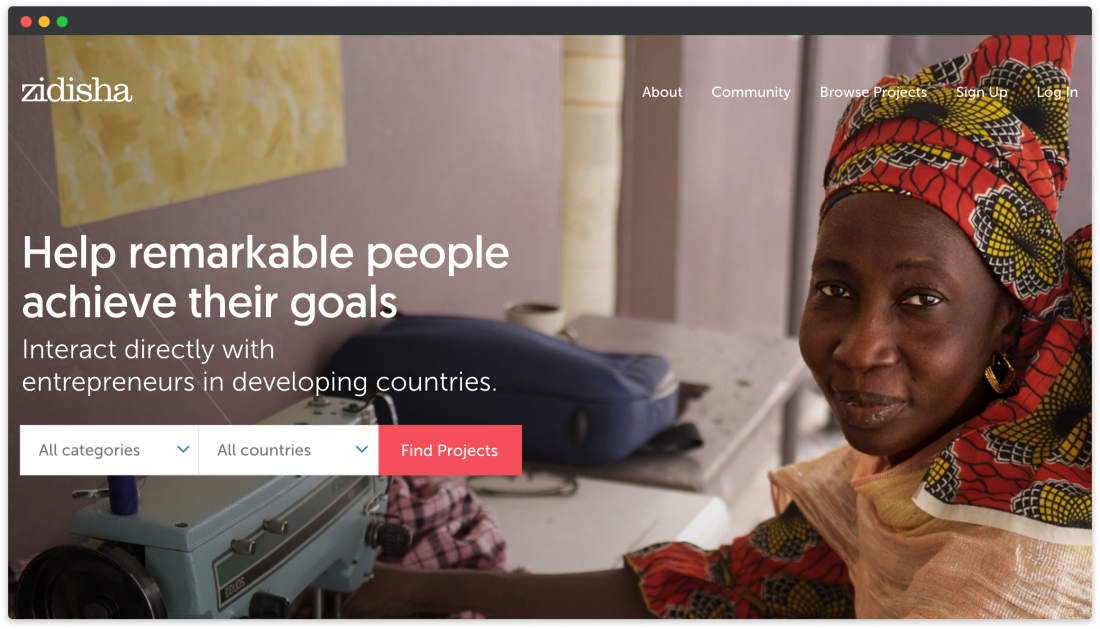 The main goal of Zidisha is to support small-scale entrepreneurs, but instead of sending the funds through a third party, the platform connects lenders with recipients directly and, thus, eliminates additional fees. 
The platform also applies a so-called reinvesting practice. When the time comes to repay the loan, a borrower, instead of repaying the original donor, can lend the funds to another business to sponsor its growth.
Bottom line
Mobile money is widely used in Africa, and if you consider launching a crowdfunding platform there, you should consider it if you want it to be successful. JustCoded can assist you by creating a platform for you that is scalable, efficient, and reliable.
If you want to start your crowdfunding business ASAP, check out white-label solutions offered by LenderKit. They include all the features to launch a fully functional platform and are highly customizable to make it match your business needs and brand.