Whether you're a university graduate or a senior citizen, renting a home is always a good alternative to purchasing one. Firstly, because of the financial aspect.
For instance, in 2018, 43% of American renters admitted they couldn't afford to buy a home, so opted for a long-term apartment renting. 
Before COVID-19 lockdown, the property rental market in the US and EU was booming with a high demand for apartment and house rentals. Grocery-delivery mobile solutions facilitated deals closing and contributed to the overall upward trend.
Although renting is seen as an affordable way of finding a place for living, in recent years it has become more expensive. For instance, in the UK, as of December 2019, the average home-buying costs amounted to 728 GBP (in 2008 it was 616 GBP).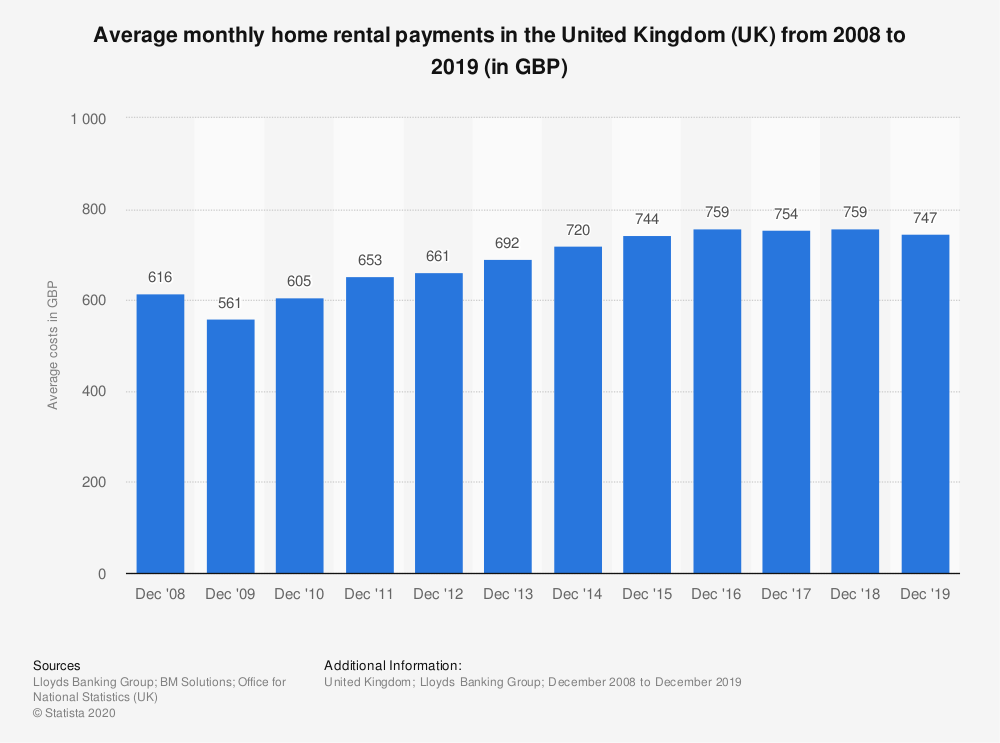 Now the situation has changed in favour of tenants. Due to quarantine restrictions and lower demand, homeowners offer discounts and free renting periods. 
Despite the recession, the industry is experiencing now, there are some positive things.  
The current situation forced many RE companies to implement VR tours and keyless locks in mobile apps to let people rent apartments without physically visiting them. We believe this is a signal that the niche is moving to the next level.
If you're planning to break into the rental market, check our guide on how to build a rental search app to cater to the industry standards and user demands.
Is it worth building a rental property search app during COVID-19 lockdown?
Before you decide it yourself, let us show you what's happening with the industry right now.
In the UK, renting during coronavirus lockdown has become very difficult. Tenants can move, but it's highly recommended to avoid this. For those whose agreement with the landlord has come to an end, it's advisable to extend current contracts.
The situation is compounded by renters with financial difficulties who have to move out; as a result, supply exceeds demand.
Good news is that tech companies and tenants make renting possible even now — the first is advancing technologies for online and solo viewing, the second – shoot their own videos to guide prospective occupants around housing. 
To boost demand, many rental companies offer huge discounts on assets.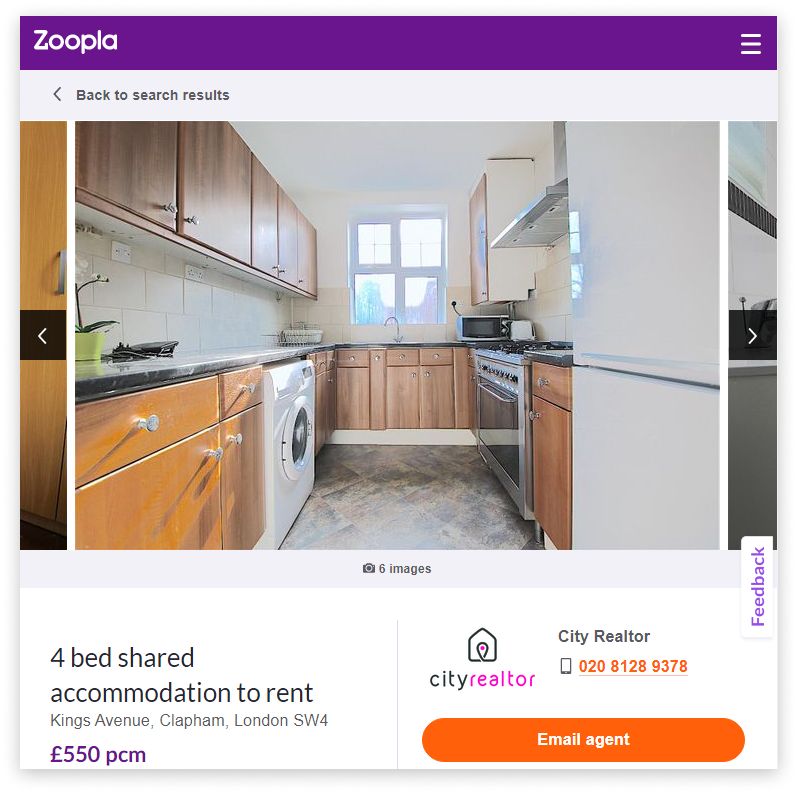 Australia sees the same picture with renters bailing out and sales plummeting. At the end of April, sales in Melbourne dropped 85%, and in Sydney, they were down 79%.
Like in the rest of the world, tenants break their agreements and just leave. To cope with this challenging situation, landlords offer two weeks' free rent or paying utility bills for occupants.
Currently, the Australian market is demonstrating positive changes which are to cheer it up in the nearest future.
The US market that has been severely affected by the coronavirus is experiencing a boost for virtual showings and fully digital closings. 
Although the market is at a standstill, investors can potentially close great deals on distressed sales and urgent deals, which means the creation of new rental opportunities and updated listings.
Experts believe that we're experiencing "the buyer market" now when landlords resort to extra offers like helping with moving or self-showing property views. 
Given the above, we can safely say that it's the right time to consider housing rental apps development with enhanced functionality like VR tours, solo visits, video guides with RE agents to enter the market in the post-quarantine era.
Main and extra house rental search app features
Building an app to search for rental homes isn't a one-day or one-month project. Now when the overall demand for operations with property is on a pause, you can take your time and carefully plan the functionality you're going to amaze users with. 
We've tested the most popular rental apartment-finder apps, and discovered features they have in common.
1. Customise property quest
Spice up the traditional filters (location, apartment type, price, number of beds, pet friendliness, etc.) with the search by school or district option (Trulia) or budget limit and personal needs for in-unit laundry and on-site parking (Zillow). 
Make sure tenants can add search results to Favourites or Saved options in order to keep them up-to-date on rental listings via app notifications.
Apps like Zillow offer to find a home close to the place of work or study; 99acres lets users sync saved results across different devices. 
Others go further and make it possible to draw a search area on the map (Rentals).
Also, you can enable users to search by photo right on the map like Homes.com.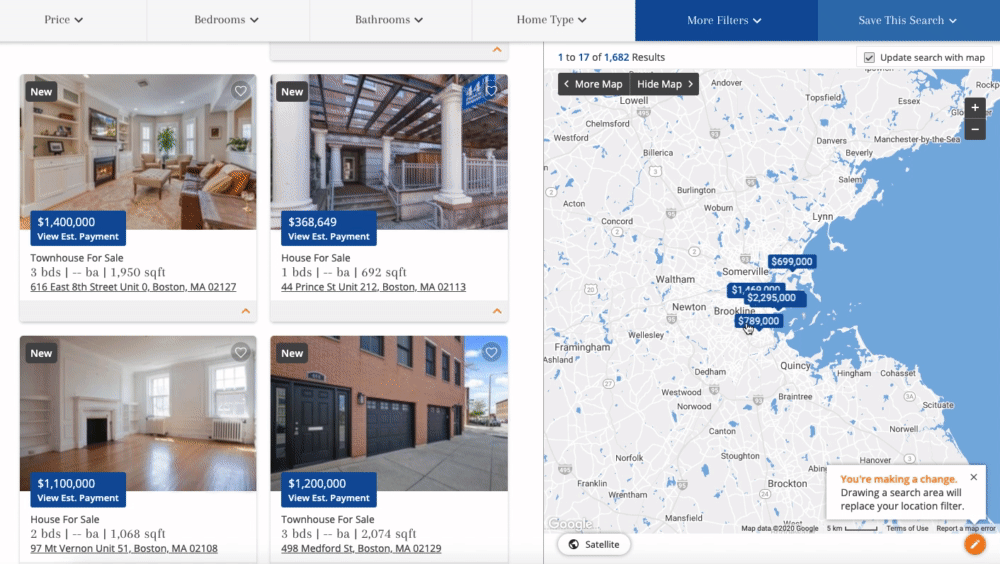 2. Bring landlords and tenants together
Once the renter finds an appealing option, they may want to get in touch with the landlord instantly. Ideally, if they can do it right in your app.
To this end, you can add a built-in private messaging feature, a similar one to Homesnap's. Users can chat with homeowners or ask other people for advice and help in finding the right apartment.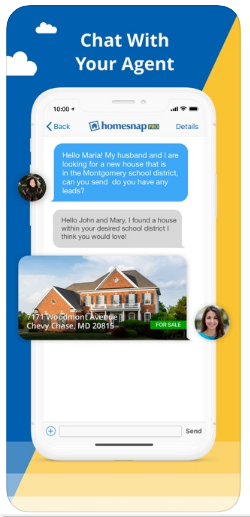 Realtor.com app has an integrated email/call feature for those who don't want to switch between applications. Users can save the contacts of listings they've already got in touch with for easier access or add notes about appealing rentals. 
There's similar functionality in Zillow automatically adding contacts to Favourites so that renters can proceed with further research. 
Homes.com calls the contact option "1-click request", and it enables tenants to get property availability info instantly.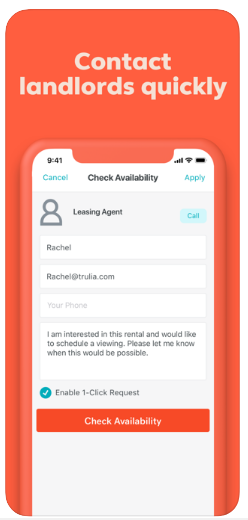 3. Keep clientele updated
Use search alerts like HotPads or Trulia to immediately notify researchers about changes in the rental status. There's no need to manually check pricing updates, and users can set a price range and choose the desired neighbourhoods to get to know when new options in the listing appear.
Realtor.com sends instant rental listings updated in real-time to users who enabled this option. Also, they can agree to receive push notifications signalling about new rentals meeting the established user criteria.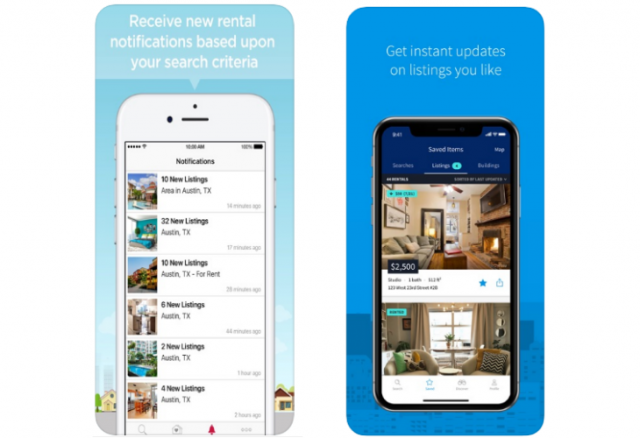 4. Diversify property listings and views
ListView doesn't impress anybody now. Mobile users seek more interactivity as an alternative to routine scrolling. 
In HotPad, for instance, you can switch between ListView, Map View, or Hybrid View to ease findings.
Homesnap deploys several map layers to reveal school zones, satellite imagery. What's more, they've added listing group clustering assets available in one building for easier comparison.
The good idea is to add property facts and history to the property database to help renters make informed decisions (StreetEasy).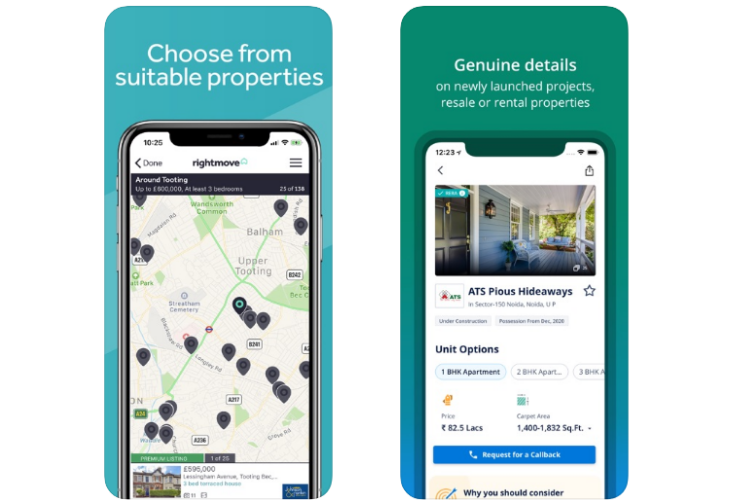 Needless to say, that detailed high-res photos and HD videos are vital for real estate renting processes. For example, Trulia and Apartments.com use drone footage to illustrate assets so that users can get an aerial view of each property option.
5. 3D tours, keyless locks and agent-led videos
Under current conditions, when the majority of countries are quarantined, movements and travels are restricted, online 3D tours, VR experience and smart locks can become your go-to.
Look at Rently, the pioneer of implementing keyless entry locks (Smart Lockbox) that lets you visit a rental apartment without physically meeting with the RE agent. 
The company reported that during COVID-19 lockdown, the demand for digital lockboxes has skyrocketed. Users can register at the platform via the app, add their credit card details and when they come up to the front door with a mobile in their hands and valid ID they got a temporary code to enter the house.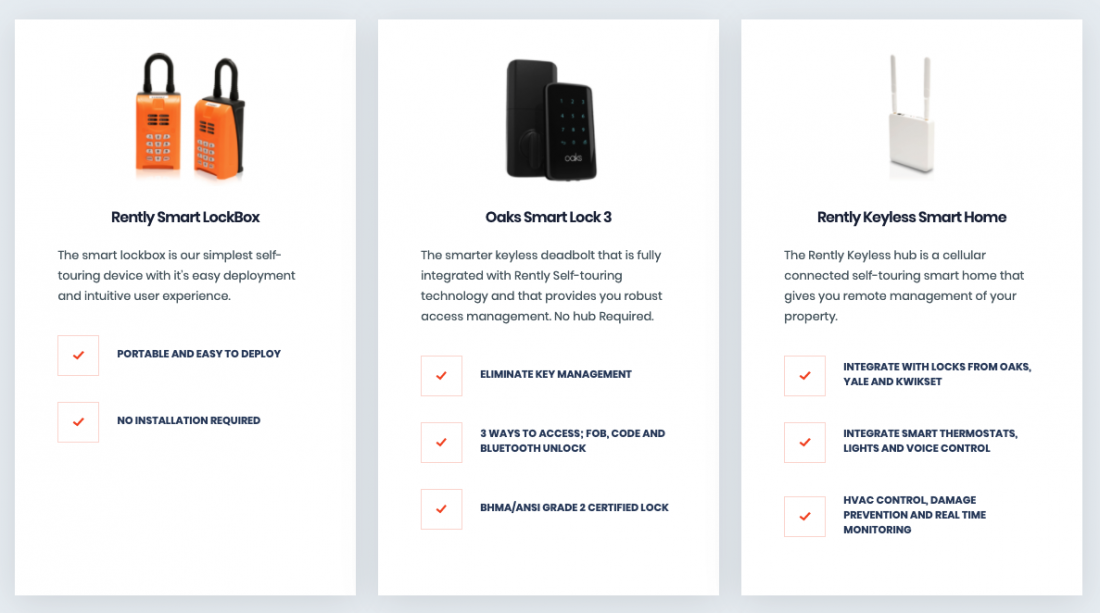 Today when social distancing is a norm, RE agents can continue selling homes and offering apartments for rent in an alternative safe way.
Zillow, Zenplace and Redfin supported this trend as well. According to Zillow, the requests for 3D home tours have grown by 191% only in a few weeks in March. 
Redfin providing agent-led video home tours and video-chat tours saw a 5-fold increase in user requests.
Zenplace also reported unprecedented demand for its virtual tours and tours with robots.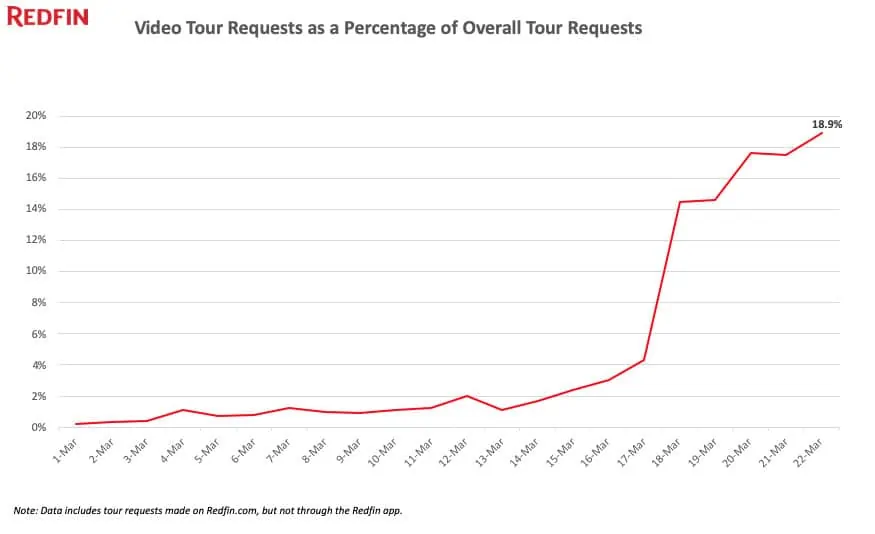 No one knows when we can get back to the pre-quarantine routine, but one thing is obvious – online solo home touring is here to stay.   
Other nice-to-have bells and whistles for your future app
6. Home value calculators or estimation tools. Zillow has a Zestimate® calculating tool for users to understand a fair price for their properties. With "Know Your Rent" tool in NoBroker Flats For Rent & Sale app tenants can see whether they're proposed with the right rent;
7. Local citizens insights.  In Trulia Rentals, you can find and read locals' feedback and reviews on the area, amenities and infrastructure – whether the district is safe, quite or has a proper environmental situation;
8. Renter profiles. In some platforms like Zillow or NoBroker Flats For Rent & Sale, lodgers can create their own portfolios to grab the attention of potential landlords and property managers, find a flatmate according to personal needs and requirements.
9. Interactive maps. It's a great way to visualise the picture of the neighbourhood with important criteria like a criminal situation, infrastructure facilities, commuting routes, etc. For instance, the Realtor.com has a separate Crime Map, and  Trulia shows school ratings and median price information.  
What about the platform for real estate agents? Normally, it's a standalone app offering landlords and brokers to create listings, fill in advanced homeowner profiles, chat with buyers/tenants or peers, advertise properties. 
Applications to get inspiration from: Zillow Rental Manager, 99Acres, Rently Manager.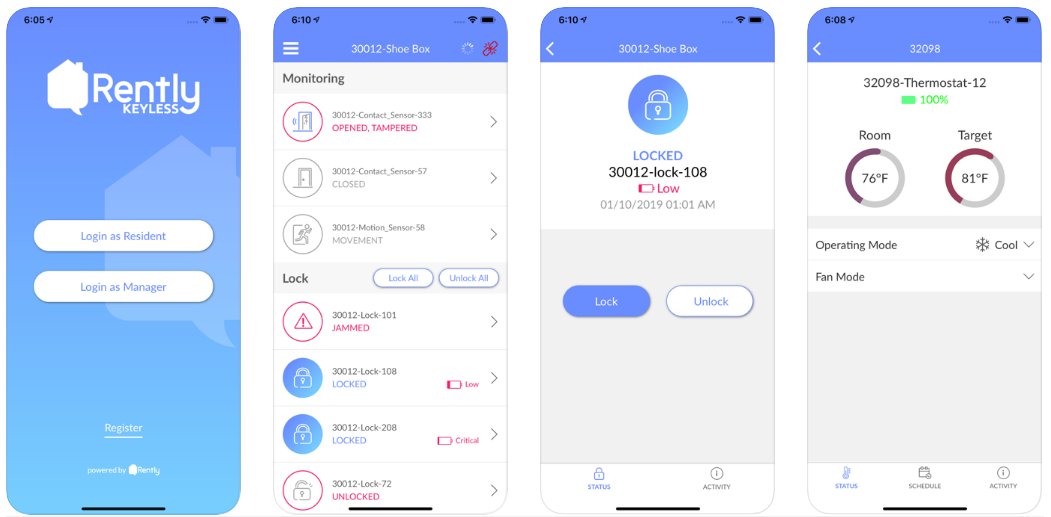 5 best rental search apps for Android and iOS
Any project has all chances to fail without a thorough competitor analysis. We, as a tech partner, always go deep into the business of our clients' rivals or use competitor analysis they provide us with.
To feel the nature of a successful apartment-finder solution, look at the best rental home search apps.
Rental search app development: JustCoded approach and expertise
We've been building mobile solutions for more than 10 years for different industries – real estate, health and insurance, travel, e-commerce, etc.
Our main goal is to deliver a robust outcome aligned with your business goals and needs and wishes of your target audience.
We develop native and hybrid applications for Android and iOS. 
Progressive Web Applications is what we offer to save your time and monies as it's faster and cheaper than creating two standalone apps.
All throughout the development process, we stay in touch with the client constantly reporting about the project progress.
We start with strategy and planning. In-depth analysis is what helps us understand your business specifics and core audience, develop requirements to functionality and design and decide on a budget.
We design with your user in mind. Through several iterations and discussions, a paper sketch is transformed into a live visual presentation crafted according to recent trends in the UX and usability.
We develop MVPs and then see them maturing to large-scale complex projects. Our credo is transparency and reliability, and we can work even under tight deadlines or change the direction if you need it.
Solutions we deliver always work without a hitch as they undergo several tests during engineering. You can always be confident about the quality and final result.
Mobile app release doesn't mean the end of our collaboration with the client. We continue providing support and maintenance to update the app version or implement new features.
At the very beginning, we provide an approx estimate for each project. If you're just testing the waters, check out the average cost to develop apartment finder app below. 
Strategy & planning — from £3,600
UX/UI design — from £6,000
Development and testing — from £40,000
The minimum investment to build a property search app from scratch starts from £49,600.
These numbers are for information only, and it should only give you an idea on the budget for rental search app development with our team.
Reach out to us to discuss your business requirements and get an accurate estimate on app development for free.
Get in touch
What's the bottom line?
Every project idea requires thorough thinking and analysis to see whether or not the onion is worth peeling. Especially now, when no one knows what the future holds for us.
Rental search apps creating

is an exciting and at the same time intricate thing. To fight fierce competition and generate profit, your app should be user-focused and unique.

Start with basic features like search, listings, personal accounts for tenants and agents, visit scheduling, communication tools.
Then add some nice-to-haves which are gaining momentum now — online 3D tours, smart locks, video look-around excursions, move-in/move-out options, extra services.
Drop us a line if you want to discuss a project or have a specific question in mind.