You must have heard about timeshare or maybe you're a lucky owner of a residence in Austria or bungalow on Raa Atoll. Timesharing is an ownership model where landlords possess a certain piece of the vacation home and use it during a limited period. 
However, investments in shared holiday apartments don't mean that you own the asset or can re-sell it on the secondary market. You're only sharing the right to use it with other backers.
There's another instrument that serves this purpose very well — fractional ownership agreements — a shared property investment in luxe resort homes. 
The basics of shared real estate investment in holiday apartments
The market for tenant-owned apartment houses is flourishing and thriving. And it's an economic downturn that is responsible for such a rapid growth of this model.
Instead of paying a pretty penny on an asset purchase and maintenance, investors share the costs and risks of luxe assets like jets, yachts or brick-and-mortar pieces.
The history of this phenomenon holds back to 70-80s when groups of visitors came to Hilton Head Island willing to buy resort condominiums.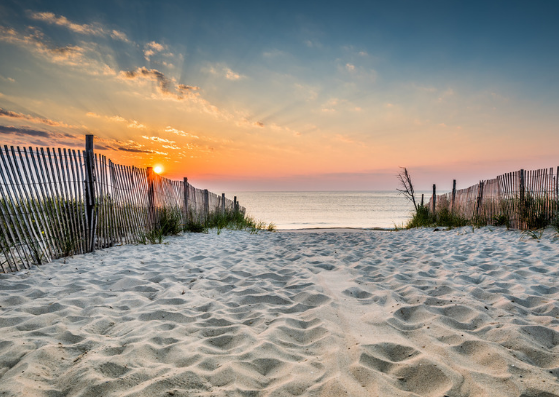 They had two options — to take part in time sharing or invite friends to buy a cooperative apartment house together, the latter was nothing than fractional ownership.  
Since then, the idea was caught on and the industry started developing fast.
A few statistics:
the average volume of

the total sales

in the industry is

$14+ billion

;

the US is ranked first

in the number of available for a limited time flats. The share of Europe is about

25%

, the Asia-Pacific region has about

15%

of luxe real estate; 

according to

ReportsnReports, the annual rate of growth

of the market is

7.05%;

the global market size

of the immovable holiday assets will reach

$21700 million

by

2024

, from

$13500 million

in

2019;

 

in the US, the most popular slice size is

¼

with an estimated usage time

12 weeks

per year.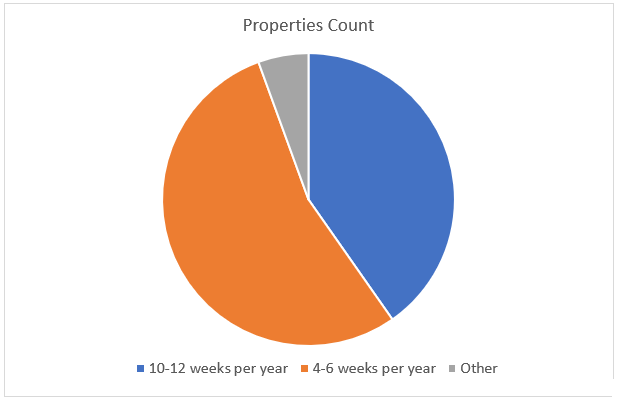 Shared rental investment in luxe property is aimed at supporting a certain level of lifestyle. There's even a category of "middle-class millionaire" enjoying the perks of the rich on an interim basis.
During the period of non-use, management companies take care of co-op flats and houses for an established fee paid by all the shareholders.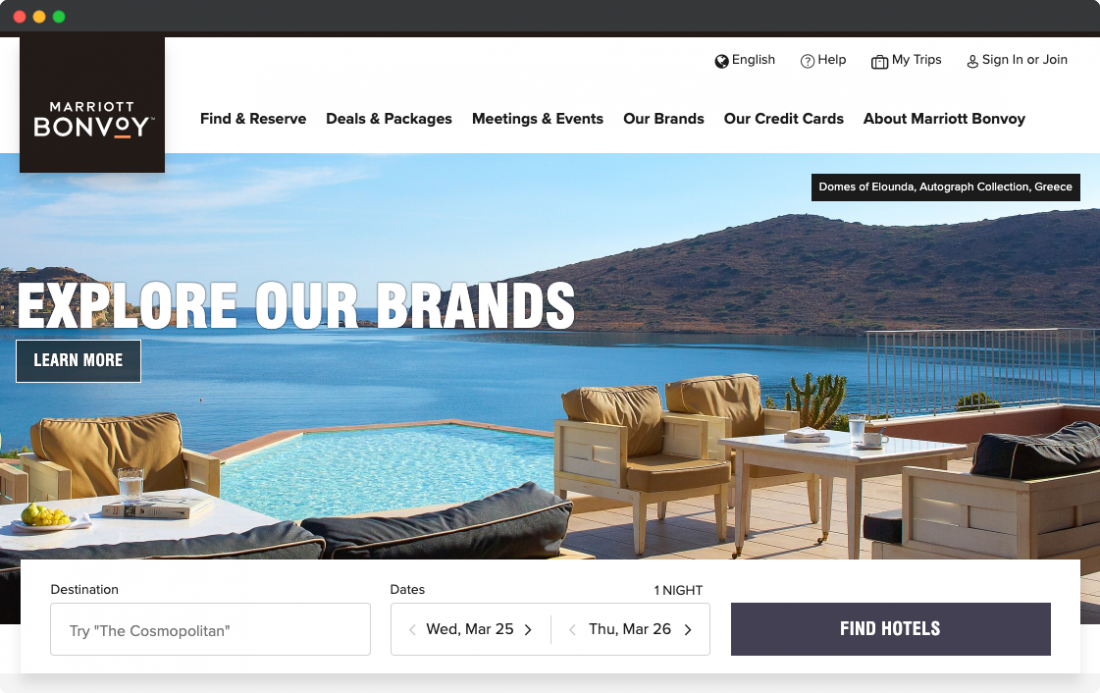 Since the cost of the fraction depends on the asset value, investors can benefit from capital gains or, vice versa, suffer from depreciation.
How is fractional partnership regulated?
In the UK, there's Timeshare, Holiday Products, Resale and Exchange Contracts Regulations 2010 updated in 2011 and aimed at eliminating the negative impact of illegal traders, creating conditions for fair trading of holiday products and protecting consumers.
The regulations establish rules for creating time-sliced and long-term holiday product contracts, holiday houses management and resale.
In the USA, there's a timeshare trade association, the ARDA (American Resort Development Association), who governs the market.  
The organisation fosters the development of the industry by monitoring regulatory issues and their influence on the partnership model, educating members and creating conditions for networking, and informing developers and consumers about key trends in the industry.
If you're thinking about buying a slice of a vacation home in Australia, learn more about ATHOC — Australian Timeshare Holiday Ownership Council.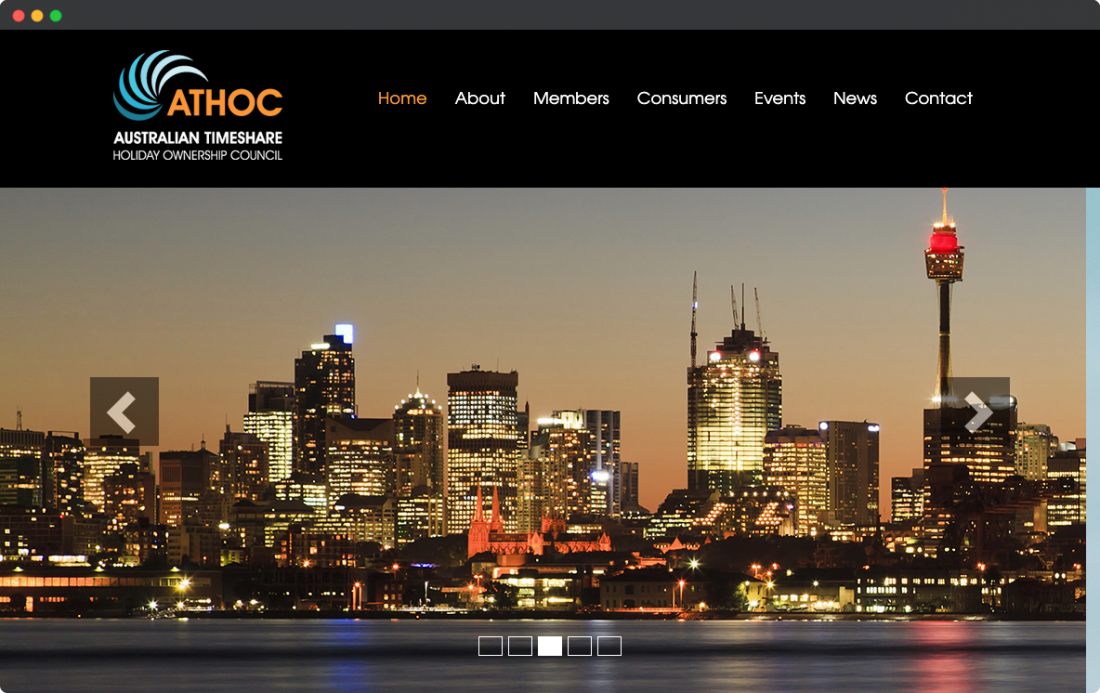 ATHOC guides its efforts in combating timeshare exit scams and mitigating consumers' risks. What's more, the body focuses on helping people who are in need by providing them with the necessary equipment to establish a routine and arrange charity events.   
Fraction in a co-op asset vs time slice. What to choose?
Both models refer to the sharing economy and collaborative consumption, which focuses on smart usage of tangible assets like cars, equipment, RE assets.
The idea of time slices has been transformed with a lapse of time. Unlike the traditional model based on fixed periods of staying, the new model has timeshare points at its core, which give vacationers more flexibility.
Members of timeshare clubs have a certain set of points allowing them to have rest at different resorts, accommodation units and during different seasons. The annual set of points can be spent, saved or borrowed.  
Landlords pay annual fees intended to maintain the property, make repairments or upgrade it.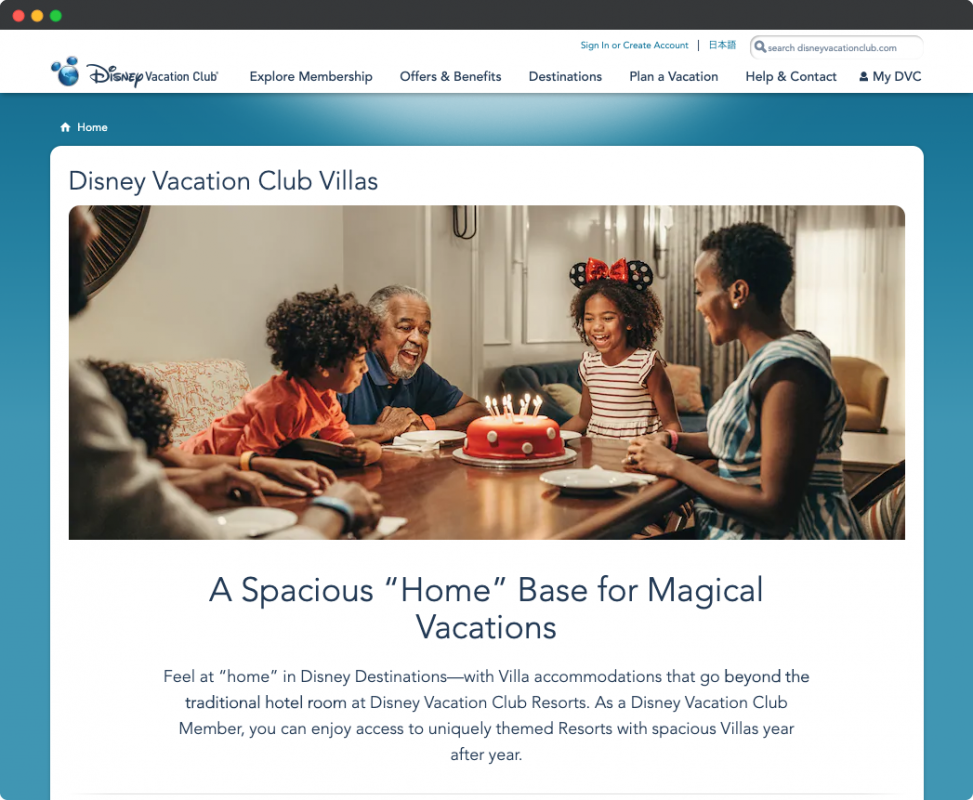 Fractional ownership is more about investing in real estate assets, yet it's based on the partnership concept as well as a traditional time slice. It offers more benefits and therefore is considered as a lucrative investment. 
Sharing the rights for holiday assets can be done with the help of:
Having a part/stake of the home allows backers to use it as often as they want or make some profit from renting it out to the resort.
Fractions imply higher fees than traditional time-sharing since the object is typically a luxe accommodation with premium-class amenities. Alongside the internal exchange within a club or resort brand, there's an opportunity to resell the stake on the secondary market. Also, the asset is heritable – you can pass the deed to anyone through a will. 
How to buy a fraction of a holiday asset?
Although the model is based on the pool of investors, it differs from other similar schemes.
For instance, real estate investment trusts (REITs) don't allow to handpick an asset to invest in. Online platforms for fractional investments leavу that choice to be made by backers.
Property syndicates are less liquid; in the fractional deals, you can exit at any time you want and receive capital gains. 
How to get started?    
Find an online platform and join it to start investing.

Create your portfolio of vacation assets by purchasing their stakes.

Receive monthly payments from renting out the property which is proportional to the stake you hold.

Exit the deal by reselling your stake on the secondary market.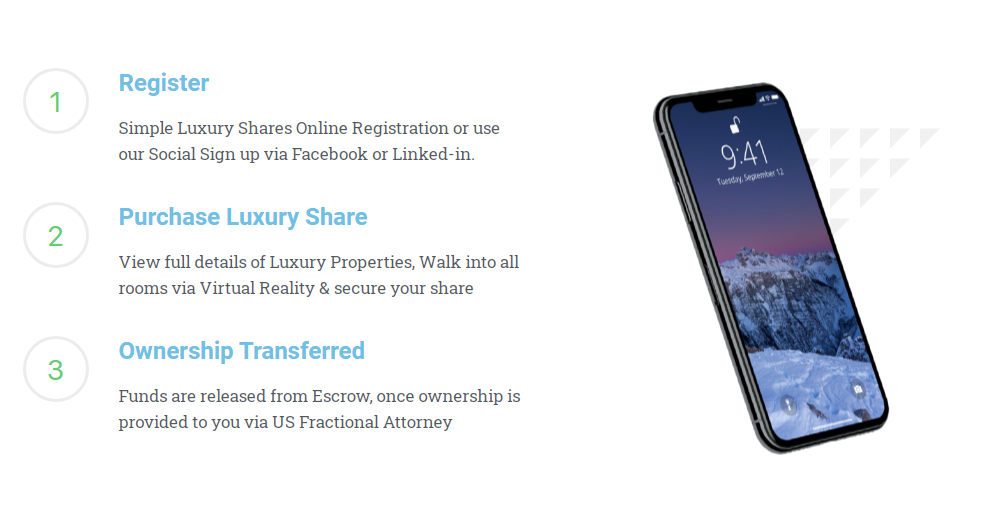 The pros and cons of property shared ownership of luxe assets
Is shared ownership property investment worth it? Like any other RE investment strategy, it has benefits and limitations.
So, why you should try it:
as we've already pointed out, when purchasing a slice you become a premier asset owner with the right to upgrade, sell or pass it down  to succeeding generations;

you don't worry about management issues – professional hospitality companies control the state of your flat or townhouse, make repairments, solve minor and major issues;

the rate of investment is more attractive not only in terms of money — you get more usage opportunities comparing with traditional deals (larger space, richer amenities, the higher level of assets);

since fractional assets are best-of-breed, you're able to have a luxe lifestyle at very little cost;

unlike time slices, you can choose the duration and time for staying in your apartment;

high liquidity – be confident that you can transform your stake into cash at any time you want;

fractional partnership agreements are legally sound and protect the rights of all parties.       
But there's always a But:
fraudulent schemes can be disguised by the fractional partnership: some companies hide ordinary time slice under brand-new fractional agreements;

there's always a negative scenario when buyers don't get the time slot and conditions they want and expect;

since there's a partnership, you may have to liaise with other shareholders; for instance, in case you're going to re-sell the property on the open market, you need the agreement of all co-owners;

the regulatory framework is still developing, which complicates many issues related to buying/selling;

sometimes it may be hard to get rid of assets as a) not every RE agent has expertise in such affairs; b) co-investors may not want to partner with external backers or c) willing to grab your stake for a lower price.
Making money with a shared real estate investment platform
Let's see how you can gain capital benefits from your slice in a resort home. 
The owners can

rent out the non-used period of an asset or keep it unoccupied. Typically, property management firms arrange the process of finding tenants, signing rental agreements, and collecting fees. Most clubs don't allow owners to rent out assets on their own. If you want to offer your unused timeslots to friends or relatives, you can do it on a non-rental base.
What's good is that you can pour money into different vacation assets with a variety of rental yields to build a profit-driving portfolio. With fractional investments, it's much more affordable than buying properties outright.
Resale options: you can get rid of a stake on your own or delegate this responsibility to a company's broker. It's a common practice to offer your stake to partners before you place it on the open market. Each club has its own resale policy owners like you should follow and oftentimes new backers don't have the same rights as original owners.
If you decided to find buyers for your asset independently, you just have to know some marketing and sales techniques to sell you fractional interest fast and effectively.
Luxury Shares — the first of its kind fractional partnership portal
Meet Luxury Shares, a truly unique online platform providing backers with access to fractions of top-notch holiday buildings. The core audience of luxe Shares is property developers, agencies, travel companies, and individual backers willing to build an effective shared investment strategy.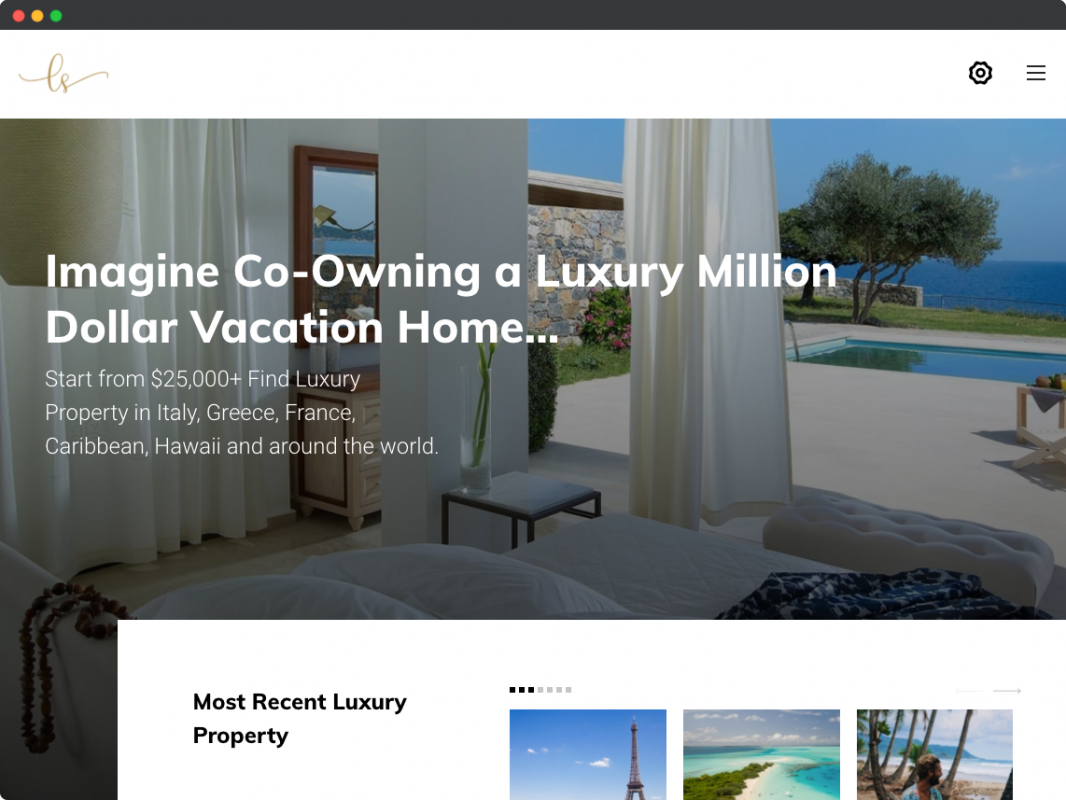 Clients can purchase a piece of a secure high-end asset in different locations. Invested funds are held in escrow until the buyer receives a timeshare contract and their rights are confirmed by top US Fractional Attorney's. 
Top Features of the Luxury Shares platform:
white-label system for RE developers, property agencies wanting to use the platform on their own;

expert support provided by Top US Attorneys and professional consultants;

high-level of security achieved through user and RE developer verification system, secure payments;

walkthrough VR tours;

integrated KYC/AML checking procedures;

digital currency payments support;

referral partner network.
Fractional positions are calculated taken into account the vacation market trends.
Once a new user signs up for a platform, he/she can view available assets with detailed information regarding free time slots, amenities and agreements, test VR tours. To buy a slice, a user should pass a KYC check and define a funding source. The MangoPay provider validates the investor's compliance and put the money in escrow.  
Luxury Shares doesn't charge any fees to users; the profit is generated by platform fees and provision of extended Sales and Marketing services. 
A closing word
The world is changing towards more effective consuming and so does the real estate industry. 
Fractional shared equity investment is a way out for individuals seeking opportunities to become the owners of luxe assets at little cost and flexibility in investment management.
Unlike traditional time slice fractions offer more and have a bigger potential for capital gains.