Why building a commercial real estate crowdfunding website
Even some conservative industries such as commercial property have surrendered under the pressure of alternative financing. With the burgeoning number of companies crowdfunding for the commercial real estate, the niche has become a tidbit for business enthusiasts.
To make your own portal for real estate fundraisers, you need to have a clear vision of the business concept as well as a considerable amount of resources – time, people, and money.
If you already have a good understanding of your business goal and are ready to take action, we will give you some advice on building a bespoke crowdfunding platform for property development.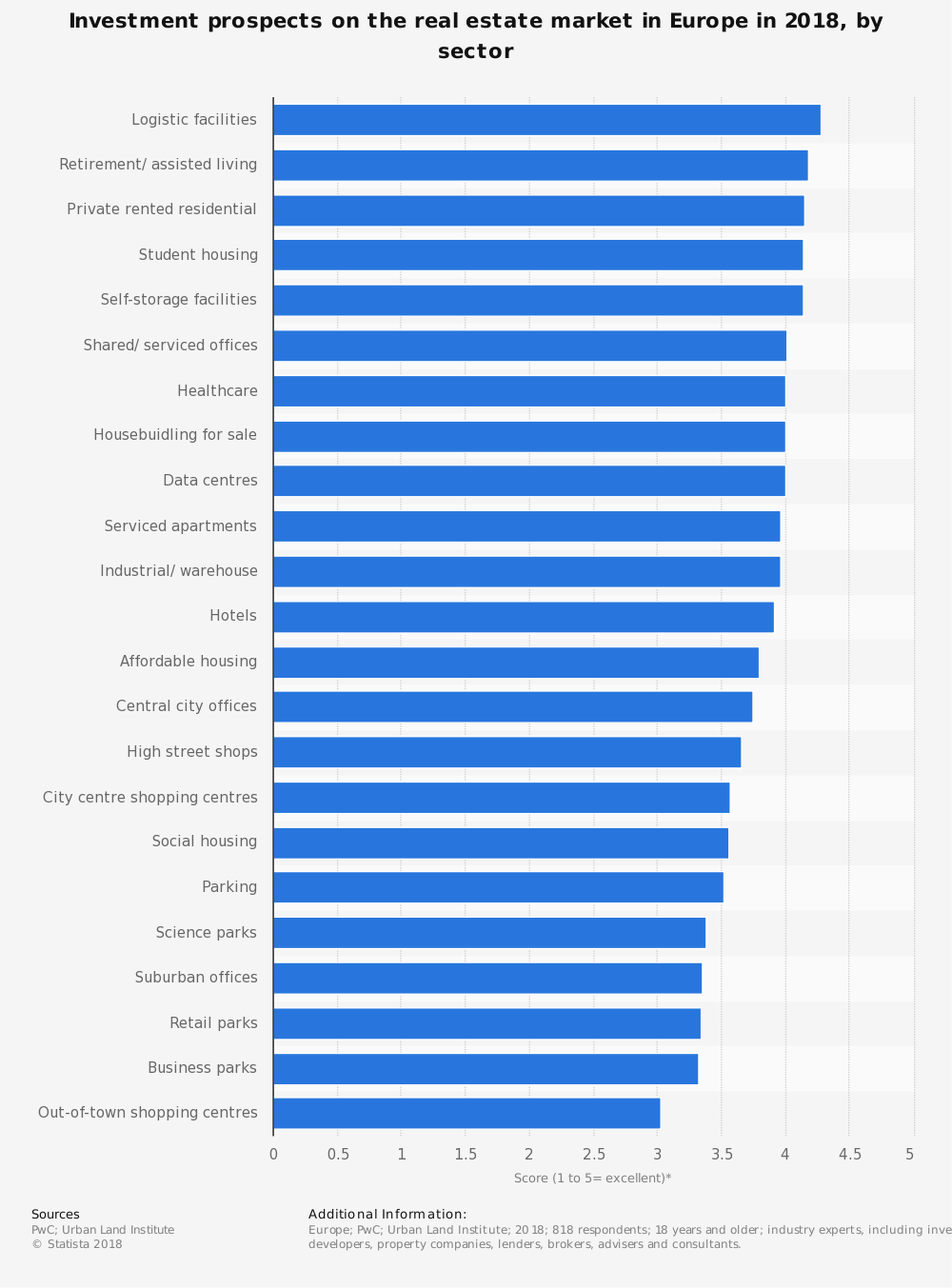 What is commercial real estate crowdfunding
The paradigm implies that both individual and corporate investors can support commercial real estate projects via online service providers.
What counts as a commercial real estate (CRE)?
hotels, sports facilities, cafes, restaurants;
shopping malls and retail stores;
distribution centres, warehouses, industrial property;
office building and services offices;
hospitals, medical centres, nursing homes;
multi-family homes.
Previously, the market was accessible only for large-scale investors aka accredited individuals and investment funds.
Today, thanks to the diversity of crowdfunding companies, property investing has become open for small backers with a few assets.
There are different types of commercial real estate crowdfunding websites:
The majority of crowdfunding companies work with both accredited and non-accredited angels offering a large array of projects to support.
Profit aside, there are many other advantages of crowdfunding commercial real estate.
Benefits of crowdfunding commercial real estate for business owners
1. Taking advantage of the niche prospects
Since the adoption of JOBS Act that gave the green light to crowdinvesting, the pattern has spread to new business areas such as real estate.
Comparatively to the technology and services sectors, this field has a lot more opportunities for new entries.
With a growing number of individual backers seeking robust assets to pour money into and entrepreneurs willing to centre new projects, the market flourishes and thrives.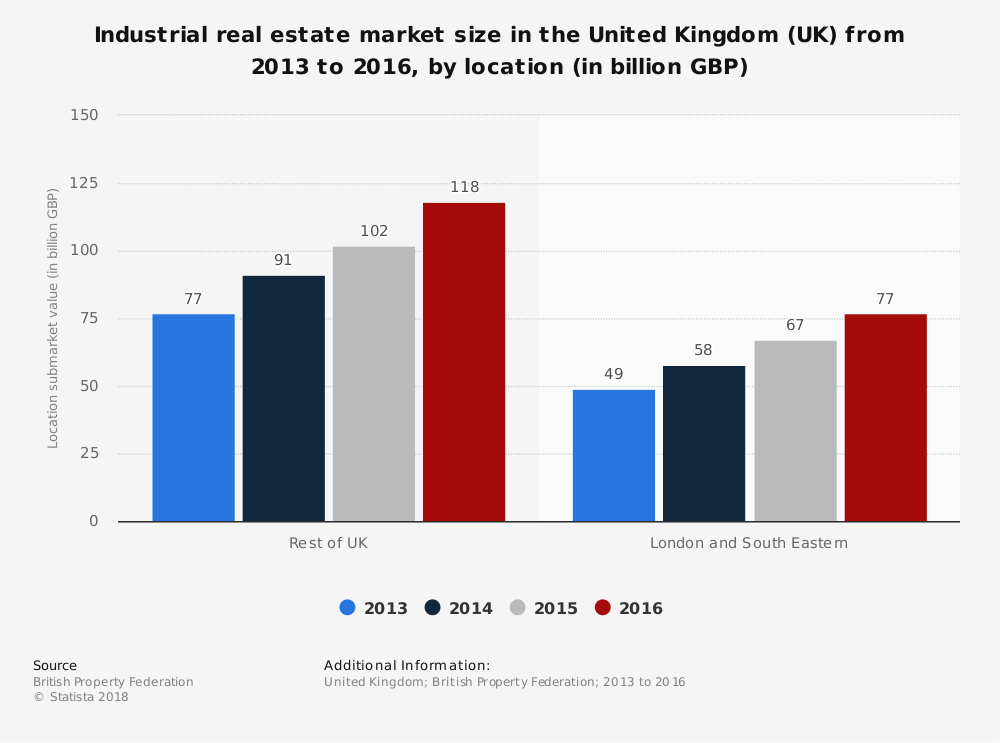 2. Co-investing
Those capitalists who have been long in the real estate business can greatly benefit from establishing their own crowdfunding online presence.
On the one side, a portal will be drawing the attention of property developers, so you won't have to search for property campaigns.
On the other side, you will be able to increase the working capital and obtain more investments and revenue.
3. Cutting expenses
If you're a property developer searching for the seed capital to build property, you can consider a crowdfunding website as a possible way out.
Raising funds via service providers may be effective yet rather expensive due to high fees.
That's why building a custom platform can help you not only save on associated costs but, what's more, make money on offering your services to other business people.
4. Captivating millennials
Digitally-savvy young people tend to become interested in commercial real estate development crowdfunding.
In the past, your target market would be big investors with high net profit and institutions, today you can focus on the forward-looking youth.
By diversifying the pool of investors, you get a chance to build a large community of like-minded angels and promote your business even more effectively.
Successful crowdfunding websites for commercial real estate we've built.
Before we go over the steps of creating a custom website for commercial property, let's have a sneak peek at real projects developed by our team.
Shojin – a property investment and development company
The web design for the Shojin crowdfunding platform for investing in commercial is responsive and well-optimised for mobiles and laptops.
It looks very modern and functions flawlessly. Custom graphics, the parallax effect and light animation make interactions between the site and the user engaging.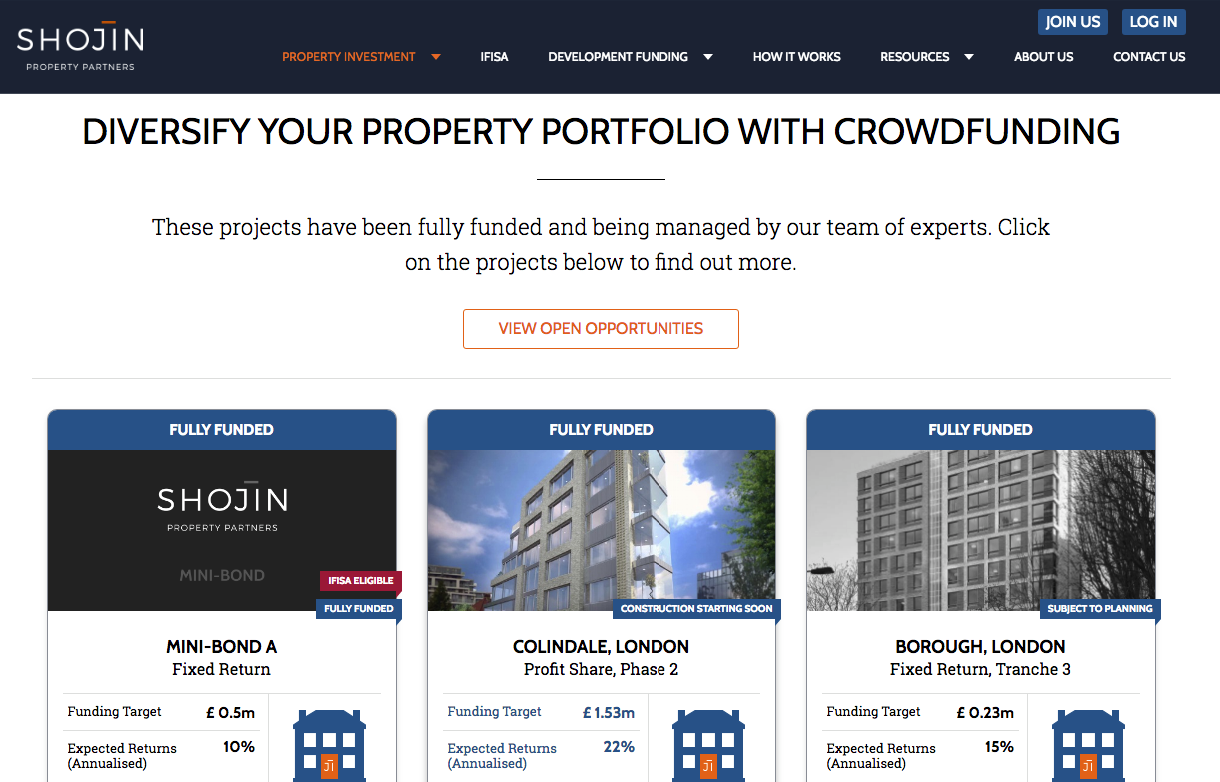 Users can sign up for the platform and create personal accounts for monitoring the performance of their portfolios.
For those prospective investors and borrowers who want to learn more about fundraising and co-investing, there's the FAQs area, Blog and other internal web pages.
Other key features of Shojin include offline KYC/AML checks via MangoPay, MangoPay e-wallets and transactions, contentful CMS.
CapitalRise – an innovative solution for investing in prime property
This is a multi-page website with simple navigation and user-friendly interface.
The overall design is clean and professional, with numerous visual effects and animations.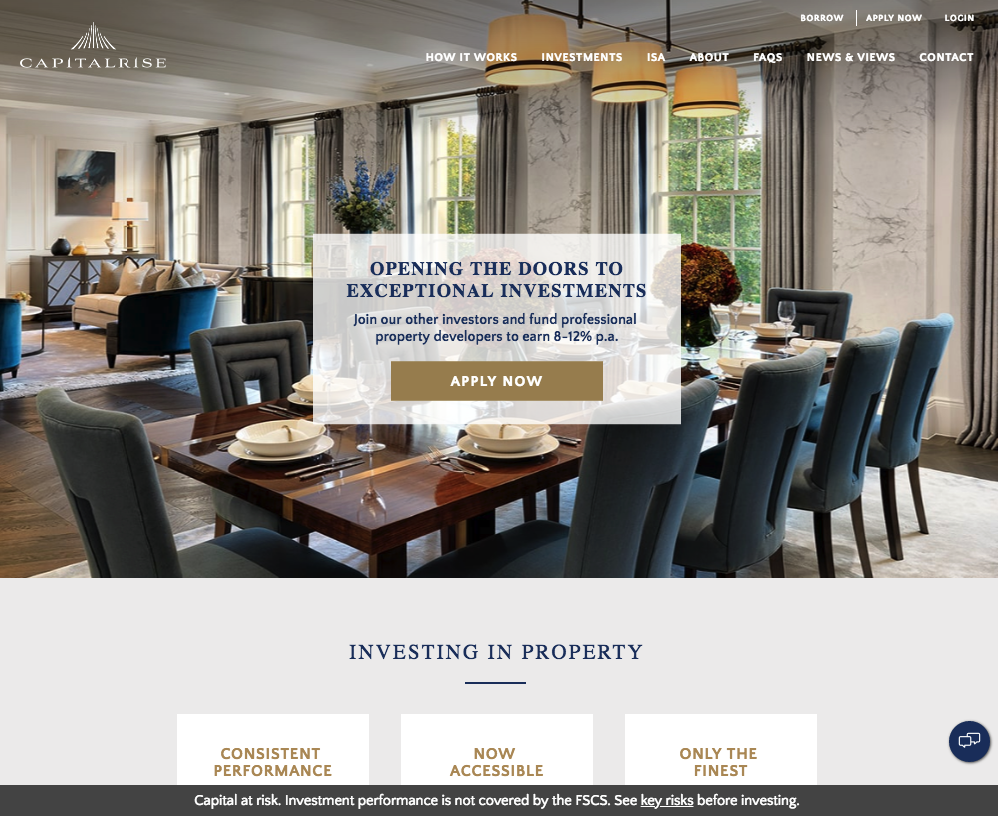 The Home page consists of several blocks with the most important info about the business features, investment process, the team, clients' reviews and media references.
Additional details on investments in commercial real estate can be found in FAQs and other internal pages – About, How it works and IFISA.
Users can easily get in touch with the company via an integrated live chart.
What's more, the CapitalRise website has automated KYC/AML checks.
HomeGrown – an online platform for property development projects
The website is super easy-to-use with a simple menu and eye-catching CTAs.
Once a user drops by the front page, they can immediately create an account for making or collecting commercial real estate investments only by entering an email into the form in the first block.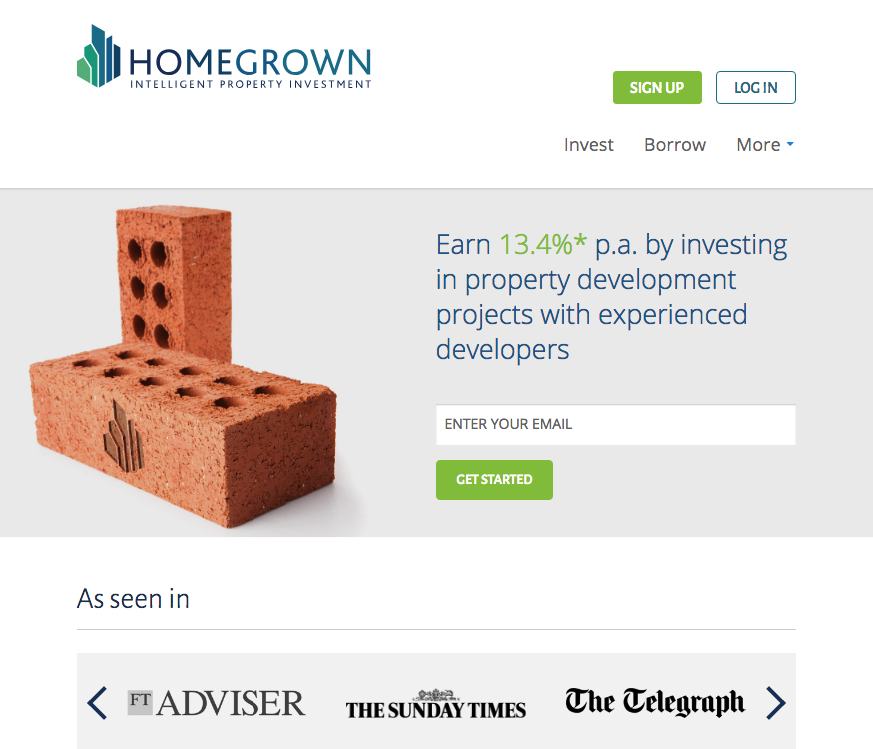 Down the page, there are current offers, investment steps and the platform's features.
The menu has only three elements – Invest, Borrow, and More, which greatly simplifies the browsing experience.
Among the core features of the Homegrown website are KYC status checks via GBG, customer referral system, integration with GCEN gateway, etc.
The essentials your crowdfunding platform can't live without
1. Registration flow
Depending on your business model, you're going to deal with investors only or both with investors and fundraisers. The registration flow should allow the user to decide what they want to be as well as collect enough data for you to assess them.
The application review process should be simple and straightforward, with proper notifications set up to let the applicant know about the progress or any specific issues with their application.
Here's an example of how they do it at Brickvest.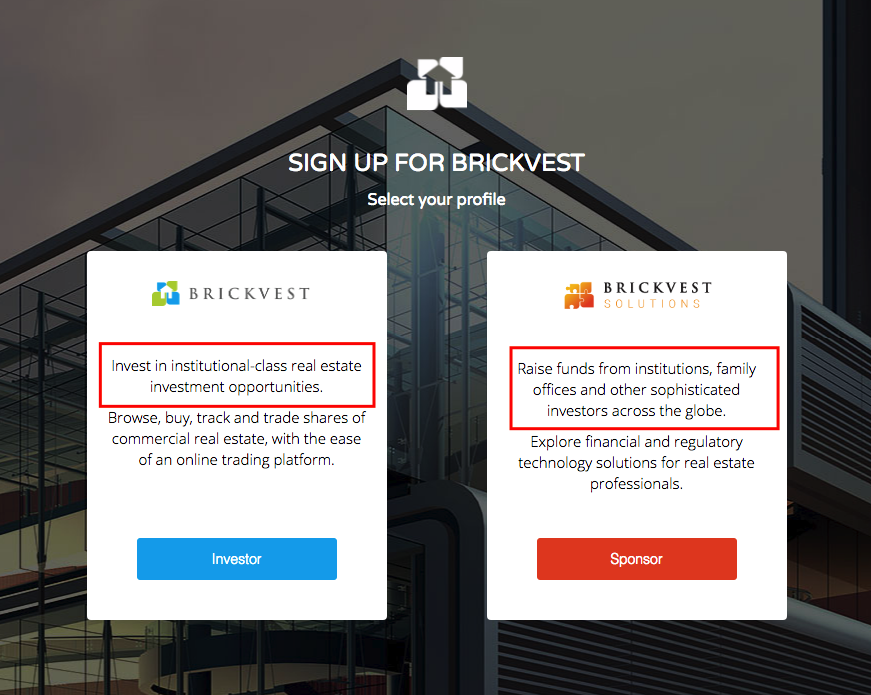 Some companies have their own way to find the fundraisers so they try to attract the investors with their crowdfunding platforms. Capitalrise, for example, is a good example of such a business model where you can register only as an investor.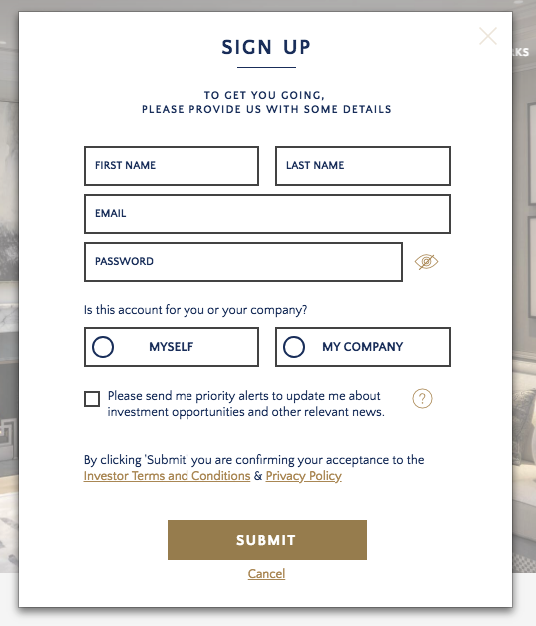 You may want to request a business plan, the details of the company owners and the management team, the description of the proposal, video materials, etc.
To identify whether you're doing business with accredited or non-accredited backers, question them about their financial status. For both categories, the sign-up process should take little time and effort.
Consider letting users make accounts via their profiles in social networks to look around your platform.
Make sure to explain the registration rules and procedure in FAQs and detailed guidelines.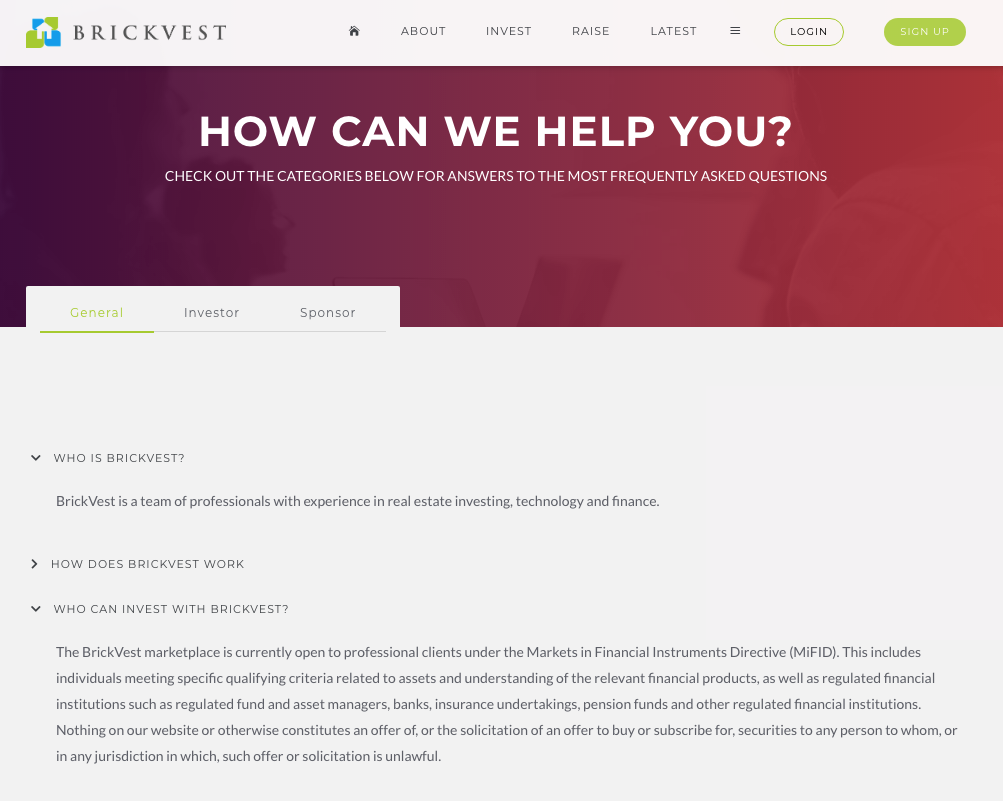 2. CDD and KYC control
Although crowdinvesting seems to be a democratic way to raise funds, when it comes to anti-money laundering compliance, there should be no exceptions.
CDD (aka customer due diligence) and KYC (aka know your customer) are integral parts of any financial activity and ignoring them is inexcusable. These notions are interrelated and complement each other.
Both KYC and CDD checks are based on gathering the records about new customers (both real estate business owners and investors), verifying their identity and assessing the risks to prevent money laundering, and we've already covered the KYC in our blog.
The best way to carry out KYC checks is to make them automated as it saves time for your staff and is more user-friendly for your future users.
You can create a kind of questionnaire for people signing up to your service to get the necessary personal and financial information like annual revenue, net worth value, bank accounts, etc.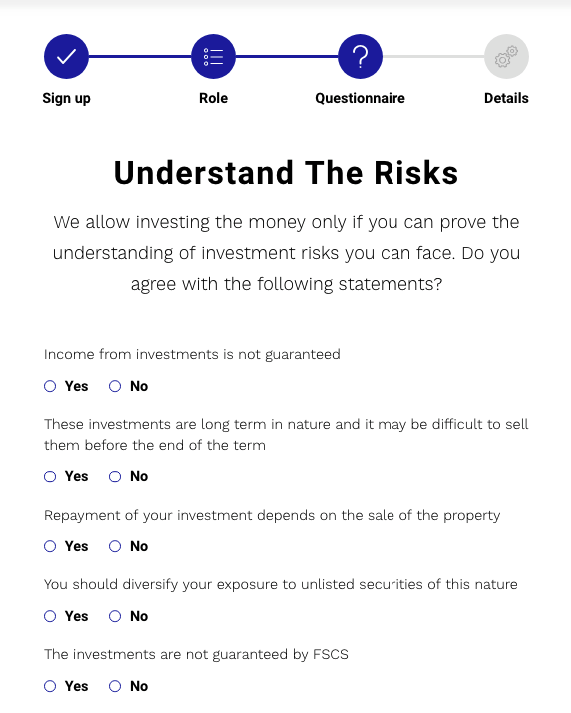 Some payment service providers allow integrating the automated KYC checks, namely MangoPay with whom we partner and whose service we often use for the crowdfunding projects we develop.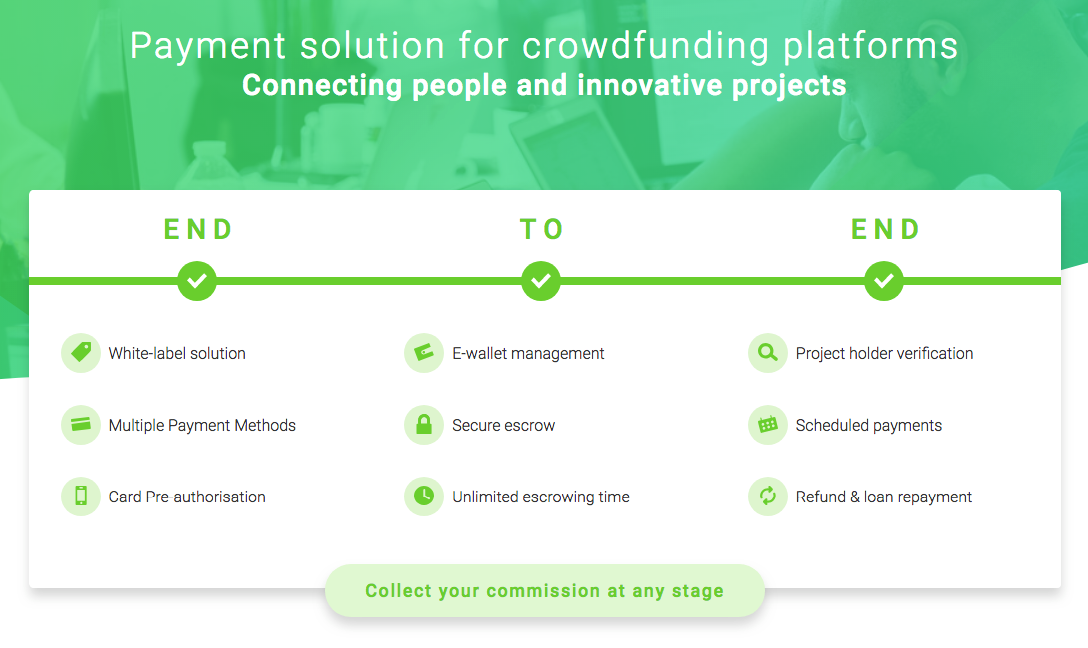 Strong control over the risks is the key ingredient of your reputation as a credible service provider.
3. Admin area for creators and investors
People like keeping eyes on the ball, so let them do this.
Equip your site with personal accounts and integrated user dashboards. Both borrowers and sponsors will be glad to check out the financial state of affairs, statistics and market reports.
For property developers, it's crucial to have some functionality for managing crowdfunding campaigns whereas the investors need to have the ability to check transactions made.
And don't forget about yourself 🙂
Create an admin area for a platform owner where you will be able to monitor users' activity, view investment records, detect potential risks and assess how your crowdfunding business is doing today.
4. Portfolio with projects
This feature is mostly targeted at investors.
When users drop by your web source, they should see the proof of your success and check current projects they can take part in.
You can implement your portfolio as a section on the landing page or a separate page showcasing open and closed deals.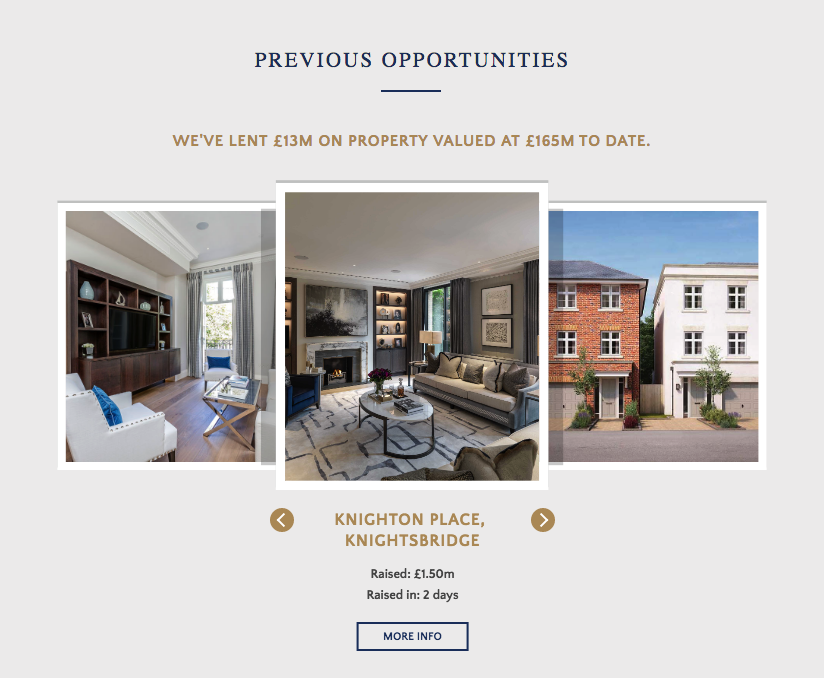 Add essential details to every project card:
description
total amount raised
campaign duration
number of investors
a number of days left etc.
By allowing your potential backers to discover investment opportunities before their signing up, you get all the chances to increase the conversions.
5. Payment gateway
Transactions lie in the heart of your crowdfunding platform.
The list with payment gateway merchant provides is endless.
You can always go with something famous like PayPal, but we'd recommend looking at payment service providers tailored specifically for crowdfunding and financial platforms.
For our projects, we mostly use GCEN,  Mangopay, and GoCardless. This is our shortlist when it comes to integrating a payment gateway for crowdfunding projects, and we've covered other gateways in this article.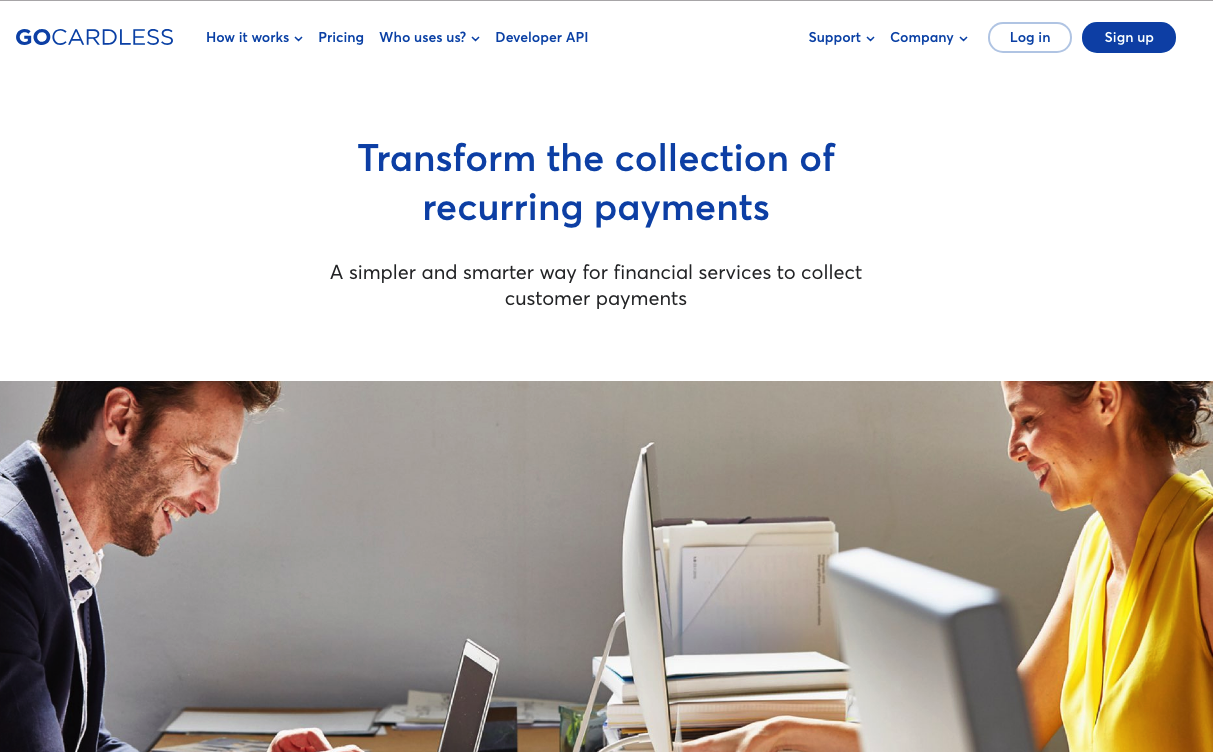 Remember that your payment gateway provider should have an impeccable reputation regarding data security.
To install a payment gateway, you may need to hire a professional developer, or you can do it yourself. Usually, the companies that provide payment solutions also have a partners network as well as extensive developer docs.
LemonWay and Goji payment gateway providers are our strategic partners in delivering solutions for crowdfunding platforms for commercial real estate.
LemonWay
LemonWay is the one-stop-shop for crowdfunding, equity investing, and p2p lending platforms.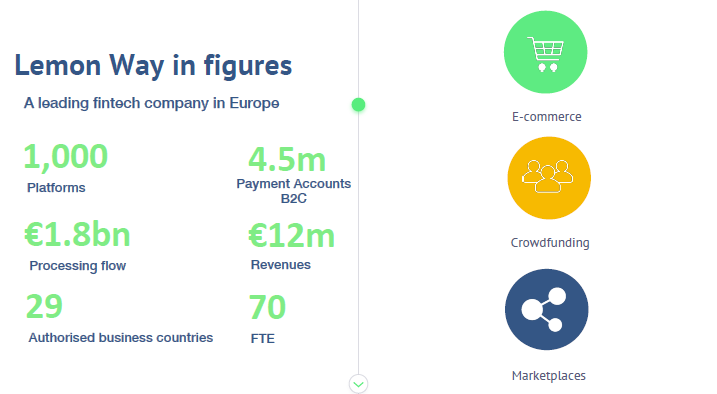 It offers numerous benefits amongst which are: secure payment procedures, real-time user verification, admin dashboards for monitoring the platform's performance, customisation options, and professional support.
Goji
Goji is a payment gateway designed for providers of alternative financing. It's a secure and robust solution that can be integrated into any crowdfunding project via the white label interface or API.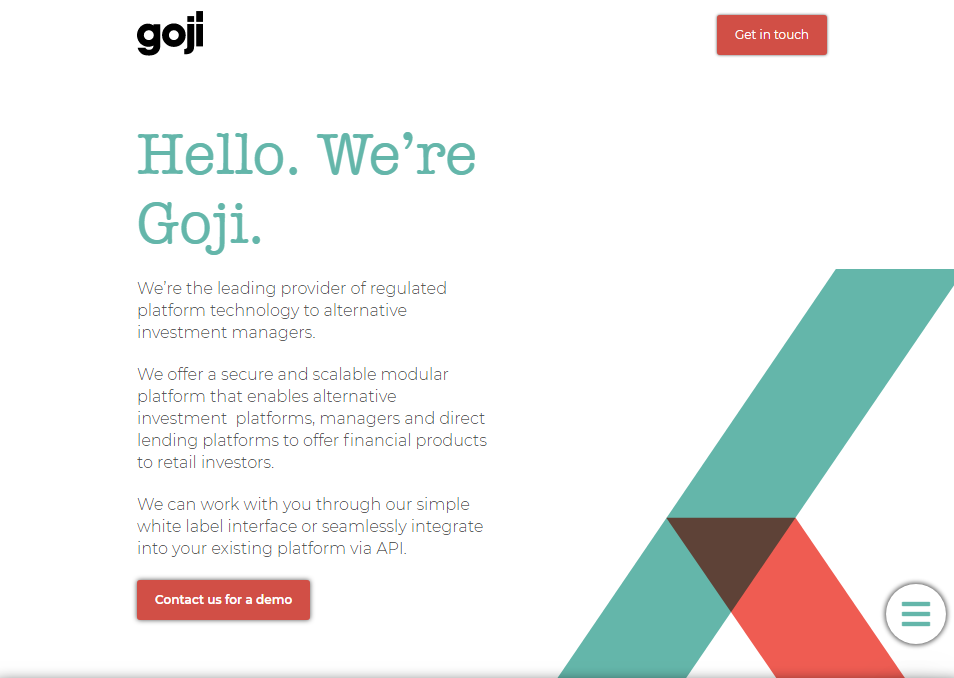 Goji offers solutions for investors onboarding, multi-channel fundraising, payments, platform administration and management, multiple accounts support (ISA, SIPP), information management, real-time transactions reporting.    
6. Knowledge centre
If you do business mostly with non-accredited investors who may lack financial literacy, create a special educational area to teach them about
You may need to consider creating a dedicated info area for backers.
It can be an investment glossary, a knowledge area or a one-pager that will help users understand the crowdfunding process on your platform.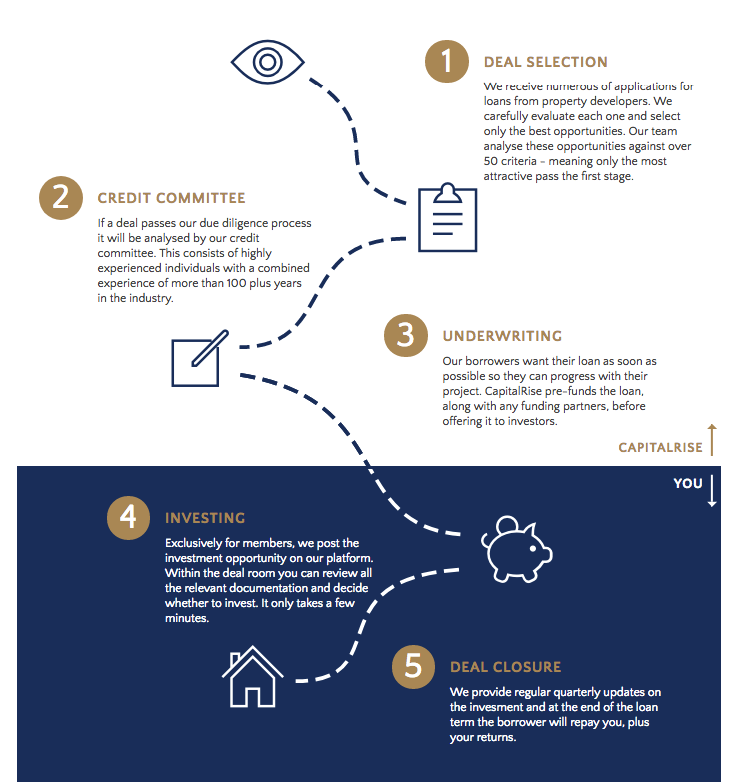 Add information about the main features of your website, explain how users can benefit from them, provide details on the registration procedure and requirements.
By educating people in this way, you demonstrate your understanding and concerns of the audience you want to attract.
7. Blog
One of the goals of your fundraising website is to educate people. They come to you not only to make a deal but also to grab something new. And then make a deal 🙂
Set the tone right from the start – act like an estate expert, share your expertise, and publish useful reads regularly.
We recommend employing a freelance copywriter who knows a lot about crowdfunding in the commercial real estate.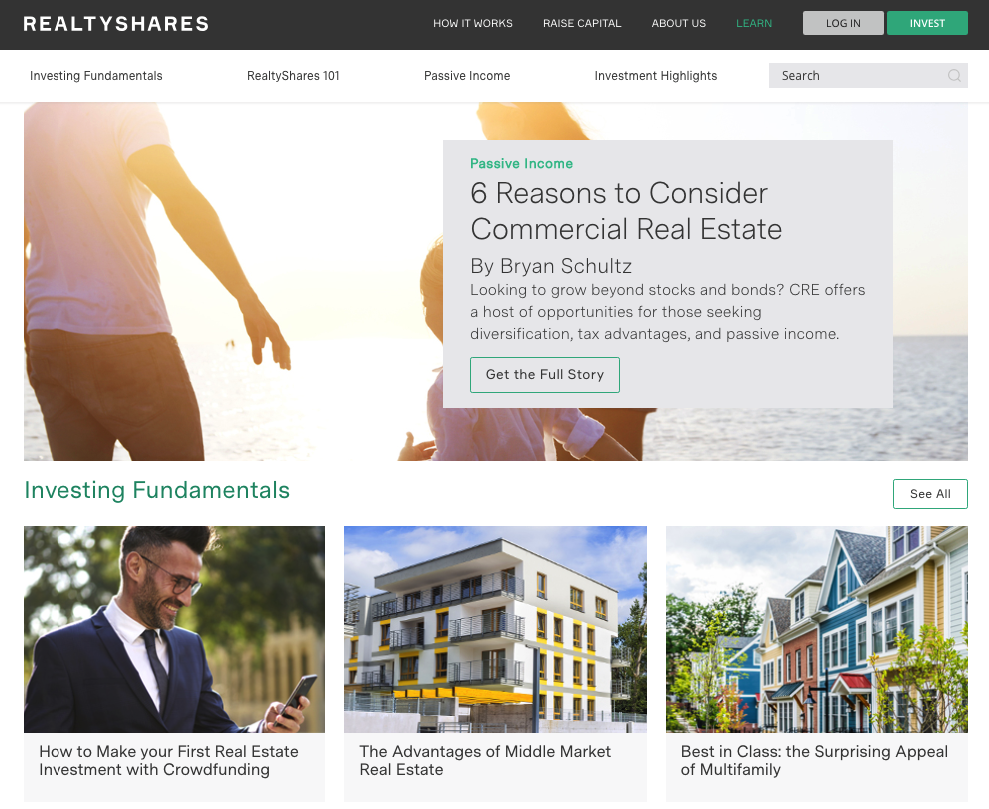 Moreover, blogs are always an indispensable tool for SEO. By writing posts on relevant topics with the right keywords you are likely to increase the number of leads.
8. Testimonials
If people find something good, they eagerly share it with the crowd.
Create a dedicated site section or page for reviews and testimonials. It is a good way to show your appreciation and loyalty.  Ask your clients to get their feedback because you value it.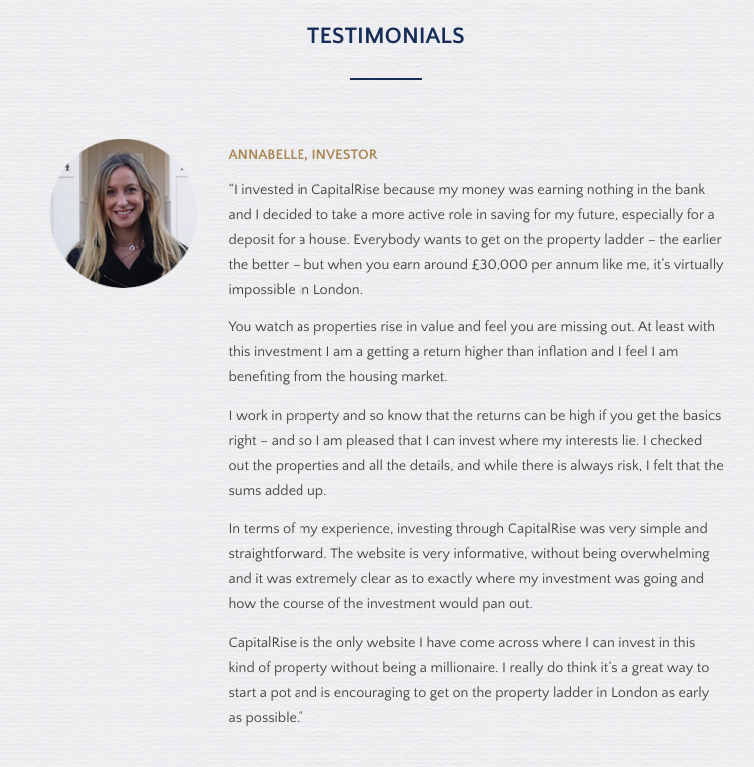 Even if you face with some critics, consider it as a positive experience and a reason to improve for the better.
How to set up a commercial real estate crowdfunding platform
Those were core features your crowdfunding site should possess.
However, there are other things you may want to add to the design and functionality of your online commercial real estate investing platform:
Team page or section;
live chat;
Awards or Media references block;
simple and understandable CTAs (forms, buttons, links);
professional property images and video content;
FAQs;
social sharing buttons;
design effects (galleries, carousels, sliders, parallax);
lead capture forms.
Now let's move to building a commercial real estate development crowdfunding site.
Where to start?
Given that the real estate industry is very specialized, learn more about the legislative framework of the country with your target market.
For example, compared to the UK and US which are the front-runners in term of adapting their law to digital transformations, Canada is a bit lagging, which makes it a challenging destination market.
If your core audience is in the UK, then your commercial property platform must be FCA regulated.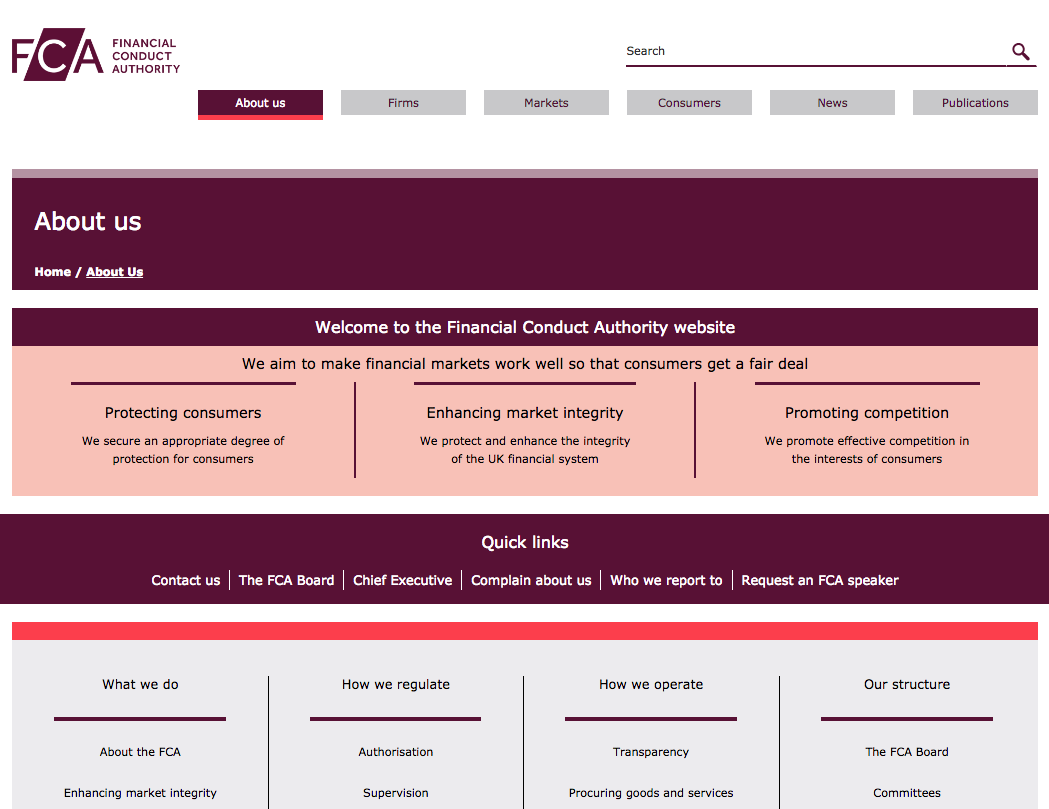 In the US, you will have to meet the SEC requirements for crowdfunding businesses to fulfil real estate dealing and brokerage.
Bearing that in mind you should conduct deep research and find out your niche in the commercial estate.
You may want to work with different categories of commercial property:
leisure;
retail/restaurant;
office buildings;
industrial property;
high-rise apartment buildings.
Once you've made up your mind, develop a detailed business plan which will be serving as your guiding star.
How to implement a commercial real estate crowdfunding platform
There are a few ways here, and we even wrote a whole article on building a crowdfunding platform.
The first option is a plug-and-play solution or even a WordPress-powered crowdfunding platform which usually come with predefined designs, functionality and hosting solutions.
The cool thing about them is that you can build a website and launch in a few clicks: pick a template, personalise it, upload to hosting with a free or custom domain, and, voila, you're online.
As far as we can see, all solutions of this kind have pretty basic functionality and are not really unique regarding design.
If you choose a solution that is hosted on a third-party server you don't have access to, it gets risky for you as a business owner as you are in control but not really.
The second option is putting together a development team.
In this case, you will be able to create a complex set of features, tweak the user flow, make a bespoke design that won't have any analogues, host your site on your own server or pick up a secure provider.
It all sounds well and good, but setting up a platform from scratch is quite lengthy and expensive.
The third and the most optimal option (in our humble opinion, of course) is turning to a white-label crowdfunding solution which gives you a ready-made product that can be easily adapted to your business needs.
We have a good read on this topic in our blog and even have such a white-label software called Lenderkit.
It's a fully hosted solution geared for real estate crowdfunding portals which gives you full access to the front-end and back-end code.
The platform has all the essential flows and features in place:
a powerful admin area for a website owner;
automated AML/KYC checks;
easy-to-use CMS;
integration with third-party solutions;
a built-in secondary market;
adaptive design.
Utilising a white-label solution will help you to save time and launch much faster than if you started from scratch. Feel free to learn more about Lenderkit or give us a shout – we'll arrange a demo and show how we can help you get started faster and smarter.
What's next?
The last but not the least – market your commercial property portal. It doesn't mean that you should start working on the promotion once your website has been published.
To get better results, make a detailed marketing campaign and launch it long before the coding stage. Regularly update your clients by mail, network on the industry exhibitions, conferences and similar events, promote your business both online and offline.
It will help you generate some hit for potential clients and get more leads in a short time.
How much does it cost to build a commercial real estate platform
Online investment business with the commercial real estate is a serious undertaking that requires the deep involvement of you as our client and us as your development partner, so "cheap and dirty is not an option.
On average, building an MVP for a crowdfunding platform will start from £45,000 and will be done in a full immersion mode, involving a business analyst on our end, a UX designer, and a dedicated development team with serious expertise in building crowdfunding solutions.
Final thoughts
We've gathered only some tips and tricks on how to set up a custom crowdfunding platform for the commercial real estate.
Let's sum it up.
1. Before you start implementing your website, learn about your competitors and consider implementing the following features:
smooth signup flow with CDD and KYC checks;
admin dashboards for investors and fundraisers;
rich back-office with the platform owner;
payment gateway
blog, knowledge centre, and testimonials.
2. If you have a clear vision of what you'd like your portal to be, it's better to go with a white-label solution to implement it.
3. Keep in mind, that project launch is only a small step towards your business success. Once you've launched your real estate crowdfunding website, adapt marketing policy according to the changes in the environment.