The health insurance system in the UK and Europe is regulated by the NHS (National Healthcare Services); however, the private healthcare sector is also very competitive.
The main goal of private health insurance companies is to fix the flaws of the NHS sector related to long queues and less individual approach to patient treatment by providing high-quality healthcare services on a very personalised level.
According to Insurance Europe market report, in 2017, total European health premiums and health insurance claims grew by 3.9% to €132bn and by 3.4% to €106bn respectively.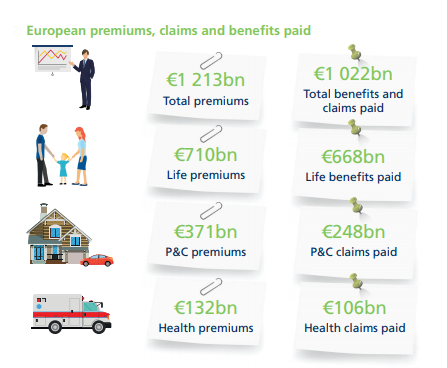 According to the data shown above, the decision to enter and digitise a health insurance market is a good one. Especially, considering the growing number of tourists to the European countries.
When you decide to create a health insurance app, there are several things to look into to make sure that you're solving the right problems, targeting the right audience, and serving the right features.
Determine market issues to create a health insurance app that works
When it comes to health insurance mobile app development, keep in mind the real market issues and audience desires to ensure your app success.
Apart from having a pretty decent healthcare service (NHS), private health insurance companies also contribute to the market in Europe.
"I find in Europe invariably I obtain faster, more human-friendly, cheaper, and better quality care than what I get in the United States –  writes Andrew S.E. Erickson on Quora. 
Andrew, who has been in the USA and Europe and used both health insurances, also says:
"I always wait when I have medical issues to return to Europe to get them addressed.
There are a lot of people like Andrew, who travel to Europe and the UK to get high-quality healthcare services at an affordable price.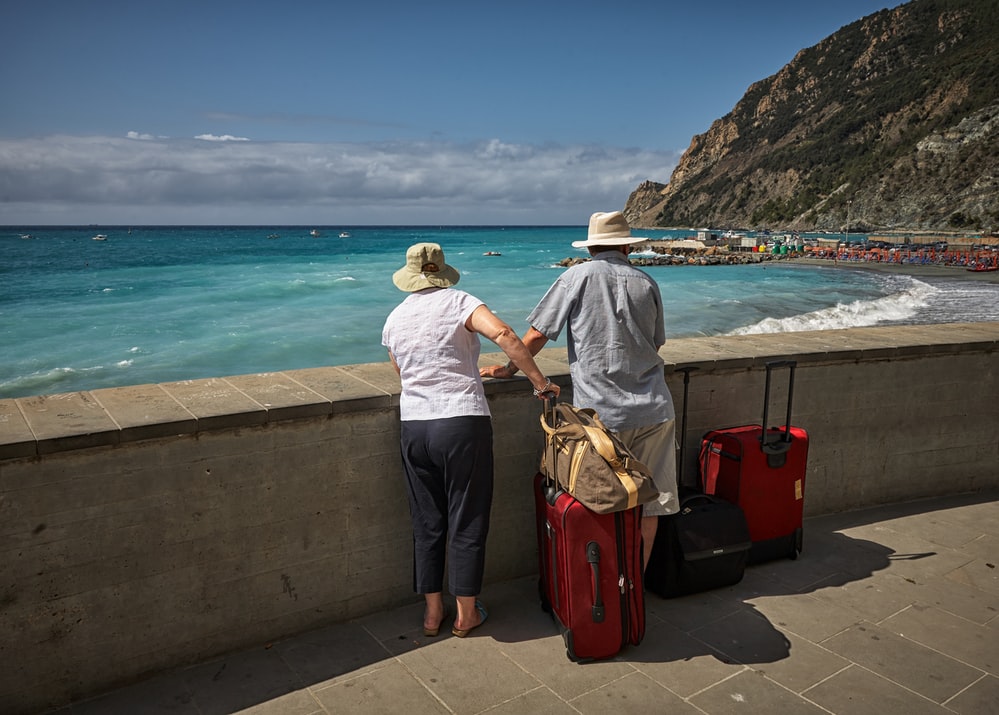 Apart from that, there are also tourists looking for insurance services that include healthcare when they travel across the continent.
Give your audience an app to find a health insurance
In the UK, what's interesting is that, sometimes, the same staff that works at the NHS is also responsible for the treatment through private health insurance.
Ultimately, people in Europe are satisfied with the provided services; however, there are occasional drawbacks that can be fixed by making private health insurance services more accessible.
The NHS system includes several problems that need to be addressed:
Long queues and waiting time, especially if you need to know the results of diagnosis right now
Less optimal care
Physician-patient information transfer procedures
Information processing and "paperwork
Nutrition, leisure-related perks such as TV, wifi, etc.
Parking-related issues near the hospital and the fact itself that you need to go somewhere
Insurance renewal process
Appointment scheduling, etc.
If you have a private health insurance plan, then it's much easier to resolve these "seemingly small problems. However, when you have to go through the whole process and compromise on the quality of services here and there, it might add up to unnecessary stress.
Having apps to manage your insurance information, you can leap over these issues and get straight to the required level of high-quality services using a private treatment plan or simply getting your insurance just in case.
Analyse the market of insurance mobile app solutions
Before you build an insurance app yourself, analyse your competitors and see how well they are performing. If they aren't, define the problems so you can fix them with your own app.
Here are some of the best health insurance apps that you have a look at and point out their key features, design, customer reviews, etc.
Aetna
Developed by Aetna Life Insurance Company, Aetna Health is a health insurance application that helps users manage their healthcare-related operations and communication.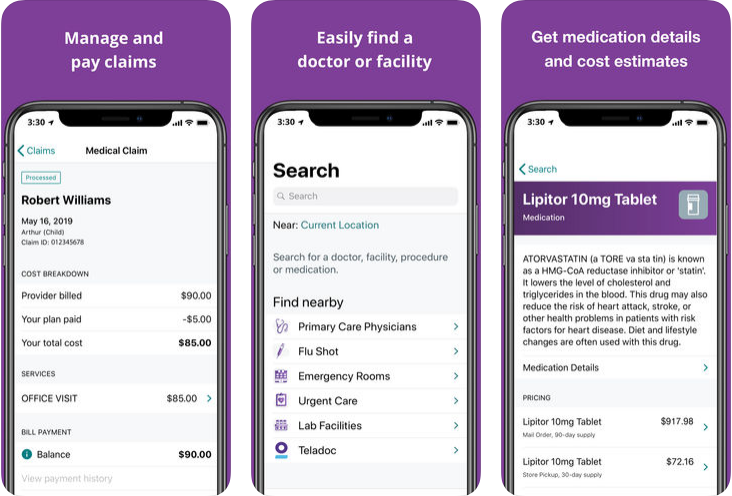 The app has several distinctive features, including:
Access to a network of healthcare providers by location, profile, and speciality
Medications lookup
Health insurance plan management, claims, and renewal
Personalised guidance and support
Qooter
Qooter is an application that compares health insurance plans, costs, and benefits. It has over 100+ TOP rated insurance carriers in their network and provides precise health insurance quotes.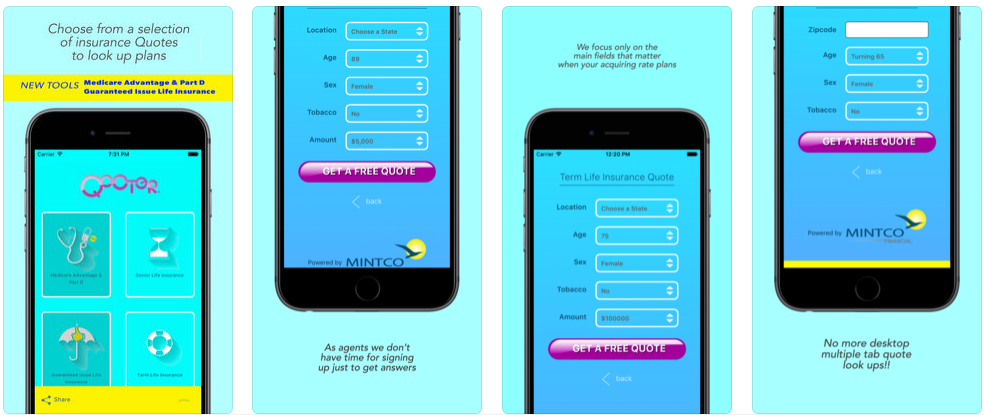 MyIH
Created by Independent Health, MyIH is a free health insurance app that provides easy access to a network of doctors and facilities.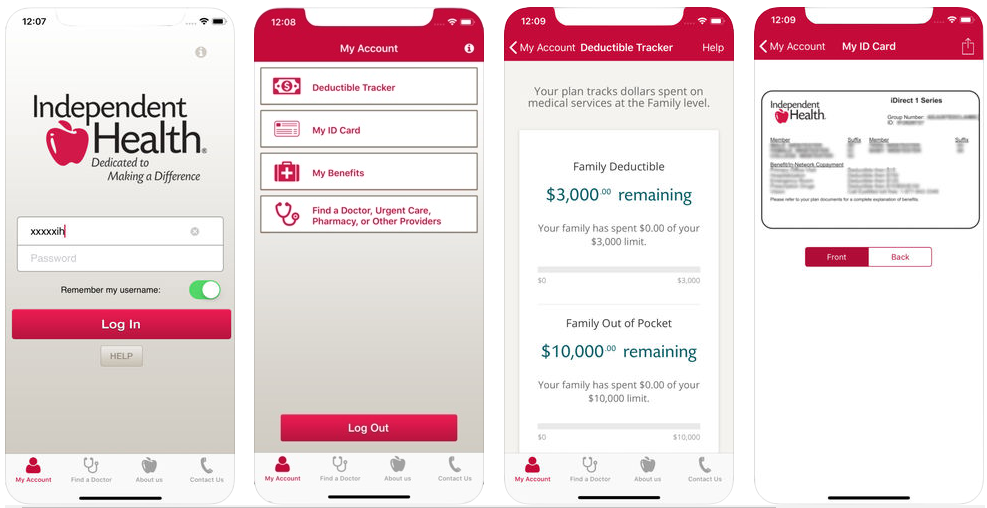 Independent Health provides individual and family health insurance services. The MyIH application helps its users to:
Find doctors, hospitals, and urgent care providers
Keep an ID card safely and securely
Operations and procedures coverage and balance-tracking
Some people find these apps very user-friendly and easy-to-use while others point out things that can be improved. You learn what exactly can be replenished and implement these features in your own app.
Make a list of features for a health insurance mobile app
It might be challenging to think about the features of an app at the top of your head and even after analysing competitors, so let's take a look at the following example.
David is a tourist. He regularly travels abroad, and he loves the atmosphere of getting ready for the trip, but he absolutely hates the paperwork.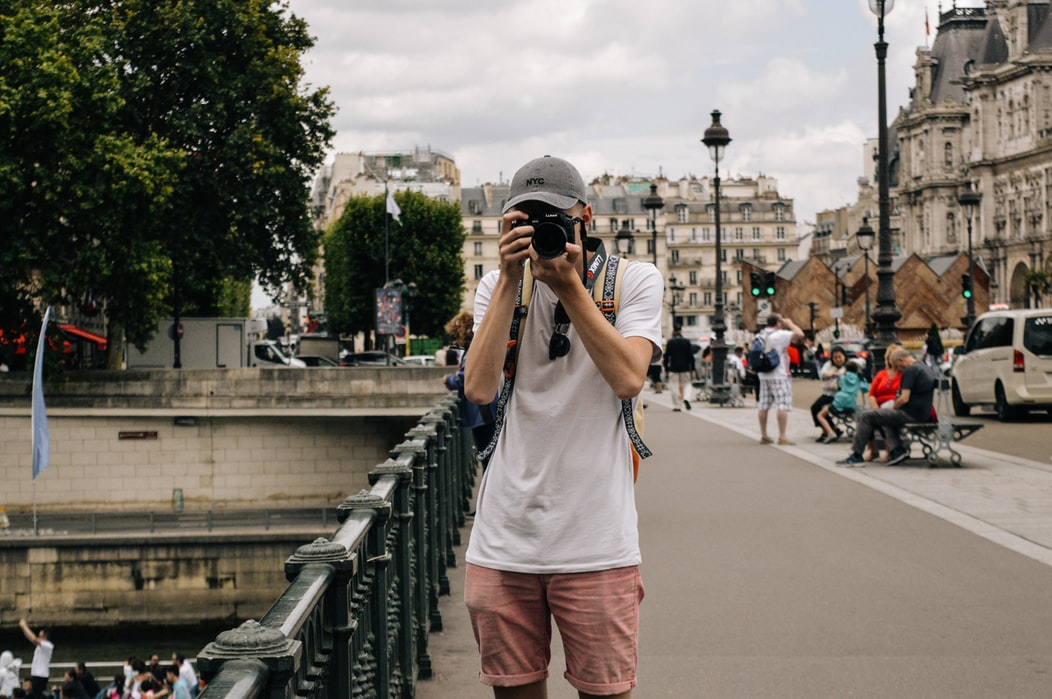 He loves when things are straightforward, especially when everything is at hand and no unnecessary visiting and calling is involved. He just loves to travel safely, and who doesn't?
David has an insurance company that he is loyal to, and he dreams about having a simple app that has certain features that would help him enjoy the trip without any roadblocks.
David would love to see these features in the health insurance app:
Easy to find insurance plans
Plans comparison and selection
Having all the data at hand including contact numbers, names, billing information
When the insurance case occurs David wants to contact the insurance rep quickly and conveniently
Easy to find hospitals and clinics where his insurance plan is active
Management of claims, payment requests and attachment of bills and receipts
Real-time consulting with doctors (if applicable)
Notifications and alerts
Insurance plans renewals, etc.
So, there are quite a lot of things that David wants, and it's tough to blame him for that. These are the features that should be implemented into the app to make it convenient.
Plan out the health insurance mobile app cost
When you've analysed your idea and determined what features you want to include in your health insurance app, it's time to think about the budget.
The costs of a health insurance mobile app highly depend on the project itself, which includes its features and complexity as well as the overall functionality.
For example, an insurance app should have:
Basic or advanced design
User-friendly dashboard
Search and comparison functionality
Payment system
All these things require design and development hours that will determine the price of an application. For that reason, you may look into several options.
Build a health insurance mobile app yourself or hire developers
If you think that your in-house developers can build the app, then you can easily assign tasks to them and build the app using several technology stacks.
At JustCoded, we recommend using React Native and Ionic for its simplicity and rapid app development.
However, you still have to be responsible for the project management and operations, which may take a lot of your precious time you could have invested into finding clients and marketing your product.
In this case, you might be interested to hire developers and build a health insurance app with a technology partner like JustCoded.
Our experience
When it comes to building a mobile app to find health insurance, we approach your project as if working on our own. It means that we listen and apply all of your requirements and provide in-depth consulting, which helps us be proactive.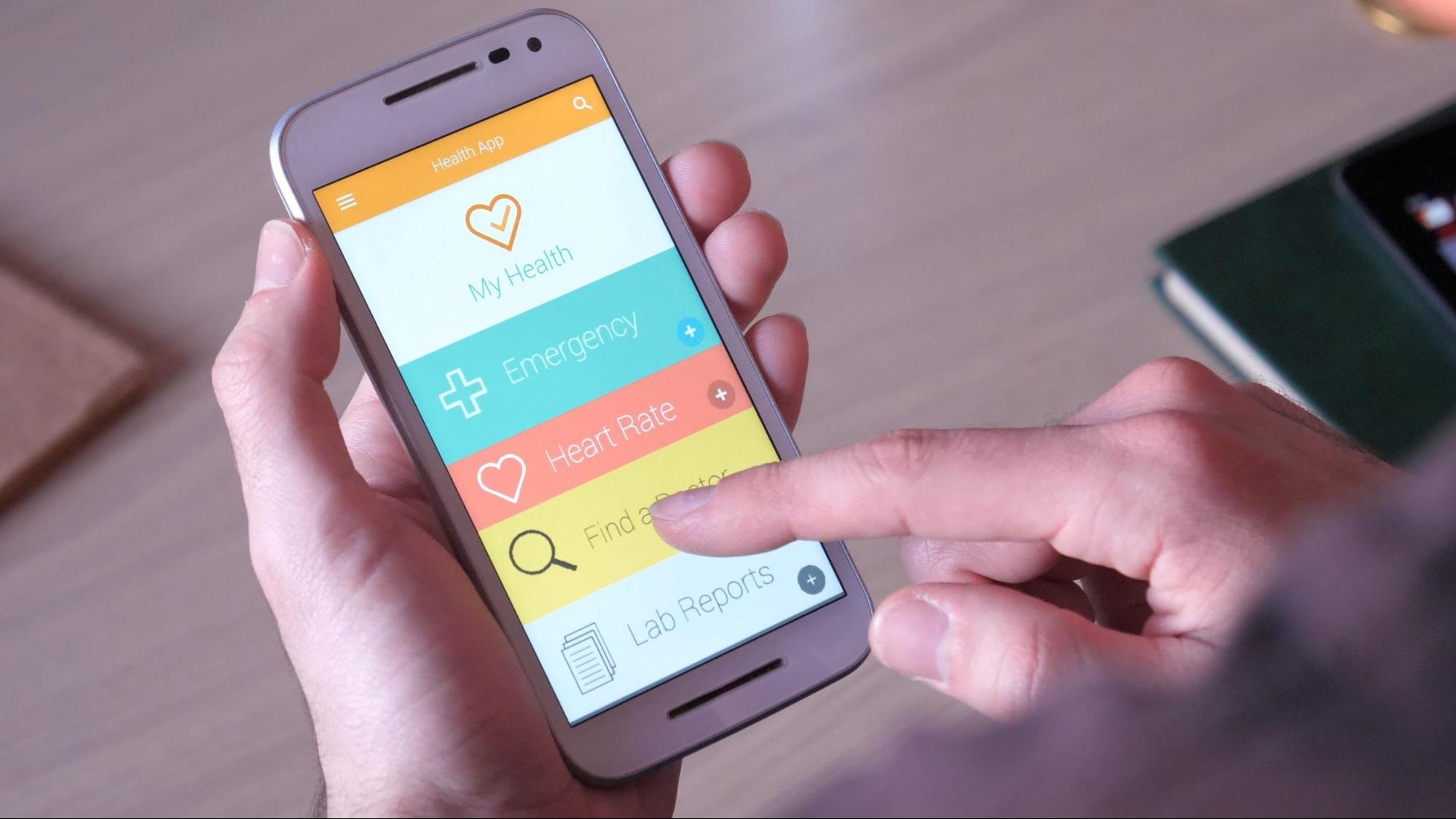 At JustCoded, we cooperate according to models – dedicated team or time and material depending on your project and interests.
Before we start working on your app, we engage our business analysts to gather all the requirements and provide idea testing and validation as well as creating technical documentation.
This is how we work:
Introductory call
We believe that an introductory call is an excellent opportunity for us to meet "in person for the first time. Moreover, it's the best way to learn about your business vision, ideas, and clarify all the necessary details before collaborating further.
Business analysis
During the business analysis stage, we create in-depth technical documentation, business plan, listing all of the features, milestones, and other information related to the project.
UX/UI design and prototyping
Together, we design and build a prototype that can finally be tested on a real audience. We gather the feedback and jump straight into the development stage.
Product development and bug-fixing
Step-by-step, we hit previously set milestones and polish the project before the final release. We fix all of the critical bugs and deliver the product.
Post-launch support and maintenance.
We offer post-launch support and maintenance to ensure the opportunity for scalability and new features implementation by the same team.
We hold open communication channels during the development process to keep you informed and up-to-date. When building a health insurance app, we focus on the basic functionality as well as things that keep your users involved in the application when they have already found the right insurance plan.
To make sure the users will use your app every day, it's a great idea to implement some of the following:
Heath monitor and tracking systems
Fitness functionality (such as walk measurement, water drink reminder, etc.)
Sleep measuring system
Alarm clock, etc.
This functionality helps to keep users active and engaged with the app even during the "idle time.
Our team has developed many projects, including healthcare-related apps, feel free to check our work here.
Conclusion
Building a health insurance app is a great startup idea as well as a significant contribution to an already-established health insurance business. Health insurance is something that's globally required and is always looked for when in search of the best healthcare options.
A beautifully designed health insurance app will help you improve your customer loyalty and help them find better services in your local area or worldwide.
For further information about health insurance app development services, please, contact us here.