It is health that is real wealth and not pieces of gold and silver. — Mahatma Gandhi
The healthcare industry is one of the largest economic sectors with lots of medical organisations, private companies, and enthusiasts responsible for the well-being of the world's population.
Despite this, until recently, the healthcare sector was among the late majority of the innovation adopters.
And even now, not every business entity or organisation providing human health activities has a proper online presence.
Medical website design cost and complexity, the lack of personnel's tech expertise and outdated equipment are amongst the possible reasons.
Today we'll tell you how to create a web resource that is to turn your potential clients into regular patients and boost your business.
So, what does it take to create the best healthcare web design? 
Reasons to invest in healthcare web design
If you aren't sure that building an online treatment directory is a good business, let us show you some stats.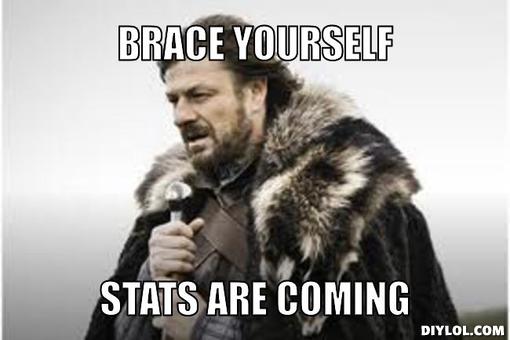 Some of the real facts about the online care and assistance market:
47% of online patients seek a doctor or other hospital staff on the Internet;
1–6 online reviews are needed for prospects to build the profile of a treatment services provider;
66% of sick people look up the info about a doctor or healthcare worker on the web;
32% of Americans share their treatment stories on social networks.
All this proves the idea that online presence is an integral part of the corporate brand and reputation of any healthcare services provider.
If you're still hesitating whether or not you need a site for human health activities, consider the perks of going digital:
 new patients can easily find you while regulars can stay tuned;
 there's no need to have a call centre or personal assistant for dealing with inquiries;
 testimonials, the About and the Team pages effectively present your expertise and achievements;
the filling of your web resource educates people and works well for improving your Google rankings;
 by allowing clients to book appointments beforehand, you can easily manage your working routine;
 a powerful online presence contributes immensely to your brand and its recognition;
 all the tools of data-driven marketing are at your hand;
with an online presence, you can receive instant feedback from customers and identify weak points.
Top tips on how to improve medical website design
Now it's time to go ahead with practical advice on how to create a stellar web design for healthcare.
And to go beyond lips service, we've provided excellent examples for each tip.
Simplify navigation
Navigation is one of the crucial elements of UI/UX design which is overlooked time and again.
As a rule, medical aid directories are multi-page websites with a good deal of content, which is why optimising their navigation mechanism should be a priority.
Here's what you can do:
verify if there are only apparent and relevant categories in the navbar. The optimal number of menu elements is 7-8;
remember that multi-level drop-down menus don't work well for smartphones;
use a sticky navbar so that users can see their current location;
use standard titles for menu elements such as About, Services, Team, Contact;
duplicate the navbar in the footer and add menu elements if necessary;
use animation to make the transition between pages smoother;
integrate a live search with predictive results;
create user-friendly call-to-actions.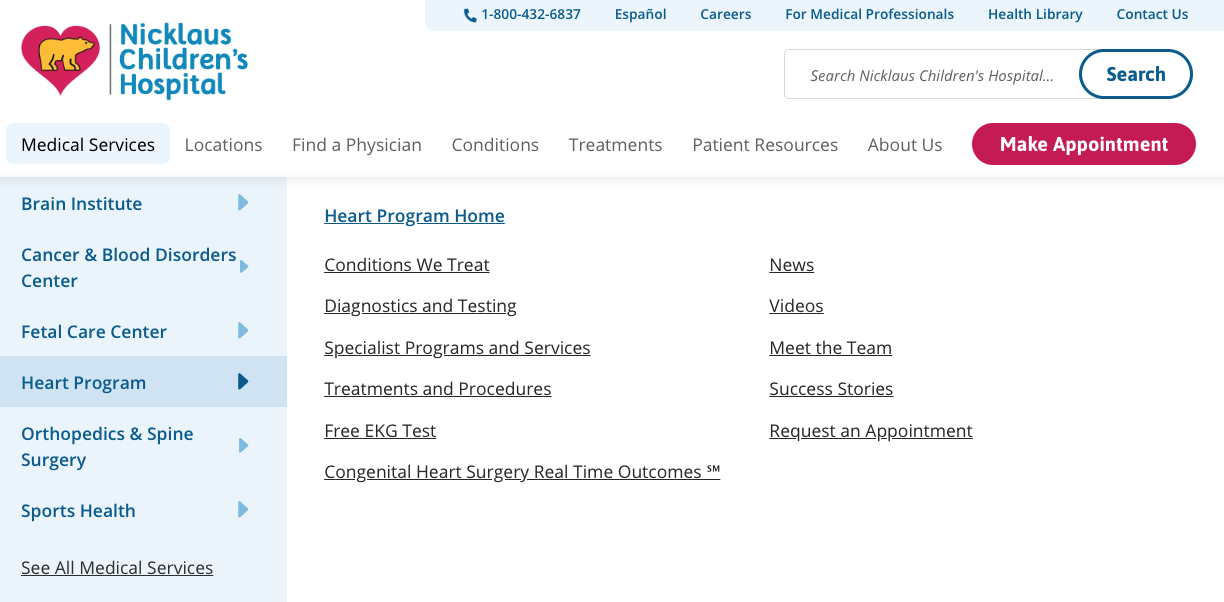 Create personal user areas
To make your medical or pharmaceutical directory more customer-focused, develop personal accounts where patients can view scheduling appointments, contact a doctor or check test results.
By providing people with such an opportunity, you add more convenience to their site scanning and let them feel more control over their lives.
To facilitate the signup process, let users register via socials.
For instance, the MyChart platform designed by Children's Hospital Colorado allows you to sign up by only requesting an access code and entering a few personal details.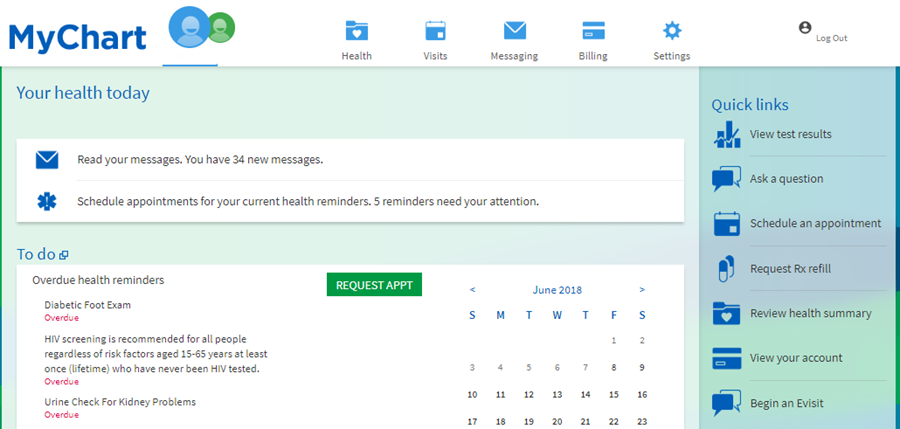 Integrate an online scheduling system
If you've ever searched for best medical web design, you have probably noticed that some of them have a built-in online booking system.
It's critical that a user can choose a doctor, an appropriate time within an available time slot, and a type of appointments.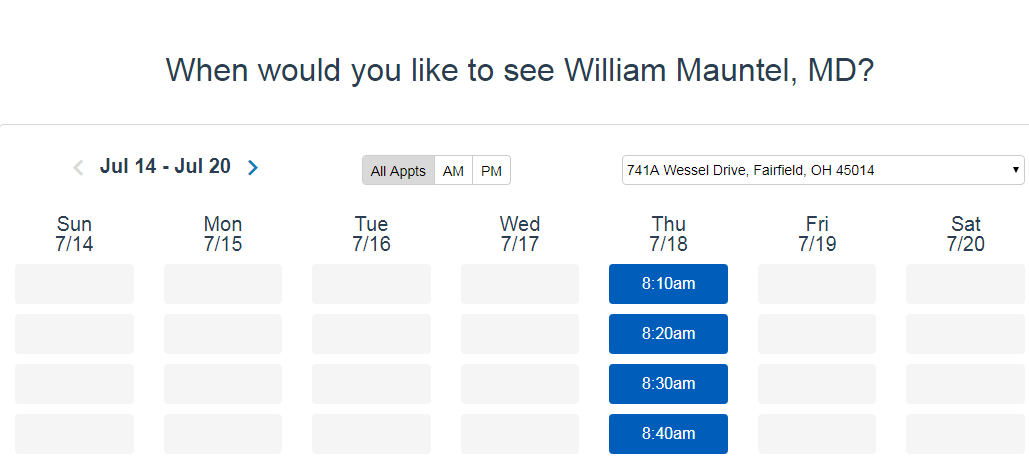 What's more, you can send notifications to patients by email or in the SMS format that will remind them about an upcoming event.
And remember to make adjustments to the schedule if a doctor is on vacation or busy visiting an industry event.
Introduce the team
No matter what you own – an online medical directory or a landing page for a non-profit startup – you should always be on a first-name basis with prospects.
It means you should introduce the team and make each profile public.
Create a short overview of each professional, add details about his/her education and experience, working hours and location.
It's always a good idea to embed a search function helping visitors to find doctors by their names, specialities or conditions.
Did you know that 94% of patients use online reviews to evaluate physicians? Your platform should display reviews and rating of each specialist to generate trust and establish honest relations with patients.
Even if there are negative comments, don't remove them. The bad user experience should inspire you to take action and change the current situation.    
The below examples of website design for healthcare show how you can display patient feedback.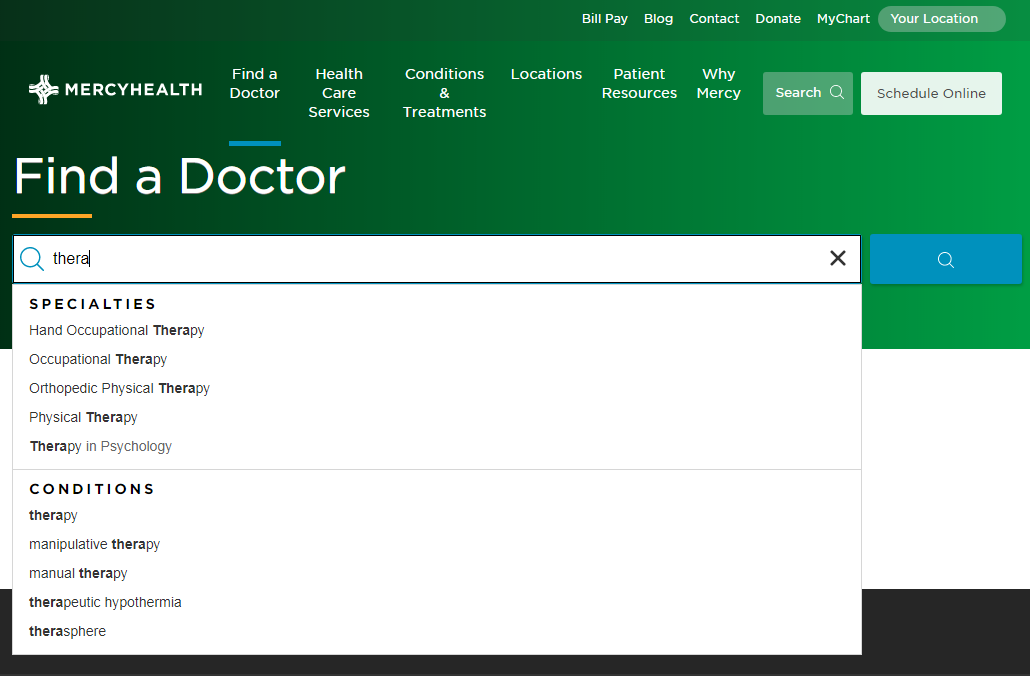 Add a pricing page
A page or section with treatment plans is a must-have for any healthcare services web design.
24% of adult Americans report in 2018 that low prices are essential for them when choosing a medical aid service provider.
It's essential to present all the healthcare service packages, tests and pharmacy prices so that prospects can get the full picture.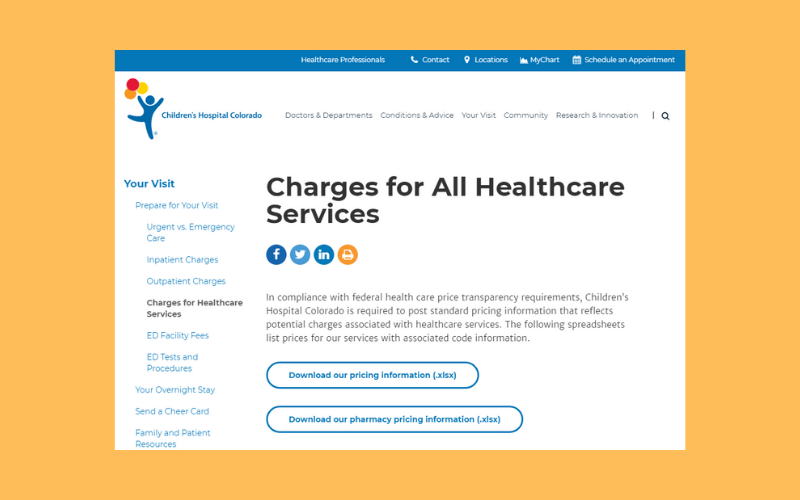 In case your entity delivers abroad array of treatment&care services, you can convert them into the .xls or .pdf format.
Combine a map and contact details
When planning the space for your contact details, make sure that visitors instinctively understand how to get qualified consulting from you.
Typically, contact details go in the header or footer, on a separate page or in the last block on the Home page.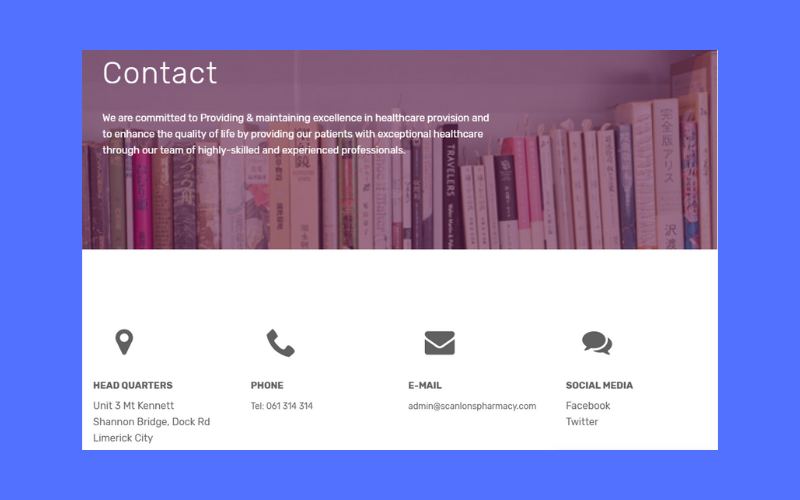 Add as many options for getting in touch with you as possible – headquarters, phone numbers, email, social media accounts.
Some websites have integrated google maps with contact us forms, which might be an excellent solution for you as well.
Share testimonials
We've already mentioned that several comments are enough for people to get ahold with healthcare service providers.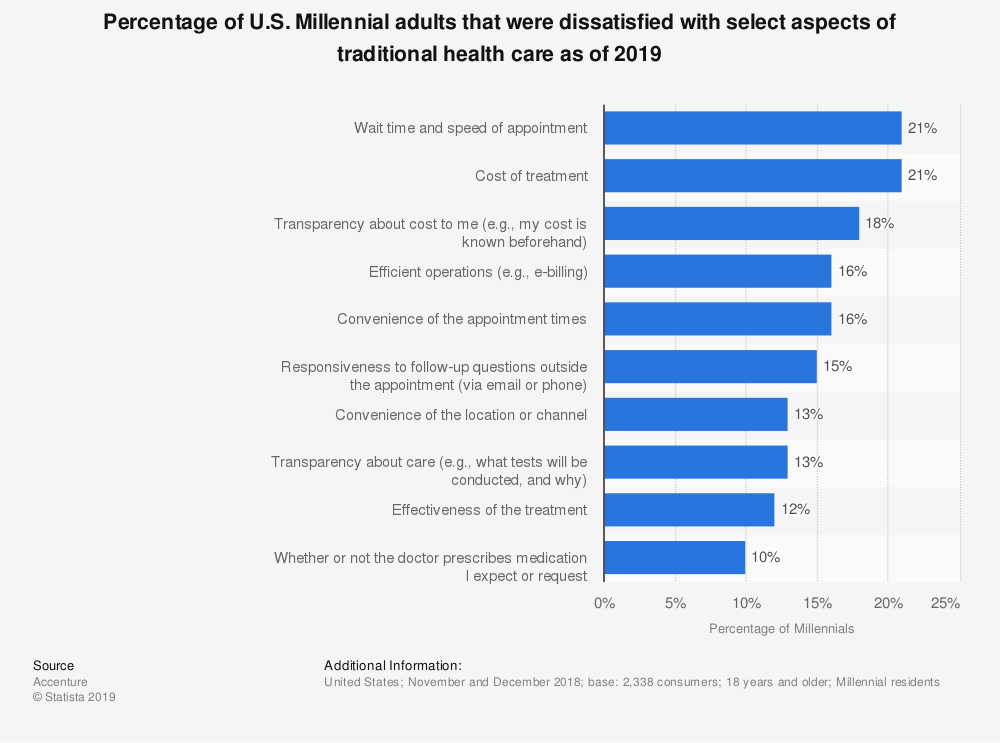 But how to show off customers' feedback that would seem honest and non-obtrusive?
Ask your regulars to share real stories of their relations with your medical facility, including both positive moments and challenges.
Then devote a stand-alone page for showing off testimonials and add it to the menu.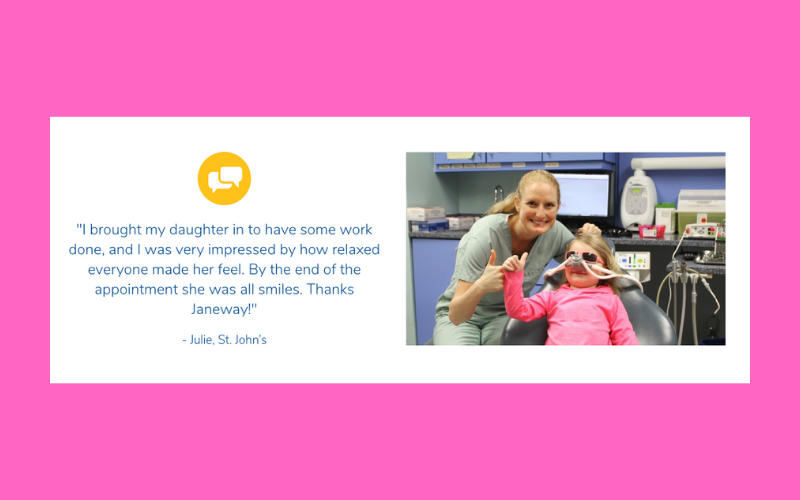 If you don't have much space, it's a good idea to combine reviews with other site blocks or sections.
The rule of thumb is not to boast how cool you're but to prove that you take care of sick people.
Consider online payments
Want to upgrade your directory to the next level? Consider embedding online payments.
You need to find a secure payment processing software that will help you deliver the excellent user experience to achieve this goal.
When choosing a payment processor network, take into account the following things:
 omnichannel and payment methods support;
 advanced security and compliance;
 flexible payment options;
 one-touch and text-to-pay methods;
 smart admin area;
 a kit for developers.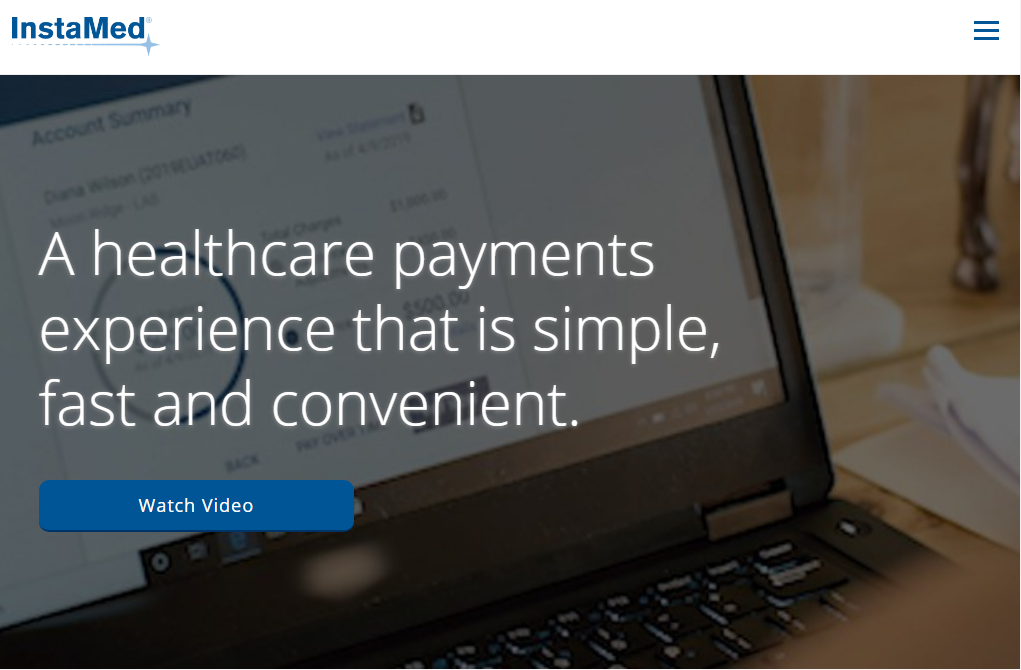 Put security at the forefront
One of the pillars of best healthcare website designs is secure methods of storing customers' records.
To comply with the HIPAA and HITECH rules, we advise medical service providers to:
use the SSL technology for encrypting the data sent through contact forms;
use cloud storages for keeping all the vulnerable data safe and sound;
create a backup plan for protected health info (PHI);
ensure that your hosting partner conforms to all the requirements of HIPPA;
share file and folder links with test results safely and securely;
tell your clients about how you secure the personal info on the Privacy Policy page.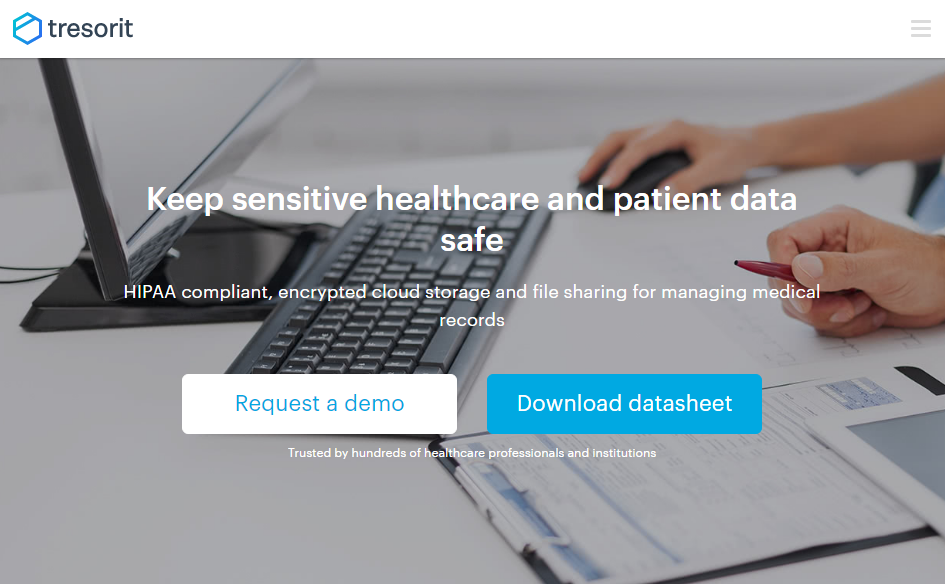 Online consulting
Online medical advice has been gradually replacing physical appointments. By text message, video conference or image with symptoms, a doctor can make a pre-diagnosis and write a prescription.
This feature of custom medical website design can be implemented via chat rooms, video calls or public forums.  
Every consultation should be completely private & confidential. For instance, Practo, an online portal for finding a getting online medical help, ensures user data security by compliance with industry standards like ISO 27001 and 256-bit encryption deployment.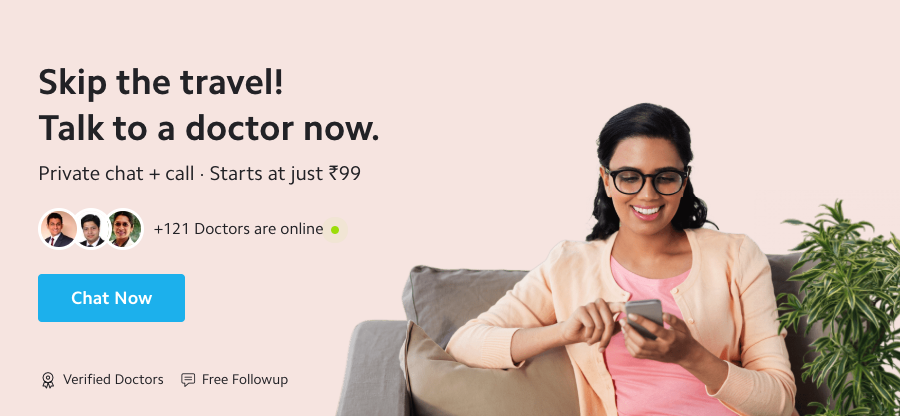 Disability-friendly
Best medical website design is disability-friendly by default. About 20% of your traffic may come from users with certain physical limitations.
And to make sure that they don't experience any discomfort when using your platform, you can make all the web pages absolutely accessible.
By meeting W3C standards for accessibility, you can make the interaction between users and your platform smooth and flawless.
Here are a few tips on how to build a fully accessible health treatment website:
add ALT tags to all the images on your site;

embed captions in all the video content;

use colour contrast to make the content more visible;

make links stand out and accessible on mobiles;

develop keyboard accessibility navigation;

carefully use flashy graphics and dynamic animation.  
Extra elements of good web design for treatment sites include a powerful content management system, cutting-edge design, SEO-optimised web pages, blog, professional photography and videos, social sharing buttons, clean CTAs. etc.
PWA for a medical website for doctors
Want to take the online experience you provide to the next level? Consider transforming your web portal into a progressive web application. 
PWAs are sites that look and behave like mobile apps, which means users can add them to the main screen and access even offline.
PWAs come with numerous benefits:
they work faster than ordinary sites;

they're lighter than native apps and easier to develop;

they're available even with no Internet access;

PWAs come with push-notifications informing users about updates and new features.
Best healthcare web design examples
If we've succeeded in convincing you that your healthcare business just can't remain offline, check out our a collection of inspiring top medical website designs.
Scanlons Health Services is a pharmaceutical service provider that offers automated solutions for packing medicine.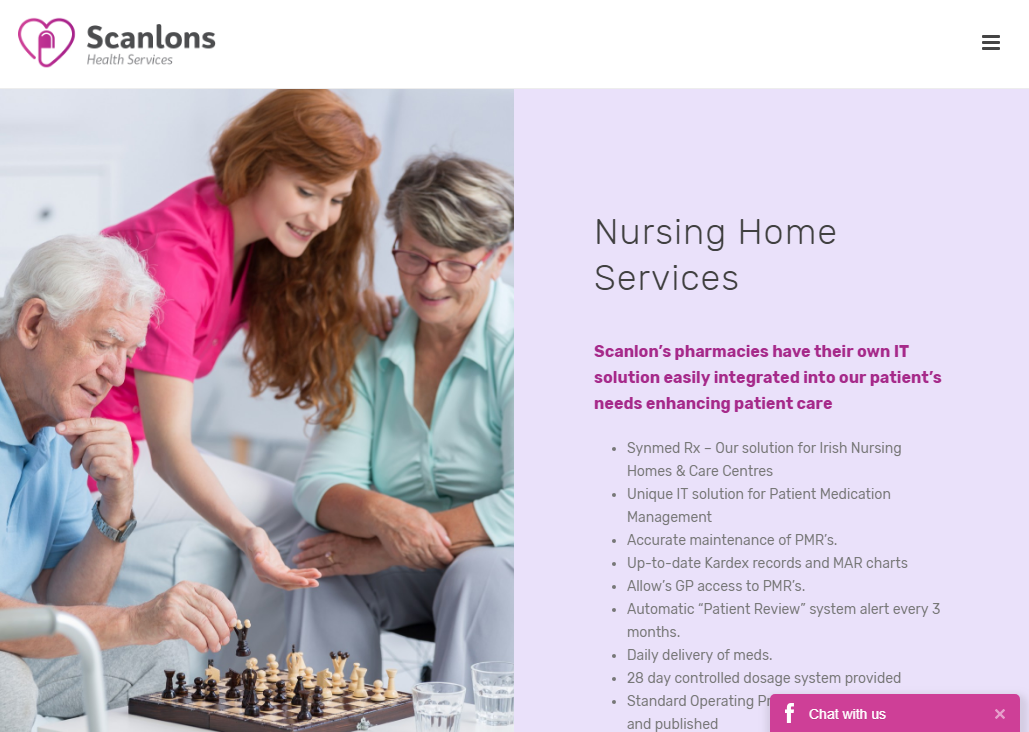 Top features:
simple animated navigation;
 built-in live chat;
 custom graphics and icons;
 great typography;
 light animation distributed across the whole website;
 embedded videos introducing the company;
 the fat footer;
 clear CTAs;
 live keywords search;
 responsive design.
Mayday Healthcare is an online portal for hiring medical staff – nurses, doctors, and other professionals.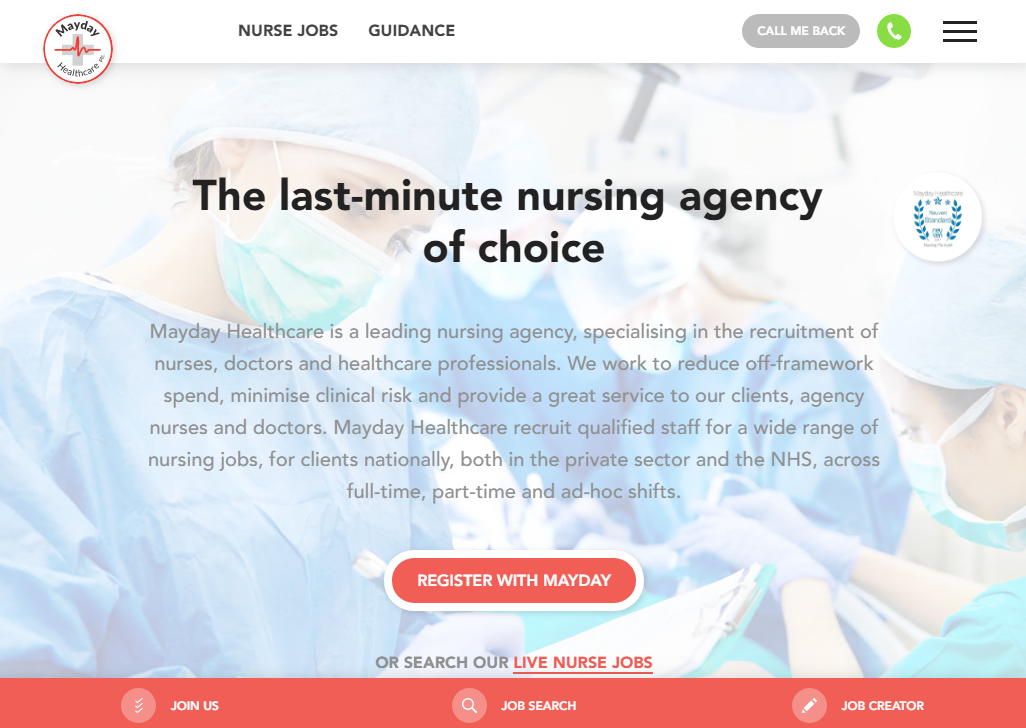 Top features:
modern trendy design with a parallax effect and natural shapes;
advanced job search;
the recent news section ;
the Contact us page with directions to locations;
the user-friendly joining up steps;
intuitive navigation;
the call-me-back option;
social profile buttons;
the Guidance page.
Peter Mac is a top research centre, and hospital focused on treating cancer patients.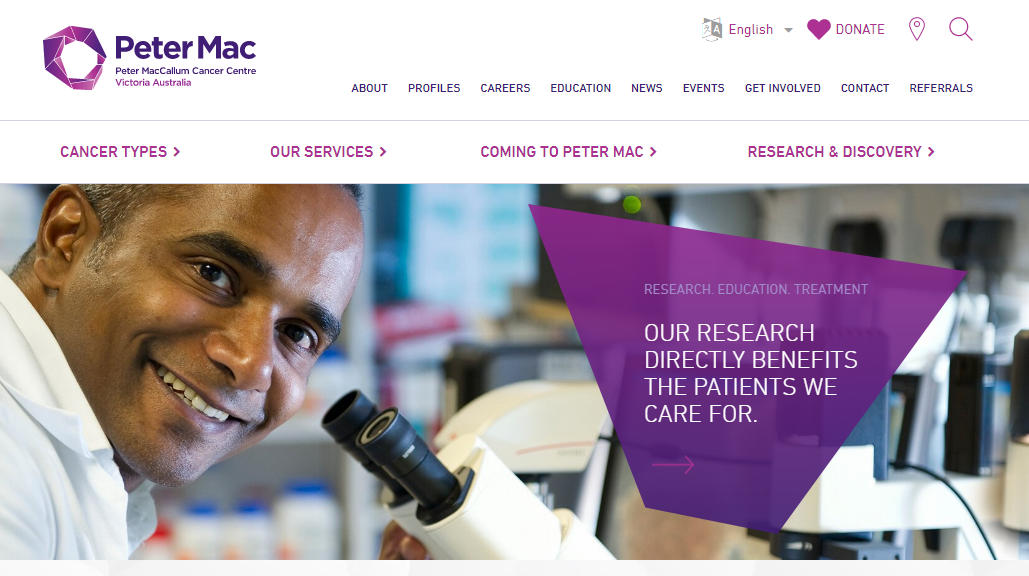 Top features:
 an elaborate menu with categories and sub-categories;
 multiple languages support;
 automated online payments;
 the Profiles page;
 an integrated search feature;
 the mobile-friendly design;
 fast-loading pages.
Mercy Health is an online directory allowing users to find a medical professional located nearby.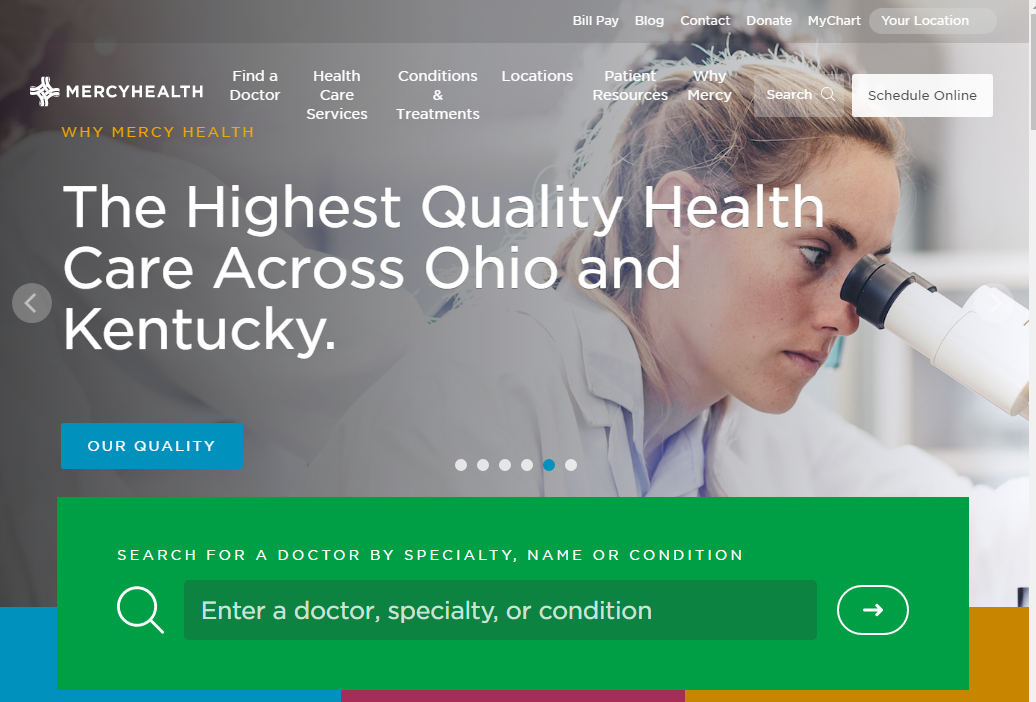 Top features:
immersive visual content in sliders section;
online booking;
the MyChart solution for creating personal accounts;
great Testimonials section;
the integrated bill payments option;
the SiteMap page;
the signup for newsletter form;
advanced search with filters.
It's an official website of Children's Hospital Colorado where you can find a doctor, check symptoms or pay bills.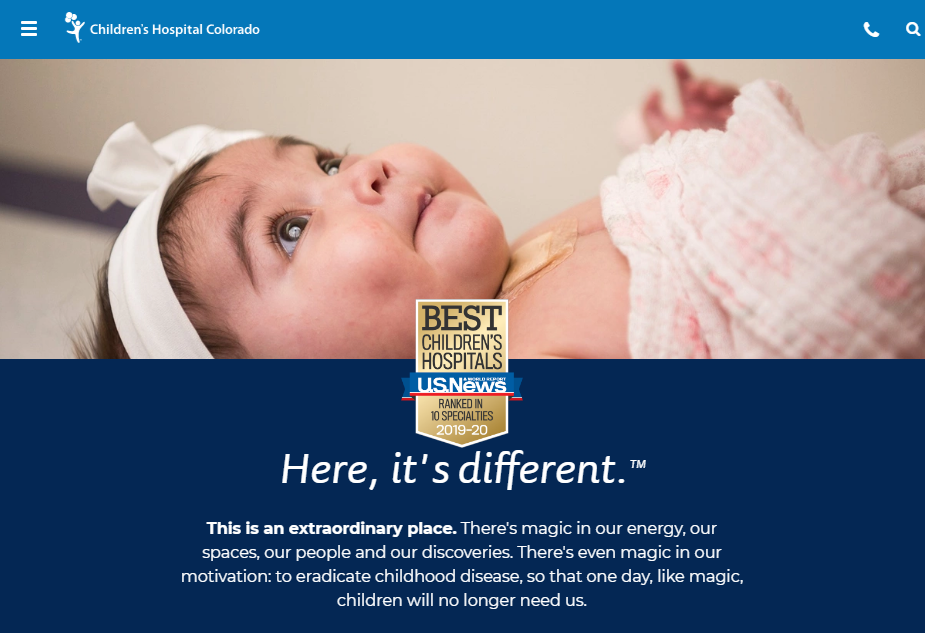 Top features:
 sticky navbar;
 online bill payments;
 users' areas within MyChart;
 smart live search;
 online appointments scheduling;
 encouraging CTAs;
 relevant and up-to-date content;
 mobile application.
We've been servicing different industries — from the real estate to health & insurance — for more than a decade.
Our approach to bespoke web design and development is based on the dedicated team model and T&M agreements.
Through careful planning, customer-focused design, and professional development, we elevate bespoke solutions that bring profit.
We build sites from scratch and redevelop fully-fledged solutions. In addition, we provide web design audit services, so if you think that your platform needs a refreshment, give us a buzz.    
On a final note
Healthcare isn't just a business, it's a duty to help ill people, and each and every aspect of your website should be designed to fulfil this task.
The greatest examples of web design – from huge centres to private medical offices – have a well-thought-out structure, bespoke layout, automatic processes, and delivers engaging web surfing experience, and useful content.
The medical website design tips presented in this abstract may help you to move towards catering the needs of your target audience and make the world healthier.