It's a no-brainer that WordPress is the most famous tool when it comes to content management.
Rich in features, this platform can accommodate the needs of a variety of business owners: from a simple blog to a hotel booking website.
That's why WordPress is a one-stop candy store offerings, both bonbons and lollipops.
So you want to know more about how to build a hotel booking website?
Using a powerful CMS that can suit any business model has never been easier when creating a hotel booking website.
But you need to do some homework to decide what instrument would be best for your company.
If you have a hotel booking business and are planning to have an international expansion of your service, there's no better way than doing it online.
The Internet has global reach and you ought to make the most of this interconnectivity era we are living in today.
Why start the development of a hotel booking website on WordPress?
If you do some research, you will discover tons of WordPress online hotel booking portals which can inspire you before starting to build a website for booking hotels.
Hotel and booking websites make up a good portion of our portfolio. Get in touch with us if you need advice on anything from design to project cost breakdown.
Get in touch
When looking for the perfect design, think of several must-haves which are universal for such type of businesses.
WordPress offers a vast collection of themes specifically made for hotel booking websites. If you're looking for your theme to stand out, you can easily customise the portal to represent the ideas behind your particular project best.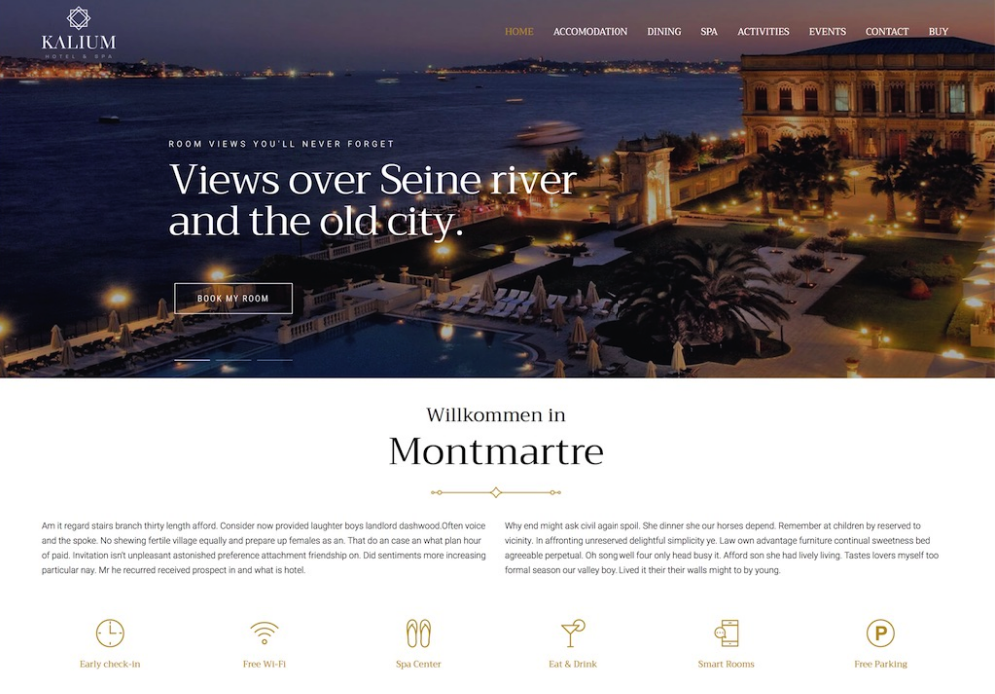 But you're probably wondering where to start.
Use these tips to make your search quick and fruitful:
Check how the theme would look on a tablet or smartphone: responsive design matters a lot when targeting your audience on all screens.
Maybe at a higher price, but choose a theme that your developers can customise easily being it scaling of your business or just another feature to add.
Go for a sleek design to present your service in a good light.
What to take into account when working on the  hotel booking website design
Let's look at the industry statistics that might be useful for your online booking platform.
70%

of tourists use mobiles for hotel research;

33%

of travellers admit having organised and planned their next trip with the help of a virtual travel assistant;

people are becoming more spontaneous – Google search results for 'tonight' and 'today' have grown by more than

519%

in the past five years;

45%

of UK tourists search, plan and arrange travels on their smartphones;

The share of the digital market belonged to travel agencies offering multiple services is projected to reach

41%

in 2020

;

Most of the travel tours are booked on Monday;

More than

80%

of customers abandon their travel purchases on websites;

eco-friendly accommodation appeals more to

70%

of travellers;

80%

of clients are likely to leave feedback is they're asked to do so;

63%

of clients prefer viewing accommodation images, reading reviews, and making an online reservation on one website.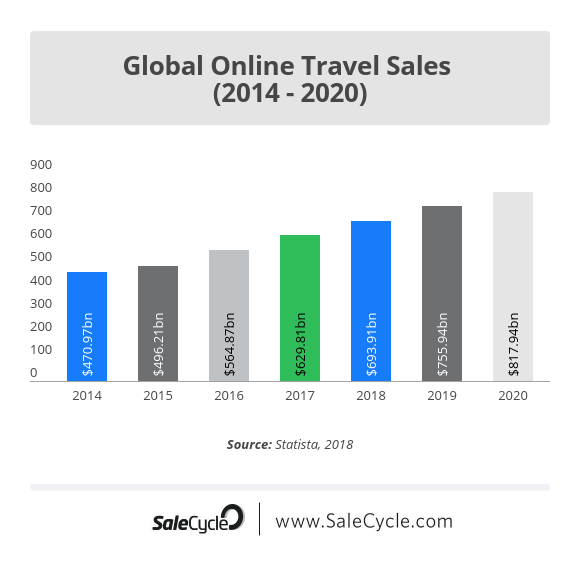 How does all the above-mentioned help you create a sales-driving website?
Travel agencies offering services via both web and mobile channels are likely to gain more leads, increase conversions and boot sales. When planning features of the hotel reservation system, keep in mind that "one-stop shops" with a full booking cycle are more popular as they let clients make on-the-spot purchases. 
Also, consider adding notifications informing users about abandoned travel packages and last-minute hotel options.
How to make a hotel booking website: features you can't do without
Let us first have a look at a broader view and pinpoint some basic features every hotel booking engine usually has.
1. Navigation
The navigation bar is the menu of the whole online booking engine.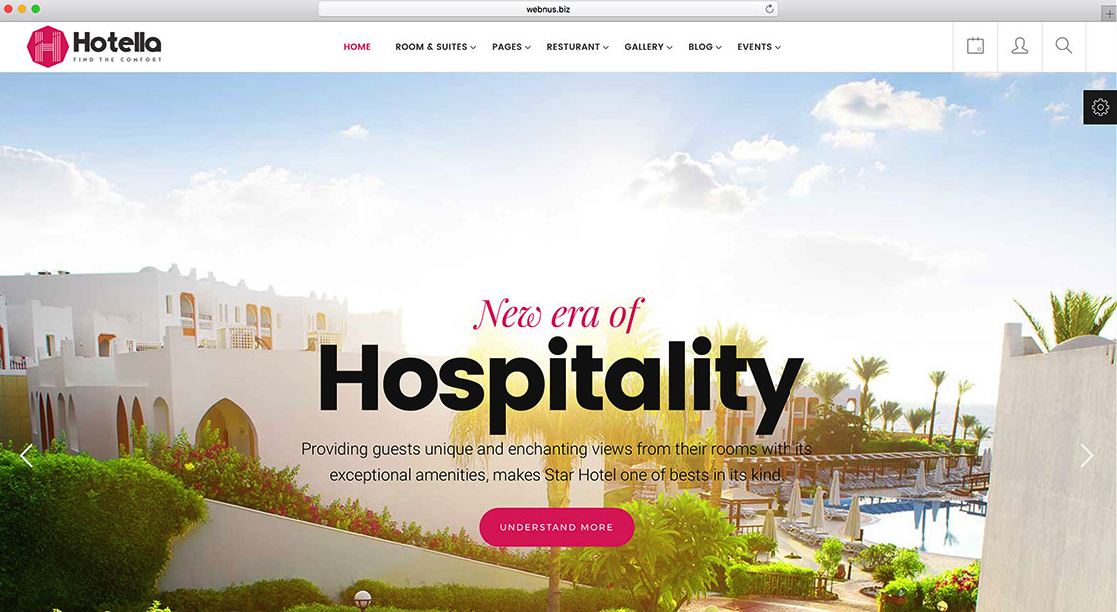 Usually, it will be pretty standard unless you have something in mind that would add value and won't overwhelm your visitors at the same time.
2. Login and registration
Generally, your users would require registering.
They should be able to do that either with their social media profiles on the Internet or using an email address.
3. Seasonality
This parameter will impact the price range depending on when travellers want to make their trip.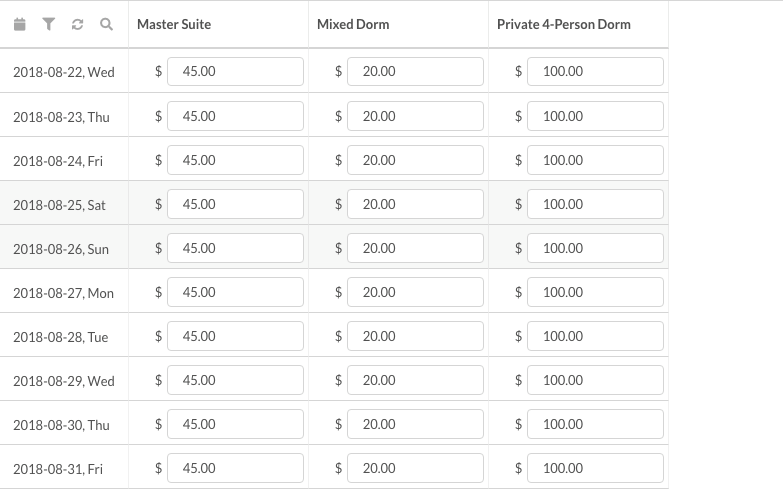 4. Reservation bar
The reservation bar section comes next.
Here, users can choose check-in and check-out dates, see room availability and choose the number of adults and children staying at the property.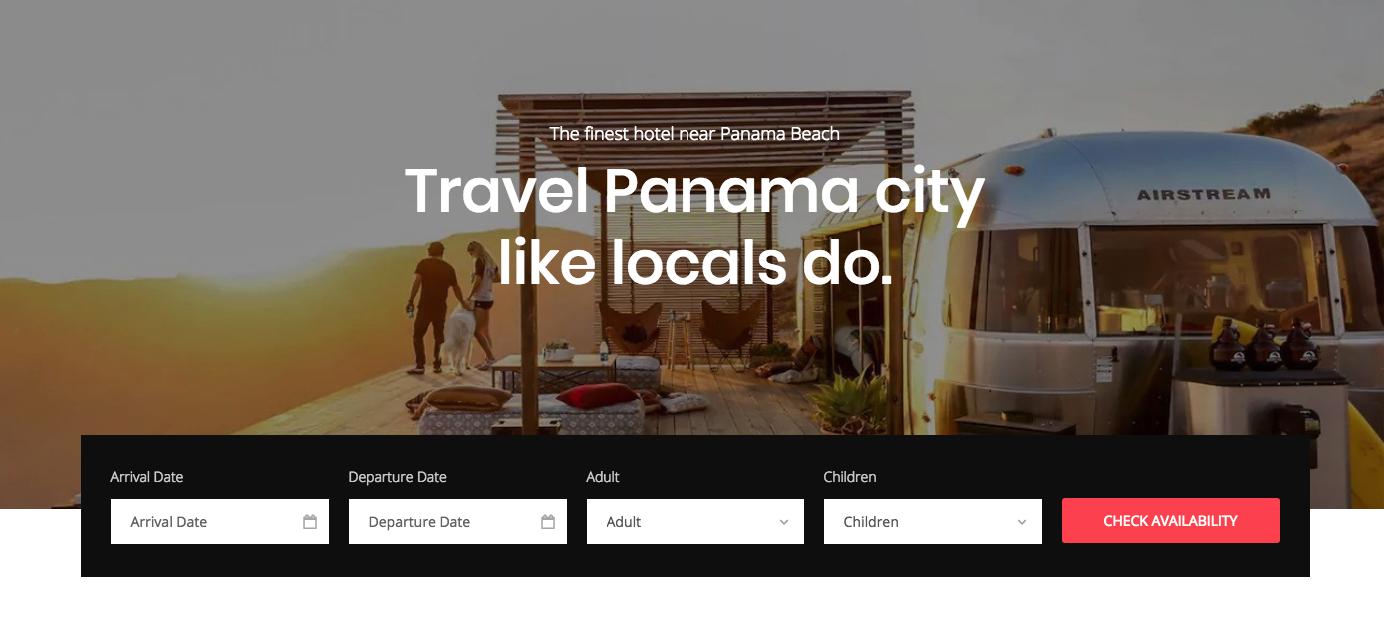 But that's not all.
Think of some additional filters, too.
It's no longer just about the price.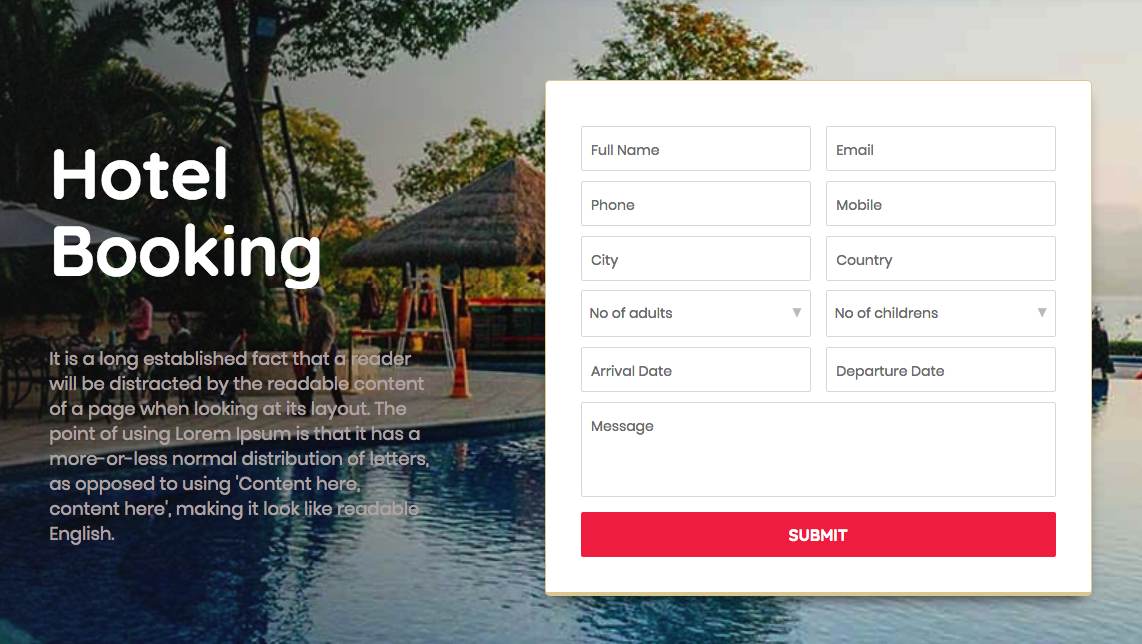 People would look for anything and everything: from dog-friendly properties to childfree resorts where youngsters can paint the city red.
Some of the most popular characteristics property agencies deal with are: outskirts or city centre, everyday cleaning, free breakfast, networking opportunity and great nightlife nearby.
5. Testimonials
If you belong to a cohort of people who leave their feedback even when not asked for it, then account for testimonials section to unveil the power of public opinion that matters a lot these days.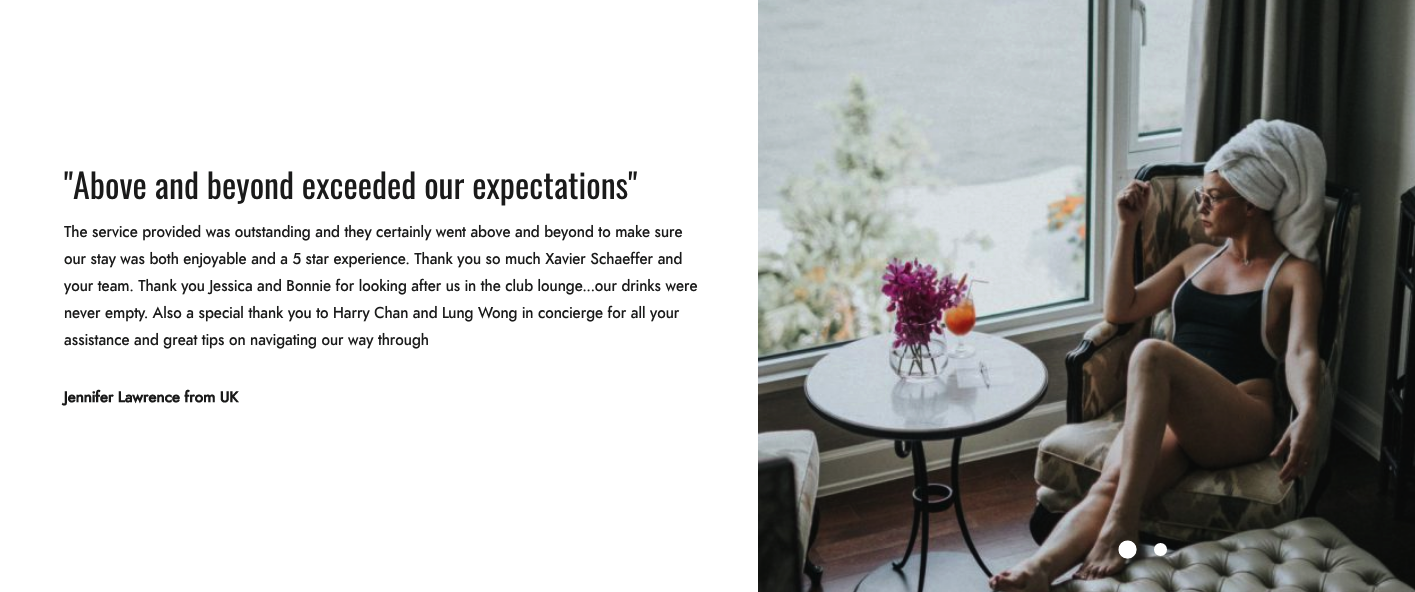 Many guests are open about sharing their opinion about the hotel or homestay where they spent their vacation.
6. Comments
Beyond that, make sure they can comment on your listings: give them a chance to speak up and share their reactions.
Consider it this way, for a startup business image means a lot since it's likely to increase their rankings and popularity, especially if it's on a website that you decided to create for booking hotels.
7. Extra
To top it off, you can probably add some statistics that would give users a bit more insight into the operations of your company.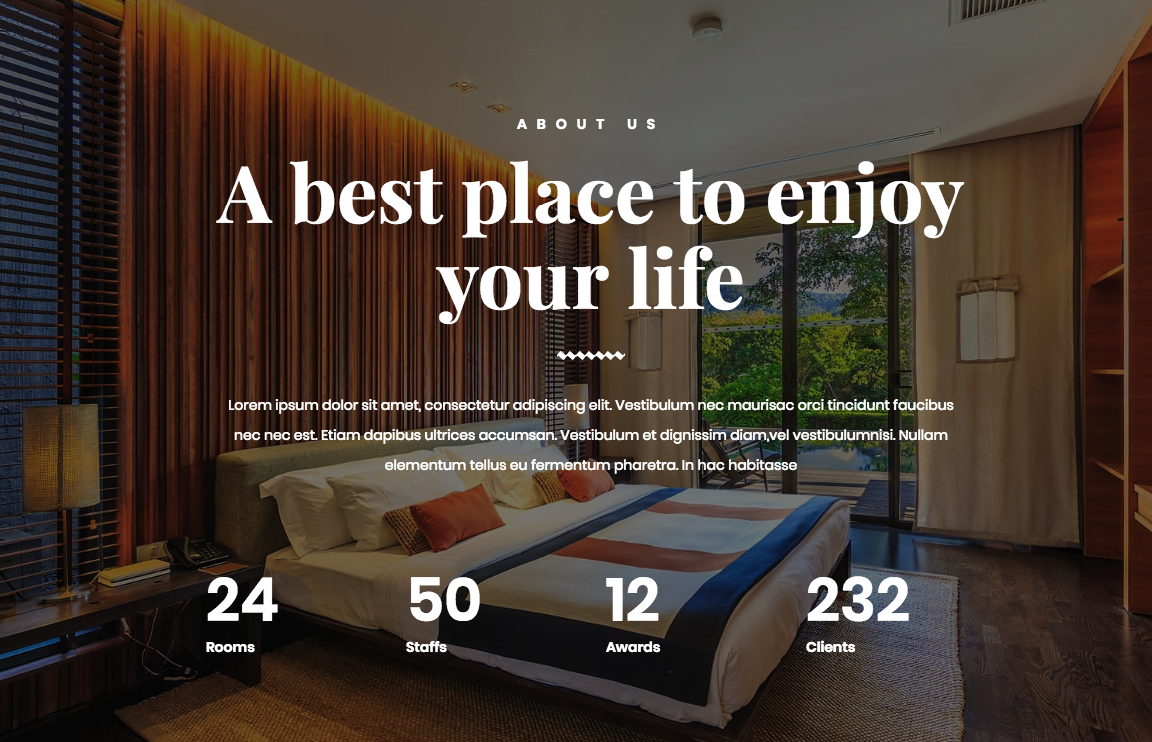 This information can include the total number of guests who found accommodation through your website for booking hotels, their satisfaction score and a percentage of guests that agreed to come back to the property they were staying at.
8. Social media presence
Usually, at the bottom of online hotel booking portals, you can see the contact details of the company and its profiles on social media so users can quickly get in touch with customer support.

9. Promotions
Lastly, wouldn't it be great if users could get the latest news about the hottest deals on your website?
Create a pop up to get users signing up for your weekly newsletter.
How to create a hotel booking website: single property view
Let us assume that a user searched for a hotel in a particular place they were heading to for pleasure or on business.
Once they select a particular option they like, it's crucial that they flip through photos of the hotel.
Then, a number of the most popular facilities usually come up.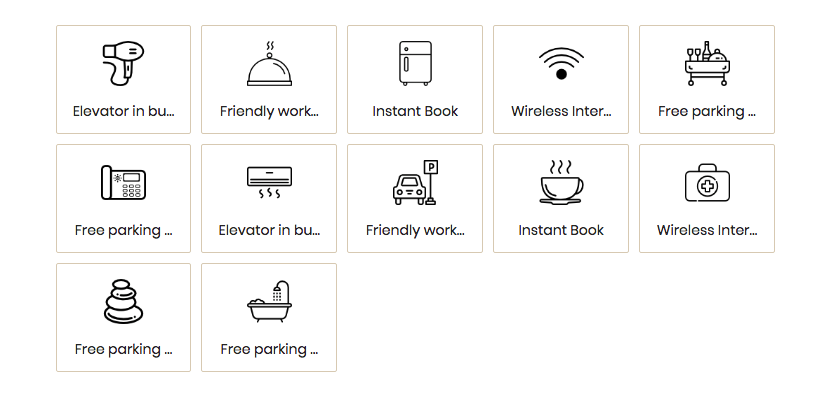 Along with photos of rooms, you'll also have the room types and the number of guests that each can accommodate. The following parameters that help a user make a final decision could be:
outdoor setting (forest around, beachfront, etc.);
policy on pets, food and drink options (restaurants nearby, for example);
parking space, services included in the price as well as.
Don't forget to offer several payment options such as credit card, Stripe or PayPal.
Hotel booking website cost and tools to keep it low
Your developers would thank you if you make their lives easier and opt for a WordPress plugin created exclusively for online hotel booking portals.
Let us no longer beat around the bush and say a few words about the most popular offerings.
The premium version would cost you at least $39 for a regular type of license and $254 for an extended version of the product. At somewhat democratic prices, this soft offers a seamless online booking journey for its users.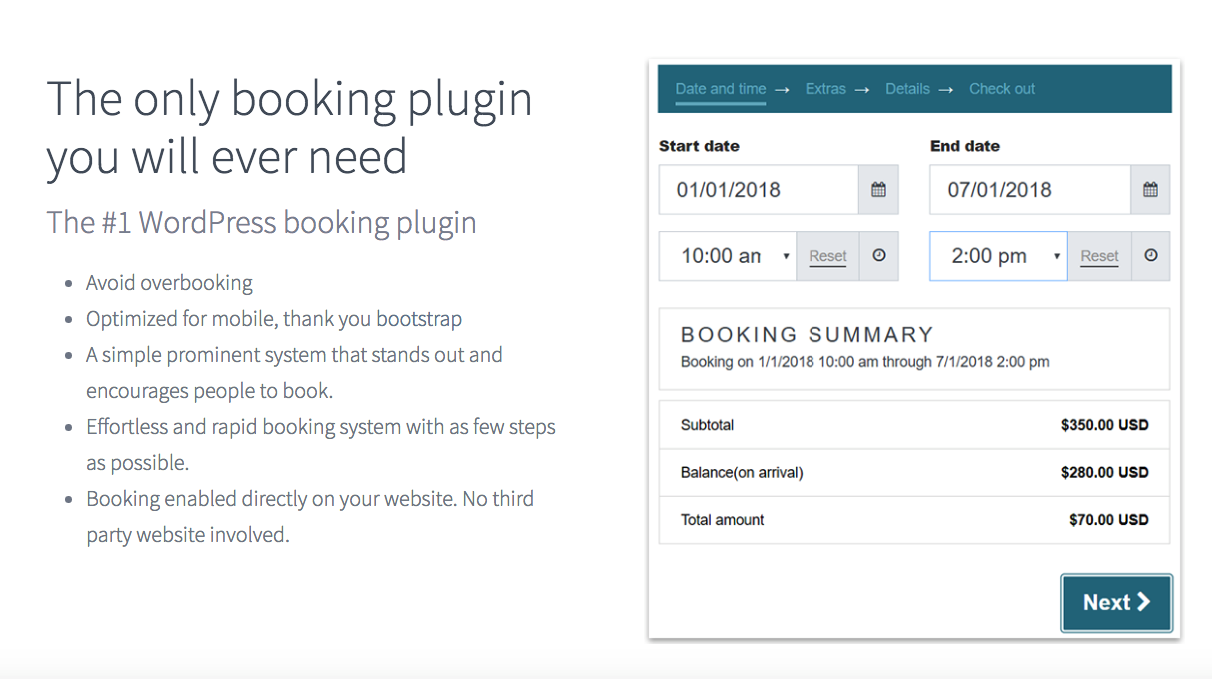 The plugin has 10 modes, a few payment gateways and Woocommerce support if you need it to extend your service.
Among other benefits, developers note the flexibility and responsive customer support, which means a lot, don't you think so?
Beyond these few compliments, users mention that Calendarista is quite easy to set up, so simple config comes as a cherry on top.
You can choose to pay either $49 for single or $149 for unlimited site tools.
With MotoPress, you can create a portal that would allow visitors to use the online form to search for available accommodation.
Then they can view their findings in greater detail, and use the booking calendar to decide where to stay at the end.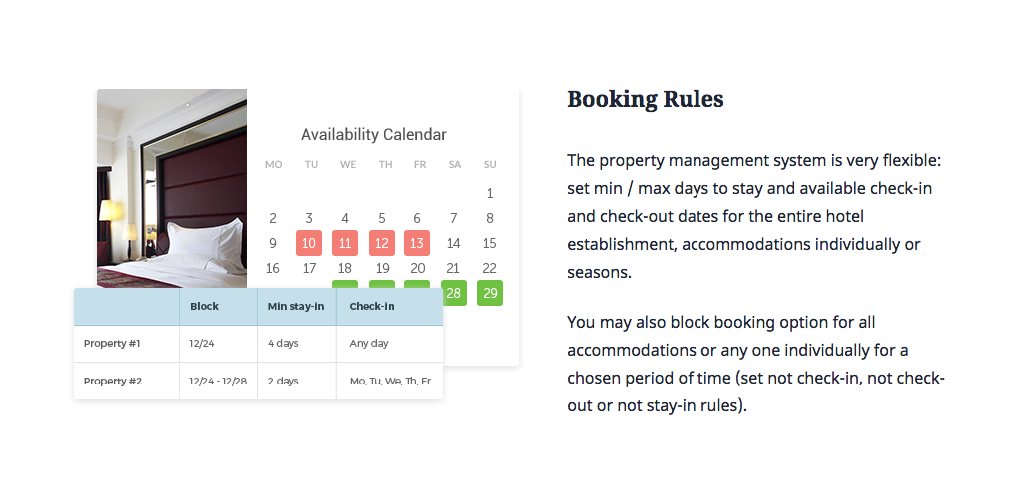 To top it off, MotoPress developers were eager to build a unique set of tools that would not only include seasonal price range but also weekly and monthly rates in case your online listings have some package deals to offer.
And there is no limit.
You can get a regular license for as low as $50.
Among its benefits, many developers admit the high quality of documentation, extended support as well as an opportunity to tailor the plugin.
Among its long list of features, it offers friendly client interface, flexibility to meet the needs of any business model, and efficient booking management at your fingertips.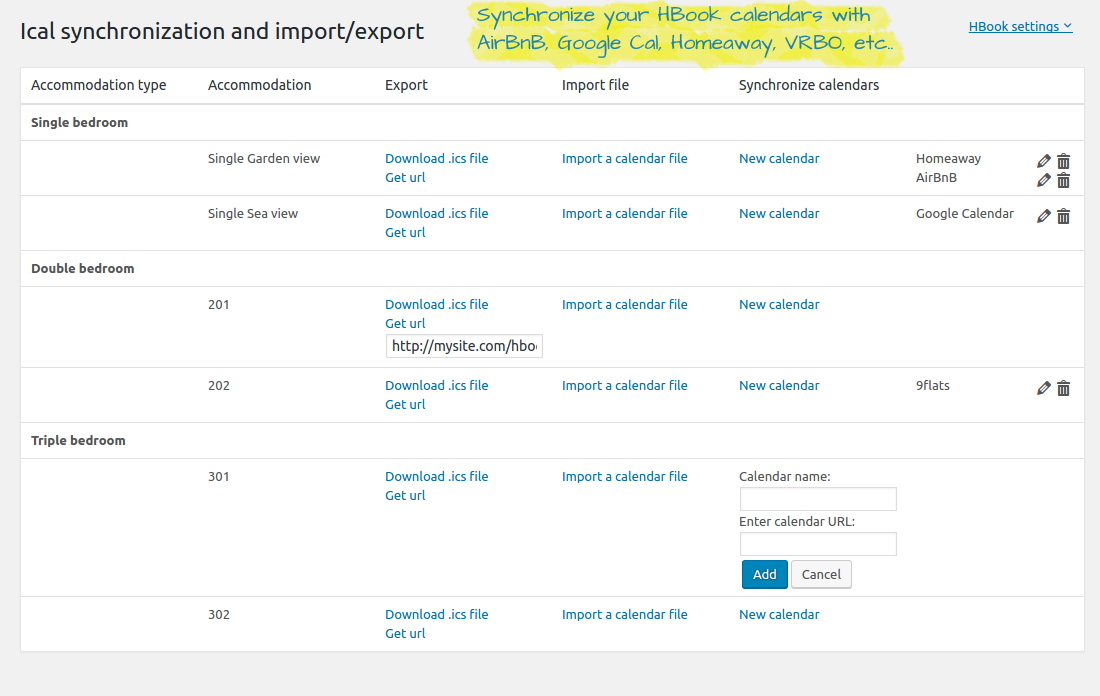 HBook can boast of easy configuration in just a few simple steps: admins need room types and rates, and seasons to start tuning up the system. The company offers several kinds of demos with different features your service might have at its core.
4. Booki
Pay $29 and enjoy the freedom to create a hotel booking website fast.
Built for event and appointment booking as its core ideas, this plugin can be suitable for hotel booking business as well.
Unlimited booking calendars along with holiday and seasonal rates, option to use coupons, Google calendar sync and affordable price are the benefits promised by Booki.
Although having tons of advantages, this popular plugin is not a hotel-specific option and it lacks search forms which could result in additional billable hours of your developers.
They might not be happy when they find out it's necessary to add a booking calendar to every accommodation either.
This solution has one more benefit that makes it stand out from its co-workers. Opal is free.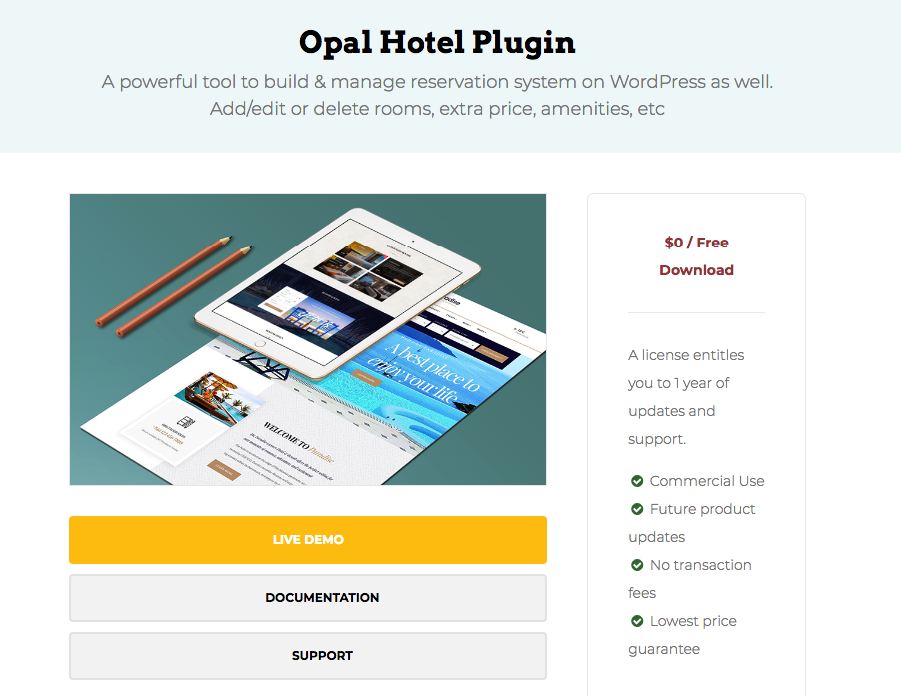 They say it will get any hospitality business up and running.
The plugin has a stylish design, different currency options, and user support speaking multiple languages.
Another big fat plus is that your developers can override standard templates to adjust the tools to particular needs depending on your business model.
Still, some might complain it's a too one-size-fits-all kind of solution for a business that has so many nuances.
Third-party systems for hotel booking
There's a chance that your hotel booking business is just about one single property.
Then you might want to integrate your website with one of the 3rd party systems.
While there are many solutions out there, you might want to check out a few we've handpicked for you:
This solution can help you build a replica of comprehensive online hotel booking portals.
Whether you have a hostel, hotel or a guest house, with Switch you can design online property management engine in the cloud, use an inbuilt channel manager toolset, quickly use a billing system to put payments on autopilot.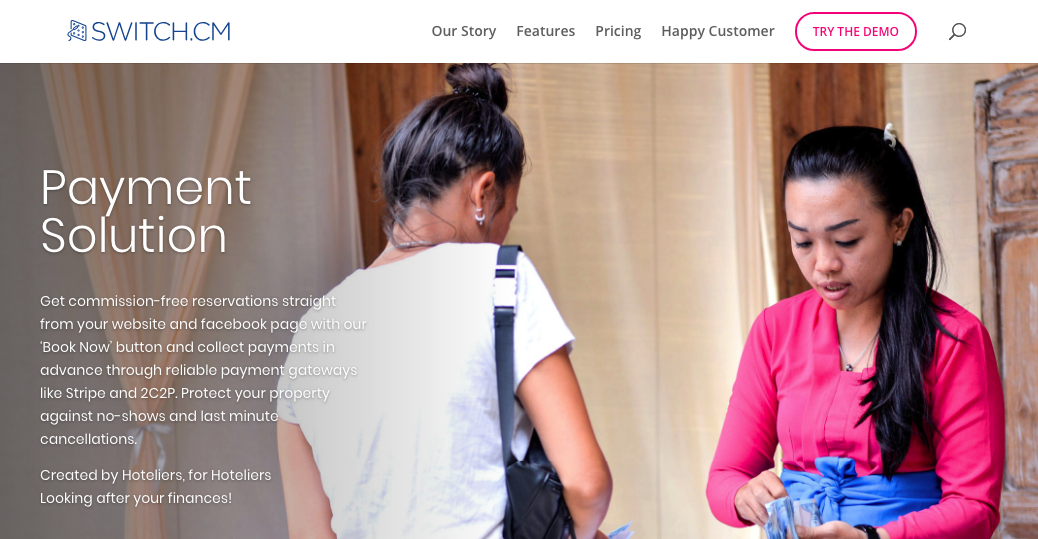 Moreover, Switch offers a drag-and-drop menu that allows users to make changes to the booking calendar at no time.
Similar to the Pinterest button, the software also has a booking button to grasp reservation from the website for booking hotels and has an all-in-one view in the calendar.
What's more: Switch has additional tools on top of the standard functionality such as value-added service, custom-tailored reports and data export to CSV.

And a few other things, e.g. custom payment gateways and online staff training sessions whether you prefer calls and Internet onboarding or face-to-face tutorials.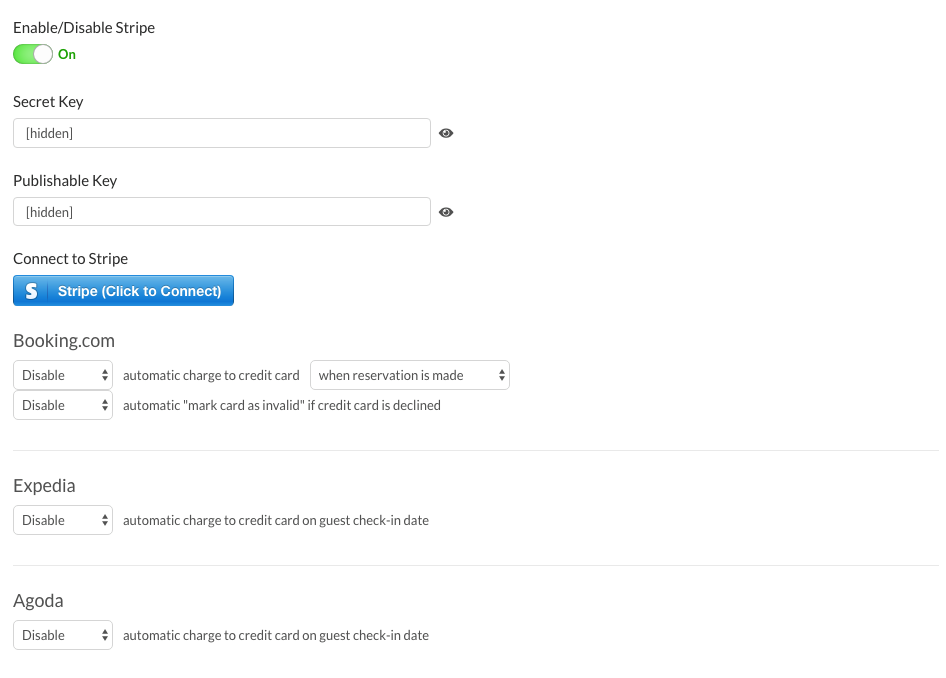 And last but not least: the price range is quite diverse.
From Budget to Premium packs, you can start creating a hotel booking website with as low as 9 EURO per month for a basic package.
Checkfront is another company that made creating a hotel booking website a matter of a few days.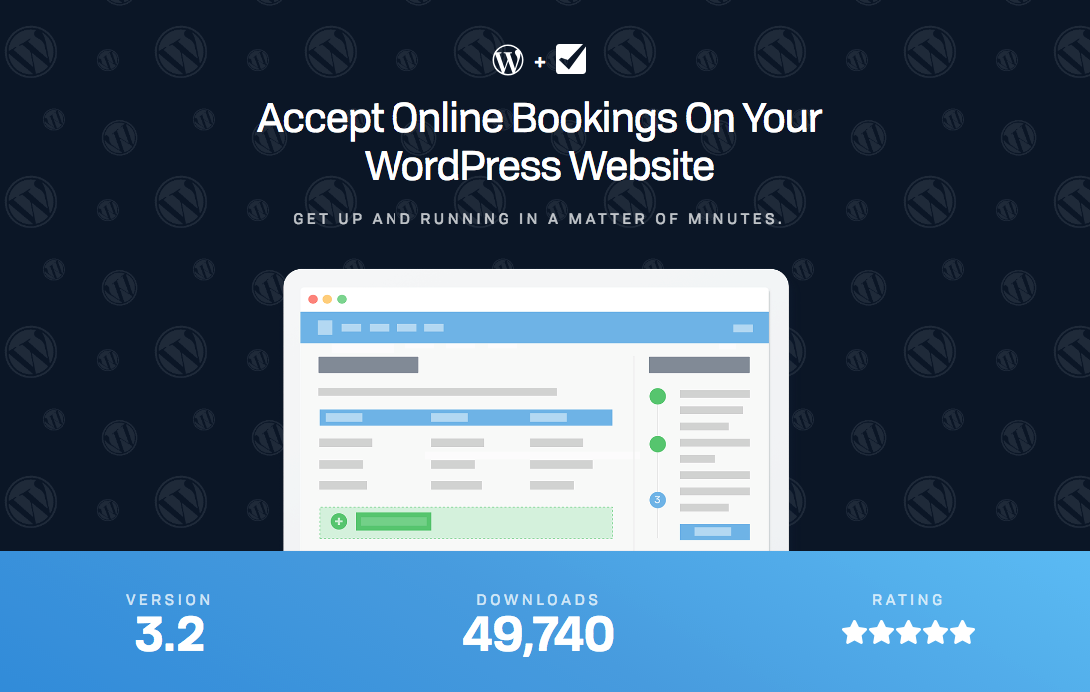 What's in the box?
The tools offered by the vendor help business owners create a hotel booking website hassle-free.
Under one single roof, developers can find several tools to incorporate into the proprietary system and suit any business model that needs:
Selling: self-service bookings, instant billing, gift certificates and coupons import, PoS functionality;
Managing: dashboard in real-time, online booking history for recurring users, option to add custom booking rules, different access restrictions for different roles,  smart allocation of shared resources;
Reporting: granular analytics, synchronisation with external calendars, daily results and snapshots, top performer summary.
Or even better: Checkfront knows how to create a hotel booking website and use powerful marketing tools to encourage more customers to hop on board.
The engine allows building up a reliable system of referrals by using 3rd parties, most popular booking portals integrations, alert management system, and ROI monitoring.
Be ready to shell out at least $49 monthly for a startup bundle.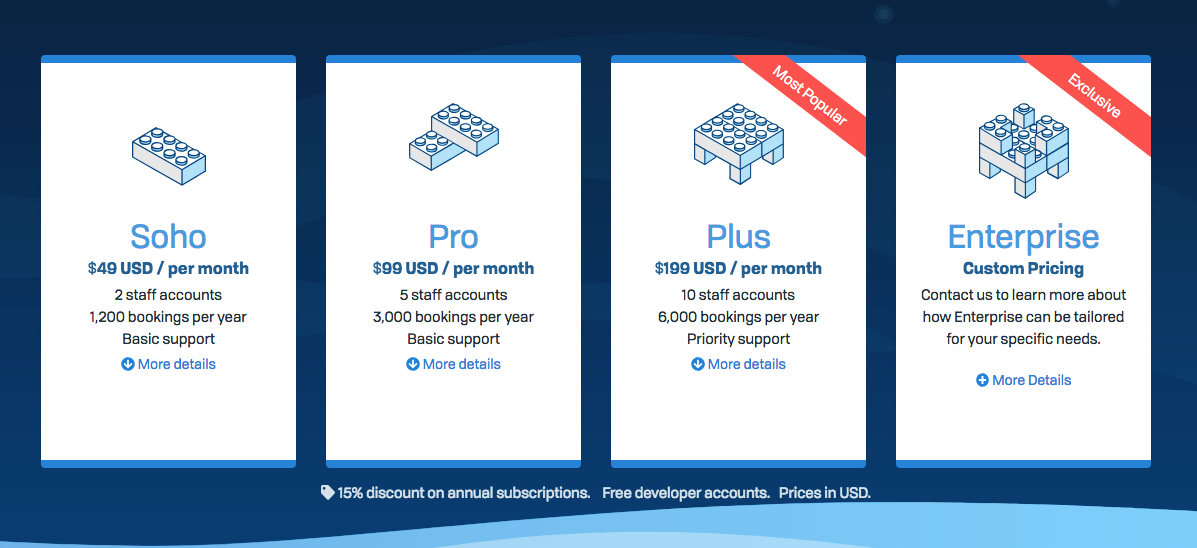 And yeah, enjoy a free trial with Checkfront.
In addition to the previous high-flyers, we suggest you check Planyo that offers a free 30-day trial.
This multi-purpose system allows you to custom-tailor the booking portal depending on a business model: it works just fine with parking lots and car rentals as well as hotels and vacation properties.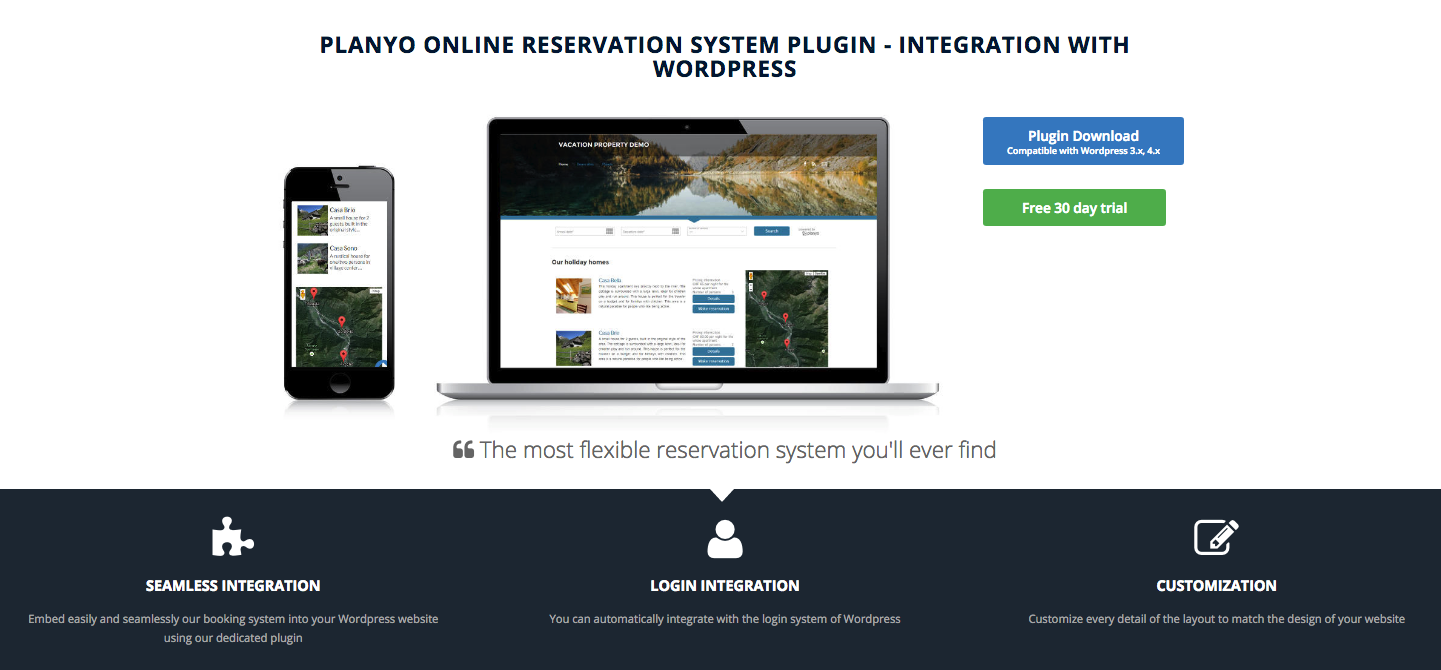 This white label online reservation instrument can make your life much more comfortable, offering a rich set of tools in the cloud. Creating a hotel booking website is quick and painless. Beyond that, Planyo can help you deal with the international customer for it speaks about 30 languages.
It allows you to weigh on personal data to be processed to make a booking. Unlike many other similar systems, Planyo has several plan types: you can go for either commission or subscription-based service model.
Lastly, the price for this solution starts at $23 for the Planyo PRO version.
Best practices of hotel booking website development
We've handpicked the best examples of hotel websites made with WordPress builders.
Everything, from sites architecture to their design, is impeccable.
If you want to make an online hotel booking website from scratch or eliminate the disadvantages of an existing one, check our rundown.
The Elivi hotel website is the brilliant embodiment of modern web design trends, creativity, and unique style.
The navigation is intuitive and straightforward; no matter what page visitors are on, they can smoothly proceed with booking by simply clicking on the Book now button in the header.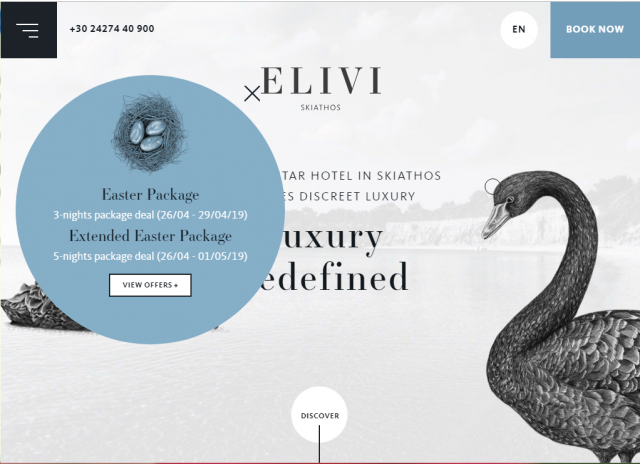 The reservation procedure is easy and can be completed in a few clicks. Customers can filter the research results by setting check-in and check-out dates, the number of guests, and meal plan.
The professional high-res photography allows visitors to examine every suite or room before making a reservation.
The mobile version of the website functions flawlessly.
The Contemporary Hotels is a multi-vendor directory for those seeking exclusive accommodation in Australia and the rest of the world.
Once you appear on the Home page, your attention is caught by immersive videos showing luxury properties embedded in the first block.
Right here, you can start your quest of a dream property using a built-in form.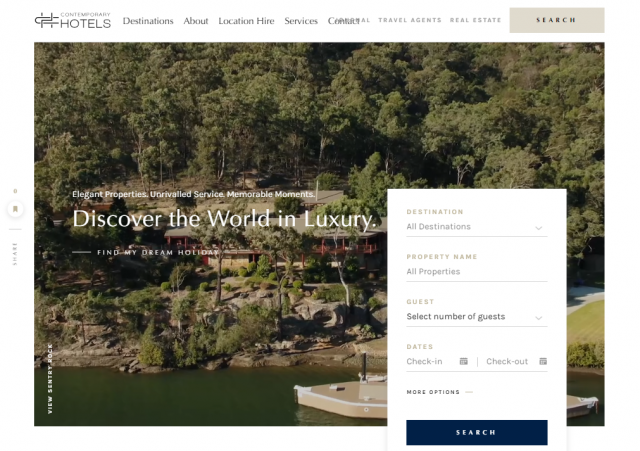 There are primary and extensive filters helping users find a perfect match.
You can select the number of beds, baths, cars, and pools or range properties according to their prices.
What we like about the directory is its laconic mobile-friendly web design, sticky sharing buttons, and minimal animation.
Carpi Diem Santorini has multiple pages, including Suites page where visitors can check accommodation details, view photos, and book a room.
Once you've clicked the Book now button, you're redirected to an e-reservation page.
On the online reservation page, there is a Compare pop-up window showing prices for a particular suite on different platforms.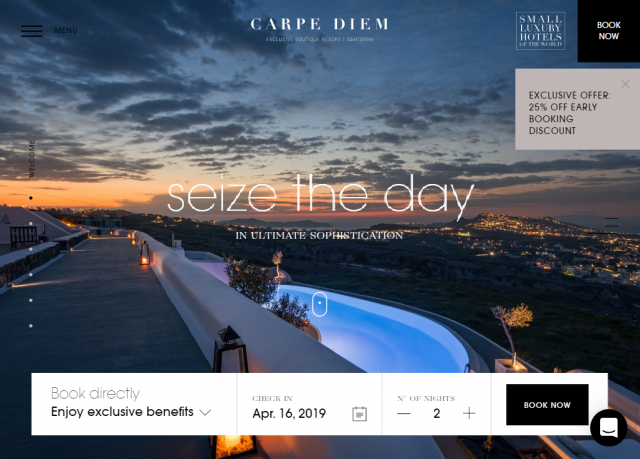 Scrolling down the Home page, visitors can easily track their journey thanks to the vertical pagination.
The fat footer includes the hotel contact details, subscription form, privacy policy info, and social buttons.
An integrated live chat provides instant support for everyone in need.
The online presence of the Frida hotel truly deserves the reward for "the most creative approach to its development.
When you appear on the Home page, you've immediately dived into the mysterious world of Frida with its stories about regulars, authentic atmosphere and style.
The designer applied a gamification effect that lets you literally paint the website like a colouring book by clicking on a specific area.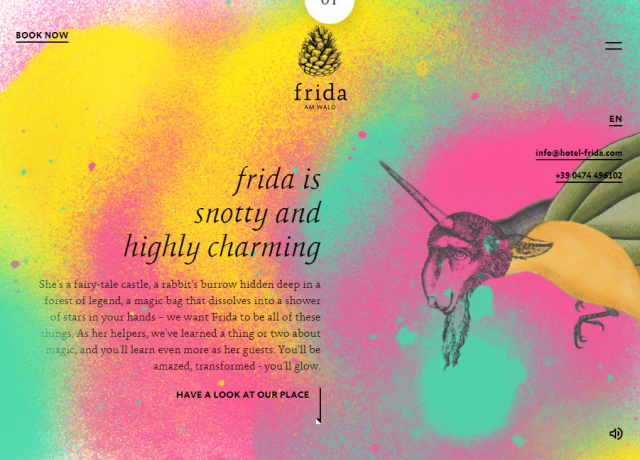 Fantastic animation, custom illustration, and creative design solutions – all this contributes to the overall mood of the website.
Booking a room takes a few clicks.
First clients should set travel details, then select a room or apartment. Finally, they add personal information and make a payment.
If you're planning to start a booking website for your family hotel, you just need to have a closer look at this website.
Light, modern, and stylish — these words describe the EL Moderne Hotel site in the best possible way.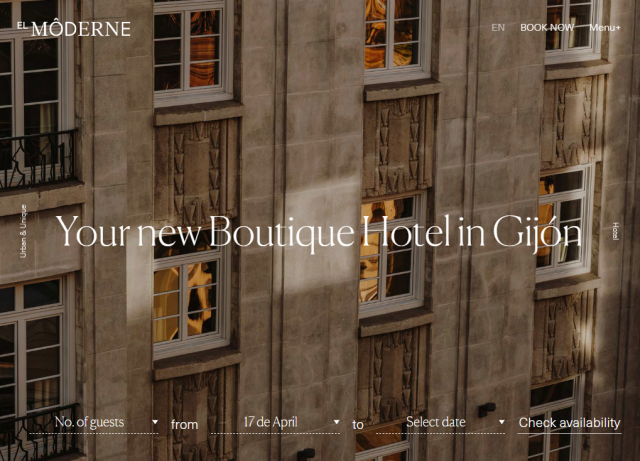 Clients can check the availability of rooms as soon as they visit the site. Just like in every booking website in WordPress, there are a few filters – the number of guests, check-in and check-out dates.
The website allows users to create accounts, which works perfectly for delivering a personal experience.
You can look around every room by clicking on the View room link in the slider section.
High-quality media content, clear CTAs, and a relevant copy entice visitors to come back again and again.
At JustCoded, we have gained vast experience with building booking and travel websites connected with third-party services that boost efficiency.
Meet LuxuryBARED — a multi-vendor travel website that offers luxury holidays and exclusive destinations.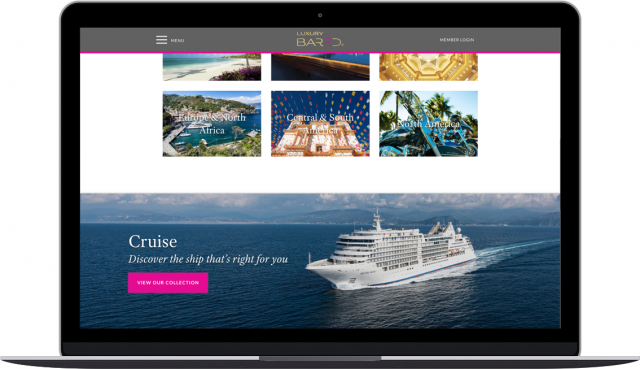 We began the project with a clear aim to build a complex platform based on a clean code and handy CMS. 
The final decision we made was to use WordPress as a hotel booking system for the website.
Our dedicated development team made updates for LuxuryBared multiple legacy inventory and pricing systems.
With different hotel reservation systems — Synxis, Google Hotels API, and Travelport – we expanded the website sales channels and created new booking opportunities.
The website works perfectly across different devices and allows users to make a reservation on the go.
LuxuryBared: quick feature overview
On the homepage, you'll find the search form, destination portfolio, special offers, and a collection of hand-picked hotels.

Every hotel is presented on a separate page where users can find its facts and amenities, read clients' reviews and check its availability.
To make sure that all the locations and accommodation meet the quality standards, the team of professional reviewers personally visits each place and write detailed hotel and cruise reviews. They don't deal with those hotels offering free services for a positive review. The goal is to show LuxuryBARED clients that they can be confident about the honesty and truthfulness of info provided.
LuxuryBARED offers free opportunities for those who want to become a member of the directory and create a personal account. For users with Platinum membership, there's an option to get a dedicated travel director.
As the CEO of LuxuryBARED admits, the chosen technologies, tools and hotel booking engine for WordPress website enhanced the robustness of online travel system and bolstered rapid business growth.
Read a full client review on our Clutch profile.
Bottomline
Are you still reading? Wow 🙂
We have created this comprehensive guide based on past experiences as well as subject matter suggestions of our colleagues.
Our team knows how to create solutions that tick and offer a service level that wows your customers.
Don't be shy and let us know how we can bring you closer to your goals – get in touch!
Get in touch