With a variety of technological advances, running errands are becoming a way simpler. Online purchases, finance management, health control and many other activities are available at our fingertips.
Smartphones have become the most usable device overtaking desktops and laptops in terms of popularity. They may be a stand-in for our trainers, dietitians, financial consultants or home helps.
Today if you don't feel like doing big weekly shopping or realise that you lack important ingredients for your Christmas dinner, you can just launch a grocery delivery app and get what you need in a matter of time.
All the best-known applications for grocery shopping have a lot in common.
If you're here because you want to build a food and grocery delivery app, open Keep or take a notebook to put down its essential features.
Trends in grocery delivery service app development
Previously in our blog, we've written a lot about food and drink delivery applications. Today's abstract will somehow overlap with that material since both topics are interconnected.
Apart from the companies operating only in grocery shopping or food delivery, there are solutions for both niches – DoorDash, Instacart, Postmates.
Let's keep the tradition and start with the market overview.
What's so great about online grocery delivery that more than 30% of adult smartphone buyers are going to use it at least once a month?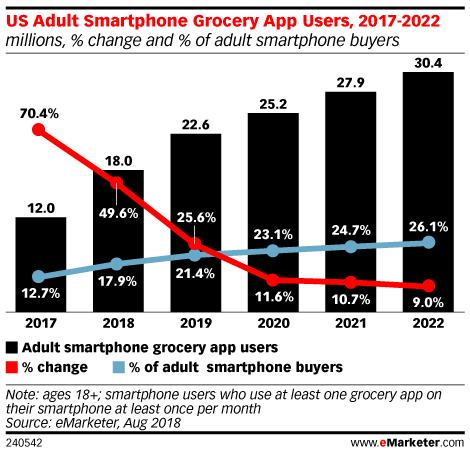 First off, you save your time and energy by passing on the routine task to a professional.
Second, you don't risk buying unnecessary items being seduced by appealing discounts.
Third, you always get what is in your shopping list — neither more or less — and you can set the convenient delivery time.
And finally, mobile apps with grocery delivery are multi-vendor platforms where you can compare prices in different supermarkets to not miscalculate.
When you begin to make your own grocery delivery app, keep the below facts in mind:
throughout 2019б food and drink sales in the US (including online shopping) have increased by 18.2% and reached the point $19.89B;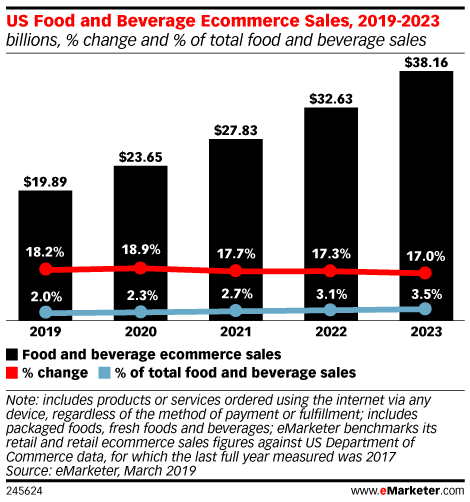 online grocery sales in China and Japan grew to $50.9B and $31.9B accordingly, which makes these locations the biggest market in this domain.
by 2021, 50% of online shoppers in the Netherlands, the UK and France will be ordering perishable and non-perishable items online at least once a week;
Amazon and Alibaba are the largest providers of grocery delivery services in Europe: 31% of US respondents admitted they purchased food and beverages via Amazon apps;
experts predict that Walmart is stepping on Amazon's toes and will become the new leader on the door-to-door delivery market soon;
millennials are the target audience for online grocery shoppers since more than half of them tend to use such services;
15% of all respondents are likely to use click-and-collect services while 85% want their purchases to be delivered to the doorstep.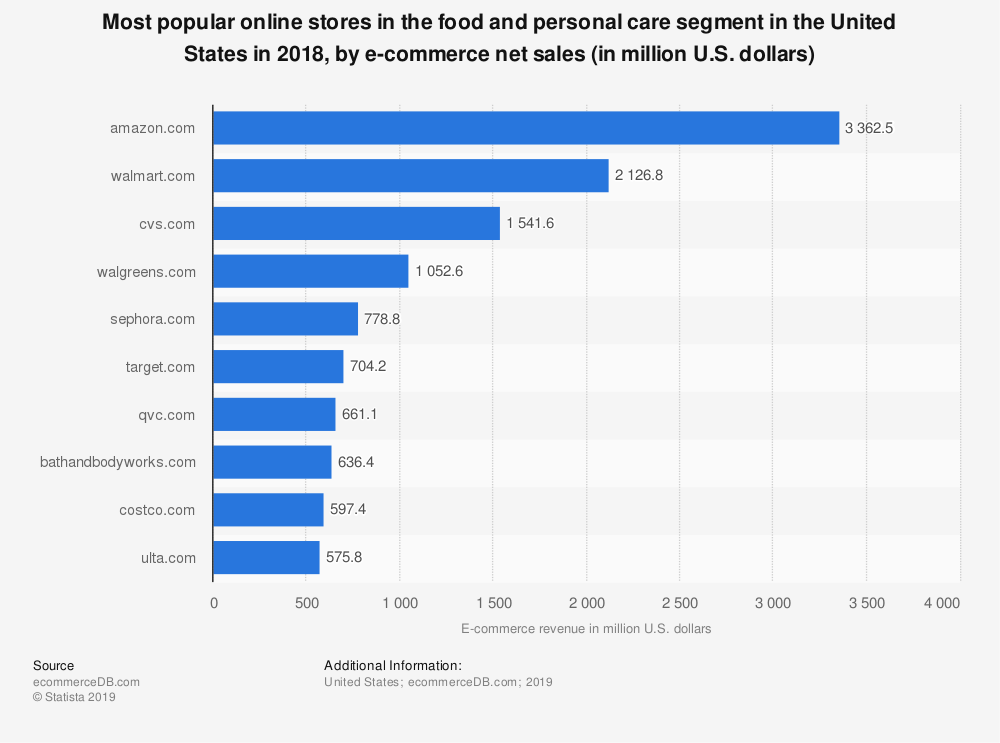 Before the global lockdown caused by COVID-19, the entire industry was forecasted to increase fivefold with Amazon and Walmart being its leaders and Millennials being its target audience.
No one expected the force majeure situation and the boom of mobile grocery delivery market. Here are just a few facts.
Global shopping apps downloads reached

106M

at the beginning of April;

Walmart Grocery has reported about the highest number of downloads – at the beginning of April it was ranked

#1

on Google Play and

#2

on App Store;

Instacart also admitted a growing demand for its services – sales have increased

10

times so far, and for certain areas like California, New York, Washington and Oregon – even

20

times;

Amazon's app downloads have grown by

20%

since January.
What's interesting is that before the quarantine, Walmart had been planning to build a grocery store delivery app – a combo of Walmart and Walmart grocery – instead of maintaining two standalone solutions. But now the situation has changed and the top management is still contemplating about further actions.  
Unlike grocery delivery app solutions, food courier services market is experiencing a slight decline.
People now have more time and energy to cook themselves and for many, it seems to be more secure than buying ready-made meals.
However, there are still a good number of diners who prefer ordering online due to the busy lifestyle even during the quarantine.
It's worth noting, that companies traditionally delivering only groceries are now partnering with cafes and restaurants to become one-stop-shops.
Why is groceries delivery app development essential for fighting the COVID-19 crisis?
it prevents the intense transmission of the virus by offering convenient and safe shopping from home;

it deals with panic by ensuring people that there are enough vital products in stock (of course, if the company

covers the growing demand

and meet the established delivery deadlines);

it increases work productivity by enabling people to relax more and spend time on restoring life energy;

it helps restaurants and cafes realize their product stocks;

it contributes to global economic stability by providing job opportunities and generating profit. 
The anatomy of an app that delivers groceries
Even now the competition on the market is severe and to find your prospects you should have a unique selling point.
To that end, some companies offer tempting fees, others amaze with lots of options and yet others count on the tech aspect.
We'll be talking about the basic toolkit for an app to order groceries that the average user wish to see on your platform.
In-app navigation
They say that navigation is the conversation between the app and the end-user. When it's not clear and comprehensive, users can't complete their shopping tasks or find the necessary info.
For an app to order groceries, it's essential to be explored even on small screens, enable shoppers to easily switch between product categories, and get back to the Home screen.
The UI of Delivery.com is best of the breed in terms of in-app navigation. The delivery destination and preferences are in the top rail, below you can find product categories – Food, Alcohol, Groceries, Laundry (yeah, you heard right).
The bottom rail consists of Home, Points, Orders and Gifts. By tapping one of these buttons users can get back Home, view the points balance or orders history, or send a gift.
If you have a platform for your online delivery services, make sure that your app navigation doesn't copy the one on your site and provide appropriate mobile experience.
On the other hand, don't risk making the app interface too minimal because mobile shoppers may get puzzled and can't find the desired option.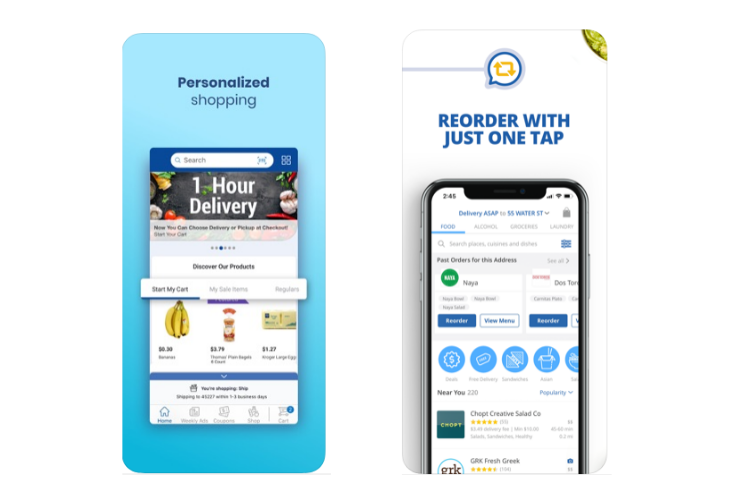 Stress-free signing up
Testing the squad of popular apps for writing this abstract, we've found out that only some of them let users explore the functionality before signing up. And it's really irritating.
Others don't provide registration via socials, which is also like "Argh ;(
If you're currently considering the sign-up user flow, try to make it stress-free and enjoyable like in Instacart or Walmart Grocery.
After launching Instacart, you can enter your zip code and see what stores available for online delivery are located nearby. To sign up, just add your email and password or use Facebook and Google accounts.
To register in the Walmart app, you can use your Walmart account (if you have any). Otherwise, add your name, email, password, and zip code or use the geolocation feature.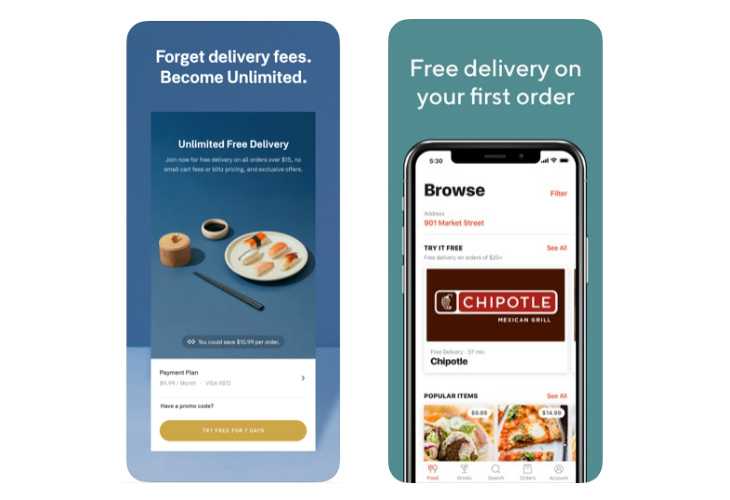 Exploring product aisles
There are a few ways to implement the product search flow in your grocery app.
Search bar. If a customer is sure what they're looking for, then this method will work best. For instance, in Delivery.com you can search for stores, cuisines, food items. The search field is easily found in the Food category.
App suggestions. You can give recommendations on what and where to buy by showing popular supermarkets and products in the user area. In the Walmart default screen, you see products grouped in Featured Items, Best Sellers in Your Area, and Seasonal offers.
Special categories. There is always something that stands out or requires special attention. Create separate categories for sale campaigns or new grocery stores that have recently become your partners or those with free delivery.
Filters. They're good for advanced search when a shopper wants to sort food stores by rating or products by pricing. Also, you can add such filters as delivery min, distance, date. For example, Google Express has the filter by delivery time showing places with same day or scheduled delivery option.
Voice search. For those who don't fancy typing, integrate the voice search. Google Express uses Google Assistant understanding almost all the requests.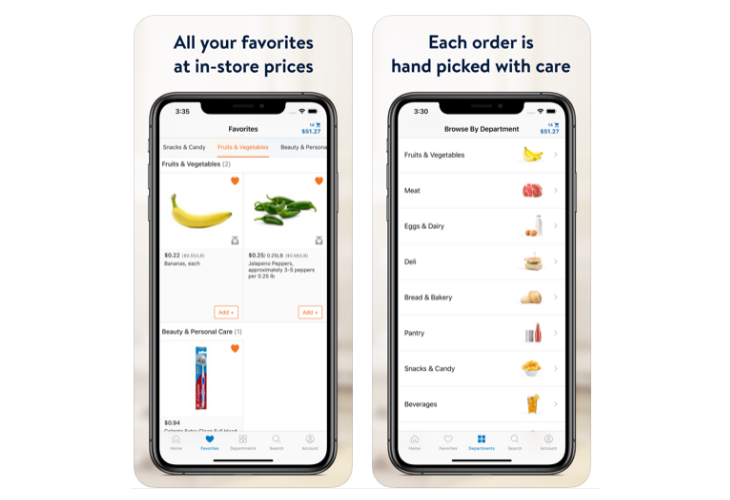 Ordering in a few clicks
Literally speaking, shopping should take a few clicks: the user finds the item, adds it to the cart with a tap or a swipe, confirms the payment method.
As a rule, you have to meet the delivery minimum and once you hit this point you can proceed with the payment.
If you're using Amazon Prime Now, you can read the detailed description of each product replicating the label on the same product on a grocery store shelf. Besides, there's an option to look through the product reviews shared by other customers.
To make ordering efforts nigh on impossible, add Favourites or Orders history to users' accounts. By tapping the Reorder button, like it's in Delivery.com, people can instantly buy products they love and save time and energy.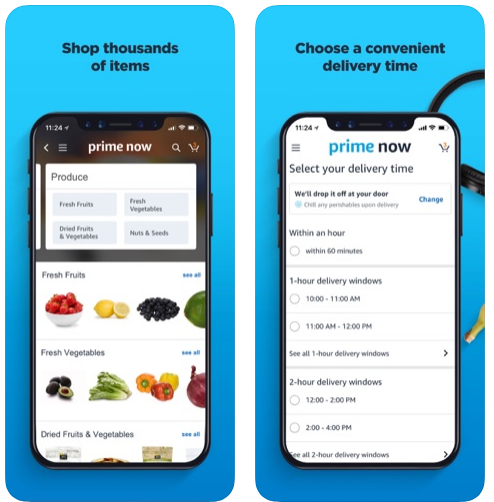 Comfy checkout and GPS tracking
Once the user is done with shopping, it's time to proceed with choosing the delivery option.
Typically, grocery courier applications offer same day or next day delivery with certain windows. For instance, you want to have a shopping bag delivered to your doorstep within an hour or at night time three days from now.
It's great if you let people make changes prior to the delivery or pickup. For instance, Amazon Prime Now allows users to change the shopping list and delivery time the day before the delivery.
Another important thing is to add notifications informing users about the order status or courier location. It would be super convenient if you add real-time tracking so that the customer can monitor the courier movement.
Some apps like Walmart Grocery Shopping and Shipt have a built-in live chat where you can talk to your courier in case of any problems or questions.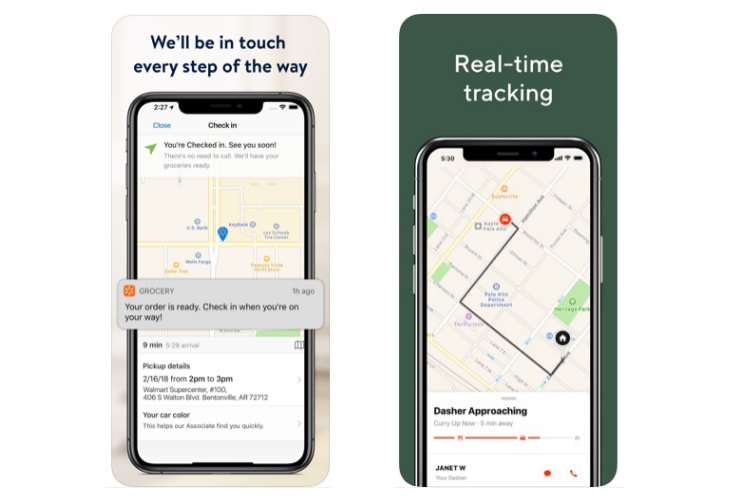 Certainly, there are other nice-to-have features for solutions of this kind:
feedback forms;
support centres;
online order assistants;
area for couriers;
payments with gifts and coins.
During the global lockdown, many providers have added a new option for diners — contactless delivery. A client decides how he/she would like the order to be delivered – 'leave at door', 'leave in lobby/reception, etc. 
Deliveroo, Glovo, Postmates, Instacart and other famous brands are planning or have already implemented this feature. So, if you're about to create a grocery shopping delivery app from scratch, be sure to offer "no contact" delivery.
The final tip on how to build a grocery app during the lockdown
Already have a grocery app up and running? Add the below features to make it more customer-focused.
multiple payment methods to urge diners pay online;

no-contact delivery and pick-ups options to meet safety standards;

chatbot assistance to guide couriers;

pharmacy, food delivery to diversify the service range;

bonus and gift cards to engage users.
Grocery delivery app development: JustCoded approach
While Amazon and Walmart are playing catch-up, we help fresh startups develop an app for grocery delivery that will appear in the "Popular category on App Store or Play Market.
There are several pillars of effective click-and-collect mobile solutions development we follow: dedicated teams, human-centred design, and flexible mobile app development.
Our dedicated teams become that puzzle piece you need for smooth scaling of your solution or kick-starting a new project.
Human-centred design approach helps us create mobile solutions with intuitive navigation, handy interface and bespoke look.
And finally, the Agile paradigm we use in our day-to-day activity makes us a reliable tech partner that always keep you updated on the project progress.
Our tech stack for mobile app development consists of React.js/Native, IONIC, Phonegap and allows us to engineer and elevate native mobile applications with the fastest performance and reasonably-priced hybrid mobile solutions for iOS and Android.
Plus, we develop PWAs out of the existing code in case you want to have your grocery delivery app working across platforms.
So what will happen if you decide to hire us?
1. We begin with analysing the core concept and objective of the project, product requirements and its end-user. By doing this, we understand what technologies will work best, calculate time and human resources to build the product from the ground up.  Also, at this stage, we analyse the competition and find out how similar solutions are wired.
Deliverables: is an approximate project estimate and roadmap.
2. When the pre-design stage is over we move to UX/UI design. Bearing in mind, product requirements, user personas and their pain points, we create user flows and stories. Through wireframes and prototypes, we create the visual side of a mobile app and present it to our clients. We polish it until you're completely satisfied and each of the user's tap is well-thought-out.
Deliverables: the final mockup that has gone through user testing with designs for all app screens.
3. All the achievements of the design stage are translated into reality during the iterative development process. During each iteration, we develop a certain piece of the app functionality that undergoes thorough QA checks and is presented to the client. Transparency is what helps us establish strong relationships with clients and enables the latter to keep eyes on the project progress.
Deliverables: a high-grade product that has gone multiple tests and use cases.
4. The final stage that starts after the launch oа a real app is maintenance. We offer support for unpredicted issues and bugs that may occur when people start using your solution. Also after the release and first weeks of usage, the clients' feedback may show what features need fine-tuning and those that are necessary at all. The real data showing the way people use or app is the foundation for the future updates of your app.
What does it take to create a grocery delivery app if you hire JustCoded?
The price of such a mobile app starts at £49,600 and largely depends on the of features you want to offer as well as technology. A hybrid app will cost less as it works for iOS and Android so there's no need to build two separate apps.
How to create a grocery delivery app: takeaway
It's always easier said than done – engineering and building a robust and secure grocery delivery mobile application is a big deal.
Here you need a deep market analysis, sophisticated architecture, well-thought-out user flows, bespoke design, bug-free code and advanced functionality.
This article is aimed at giving a general understanding of how to make a grocery delivery app with basic functionality that covers fundamental processes related to online shopping.