First, we eat, then we do everything else, said M. F. K. Fischer, a prominent American food writer.
Chinese food late at night? A big meal for a team? Snacks for a movie on a rainy day or fresh croissants early in the morning? 
Whatever delicious treat you want – you can get it in a matter of time thanks to the squad of food-delivery platforms.  
Statistics says that the products & drink delivery is one of the most popular mobile categories on the App Store and Google Play market alongside games, travel, entertainment, and lifestyle.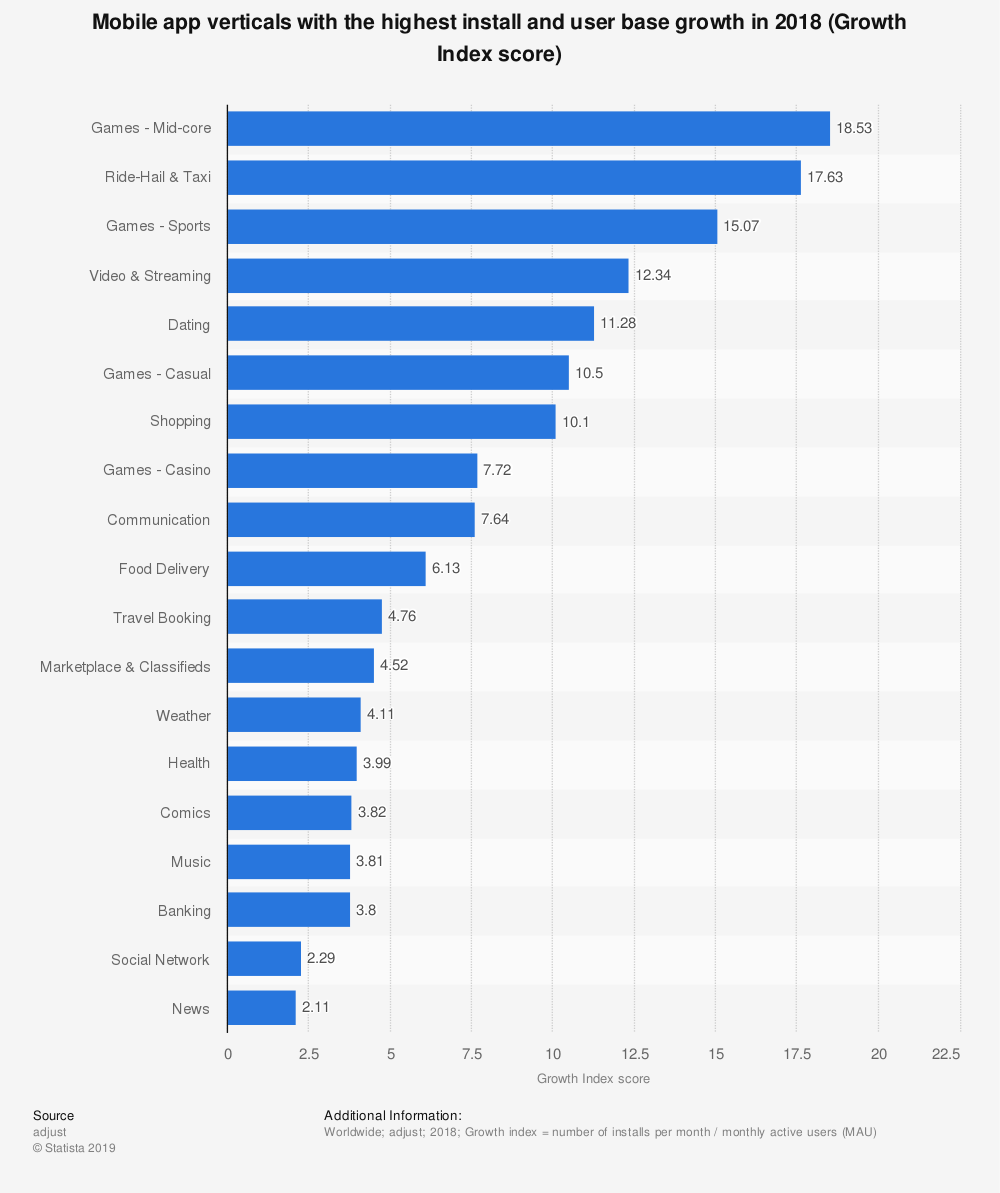 What makes it so popular?
Busy lifestyles make us cut on time that we would spend cooking a meal three times a day because we already have too much on our plate. In addition, it's also the convenience maximalism when we want to have what we want when we want it that drives the reshape of the food industry (partially blamed on the millenials, hehe).
People like it that apps are affordable, products are delivered swiftly, and favourite places are always at their fingertips. 
Today we're going to break down the process of food delivery app development and explain how to craft a mobile platform that will receive only 5-star ratings. 
So, grab a snack and let's go.
The rapid growth of food delivery app development: what makes it so appealing?
First off, let us explain why online products ordering & delivery is a great niche to occupy. 
Here are a few amazing facts and statistics:
the size of the digital food-ordering market has doubled since 2015 and by 2023 it's going to grow another 28%;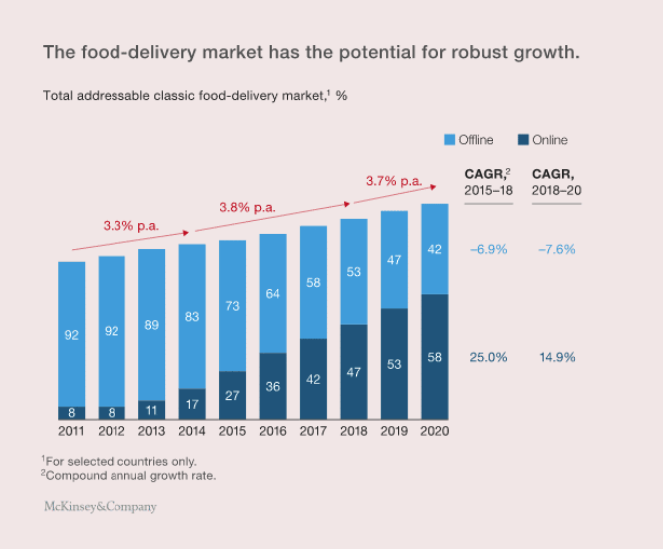 the biggest number of downloads of food-delivery applications are in the US, China, and India;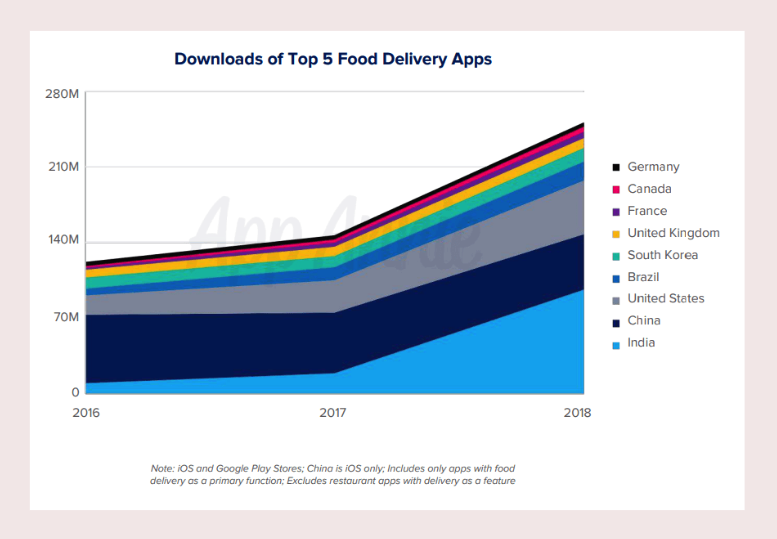 the market value of leading companies offering products and grocery courier services (Deliveroo, GrubHub, etc) is above €10B;

enterprises with

a new delivery mode

l keep more customers: more than

80%

of users stick to a platform once they sign up to it;

almost 50% of millennials and Generation Z prefer to deliver restaurant meals via mobile applications;
26% of users order takeout or online delivery at least once a week;
point B of the majority of orders (82%) is the user's home and only 16% head to offices;
the rush days for meal ordering systems are Friday and weekends.
What does all this mean? 
it's high time to jump on the bandwagon and create an app like Uber Eats before the market gets overcrowded;
a new model that goes beyond old and good fast food courier services and offers online orders for restaurant meals has proved to be very efficient;
younger generations tend to use digital delivery, which creates the demand for such services;
Americans, Chinese and Indian markets are huge, which makes them a perspective destination of many food-delivery companies.
Are you planning to build an app for food delivery? Make sure to research competitors and come up with a killer feature, which can be ehhhh even your average food delivery time! Talk to us in case you need tech advice.
Get in touch
If you still have doubts about breaking into the food & delivery app market, put them aside. Now we'll tell you how Uber Eats and DoorDash succeeded in building food delivery giants everyone is loving.
Building an app like Uber Eats: 8 key features for a seamless user experience
We've taken popular mobile food-delivery apps for iOS and Android for a test-drive and we can safely say that there's magic functionality which distinguishes good apps from the rest.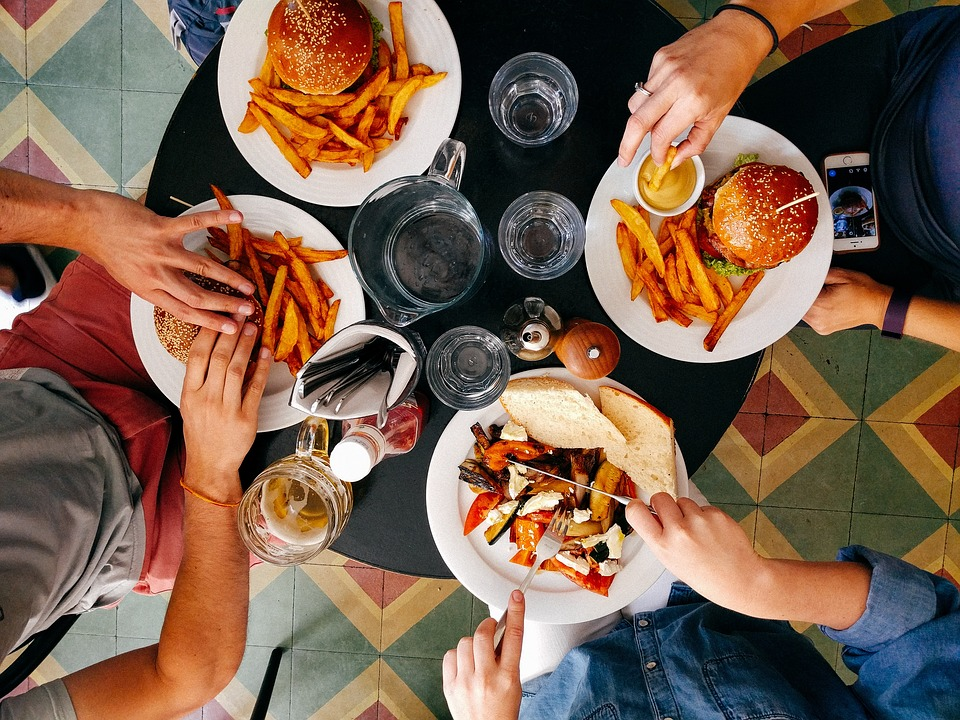 Effortless onboarding
When we say "effortless we mean that signing up takes a few clicks. Users don't have to complete huge forms or tweak geolocation settings to get an active account.
Due to the lack of dopamine decreasing a level of satisfaction, a hungry person gets mad quicker. No kidding.
In this case, a complicated signup procedure will only make the situation worse. 
To join Uber Eats, all you need is to let the app define your current location.  Later you can add a phone number, extra details, and choose a payment method.    
goPuff, for instance, prevents this situation by suggesting that the user skip the registration step and take a look around the platform.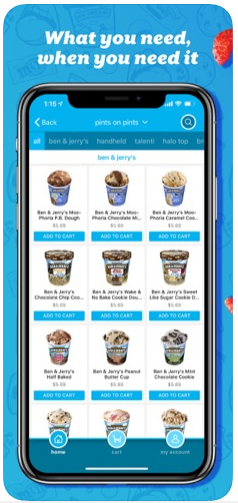 Once the customer is ready to place an order, they can enter a mobile number or register with a Facebook account.                                      
Cash, bank card or Apple Pay?
When speaking about how to build an app like Deliveroo we can't help but mention payment options. 
The majority of apps support only payments with credit cards and cash. Those like BeyondMenu and Grubhub offer additional options: Apple Pay, PayPal, or Venmo. 
Typically, a user can pick up a payment option in the account settings; some apps let users scan the bank card function and save time on manual insertion of its number. 
Promo codes and gift cards can be a good alternative to traditional payment methods.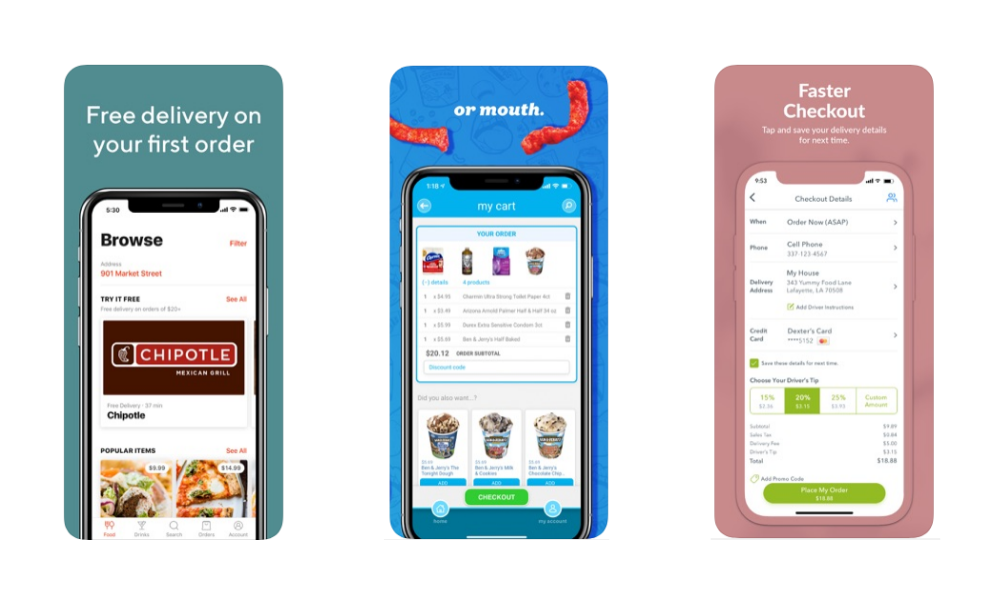 For instance, Glovo gives promo codes with a discount for first orders.
DoorDash issues credit and gift cards.
Wolt offers tokens to the most loyal clientele.  
The right to information
Either the courier is late due to traffic jams or the meal isn't ready on time – the customer is ought to know the reasons for the delay.
By viewing the location of the courier, the customer doesn't need to call the support to find out where he or she is. 
The users of the DoorDash app can see the dasher's current location on the map and contact him or her in case of necessity. 
Deliveroo has an embedded counter showing the time the courier spent on the road. Postmates visitors always know if the delicious meal is approaching their door.
Uno, dos, tres, checkout!
Ordering is one of the key UX flows in any food delivery app that impacts the fulfilment of customers' needs and their experience. 
It should be easy, seamless and quick: you select a dish under a category, add payment method details, and confirm your order. 
To complete the ordering in Uber Eats, users add items to the cart, establish the delivery time, choose the payment option, and proceed with the checkout. 
Also, they can write a note for a restaurant or a courier to make meals more personalised.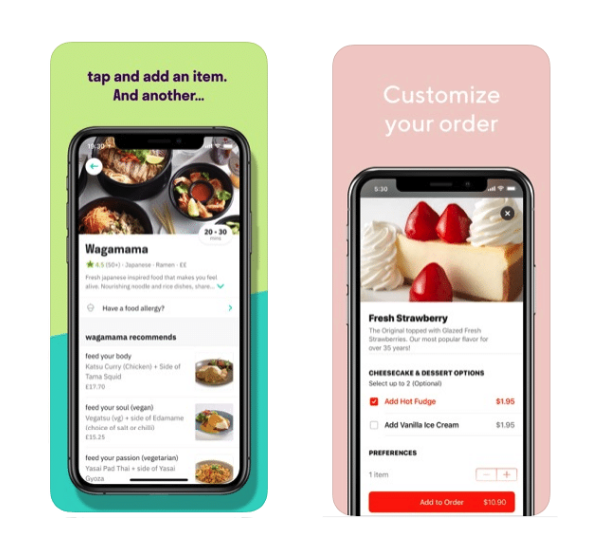 DoorDash allows visitors to continue shopping right from the cart if they want to add items or use a promo code to get a discount. 
If your goal is to create an application like Uber Eats, integrate the scheduled delivery, order history, and group order toolkit.
Glovo fans, for instance, can place orders in advance if a restaurant provides this option.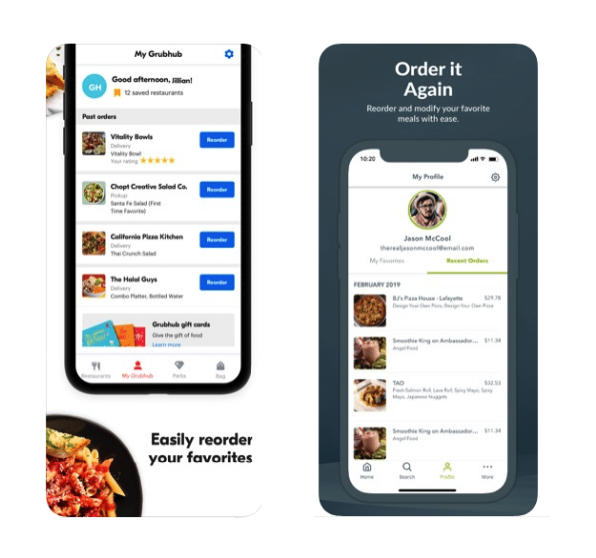 The clients of Waitr and Grubhub can view past orders, save them as favourites and reorder certain sets of dishes. 
DoorDash allows inviting peers to take part in a group order by setting personal limits and adding best-loved items.   
One-stop shop
The idea behind delivery&carier applications is to help restaurants without a delivery option reach out to customers who want to try haute cuisine outside their walls. 
When a user launches an app he or she wants to find a favourite place quick and easy, that's why it's essential to group places in categories. 
Each restaurant should have a special section with the menu and dish ingredients. 
DoorDash has filters including the type of food, restaurant rating, delivery time or pickup, menu price. 
Besides, there are groups of places like "featured national partners, "DoorDash deals, and "First order, $0 delivery fee. 
This helps the client shorten the time of searching and take a decision much sooner.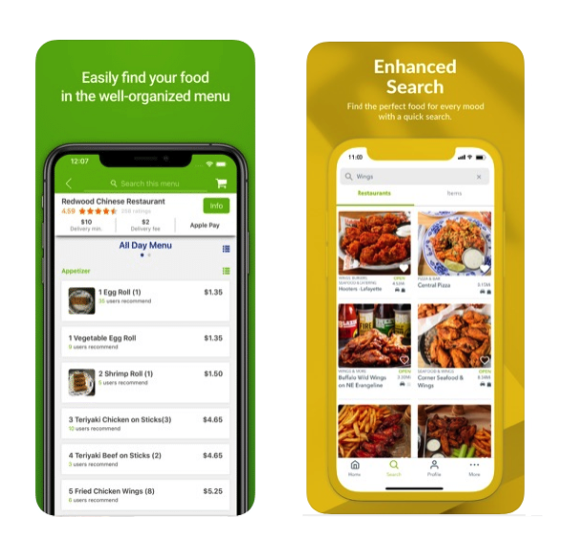 Online food ordering is like shopping where buyers want to save favourite results. So, why not to add this option to your toolkit?
Wolt and Uber Eats display favourite restaurants in a personal user account, DoorDash uses this option for group orders, Waitr displays Your restaurants right on the front page.   
Mayday!
No matter what issue or comment your diner has, you should receive it immediately. 
You can implement the help feature into a mobile app in different ways: 
integrate it into the order tracking so that the user can get in touch with the courier (DoorDash);
embed a chat into a user dashboard for connecting with a support person, manager (InstaCart, Wolt);
create a separate Help Desk (DoorDash).
Keep in mind that push notifications work well not only for reporting an oncoming order but also for showing new messages in the help chat.         
Delivery or pickup? Both!
Apart from places available for online ordering and delivery, mobile apps may also have a "Pickup feature.
It helps users find diners in their area or delivery place and book a table online. 
Search results should display a restaurant address, cuisine type, the delivery details, average price for a meal, and fees, etc.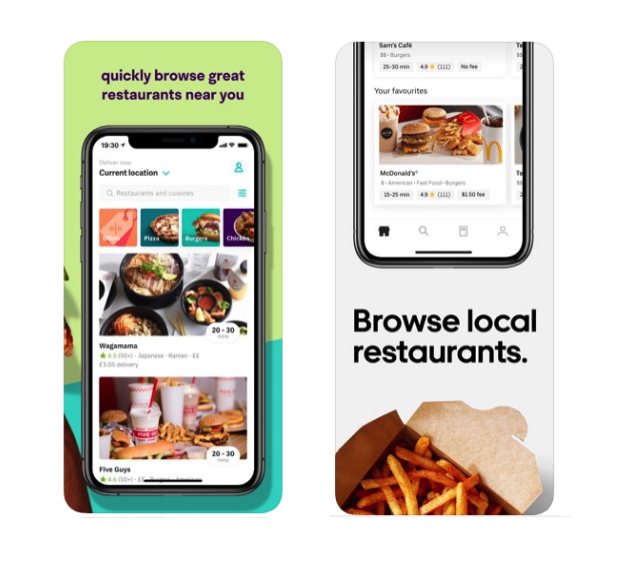 Open an app marketplace on your smartphone and sort food ordering apps by the popularity – you'll notice that the above names are high on the list. 
It proves the fact that food delivery app development in each specific case is based on the pre-defined functionality.    
How to build an app like Deliveroo: JustCoded approach
Have a clear vision of your target audience, a unique selling proposition, a list of demands to the end product?
Great!
All you should do now is find a dedicated team to develop a food delivery app you're dreaming about. 
Finding your team is at utmost importance. The team with enough expertise can engineer a cross-platform product that will drive more leads, sales and profit at a rational cost.
We design native and hybrid mobile applications for iOS and Android. If necessary, we can rebuild them into Progressive Web Applications (PWAs) as it cuts the time and money invested in design and coding.
We base our work on two approaches – the dedicated team model and time and material agreements.
A typical development process has several stages:
Project strategy creation

. We begin with understanding the depths of your business, analysing your demands and building the project roadmap that will help us deliver the custom solution. A project budget calculated at this phase helps both you and us see resources needed to achieve the end goal. 

Prototyping and design.

We craft the user experience and interface design with the customer in mind because they're the core of your business. The human-centred approach, best practices and creativity help us develop a bespoke and engagement-driven product. 

Iterative development.

The Agile approach we use allow us to deliver results on a regular basis and build MVPs in a short period of time. By providing updates at the end of each iteration, we keep our clients posted on what we've done and where we're heading.

Quality assurance.

Mobile solutions undergo quality checks at each development stage. Our QA engineers do their best to make sure that the end product works well and looks perfect.  

Further cooperation.

We dislike saying goodbye and always hope for further cooperation. Either you're planning to make updates, expand the functionality, or rebuild the product – we're happy to help.    
How much will it cost to make an app like Deliveroo? In total, expect to spend from $60,000 and keep in mind that it always depends on the scope of your project.
Talk to us and find out a more accurate price to develop your food delivery app.
Get in touch
Wrapping up
The "bread and circuses domain is scaling at a breathtaking pace and if you intend to turn the food ordering market upside down, it's the right time. 
If you look real close at the best-known food-delivery applications and you'll notice common features:
easy registration,

advanced search,

quick checkout,

multiple payment options,

real-time support,

live order tracking, etc. 
A robust toolkit coupled with an effective business model is what makes people use an online system again and again to enjoy delicious meals.
If the idea to build a food delivery app is haunting you, contact us and we'll tell you more about the mobile development services we provide.