Feeling "meh is the worst feeling ever no matter you've got a sore throat or an allergy attack.
The colours fade, nothing can cheer you up and the only idea of going to the doctor's office and waiting in the long lines makes the situation even worse.
Luckily, we're living in the era of mobile revolution when many health issues can be done with a few swipes.
Despite being very conservative due to security matters, the healthcare industry is gradually shifting to the online realm.
You might have heard about fitness apps or health trackers. And what about online appointments?
Have you ever had a virtual visit to a physician?
In this post, we're going to have a closer look at a rapidly growing market of doctor scheduling apps. In the first part of the article, we explore the features to make a doctor booking app; in the second part, we will focus on the must-have functionality and cost to implement it.
Why your patients want you to make a doctor scheduling app
Earlier in our blog, we were discussing the nitty-gritty of health insurance mobile app development. The medical niche is evolving very fast with lots of new apps uploading to Apple Market or Google Play.
Let's have a sneak peek into the current state and perspectives of this market.
47%

of all the web search inquiries are about health care providers and specialists;

the market reach of the medical app categories in the US is

68,9%

. To compare: games —

65,9%

, travel —

84,7%

, communication & social —

 97,9%

.

60%

of patients do online research prior to booking an in-office appointment;

currently,

88%

of all doctors' appointments are scheduled by phone and only

2,4%

online. The majority of people don't want to risk sensitive information when filling in online forms;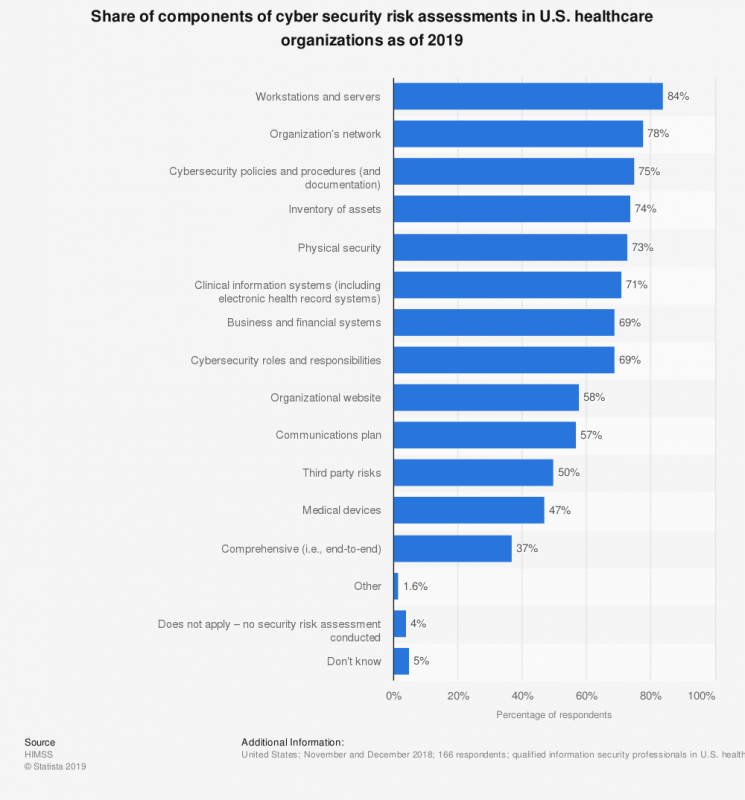 for

84%

of clients, reviews are as important as personal recommendations;

unlike Baby Boomers, Millenials aren't stable when it comes to health care services,

43%

of them tend to change the provider in a few years to come;

one-third of all health-care services users admit that phone calls are one of the most frustrating aspects in solving health issues;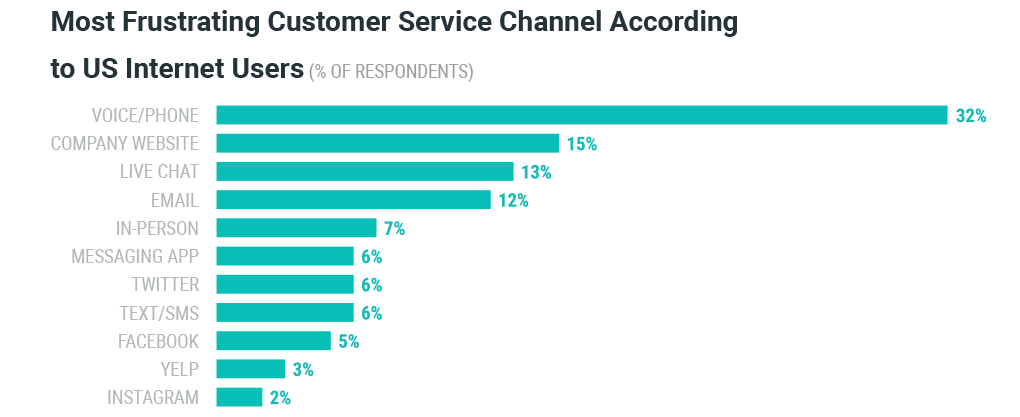 the survey conducted by First Stop Health reports that

91

% of all medium and large employers are likely to offer telemedicine services to their employees;

53%

of respondents admitted that they left the doctor's office because of the long waiting in the line.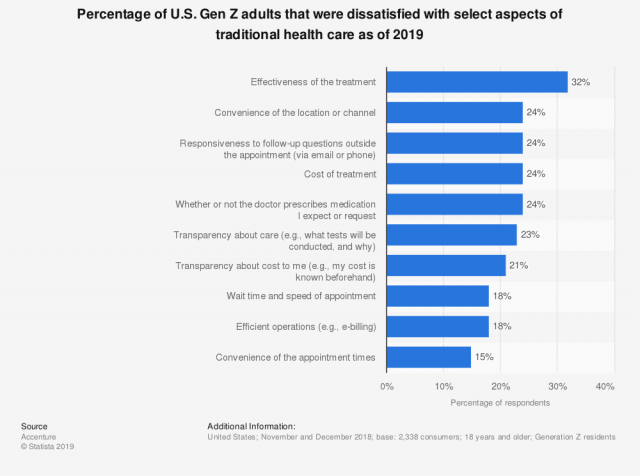 The factual info proves the idea that the majority of patients is eager to start using mobile healthcare solutions. However, insufficient security is one of the factors preventing them from doing this.
To build a doctor booking app that will succeed on the market, you should understand what pain points your potential users' have:
find local healthcare or pharmaceutical services providers;

filter specialists by professional details, rating, working hours;

schedule an online or offline appointment;

get and keep test results, medication prescriptions, the history of past health records;

pay for appointments on mobiles;

get in touch with a doctor via secure chats;

use a weight and health tracker;

view and manage personal and insurance details.
If you have trouble scoping features for you doctor booking app, our business analyst will help.
Get in touch
How to create a doctor booking app: design and functionality
We've handpicked several apps that, in our opinion, provide the desired functionality for mobile patients.
Below you'll find the overview of each solution and the features we like. 
MyChart
MyChart is one of the most popular applications for iOS under the category "Medical that provides users with 24/7 access to their health info and the medical team.
To create an account, patients should get access to the platform through their current healthcare provider.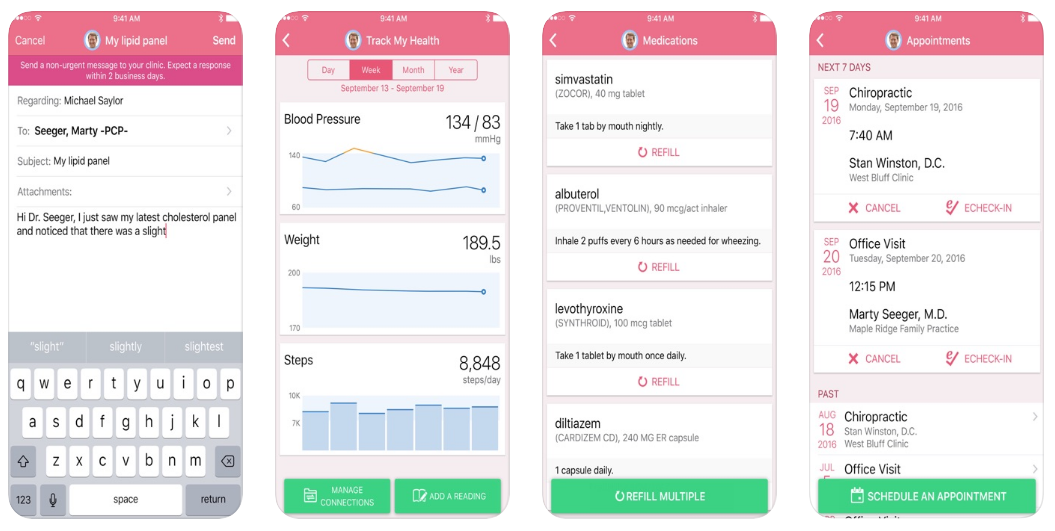 MyChart platform comes with numerous features:
archive of all lab results, med treatments, and patient histories;

appointment booking and management;

health-tracking programs with Apple Health integration;

bill payment options;

multiple accounts management and access to the health records of your family members. 
FollowMyHealth
If you want your doctor booking app to be easy to use and to navigate, look at FollowMyHealth.
Android and iOS users admit that the platform responds quickly and send user notifications so that you can receive and share medical information with your doctor instantly.
Just like other tools for appointment scheduling, FollowMyHealth provides users with personal dashboards where they can keep medical details and lab reports.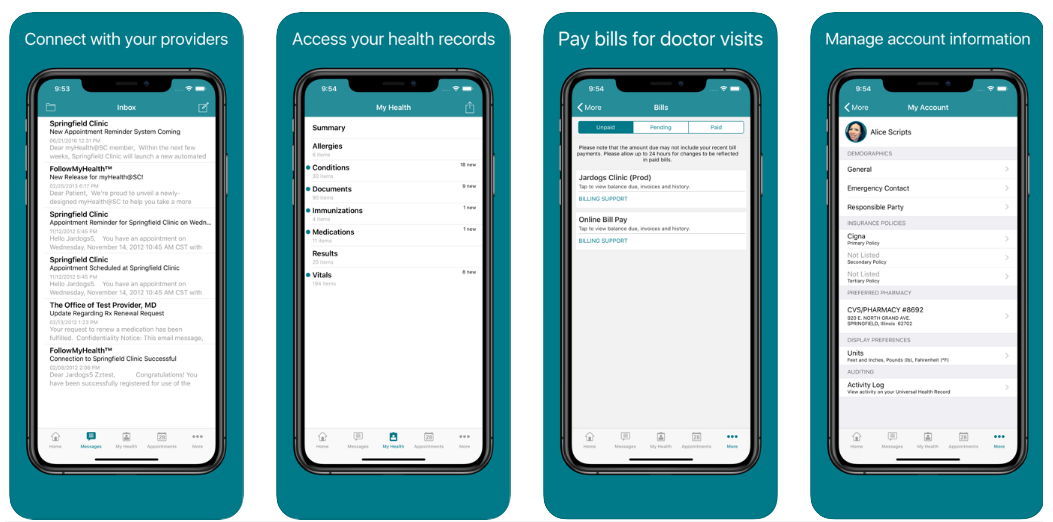 Another good feature of FollowMyHealth is the ability to request prescription refills and manage a user's preferred pharmacy for prescription renewals.
For those who want to unleash the full potential of FollowMyHealth, there are extra features: 
passcodes and Touch ID to effortlessly log in to the platform;

automated import of health records (weight, blood pressure, pulse, etc.)  from Apple Health;

notification badges to stay aware of important information;

Apple VoiceOver for users with certain limitations.  
Healow
Healow is another alternative to a traditional doctor's appointment for patients living far away from a healthcare provider.
Healow is friendly to all the fitness fans. With its built-in health tracker, you can set sports goals and successfully achieve them. View your progress and share it with your coach or physician.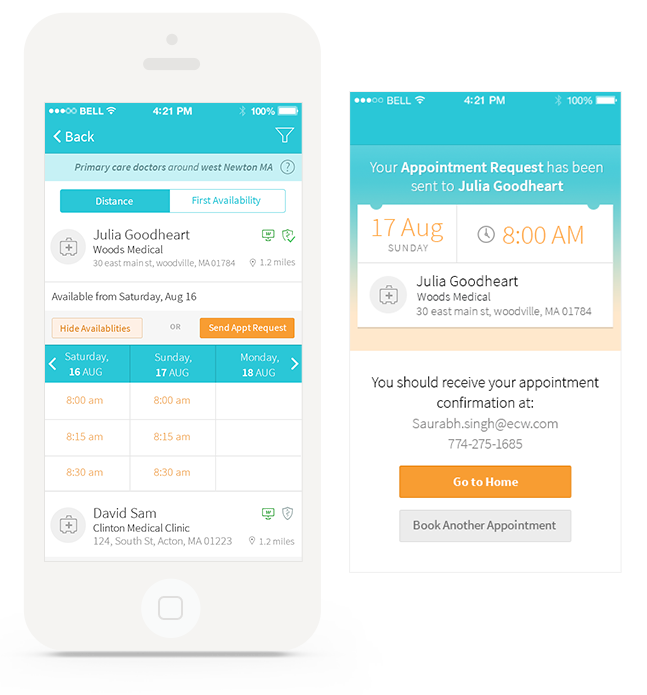 Healow allows creating multiple accounts for you, your kids and relatives instead of switching from one service to another. Personal dashboards are full of customisation features: automatic medication reminders, convenient format of medication data, refill requests, management of medications that come without prescriptions.
What's more, Healow provides a free booking available all-around-the-clock.  
Doctor On Demand
This doctor scheduling app is for those who prefer video calls to in-chat conversations. Users can interact and consult with certified therapists and psychologists from the US through face-to-face conference calls.
The online examination is similar to a traditional appointment: doctors view a patient's medical histories, check vital signs imported from Apple Health or Google fit data, and recommend tests and treatments.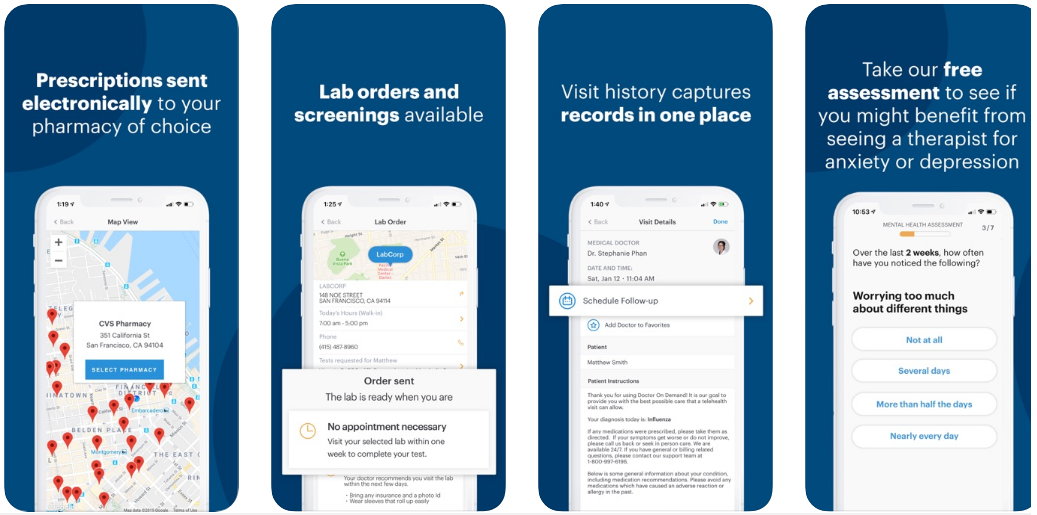 Also, in case you need a doctor's note, Doctor On Demand specialists can provide you with all the necessary documentation.
Doctor On Demand healthcare services can be provided with or without insurance for any medical case from cold to depression.
Zocdoc
Zocdoc is a patient-oriented feature-rich solution that delivers an excellent appointment arrangement experience.
Here you won't find any ratings or recommendations, the creators of this app let users make informed decisions based on their preferences.
Zocdoc uses Patient-Powered Search technology to translate users' requests into medical terminology. Patients can filter the research results by a visit reason, insurance plan, location, and openings.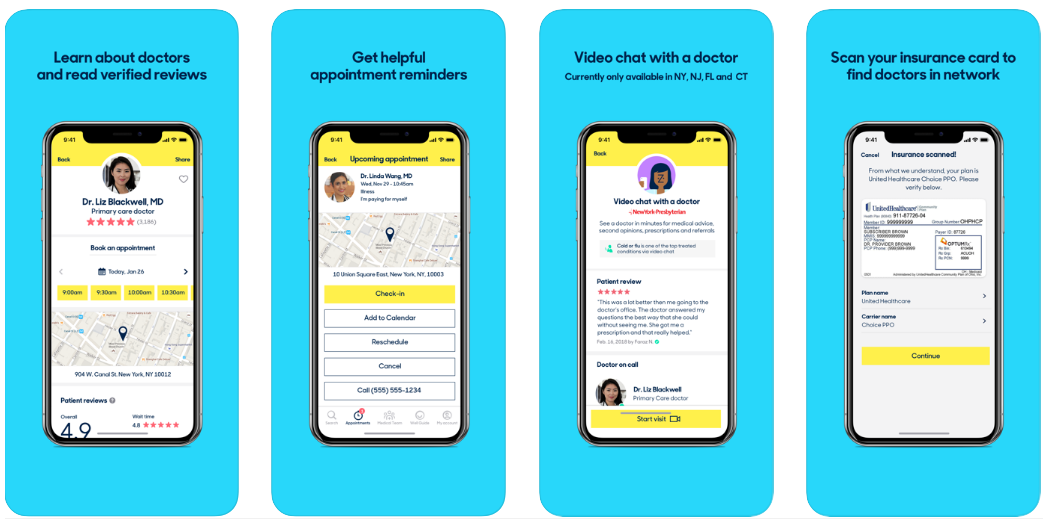 There's an insurance scanner embedded into the app that lets users upload their health plan.
The search results each user gets are very specific since they are based on the patient-centric criteria.
For specialists who are willing to be listed on the Zocdoc platform, they apply the verification procedure – education, certificates and practice checks.
Teladoc
Having high ratings on marketplaces, Teladoc, an application for a doctor appointment, is a good example to follow.
From scheduling an online visit to sending a prescription to a chosen pharmacy – each step of the healthcare provision process is available online.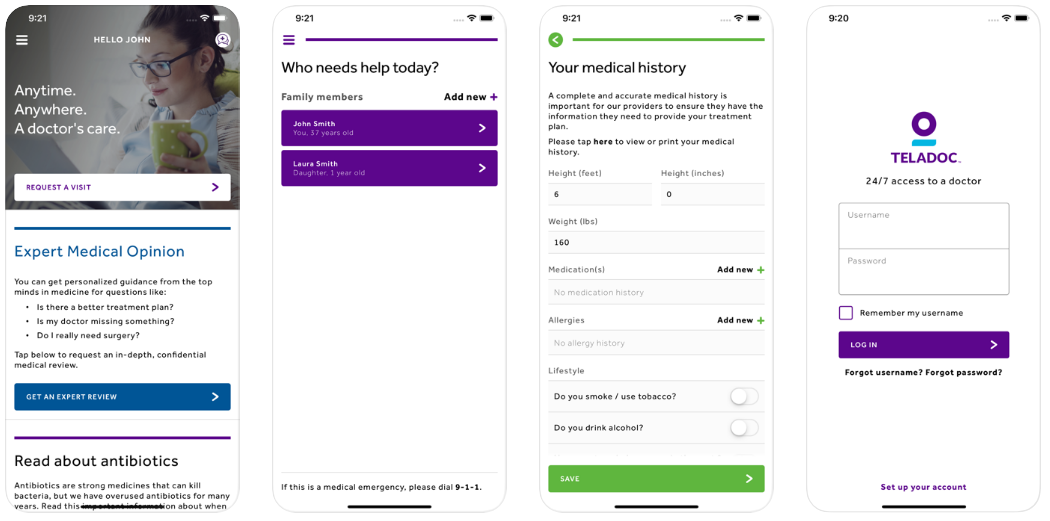 Key features Teladoc offers:
24/7/365 connection with certified specialists;

online examination, treatment recommendation and medication prescription for common health issues;

personal information and billing details management;

compatibility with health tracking apps like Apple Health Kit;

notifications on upcoming online visits;

different plans: for everyday care, skin issues, mental health, etc.
After the call, patients receive follow-up forms to report about their experience, which helps the development team improve the app's look and performance.     
Amwell: Doctor Visits 24/7
Amwell is the last example of telemedicine solutions from our list.
Similarly to Doctor On Demand, Amwell work with insurance plans and offers out-of-pocket payments.
The patient onboarding process is easy and fast: users sign up to the portal, choose the type of the visit and the telehealth provider.  
For urgent visits, they charge $69, online therapy programs start at $95 and psychiatry — at $200.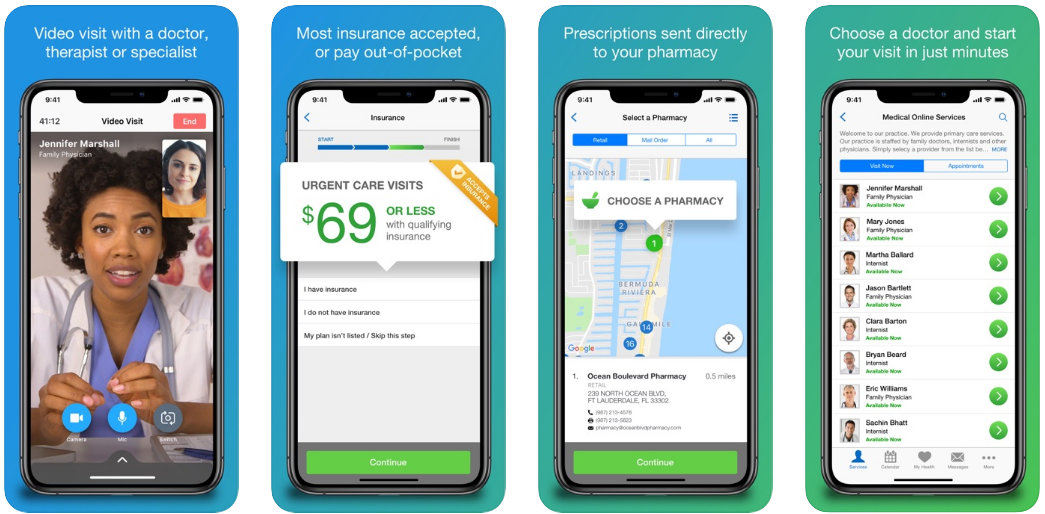 Amwell application is highly secure and meets the HIPPA compliance requirements for sensitive patient data protection.
Companies that deal with protected health information (PHI) are obliged to create a robust protection system that covers all the processes of information sharing, treatment, payment, etc.
By meeting HIPAA standards, providers create physical and technical safeguards to:
restrain the facility access;

establish e-date usage and access;

prevent cases of health data altering and destroying;

conduct an audit of hardware and software activity records.  
Doctor scheduling app: key features
As you may have noticed, all the mobile platforms bringing together doctors and patients have some features in common. 
If you're already considering the future toolkit to create a doctor appointment online app, look at the core and extra features your app will need.  
enhanced security to ensure appropriate protection of electronically protected health information;

handy UI design to provide optimal user experience; 

intuitive navigation for flawless onboarding, booking and payment processes;

advanced search to provide patient-centric results;

personal dashboards with lots of customisation options;

doctor appointment scheduling done in a few clicks;

convenient storage of test results and immunisation history;

audio/video appointments to provide life-like experience;

chat with a specialist to let patients send follow-up questions;

robust payment gateway to protect financial data; 

push notifications to keep patients informed.
Nice-to-have features to make a doctor search app:
integration with healthcare apps to import vital signals, weight and activity records; 

fitness and weight tracker to help users achieve personal goals;

insurance card scanner to let patients utilise personal plans;

multiple accounts management for families.
Need an application for a doctor appointment?
Here's a glimpse into the development process of such a solution.
The tech stack we use – Reach.JS/Native, Ionic, PhoneGap — allows us to build PWAs out of the existing codebase and save your time and money.   
Typically, we create and develop mobile solutions through several stages; each is divided into sprints so that you as our customer can track the project progress.
1. Project strategy and estimate
When you reach out to us, explain your business demands and present the requirements to your iOS/Android application, we start preparing a project estimate. Detailed analysis of your business specifics helps us better understand your product vision and idea.
2. Client-centric UX/UI
We don't rush to sketching mockups once the project specs are ready, we prepare wireframes and prototypes based on user stories and flows instead. Then we proceed with UI and always do our best to deliver a modern user-friendly interface that will look and function flawlessly.
3. Transparent development
The Agile approach is what helps us be flexible, swift and deliver expected results on time. As for MVPs, it takes us less than 1 month to come up with the outcome. What's more, iterative development is absolutely transparent to clients who are receiving updates on a regular basis.
4. Quality assurance
Any mobile app undergoes several QA tests during the development stage and the final check just before the launch. Our goal is to be confident that the outcome works smoothly across in any environment.
5. Post-launch support
Our team stays with you after the launch to support your product growth all throughout its life cycle. Maintenance, updates and scaling-up will be our priority while you're busy growing your business.
There are two engagement models we typically use — dedicated teams and app developers available for hire. Both of them are good although they fit various types of projects and goals.
Dedicated teams perform well for long-run projects. It means you get a separate team that works solely on your product: business analyst, designer, project manager, developers, and QA engineer. This approach takes the burden of recruitment and HR management from your shoulders.
Hiring app developers without a dedicated team works well for companies that prefer managing projects themselves. We supply our dev specialists to extend your existing team according to the T&M agreements – you pay only for the factual time and resources spent on each dev stage.
Costs to build a doctor scheduling app
Gauging the accurate budget without high-level requirements is difficult, that's why we always encourage our clients to go with Business Analysis first.
During this stage, the client and the business analyst define the goals, functionality, and tech requirements. Based on that, we can estimate the product development budget and make suggestions about splitting the functionality into MVP and post-MVP stages.
Below you will find an approximate estimation for a doctor scheduling app based on our experience. The numbers are strictly indicative, however, they can help you get an idea of costs associated with the development.

Concluding
The traditional healthcare system requires changes to deliver more customer-oriented products. And while it's slowly moving towards this direction, innovative solutions that put patients at the spotlight are becoming a hot trend.
If you're going to join the party and deliver value to people who want to book doctors' appointments instantly online, take into account a few things:
Make sure that your mobile app meets the highest standards of security that are a golden rule of the industry.

Design a look and functionality that satisfy users' demands to mobile appointment-booking.

Consider extra features that go beyond the basic toolkit.
We'd like to hear about your experience in creating applications for doctors' appointment. Feel free to contact us at any time.