Statista experts predict that the value of global peer to peer lending market will reach $1,000B by 2025. It means that crowdfunding companies are about to take a larger piece of a pie right in front of incumbents.
Alongside well-known Lending Club, Funding Circle, and Upstart, there're lots of new entrants conquering such niches as real estate, crypto & ICOs, car finance, restaurant business, education, etc.
While some may argue whether P2P lending is an excellent topic to dive in, peer to peer loans will continue to compete with traditional bank products in the nearest future.
In the meantime, let's see why you should create a P2P lending platform, what features it must have, and what budget to set for P2P lending platform development.
What niche is good to start a P2P lending platform?
There's a number of benefits of a crowdfunding business for the owner which we've covered in a previous article. Now let's focus on the appealing niches where you can start a P2P lending platform.
Education
Unlike other industries, educational and scientific institutions have started considering alternative financing as a fundraising method quite recently.
Projects may vary from collecting money for getting a degree to financing creative scientific programs.
Despite the ever-growing demand for student loans, there are not so many companies providing this kind of refinancing.
Among the top websites are LendingClub, Prosper, Zopa, and Kiva.
For instance, SoFi – a US-based crowdfunding site – offers different products to cover the needs of various categories of clients:
undergraduate loans to help students pay for school at low rates;
graduate loans to help students pay for grad school;
parent loans to pay for children's tuition.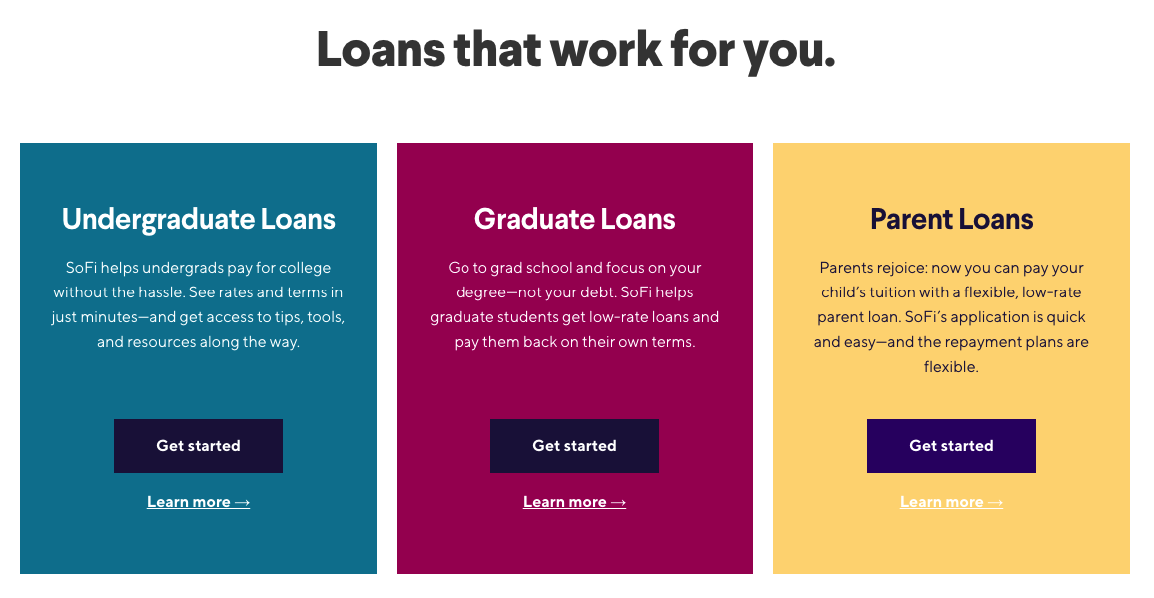 Car finance
It's a pretty young yet rapidly growing sector. P2P car loans are to help borrowers purchase autos with cash, through a leasing scheme or with the help of a bank loan.
According to a survey, the value of the car finance market is about £27.1B, 80% of which are secured personal loans. This is exactly what inspires the established crowdfunding gurus such as Zopa and RateSetter to expand their product range.
For instance, Zopa offers car loans for 1-5 years terms with 3.9% APR.
With no joining fees, online application, lower rates, and top-notch customer service, crowdfunding platforms are positioning themselves as a super fast and easy method to purchase a car of your dream.
Real estate
Real estate crowdfunding is one of the hottest niches, and it keeps attracting more and more borrowers and investors.
Real estate P2P loans are an excellent alternative for property borrowers to collect the necessary seed capital and for everyday investors to generate extra income.
P2P loans are less risky compared with equity investing that used to be the preferred method for financing the real estate projects. In case a project is put on pause, lenders are the first in line to get payoffs.
Keeping this in mind, backers are more inclined to participate in peer to peer lending schemes rather than to buy a company's shares.
Before you start a P2P lending website for real estate projects, check out how these guys do it.
Crowdestate offers rental and development loans with 16% ROI and €100,00 investment minimum.
Housers caters to small-scale investors who want to build a diversified portfolio backed by real estate assets. Housers product includes Buy-to-Let, Buy-to-Sell and Development loans with an investment minimum of €50.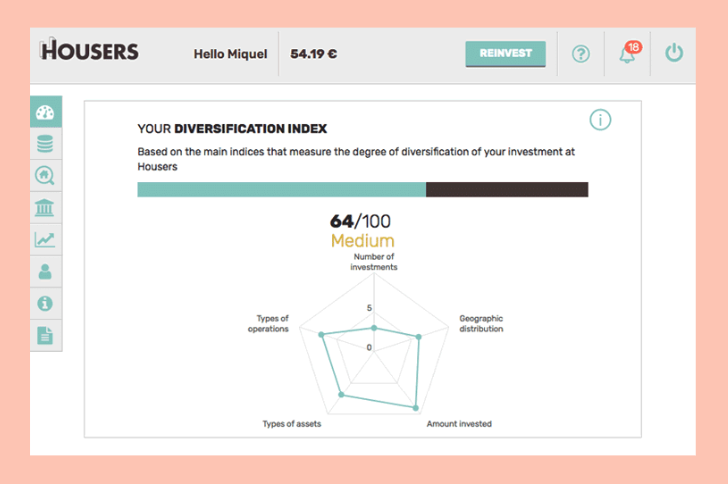 Property Partner is a UK-based platform for investing in commercial or residential properties. In addition to regular returns on interests, backers can receive the extra income generated by changes in a property price. An annual ROI is 7%.
Debt consolidation
More and more crowdfunding portals are starting to add debt consolidation to product packages.
Debt consolidation is the process of combining several loans into one financial instrument with more appealing parameters – interest and period.
Other advantages of debt consolidation are one debt with a fixed return rate, easy management of monthly payments, better credit score as a result of timely payments.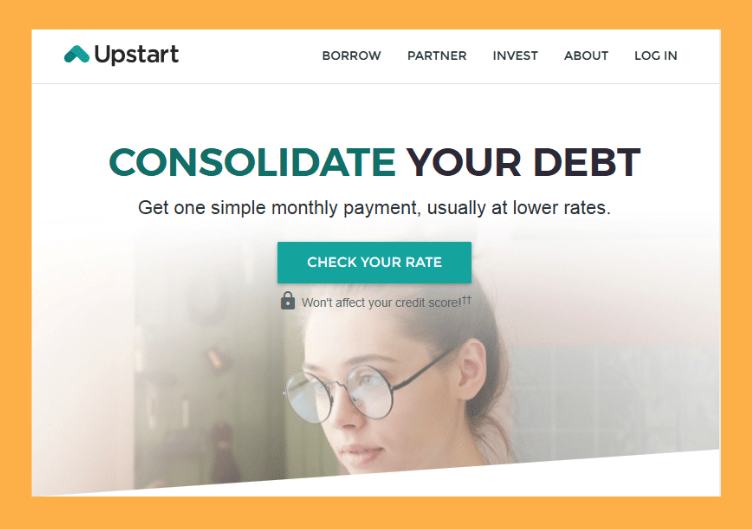 For instance, Upstart consolidates loans ranging $1,000 – $50,000 with 3-5 years loan period and 5.59% – 35.99% interest rate. The consolidation procedure can be completed in 1 business day. Clients can consolidate different kinds of loans – payroll loans, store cards, car loans, etc.
Business P2P loans
From traditional industries to specific businesses – peer to peer lending companies are expanding the clientele.
There's a squad of websites designed for such sectors as cryptocurrency, restaurants, transport, and fintech startups.
Grupeer mainly deals with FinTech startups offering business loans for 3-12 months with 5%-10% return rates. Every loan issued is backed by BuyBack Guarantee protecting investors' rights.
Crowdestor is a young service provider with a focus on property, transport and business projects starting from €50. Crowdestor is based on two models – traditional crowdfunding (business loans) and equity investing. Annual return rates start from 12%.
P2P lending platform development: core platform features
It doesn't matter if your target market is a small food-related business or early-staged ICOs because there's a set of features your online platform can't do without.
We've already covered the essentials you may consider to add to your feature list before you take up P2P lending website development.
Apart from fundamentals like safety and security, account management, support, payment modules, admin dashboard, crowdlending sites may benefit from extra features to transform user experience into an engaging adventure.
1. Loan calculator
It's an excellent tool for explaining newcomers all the profits and risks of having business with you.
With loan calculators, visitors can foresee monthly instalments depending on the given loan amount, period, and interest rate.
To generate leads, integrate a calculator right in the first block on your Homepage or create a separate page with instructions on how the tool works.
A loan calculator allows borrowers to estimate monthly repayments and total interest payable depending on the amount of the initial loan, term, and interest rate.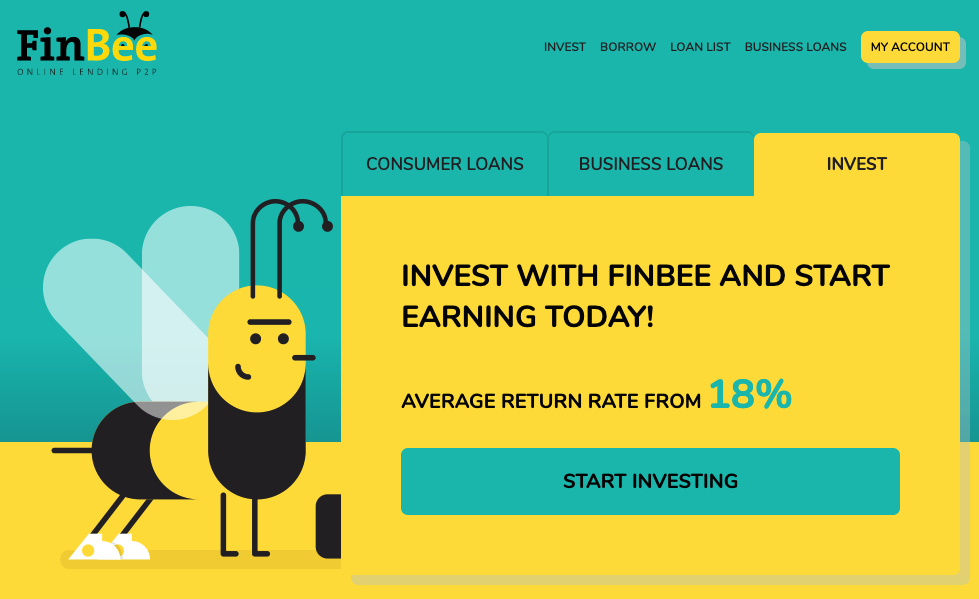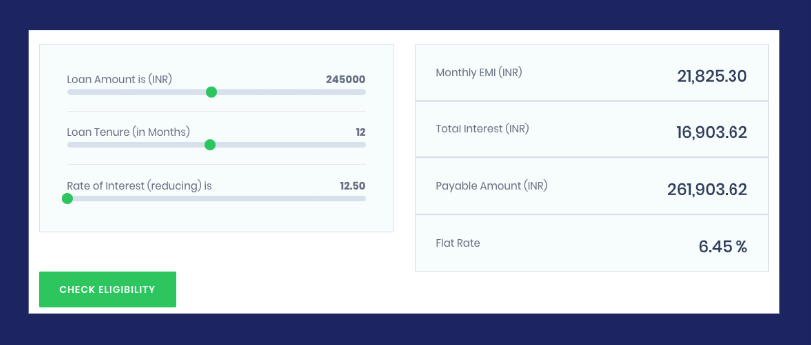 2. Auto investing
An auto-invest option allows users to diversify their portfolio fast and easy by customising an investment amount they're willing to splurge.
Grupeer official website advises that with an auto-invest option, backers can create a portfolio that is capable of generating +12-13% of return per year.

To do this, users can tweak loan parameters: type, rate interval, repayment type, term interval, etc.
Platforms like Neo Finance provide built-in secondary markets and offer auto investing for balancing the portfolio for resale.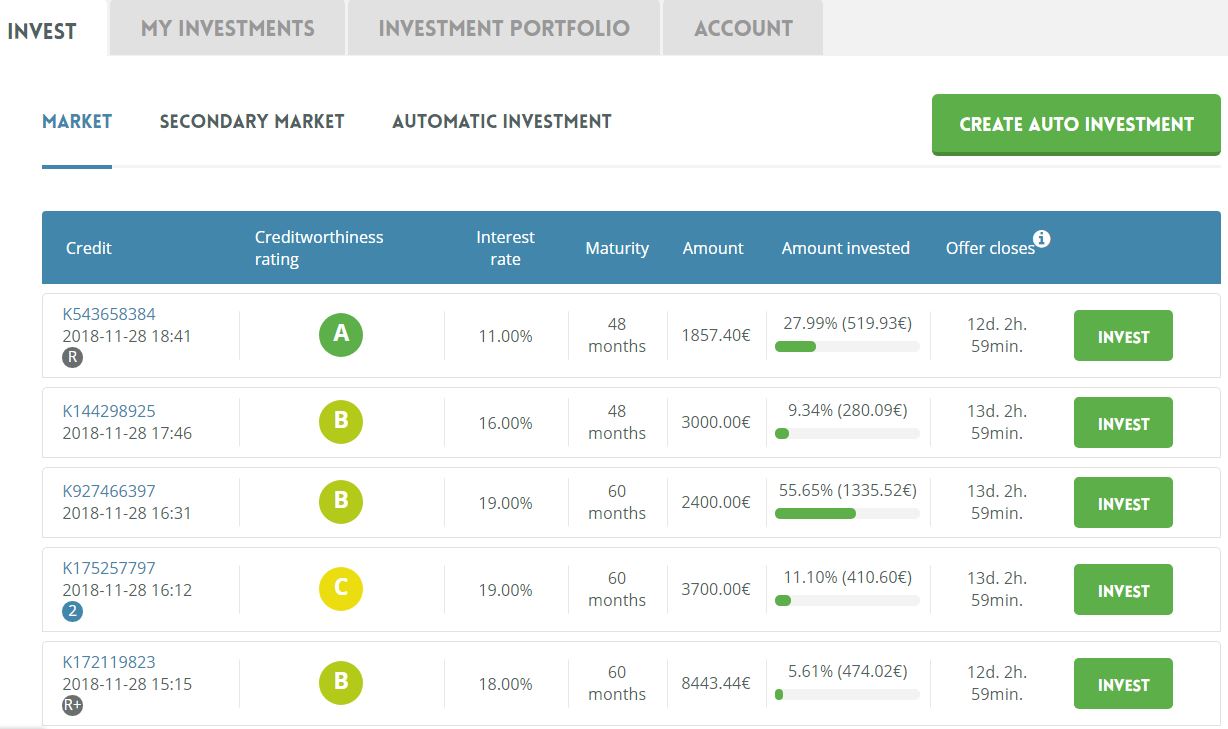 3. ISA/IFISA support
IFISA stands for Innovative Finance ISA accounts that allow investors to participate in peer to peer loans and receive tax benefits.
Unlike Cash ISAs, Shares ISAs, and Stocks, IFISAs imply that no taxes will be paid from investments made.
Such tax-free opportunities are very attracting to investors, which makes more and more crowdlending companies include this feature into platforms.
Not all payment gateways support IFISAs but those who do this stand out from the crowd.
Our partner, Goji, is authorised to provide support for various accounts types – IFISA, SIPP, SSAS and ISA.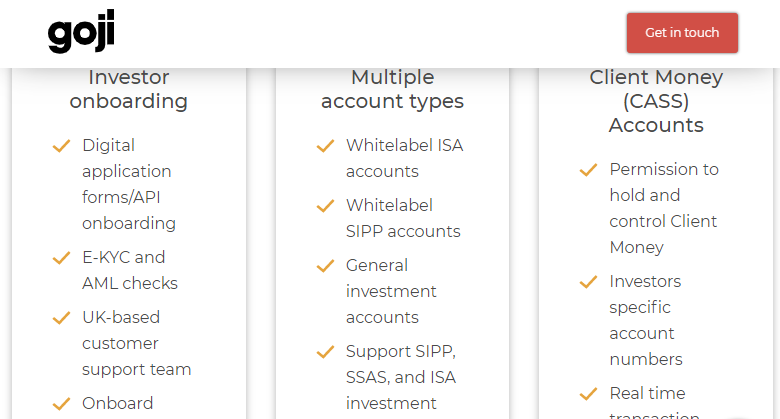 4. Secondary market
If a few years ago secondary markets where a rare find, today every other crowdfunding platform has this feature.
We have already explained how the secondary market works and why it's a good idea to implement it in your platform.
In a nutshell, secondary markets are super beneficial for investors as they allow them to get more profits from selling/buying investments at premium/discount, get rid of illiquid assets, and purchase unavailable investments.
Among P2P lending sites with reselling features are Mintos, Neo Finance, Crowd Estate.

Steps to build a P2P lending platform
Before you start building a P2P lending platform, make sure you are familiar with the regulatory requirements for digital lending in your country.
Some countries require a license, while others do not. The earlier you start the legal prep work, the faster you'll be able to take your P2P lending business to market.
We covered regulations in certain countries before so you can have a glance:
And now we'll go into some tech and process details of building a P2P lending platform.
You can build a custom P2P lending platform with in-house resources or leverage the technological expertise of a software development partner.
Assuming that you're looking for a development partner, here are the steps you should expect to go through:
close communication with a sales manager and business analyst;
project discovery phase and technical documentation creation;
agreeing on a collaboration model such as a dedicated team, fixed-price, or time-and-material;
full-cycle development or particular feature creation depending on the project and requirements;
polishing, bug-fixing, and approval;
support and maintenance or more development.
Companies usually involve business analysts to gather all of the requirements concerning the project and ensure product-market fit.
Based on that information, we'll produce several documents that will serve as a roadmap to P2P lending platform development:
requirement specification;
product design and features specification.
It will help us both to keep on track and build the product according to the requirements within the estimated budget.
The whole workflow is usually built according to the scrum-methodology, which helps to complete tasks in sprints and is proven to be an efficient framework for collaboration.
On the completion of the project, you may expect specific results:
you become the owner of the product, its source code, documentation, and other assets as stated in the agreement;
in the case of custom software development, you may be eligible to patent solutions or practices developed in the process.
When the work is done, any additional features which were not included in the project estimation document will be paid separately, and the development process repeats.
Usually, the cost to develop a professional P2P lending platform starts from $75,000+, which includes:
custom design layouts designed for a particular niche of a P2P lending platform;
active payment processing system;
content management system for marketing and SEO purposes;
automated KYC/AML verification;
debt and equity investing;
customised investment and settlement flow that is compliant with your regulations and business requirements;
account management systems, search, and filtering, etc.
Crowdfunding and P2P lending software
It's possible to cut down the cost to develop a P2P lending platform and launch it faster with off-the-shelf software. There are different options in the market, and they differ by complexity, support, customisation, and price.
Most of them can be easily integrated via APIs and personalised to meet the needs of site owners.
We developed our own crowdfunding software called LenderKit, which is designed for online crowdfunding portals based on equity, donations, and P2P loans.
It's ideal if you're planning to start with an MVP and then scale up to the advanced version of your platform. An MVP built with LenderKit will cost you from $35,000, depending on the scope of customisations required.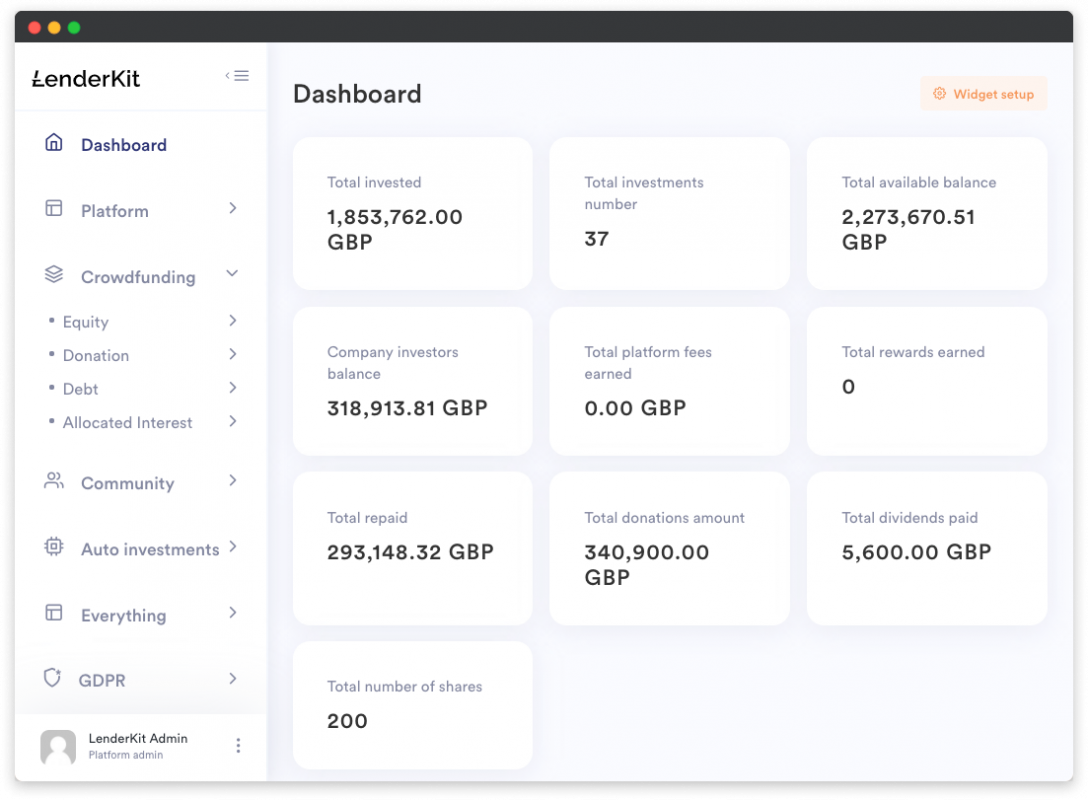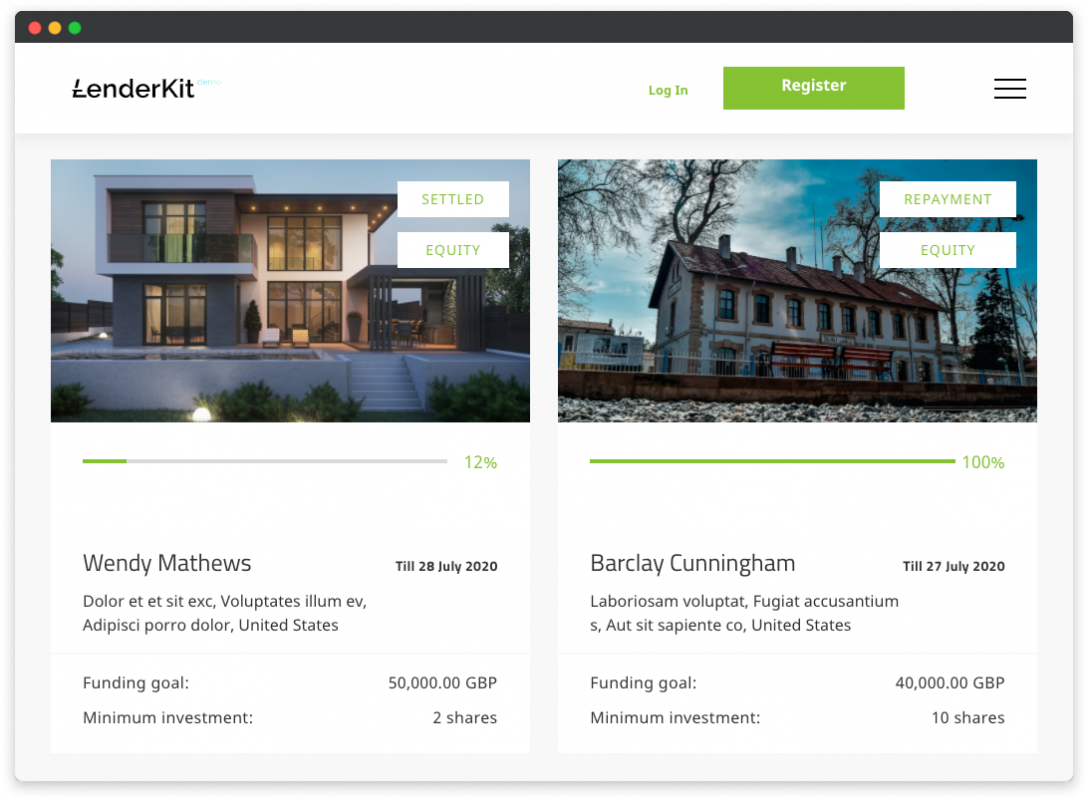 LenderKit has a powerful built-in functionality:
admin dashboard with built-in analytics and reports;
responsive design;
automated AML/KYC checks;
clients onboarding;
GDPR compliance and data management;
compatibility with third-party tools;
secondary market.
Compared to full-cycle development, LendkerKit can help you reduce the P2P lending platform development costs up to 50-70%.

Charm Impact
Our team helped Gavriel Landau build a P2P lending and donation platform that focuses on clean energy.
Charm Impact uses a hybrid finance approach, combining donations with debt financing. It provides funds for entrepreneurs to develop sustainable solutions in Sub-Saharan Africa and Southeast Asia.
Our goal was to quickly build an MVP that could be presented to investors, that's why we used one of the LenderKit themes and customised it with Charm Impact's branding.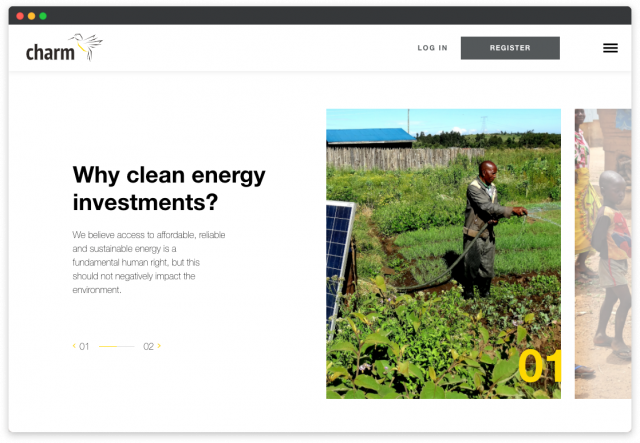 Key features of Charm Impact:
responsive layout;
Lemonway integration to power transactions;
automated AML/KYC procedures;
marketing website.
Wrapping up
There are many ways you can start a successful online investment business. Various solutions on the web offer exhausting features and functionality depending on your particular niche and requirements.
The key takeaways from this article:
P2P lending can cater to many industries or needs: car financing, personal loans, debt consolidation, real estate;
To make your platform stand out, consider implementing progressive and user-friendly features like loan calculator, auto-investing, secondary market, IFISA support (for the UK);
You can build your platform from scratch or start with a white-label P2P lending software first;
Crowdfunding software can be a great option to test the market; LenderKit is one of the solutions that can help you get your P2P lending business off the ground.
We have experience with several jurisdictions around the world and are familiar with the main regulations in the UK, EU, US and Saudi Arabia.