Do you know what's behind the success stories of GoFundMe, CircleUp, or Kickstarter? Of course, apart from the out-of-the-box business model, expert team and sufficient resources?
The marketing strategy!
Despite different go-to-market approaches, each of the crowdfunding frontrunners has found its audience and is increasing the number of campaigns run through the portal year by year.
GoFundMe has formulated the USP that made it stand out and become "the leader in online medical fundraising".
At early stages, CircleUp and Crowdcube were finding investors through a partnership with other companies such as SecondMarket and TribeFirst. And Kickstarter's founders promoted their new project through personal networks and blogs.
Marketing offers a wide selection of tools, and you just need to make the right choice. And if you're still on the fence about how to launch a crowdfunding marketing campaign, we are going to help you.
Why market a crowdfunding platform?
Remember the famous fairy tale "The Little Match Girl"? On a New Year's Eve, a little girl was trying to sell matches in the street, but all her efforts were in vain – passers-by didn't notice her and walked past indifferently.
Never having sold a single box, she stopped trying and … you might know how the story ends. But what if she somehow attracted the public's attention: danced, sang a carol or did the trick?
Freshly baked startups are invisible like that little match girl and to sell something they should make a statement.
To put it simply, explain the benefits of their product/service and make an appealing sales pitch.
Otherwise, you risk being lost in the ocean of similar offers.    
Fairy tales are fairy tales, and facts are facts. From April to May 2020, we ran a crowdfunding industry survey and discovered some interesting trends:
on average, crowdfunding companies all over Europe spend at least

89,000 EUR to build a crowdfunding platform ready for market;
14%

of platforms allocate more than

30%

of revenue on marketing activities while

41%

of the companies allocate

5%

or less; 

while organic and paid search are the most popular options for promotion, they are not as popular in crowdfunding;

the number one marketing channel according to the results we got is referral and partnership programs (

57%

) and distribution through personal networks (

53%

);

crowdfunding platforms always use a combination of marketing channels to attract investors; only

4%

indicate the use of a single marketing channel.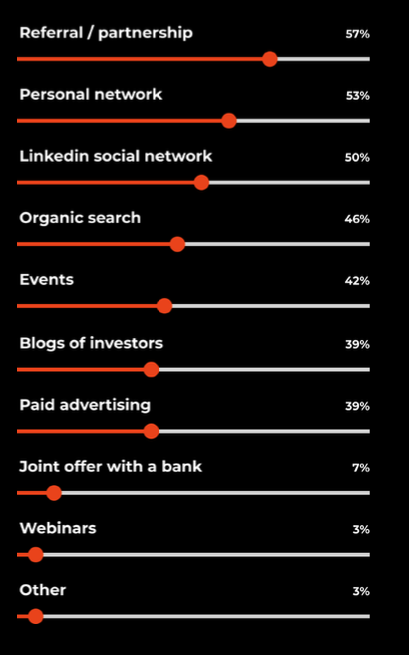 Our analysis showed that the coronavirus pandemic had influenced the industry in both positive and negative ways.
29% of respondents said they're experiencing difficulties, in particular those dealing with small and medium business and individual investors. For 67% of companies, now it's hard to attract investors, and 50% find it difficult to fundraise for business.
However, for 34%, the virus was a game-changer: fundraisers turned to new niches, changed business models of focused more on deal sourcing.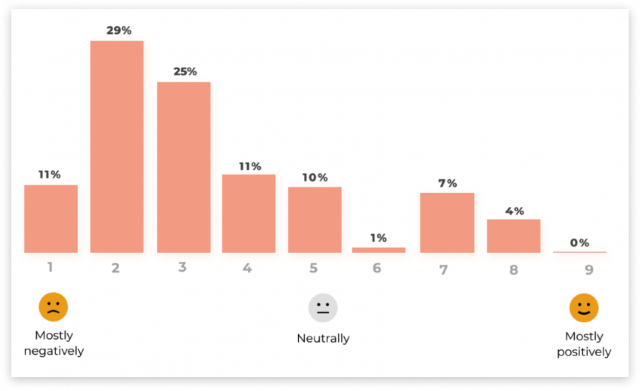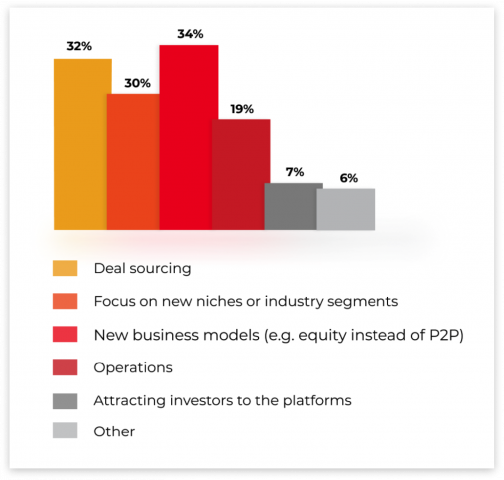 In the aftermath of the global outbreak, it will be vital for businesses to alter crowdfunding marketing strategies. That's why understanding the importance of marketing strategy will help you define clear goals and choose the right plan to achieve them. 
Why marketing strategy matters:
market research provides insight about main rivals, target market, trends;

strategic marketing automatically gives you an edge over competitors; 

strategy helps to attract seed capital if a company isn't self-funded (according to our survey,

43%

of crowdfunding startups are self-funded  with no outside money):

with a go-to-market strategy, you can boost your brand awareness;

it helps with discovering the opportunities for growth and finding ways to cater to the client's needs;

the market research helps in developing an effective pricing policy;

prevents a company from overspendings and helps to fix the advertising budget;

unites departments and staff around one corporate goal.
7 result-driven channels in crowdfunding marketing strategies
First off, what's a crowdfunding platform marketing strategy?
Some believe it's a marketing plan for a crowdfunding platform aimed at reaching overall business goals. 
Others think it's a process helping companies balance their resources and boost sales. 
We're gravitating more towards the definition below:
Marketing strategy is an organisation's strategy that combines all of its marketing goals into one comprehensive plan. 
What's more, marketing channels play a vital role in implementing the organisational strategy.
Inbound and outbound marketing are based on different methods.
Inbound marketing uses blogs, webinars, socials, paid ads to promote the product/service among a vast audience.
Outbound methods include TV/radio, cold-calling, events, email marketing. 
For the crowdfunding niche, inbound marketing channels work better; however, emailing is also an excellent way to build the client base.
Affiliate programs or partnerships
As we mentioned earlier, the majority of fundraising companies rely on referral programs — one of the tools of cross-promotion marketing — when it comes to building brand awareness.
The idea is simple: to help reach new customers, a business develops a referral program offering some type of reward or cross-promotion.
For instance, Crowdcube partners have referred over 30% of businesses launched on the platform.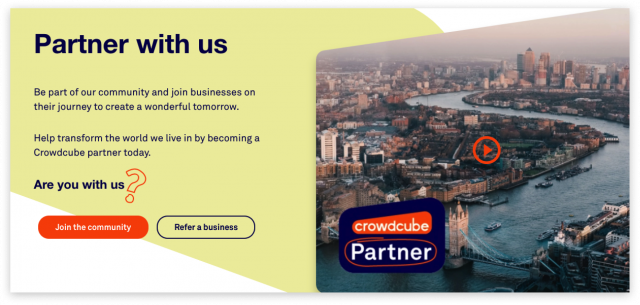 The key benefits of referring for Crowdcube partners:
network capitalisation;

fundraising for clients;

bringing businesses and potential clients together.
Personal networks
When Kickstarter finally launched in 2009, its founders shared the idea through personal networks and the Waxy.org blog. A simple thing but it gave Kickstarter a real boost. Everyone knows where the company is now. 
By the way, content marketing experts from Copyblogger believe that every online business should start with building the audience and creating a community. Your contacts, regular clients, peers and everyone you know can spread word of mouth and attract first leads.
Although networking takes time and patience, the result it brings can be life-changing and lead to strong business relationships. 
Events
By organising industry events, you let potential investors learn your business/project better.
There's a special organisation — The Crowdfunding Professional Association (CfPA)— whose goal is to provide resources and assistance to each and every member of the community, connect stakeholders and raise capital for startups.
Among the companies participating in CfPA events are Fundrise, NextGen Crowdfunding, and RealtyShares.
Today when online events like conferences, workshops and masterclasses are gaining momentum, you can quickly join the party and present your platform and services in a new format.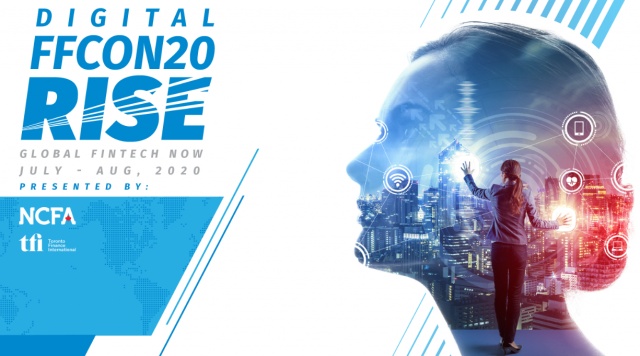 Organic search
SEO strategy is a key factor determining the visibility and ranking of your website. With effective SEA and SEO optimisation tactics, you have all the chances to boost organic search and appear on the 1st page of search results. 
To this end, you can do on-page optimisation (optimise all pages of your platform) or improve backlinks (off-page optimisation).
Short-term SEA measures (paid advertising) give your content a temporary boost. Real success factors are hidden in keywords; that's why it's vital to build your content strategy on the proper set of key Google requests and spread them all across your platform.
Social networks (LinkedIn)
Did you know that social media content is super important for Google? The search engine compares and rates web resources based on how often people interact with their content on social media channels. 
Those websites with high interaction rates in socials are ranked better in Google.
It doesn't mean that you necessarily need to create business accounts in Instagram, Facebook, Twitter or Pinterest. As our study shows, LinkedIn is the best option for fundraisers-to-be. 
Promoting services, interacting with stakeholders and sharing informative content in LinkedIn can become an essential aspect of your marketing strategy.
The demographic data, followers and behavioural patterns of your audience are to help you adapt the marketing strategy and coordinate your efforts.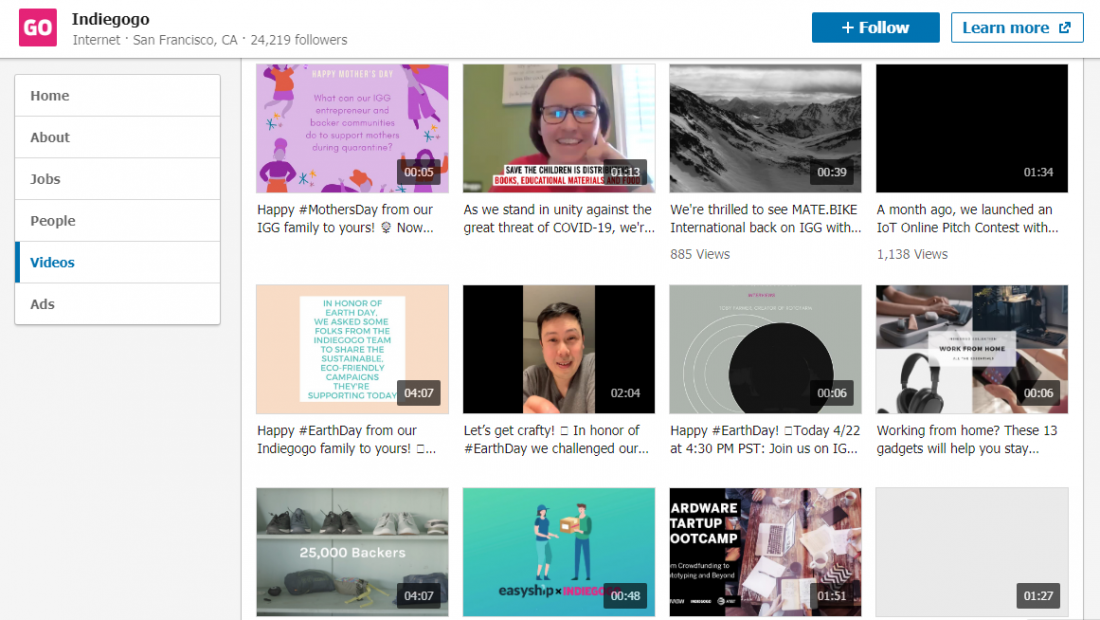 Email marketing
Email marketing is the cornerstone of business communication. You can stay in touch with your network or reach out to potential backers.
Email campaigns and customer newsletters help you control content distribution and present your sales pitch.
Create incentives: u

se newsletters for bonus programs, presenting new projects or introductory marketing campaigns. Countdown elements to inform investors about the project duration create that FOMO effect and push backers to splurge.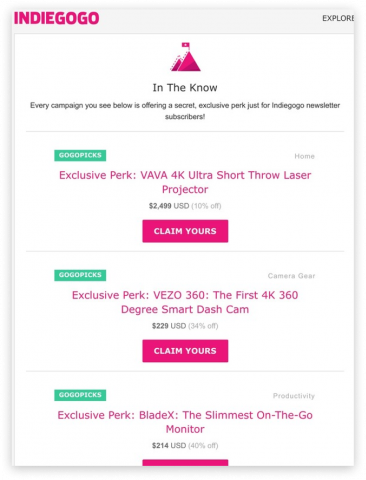 Indiegogo discounts and perks
Offer updates: 

Communicate business or project updates such as milestones or construction via emails. The good idea is to invite companies and individuals to take part in marketing studies and then offer reports in return for users' personal details. It works well for extending the client base.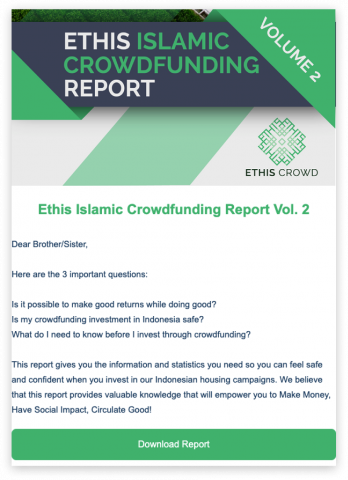 Share knowledge: p

osition yourself as an expert in your field via value emails where you simply provide a link to a blog post, successful business story or give a couple of tips. Build trust in your brand with short well-prepared content.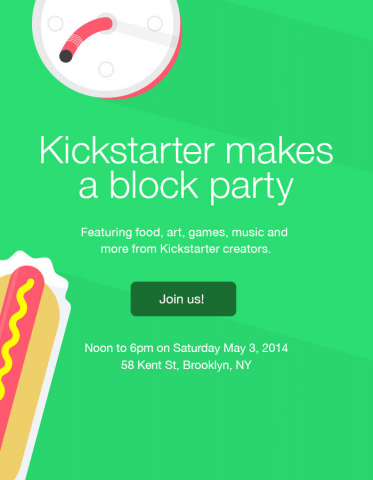 Partnership with banks
It's the last, but not the least thing to include in a marketing plan for the crowdfunding platform. Some fundraising providers make alliances with banks to make it simpler for businesses and startups — to get financial aid.
For instance, in 2016, BNP Paribas Securities Services and SmartAngels established a strategic partnership based on the blockchain technology to provide companies with access to backer's capital.
In 2017, the same bank group partnered with Ulule in creating a financial system where startups could get a bank loan that equals their capital need. As a bonus, startuppers could get free banking services for some time.
Another example is Nordea, a banking group, who allied with a Nordic crowdfunding startup, Invesdor, to help local companies grow financially. The partnership was beneficial for both — the financial giant and startup. 
The first gains clients with external sources of funding, while the second attracted new clients from the bank's base. 
Marketing for crowdfunding: tips and tricks
If you're puzzled over how to market a crowdfunding platform, take a look at some tips below:
make it step by step: define your goal, get familiar with your target group, create client personas, work out your message, and finally make a plan;

 allocate from

2 to 5%

of your revenue to the marketing strategy development (

41%

of the companies-respondents in our survey allocate

5%

or less);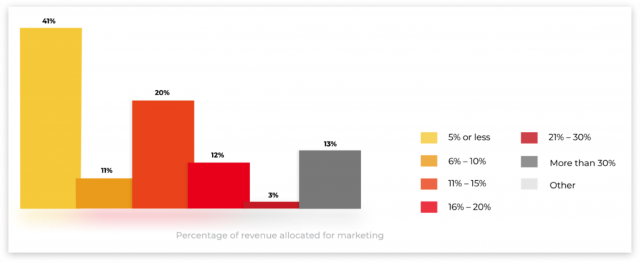 remember that at the beginning, everyone invests more time and effort and tends to rely on aggressive marketing while established companies focus more on reputation; 

hybrid strategies with a combo of channels are often more effective than just paid ads or events;

to make a difference, create a unique selling proposition (USP); it could be anything from raising funds for coliving property to a platform designed specifically for creators and artists;

reach out to forums and social media groups to spread word of mouth;

interact on Q&A platforms like Reddit and Quora to learn what the pains of your audience; 

promote successful projects already funded via your platform; let everyone know who guided the next Pebble to success. 
Crowdfunding platform marketing strategy: JustCoded clients case studies
Since we're in the crowdfunding software development for a long time, we can see how freshly baked startups turn into niche leaders. Here are some case studies on how to promote a crowdfunding platform.
CapitalRise
CapitalRise is crowdfunding company with a focus on prime real estate investing opportunities in London and the Home Counties. Backers can get an advantage of tax-free returns available through their Innovative Finance ISA.
Initially, this property-focused lending platform was funded via Seedrs and managed to raise a total of £35.4M in funding over 4 rounds.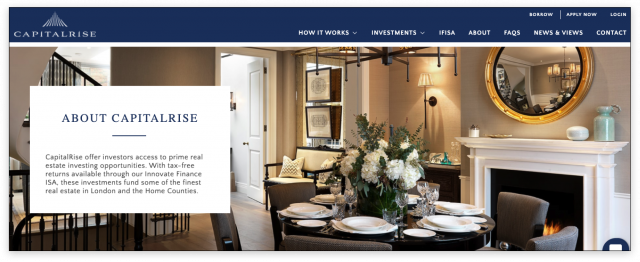 As Uma Rajah, the CEO of CapitalRise, mentions at her interview to Computerworld, the team put all the efforts to build a fully digital platform and used their personal network to promote the project.  
Shojin
Shojin is an investment company that leverages technology to provide access to institutional-grade investment opportunities in the UK real estate sector for investors from across the globe.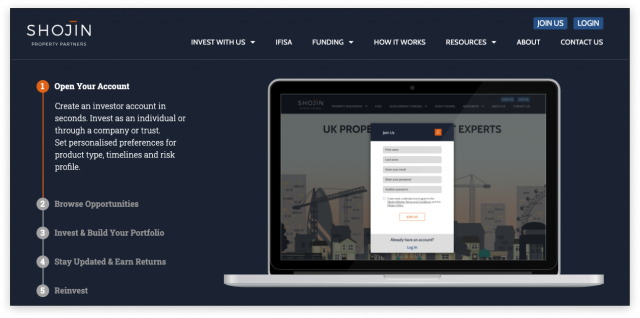 Once the platform was launched, Crowdfund Insider, a huge information source for crowdfunding geeks, published an article promoting a new entrant.
Jatin Ondhia, CEO of Shojin Property Partners, describes the company's USP this way.
We carry out thorough due diligence on each project, invest our own money and then share profits at the end.
According to Crunchbase, Shojin was able to raise a total of $2.3M in funding over 1 round.
Homegrown
The platform matches all types of property investors with established mid-sized developers. Homegrown offers equity financing for companies and appealing returns for angels.
We also provide developers with a reliable and straightforward way to raise equity finance that will enable them to build homes and make a positive impact on the availability and affordability of housing in the UK.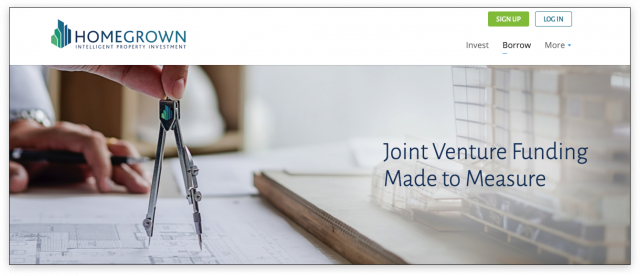 To grow the investor community, Homegrown uses an affiliate program. How it works: an affiliate partner is provided with a code which is used by new investors during the registration process. Affiliates are rewarded on the results of investments made by new members referred to Homegrown through partners.
Key takeaway
Running a business without marketing will kill it.
If you didn't read the full piece and just scrolled down to the summary (as it happens sometimes), here is a brief of what we were talking about:
affiliate programs, personal networks and LinkedIn

marketing strategies for crowdfunding platform

are already tested in practice and proved themselves as effective ones;

additional marketing channels you can consider — SEO/SEA, events, joint offers with banks, blogs of investors, email marketing;

the process should be stepwise: you align your marketing objectives with a general business goal, define your target group and create a client portrait, create a USP and message, plan activities.
If you're at the pre-launch stage of your crowdfunding business and need tech assistance or friendly advice, give us a buzz — we'll share our thoughts on how to get started.
Get in touch