While FinTech has been here for almost 10 years with its crowdfunding models, cryptocurrency, and collaborations between incumbents and startups, PropTech has just started gaining momentum.
Property companies embrace digital transformation and introduce digitalisation in their day-to-day operations. 
Online property tours, real estate fundraising and property management have been already taken the domain to the newest level.
The best time is yet to come. Hot trends that mark a great shift in real estate business vision and organisational model are changing the client experience and social impact of real estate companies.
PropTech industry in numbers
PropTech is a buzz word that means "the usage of digital innovation and technologies in all the processes related to property search, buying/selling and managing".
There are many synonyms to PropTech — RealTech, CREtech, ConTech and RealEsTech — widely used to describe a new mainstream.    
PropTech companies have been flooding the market since 2010.
2014 was the most fruitful year with 261 new enterprises appeared on the real estate landscape.
Over the last six years, the number of newcomers has considerably decreased; in 2018, only two new PropTech companies were established.
As of August 2019, the market value was $10,15 billion. In 2018 alone, the PropTech got funding valued at $13,85 billion.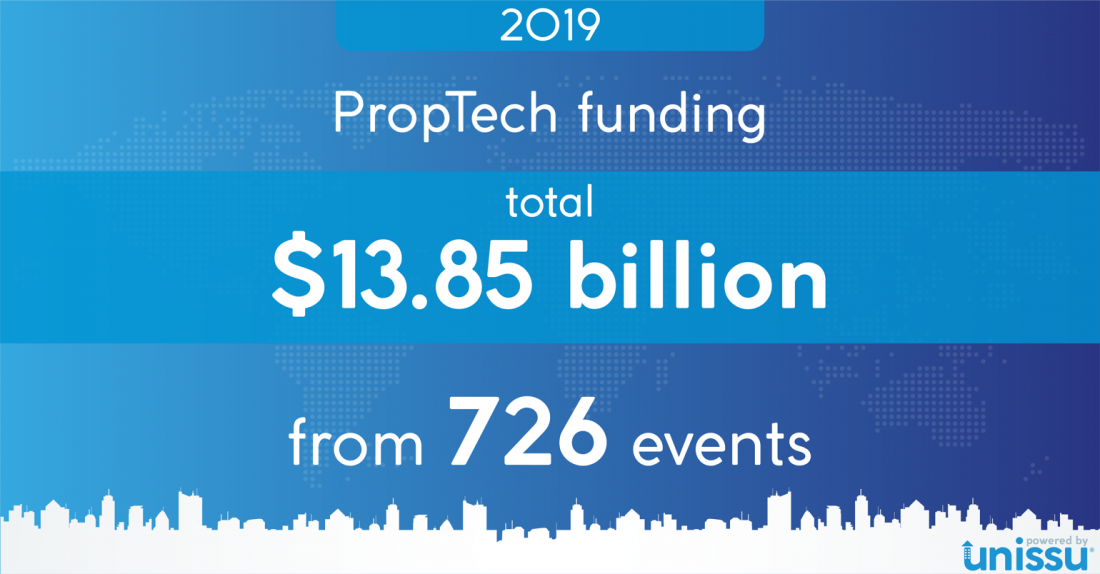 According to CREtech, the real estate industry received a record-breaking $14 billion of investments in just the first six months of 2019.  
Most notably, SoftBank raised about $1.76 billion for developing the PropTech segment.
The automation and digitalisation of key business processes such as property investigation, buying and management have led to an increase in property sales.
Throughout the past year, there was a tendency for mergers and acquisitions: the number of deals exceeded 100. Among the top PropTech companies right now are Reonomy, Property Partner, Open Door, Crowdstreet, Compass.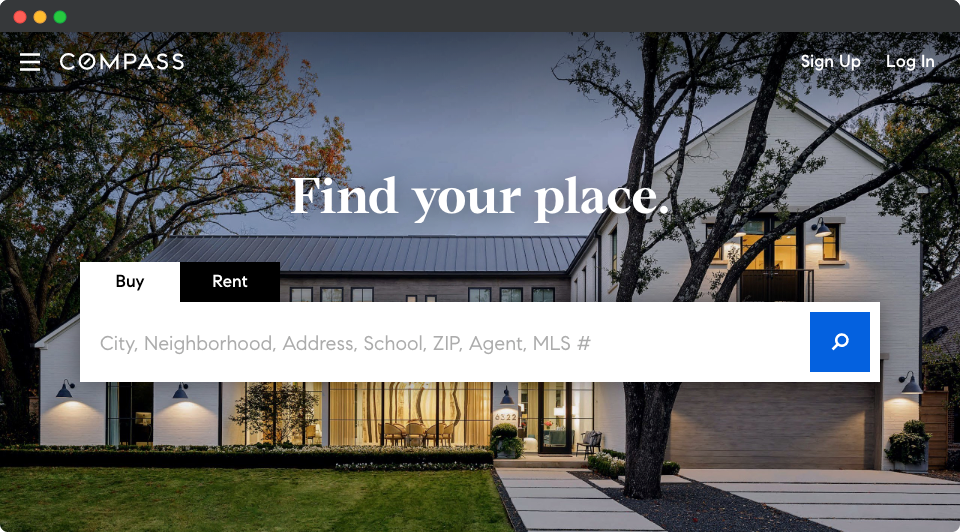 The CREtech survey shows that:
65

% of respondents project that the combo "real estate and innovations" is to have a significant influence on commercial real estate worldwide;

31%

of commercial real estate investors are planning to invest in Proptech companies;

26%

considers this opportunity as a chance to make money on disruptive projects;

the

top PropTech trends for 2020

are smart cities and buildings, AR/VR components to online property platforms, multi-level biometric security;  

tools and technologies to be widely used in Proptech: generative design, building information modelling, digital twins.
KPMG has conducted research among top management of real estate firms regarding the impact of tech innovations on the property domain.
Key findings from KPMG Global PropTech Survey 2019:
58 %

of real estate companies have a digital strategy and

95%

of them have a senior employee responsible for its implementation;

key areas to embrace key

technology trends in PropTech services

— real-time asset performance data,  building optimisation, transactions, and customer data;  

the key drivers for investments in digital IT and PropTech are improved efficiency (

65%

), cost-reduction (

47%

), more efficient decision-making (

44%

);

respondents admit that main barriers for further digitalisation are unclear ROI (

40%

), other strategic priorities (

40%

), lack of specialists to implement the strategy (

34%

) and inappropriate in-house talent (

27%

);

25% of PropTech companies have a Big Data strategy and have been  capturing the most valuable data sets to produce insight and support decision-making for some time;


Source: KPMG Global PropTech Survey 2019

in

10%

of companies, the decision-making process is data-led and supported by integrated infrastructure for data visualisation;

67%

of respondents are confident of their cybersecurity maturity;

of KPMG real estate respondents, for

44%

, asset management was the top priority to use PropTech solutions.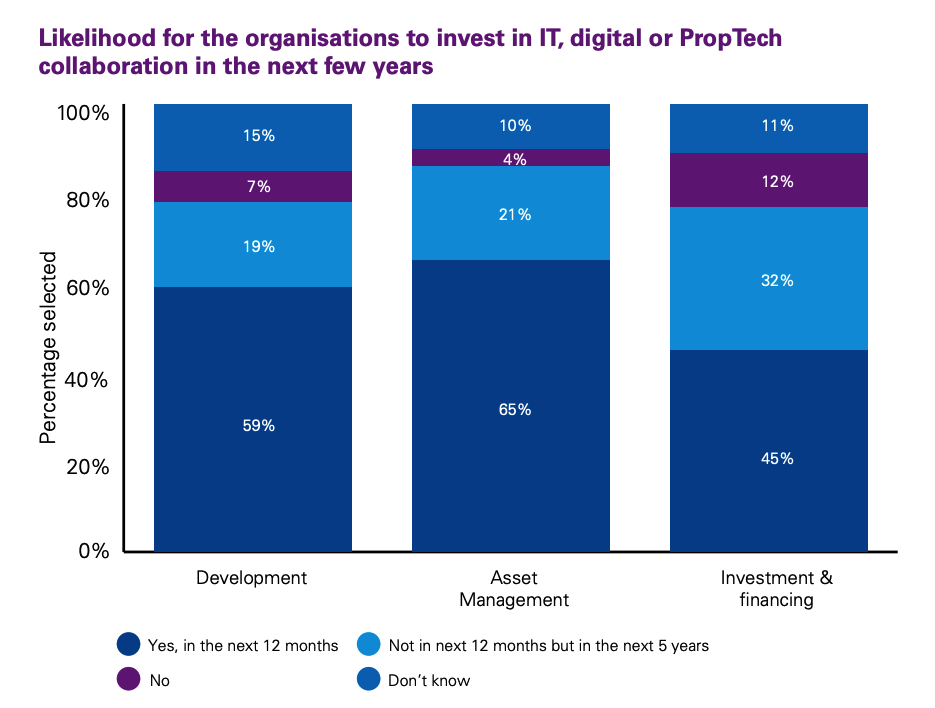 Proptech trends 2020 you should know
The winds of change started blowing in 2019: the real estate industry realised the potential of innovative technologies and made the first steps to its complete transformation.
Property as a Service
The paradigm of Property as a Service puts the clientele in the spotlight. Now it's clients who rule the day. They set requirements for the quality of service and influence business processes in real estate.
There are three groups of the core audience that any property business should focus on — customers (tenants/renters), consumers (individuals interacting with space), and capital (stakeholders).
The thorough analysis of clientele will help you define the roadmap for your business and prioritise your goals.
Efficient alliances
Collaboration with hi-tech startups is one of the most popular ways among real estate incumbents to move from the innovative strategy to its implementation.
It's worth noting, that many companies just pretend to alter well-established business models. They seem to be playing in the "innovation theatre" instead of actually innovating every aspect of their business. 
Collabs with startups are to help RE companies easily adapt to new market conditions and gain a competitive advantage.
Allocation of resources
93% of respondents who participated in the KPMG Global PropTech Survey 2018 admitted that collaboration between incumbents and startups is vital to adapt to the changing global environment.
The top management is ready to educate and train their staff to embrace new technologies, arrange industry events where specialists can share their experience with each other and create the overall culture of innovation.
Knowledge and business culture exchange
Real estate incumbents and startups are like ice and fire: the former prefers to play it safe when it comes to taking a risk connected with property deals. The latter is eager to swim or sink when entering new markets.
Their cooperation is mutually beneficial: RE companies become more flexible and less risk-averse while startups understand the industry and core market better.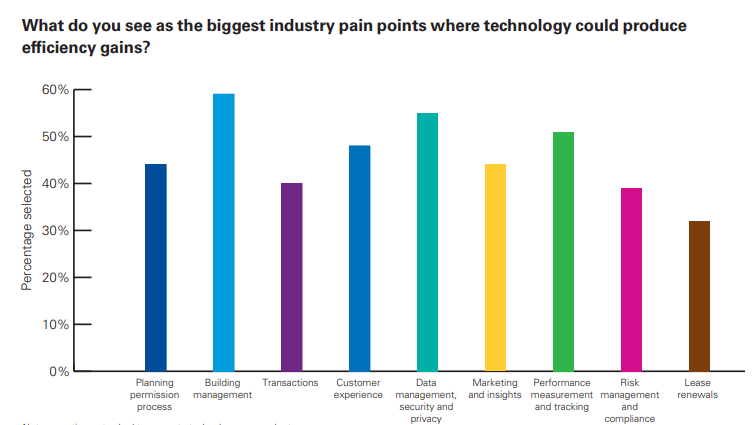 What's next? Key PropTech predictions for 2020
Here's a rundown of PropTech predictions for this year made by the industry experts — Forbes, CRETech, KPMG.
1. Boost in deals
A surge of real estate investment in 2019 isn't the limit. The volume of funds poured into commercial and residential property is projected to reach $30 billion this year. The reason for this is an increasing number of RE owners and institutions adopting technologies for property development.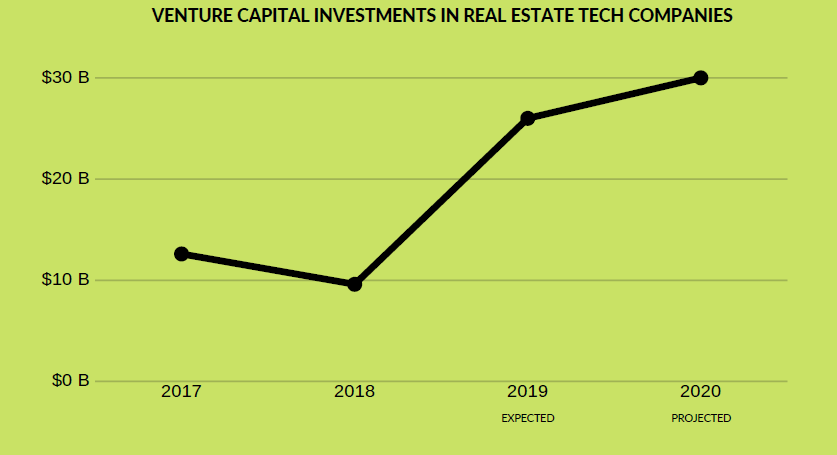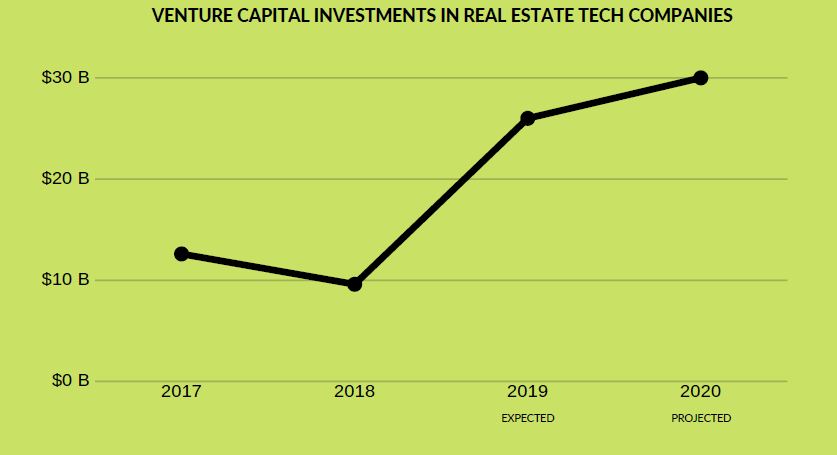 2. Pragmatic investments
Backers are becoming more pragmatic. Earlier, they developed strategies according to startups' evaluations of return rates. Now experts anticipate that established investors will be more conservative in evaluating rates on mature markets and verticals.
KPMG predicts that in 2020 more landlords are to monetise their assets by selling them, making use of surplus space or refinancing. Their main goal is to "maximise returns from their portfolios and ensure their buildings appeal to occupiers". 
3. A new life for physical stores
In 2019 lots of retailers forced by many external factors, the rise of e-commerce and high operating costs, in particular, started to reposition their brick-and-mortar business. Some retail schemes were converted into the residential property to satisfy tenants looking for lower rents and longer rent-free periods.
Despite many challenges like the high cost of restructuring and uncertainty around rental values, this mainstream is predicted to remain in 2020. Repositioning of retail property requires joint efforts of local authorities, retailers and landlords.
4. Employers to enter the buy-to-let
2020 marks the re-shaping of the buy-to-let industry with institutional investors joining the party. Companies are block booking rooms to lease them to employees.
This ensures landlords that there won't be a waste of space and eliminates the necessity of finding occupants for void periods. Employees like the idea of high-grade property conveniently located and affordable rents.
5. Big Data and property maintenance
Many real estate companies have already experienced the positive effect of using Big Data for establishing prises, predicting rates of return and projecting trends. In the future, data collected from organisations providing property maintenance and tenants' experience is going to be used in preventing unexpected events. Pipe bursts, electrical fires and other utility issues will be foreseen and forestalled.  
6. PropTech spreading globally
North America has always been the frontrunner of adopting innovation in the real estate sector. In 2020, everything will change — Asia (APAC) market and European (EMEA) real estate tech are stepping on the USA's toes in terms of the total deal volume (total number of deals). 
7. Mega sales
It's interesting that mega angels copy SoftBanks's practice and make multi-billion investments in real estate tech companies. For instance, Anida, a Spanish real estate platform operator, closed a $5.82 billion investment in 2018. RE companies even create their own proprietary investment funds to take part in successful PropTech projects.
8. Immersive AR/VR tours
Online walkthroughs and virtual tours, staging and 3D models greatly simplify the search process and help real estate agencies cut costs. 46% of respondents of the National Association of Realtors found virtual tours very useful. Potential buyers are wondering around digital rooms getting acquainted with space.
There's no need to conduct face-to-face meetings at a convenient time for both parties. Buildings under construction become real with interior and exterior design. Software like Matterport enables adding digital assistants to guide customers instructions on how to use utilities. 
9. Consolidation
According to Statista, the volume of real estate tech merger and acquisition activity in 2019, reached 104. Small and mid-sized startups are consolidating their potential to attract more investments from angels. The VTS merger with Hightower demonstrates the benefits such a larger market share and cost reduction. The results of the merger are:
a more powerful company delivering more value to the end-user;

wider customer base;

a larger pool of native investors.
10. FinTech is here
Until 2019, real estate was one of the domains, mainly relying on traditional financial schemes. With the PropTech intervention, RE incumbents turned to the ways of simplifying the financial aspect of buying/selling/renting processes. In 2019 alone, an estimated $3.70 billion was invested in real estate FinTech. Deloitte reports that FinTech can benefit real estate in many ways, in particular by expanding the lender base and providing customers with access to the real estate market.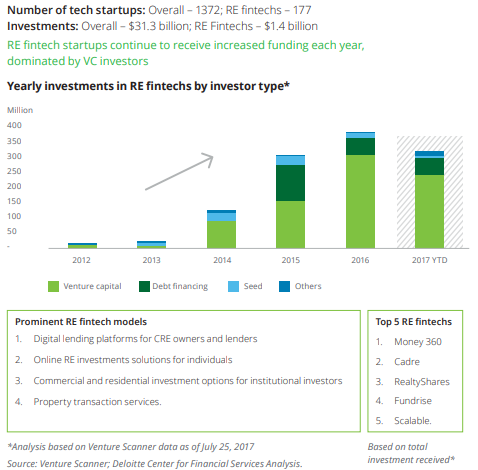 Source: Deloitte
11. Smart Tech aka IoT
Smart devices are going to replace humans in property inspections and contribute to saving energy.
With the historical records of property maintenance, managers can understand the current condition of a home or apartment and take proactive measures. What's more, Smart Tech isn't limited by personal devices; it's taking the shape of smart buildings and even cities. 
12. AI and ML
Of course, these disruptive technologies remain the hot trend for PropTech. Big Data gathered on the research stage is translated into the understandable outcome with the help of artificial intelligence and machine learning. Every area from property search results to the customer assistance can be taken to a new level. For instance, in the future, technological advances will help people find a property according to their personal traits or previous experience.
Real estate crowdfunding companies we collab with
Luxury Shares
Luxury Shares is a great example of PropTech and sharing economy working together. It's an online crowdfunding platform for fractional ownership which is predicted to replace timeshare as a more effective way of using a property.
Investors in fractional real estate provide capital for reliable and secure projects and are able to resell their stakes.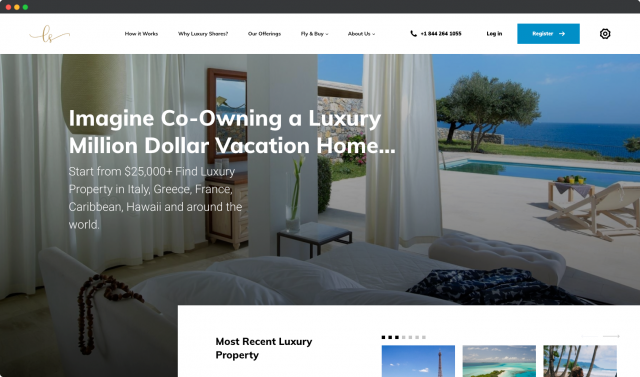 Potential clients of Luxury Shares are real estate developers, realtors, vacation & travel companies. 
Luxury Shares is a complex platform made with LenderKit – our white-label solution for online crowdfunding business, in particular real estate.
Core features:
user identity SMS verification;

online payments via MangoPay;

automated KYC/AML checks;

digital currency payments;

walkthrough VR tours.
The platform design caters to the needs of the main audience – individuals looking for high-value luxury property. It comes with professional media, bold fonts and immersive experience.
Shojin
It's another startup from the PropTech category we developed an online presence for. Shojin is a UK-based property investment platform providing co-investing and equity funding opportunities for real estate developers.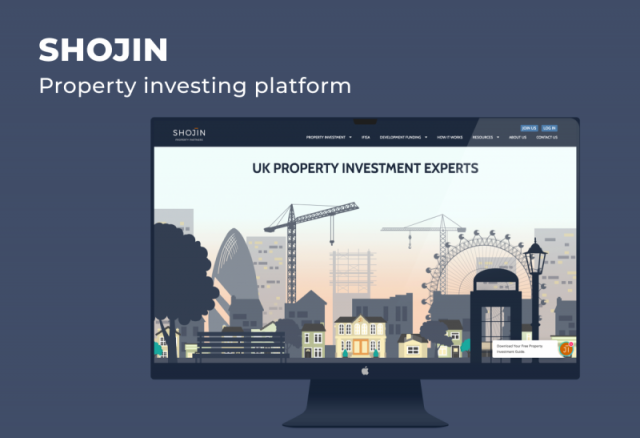 As a tech partner, we were responsible for linking an existing backend to APIs, testing the website, and enabling core functionality. An enhanced platform is capable of taking specific transactions through a variety of financial channels, including ISAs and pension schemes in the UK.
The portal has built-in KYC and AML offline checks implemented through MangoPay. It's integrated with Contentful CMS, has an interactive questionnaire for investors, and a nice Parallax animated construction site on the homepage.
Tech details:
built with Yii2 PHP framework;

Difitek back-office;

MangoPay payment gateway;

responsive design optimised for mobiles.  
Capital Rise
CapitalRise was an early-stage venture capital startup we collaborated with to develop a crowdfunding real estate investment platform.
They were one of the pioneers of adding innovative finance ISA to their product portfolio in the UK in 2017.
Just like Shojin, Capital Rise founders invest their money in projects alongside other angels.
Our job was to develop a robust backend and a user-friendly front-end of the platform using high-level technologies. Also, we helped the company integrate all the third-party systems they used with an online portal.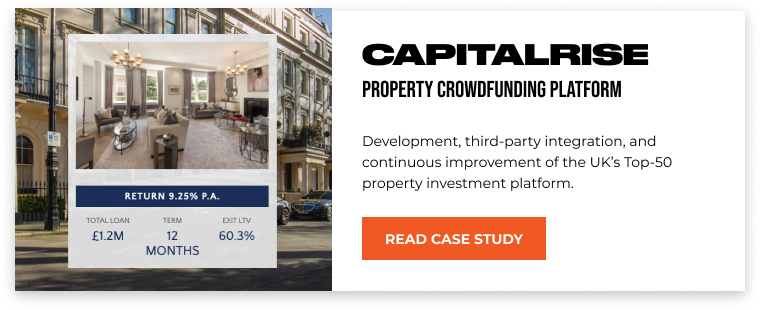 We keep on working with Capital Rise and provide our support in scaling up their online presence. The results of our collaboration are large processing volumes and better operational efficiency.
Main features:
flexible investors onboarding process;

extensive property listings;

bulletin board for reselling investments;

Goji investments integration;

Online PFD generation

PCA predictable geocoding service integration.
Homegrown
Homegrown is a standalone provider of crowdfunding opportunities for investors interested in supporting established property developers.
To elevate the Homegrown website, we deployed Symfony, Jquery, CSS and HTML. We're responsible for embedding Autopilot CRM into an existing platform and migrating the website to AWS (Amazon Web Services).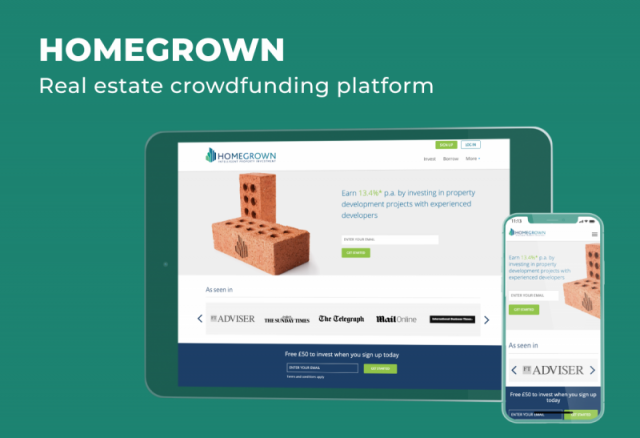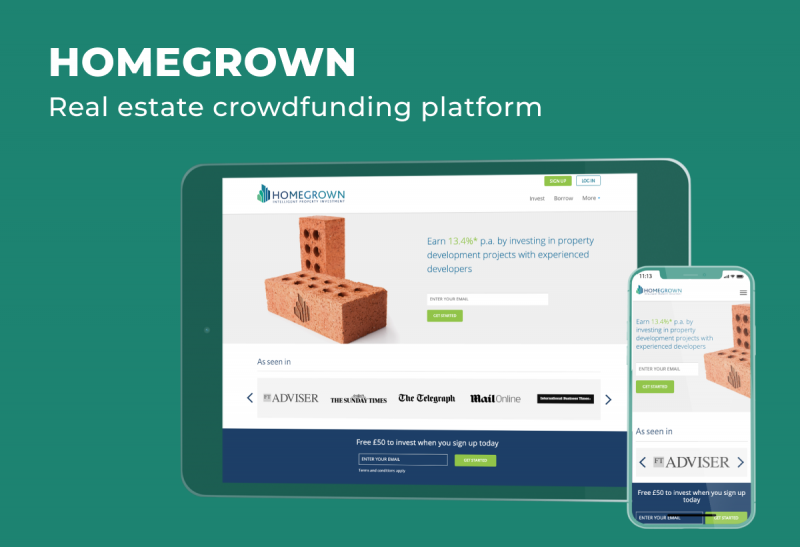 Key functionality:
Difitek back-office;

KYC status checks via GBG;

a customer referral system;

integration with GCEN gateway;

clean design with user-friendly menu and eye-catching CTAs;

user areas with performance data trackers;

pixel-perfect mobile-friendly design.
The main goal of the website improvement and augmentation was achieved – better client management and website performance.
Summary
With the latest trends in PropTech industry, this domain isn't fiction anymore. 
2019 was rich for considerable shifts in organisational structure, new business collaborations, changes in business processes and models, and re-making of PropTech geography.
2020 promises to create a more thoughtful approach to innovation adoption, property management and customer experience:
A real estate industry is opening up to new, technology-driven business models, including Property as a Service (PaaS).
Brick-and-mortar stores are repositioning into the residential property to lower rents and offer longer rent-free periods.
Big data is used

to establish prices, predict rates of return, project trends and prevent unexpected events.

Taking data — from property search results to the customer assistance — to a new level using AI and ML.

Alternative financing of the real estate industry maintains its trend in 2020 with more developers looking for funding from online funding platforms.
We'll continue observing how the real estate landscape is changing and keep you informed.