If you watched "Glengarry Glen Ross", the number one movie for all involved in the real estate industry, you might remember that pack of paper cards with leads the plot revolved around.
In the 90s, the arsenal of property managers consisted of material assets — a landline, a notebook, and at best, a computer.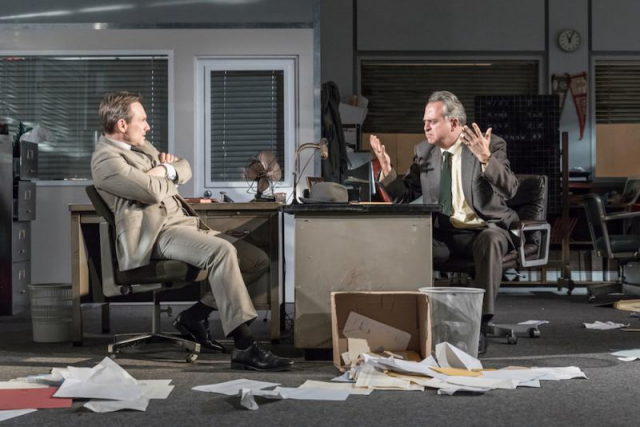 There were no virtual assistants, online walkthroughs and other perks of today's technology. 
The was the AIDA formula drawn on the blackboard, and home viewings were arranged in phone boxes.  
Even 20 years later, a friendly realtor from "I love you, Man" is checking a landline voicemail (do you still have it?) full of messages sent by leads after a provocative marketing campaign on billboards.
Today, you'd probably create your website or run Google ads rather than spend a fortune on outdoor advertising.
Back then, real estate trade was time-consuming and daunting. Thankfully now, we have tons of real estate automation tools to make it a total breeze. Or almost so.
Real estate agent automation: why you and your clients need it
There's only one boss. The customer. 
Sam Walton must have known something; otherwise, he'd never been able to bring Walmart stores up into an international giant.
According to NAR (the National Association of REALTORS), in 1981, 22% of home buyers would read a newspaper ads and 8% — call a friend to get tips on what asset to get and where to buy it.
In 2018, 44% surfed the web first to find a deal.   
Generation X and Older Millennials are the largest groups of home buyers prone to test the waters before contacting an agency.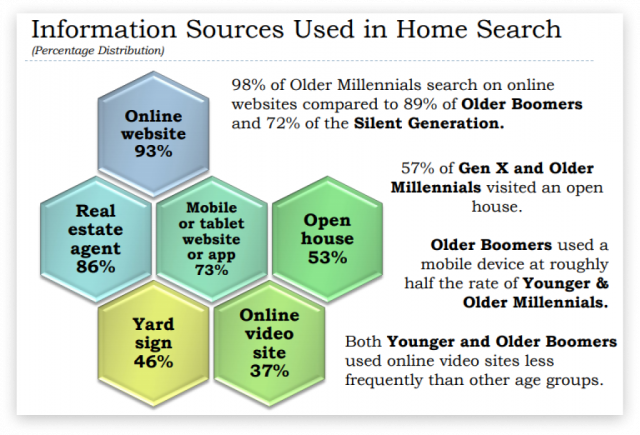 Younger Millennials — those want to get a quote instantly, preferably via a mobile app or chat in FB or Instagram.
One thing leads to another. Property salespeople cannot physically embrace all the marketing channels and manually fine-tune sales funnels. Or they focus only on a few things but risk being left behind by more agile competitors.
Now, we're going down to the rabbit hole and presenting benefits and widespread practices of automated real estate marketing.
Benefits of CRM automation software for real estate business
We've already scratched the surface on how to succeed in the online realm as a real estate company and build a website to promote your services as a RE agent.
Speaking about gains you obtain by automating your daily routine and business flows, we can't help but recite KPMG.
Application of real estate automation software "results in higher quality, cost savings and improved customer satisfaction" and "offers great possibilities for actors involved".
What possibilities are they talking about?
Relationship management. Imagine you've got a home seller hesitating what listing price to choose, a young couple comparing several rental apartments and a home buyer who is about to close a deal but has some documentary issues.
Even our head is spinning now. With a hands-off approach, it's much easier to collaborate effectively with every client being at different stages.
Contact management. Say no to paper lead cards from the 90s and address books. With tools like First or Grasshopper, you can store all the details about your clientele in one place: contact info, preferences, interesting facts, conversation snippets, etc.
Some tools like Insightly offer a powerful toolkit with several options: contacts search, file sharing, the configuration of automatic notifications, integration with social profiles. Having everything in one place, you can conveniently manage contacts and related tasks.
Lead generation. In "Glengarry Glen Ross" potential leads, so desirable for agents from Premiere Properties were purchased by their unseen bosses. In the 90s and early 2000s that was almost the only lead generation strategy. Now with social nets, content marketing, Q&A platforms, podcasts and a hell of a lot of other things, you can attract clients faster and more efficiently. Just choose a tool that will help you do this.
With software for marketing automation for real estate like Propertybase, agents can guide leads through every step of the journey, capture and introduce them to brokers. Extra features include social media feed tracking, client contacts management, creation of custom dashboards and reports.
Interaction with leads and regulars. COVID-19 has turned the communication format upside down as well as changed P2P relations from business-oriented to more personal ones. Tools to automate your real estate business are equipped with chatbots or have integrations with popular messengers. Maintain relations, provide support and, of course, close deals remotely.
Here's an important thing to remember. Even if you have the smartest real estate CRM with workflow automation solution, successful deals are closed only with human interaction.
When using follow-up templates and building drip campaigns, always add your personal touch. Clients want to know that you understand their problem; it will help them to make a buying decision.
Signing contracts. A new reality forces us to reconsider the way we live, study and make purchases. Virtual or remote closing is now gaining momentum due to the global coronavirus-related restrictions. It's a real challenge to keep every party on the same page, but, with software like DocuSign or Dotloop, it becomes possible.
Property documentation can be tricky, and files are often imported in bundles. Solutions for document automation for real estate must keep the predefined file order and flow: creating, reviewing, agreeing, finalising and signing. Only in this case, third-party tools can help you get rid of the paper routine.
5 shapes of real estate marketing automation
Before the global lockdown, the RE market was booming with exciting new trends changing our idea of property construction, maintenance and offer.
The virus was like a wrecking ball that made even experienced analysts scratch their heads discussing the future of the industry.
But one thing is for clear: the competition is getting fierce, and without automated real estate marketing, you risk losing the battle. 
So, take a pen and make notes.
If you google best-automated marketing tools for real estate, you'll see that many offer the following options to put your marketing campaign on the autopilot.
1. Capture and nurture your leads
You want to attract prospects from Zillow, FB, Trulia and nurture them in one place? Go for Brivity; it manages all your leads coming from different platforms through activity and behaviour tracking.
Tools similar to Follow Up Boss have a lead sync feature, which greatly simplifies real estate data entry automation. Follow Up Boss offers more than 30 integrations. For example, you can sync your Gmail database with Follow Up Boss contact list and automatically pull in leads and create follow-ups.
For those companies organising open-house events, there's OHGuests, a sign-in platform with the tracking guests feature that will save a huge amount of your time on manual paper-based guest monitoring. 
For example, Spacio collects the emails of those attendees who visited your open house event and then sends follow-ups to nurture leads.
Another example is Aisa Holmes, Structurely's lead assistants, which can take care of your online leads. You can enable the bot and continue the conversation at any time.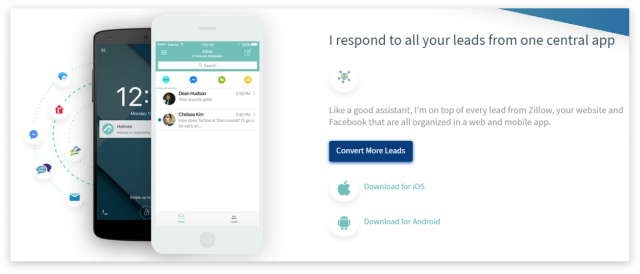 2. Manage your team
Effective marketing comes hand in hand with effective management. With solutions like Realvolve, Firepoint and FreeAgent CRM Software, you can stay on top of team activities and analyse your staff's performance metrics.
Realvolve is a feature-rich SRM software designed for fine-tuning workflows. Within one single app, you can manage communication between your team members and clients, assign roles to new members, coach and consult staff to achieve better results. 
Love cards and boards? FreeAgent CRM is your go-to; it helps team leads and business owners organise workflows painlessly and release more time for business strategy development.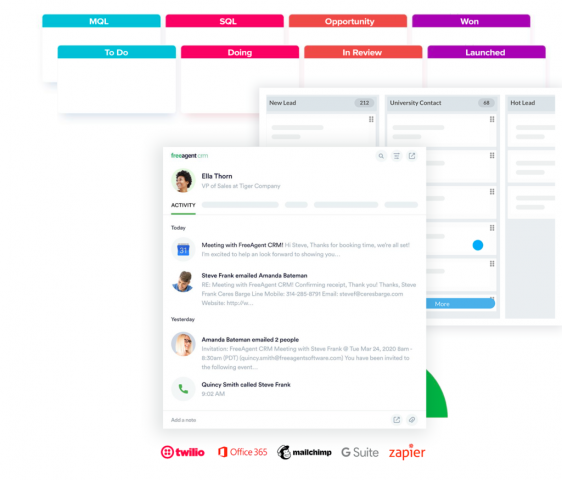 Also, try ProofHub —  your helper in automation real estate projects and team collaboration.
Although it's not a specialised tool for RE agents, it allows companies to adapt software packages to their business needs: create a project for every client with a dedicated team, communicate in real-time chats, brainstorm ideas, build Kanban boards and Gantt charts.
3. Simplify follow-ups
Following up may be a real pain in the neck for agents and brokers dealing with multiple clients simultaneously.
Luckily there are smart assistants ready to take this burden off your shoulders. For instance, Top Producer offers a Follow Up Coach and pre-built templates for you to stay on the same page with your prospects and regulars.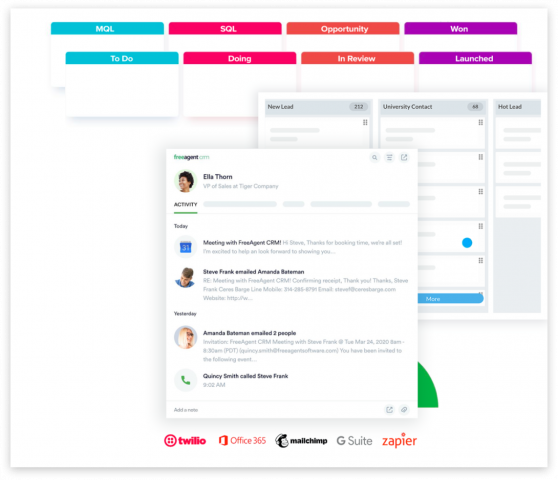 Be confident that you always can add your personal touch not to sound robot-like. Top Producer's pre-written templates are highly customisable yet save your time on manual writing standardised parts.
First.io is an excellent option for rapidly expanding companies finding it difficult to juggle new and old clients. It offers to prioritise contacts and set time when and how to get in touch with your clientele.
CallAction, an intelligent platform for lead nurturing and following up,  has a great guide on how to scale a real estate business with the automation of voicemail and drip campaigns. The interesting fact is that a prompt follow-up is to increase your conversion rate up to 391%!
Of course, you can hire new team members to manage emails or find a tool that can automate every type of follow-ups (calls, emails, and texts), it will be way cheaper.
4. Run marketing analysis 
All your marketing efforts may be in vain if your solution doesn't generate reports and statistics. Knowing the effectiveness of your current campaign, you're able to optimise your future strategy.
Almost any automated real estate system comes in a bundle with the reporting feature. 
Brivity lets users generate and share reports with leads showing the property that has gone up for sale, pending or off-market.
For those seeking home valuation programs, there's House Canary, a portfolio of RE analytics and valuation products to be applied in underwriting and investment management processes.
Top Producer CRM has advanced Market Snapshot reports which are to help you achieve higher click-through and open rates.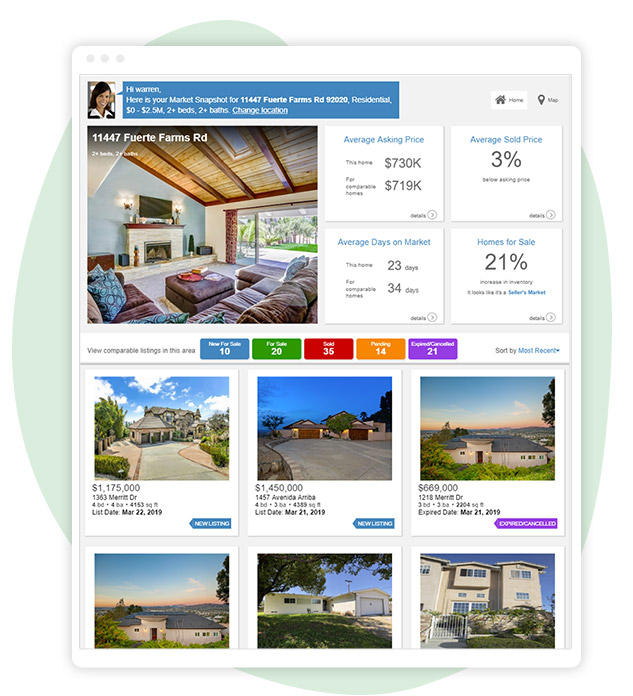 MRI Software modestly positioning itself as a unique all-in-one marketing automation for real estate and sales engagement platform offers a few reporting products: Rapid Reports, Report Gateway and Analytix Portal.
The last is your go-to in data visualisation and portfolio analysis. It helps you assess market trends, analyse asset performance and maximise it.
5. Embrace socials
A decade ago, we underestimated the role and function of social networks, considering them mainly as an entertainment tool.
Now LinkedIn, FB and Instagram are fully-fledged platforms to promote your listings and discover interesting facts about new leads.
From standard integration with socials and reporting dashboards (Brivity) to advanced tools like Social Insights (Top Producer CRM) — there's a vast range of options for you to choose.
With Social Insights, you can collect all the social info about your clients in one place and deploy it wisely for future campaigns. The tool uses a client's email tied to accounts in particular networks – LinkedIn, Twitter, Medium, Pinterest.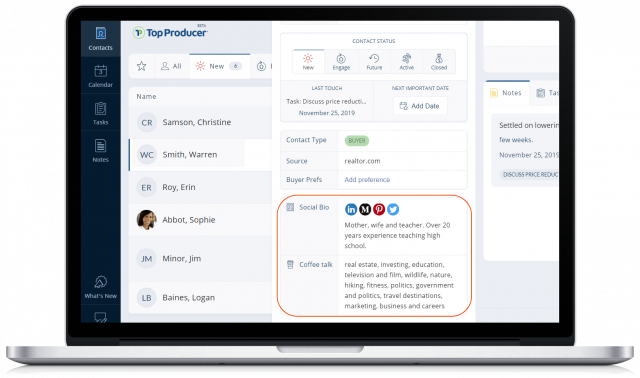 How to create a professional website for real estate
The heart of any digital marketing campaign is an SEO-optimised, engaging and handy website.
If you feel like getting a ready-made option to start up your business in a matter of time, opt for website builders for real estate.
Leia and Placester are among the others. 
Leia is an AI-based site constructor offering beautifully designed and mobile responsive site for brokers and agents. The company promises to host your site for free and then help you with your marketing campaign.
At Placester, you'll find templates for RE websites with IDX integration, lead capture, and prospect nurturing. In case you pick Placester, you get a system with embedded CRM analytics to catch leads and email templates to manage follow-ups.
For those who like delegating, there's a content library with predefined topics for content strategy.
Note, site builders are the best fit for implementing urgent projects with standard requirements to functionality and design. If you think big, consider hiring a pro team.
Popular real estate automation tools to choose from
NAR has found out that most companies (about 80%) focus on such features as comparative market analysis, multiple listings, e-signature, electronic contracts/forms when choosing marketing automation tools for real estate. 
Fewer businesses seek solutions with document and contact management.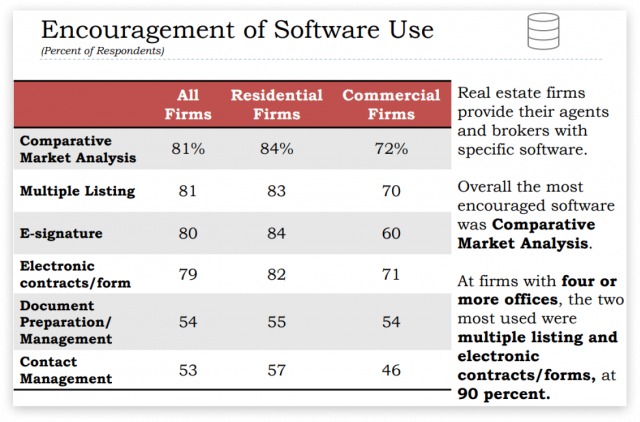 If you asked us what software we prefer, we'd give you this list.
1. Brivity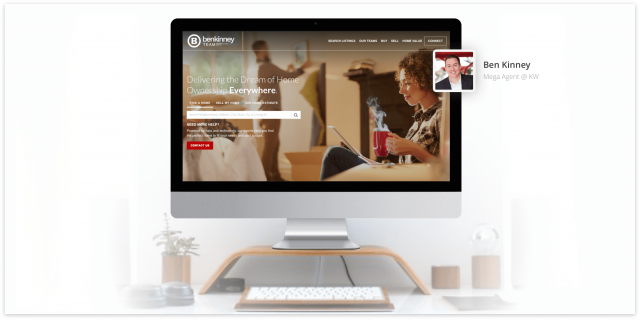 Key features:
customer relationship management;

document storage;

mass emailing;

virtual tours;

project management;

comparable market analysis reports;

multiple integrations with App Store;

lead routing and parsing.
Pricing. There are four plans: Growth, Accelerate, Expand and Mega. For more info, contact Brivity.
2. House Canary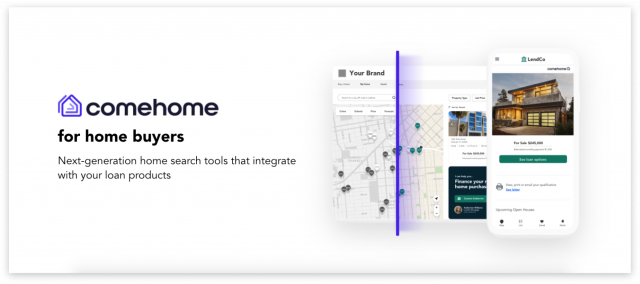 Key features:
market data explorer;

home evaluation tools;

individual home reports;

secure automated valuation models;

forecasting algorithms based on machine learning;

rental analysis.
Schedule a demo to see House Canary software in action.
3. First.io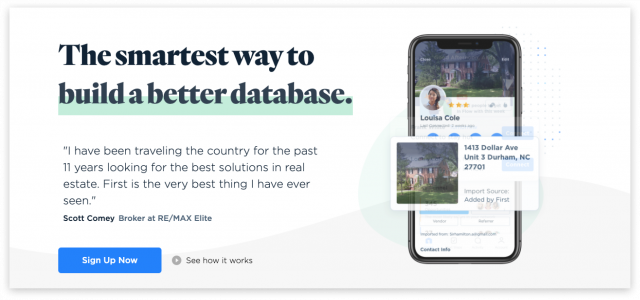 Key features:
mobile property listing manager; 

AI-powered client database manager;

follow-up master;

synchronisation with contact info stored on your smartphone;

integration with social accounts (FB, Instagram, Twitter, and LinkedIn);

Seller Star ratings to catch potential sellers.
Download the app from the App Store and Google Play
4. OHGuests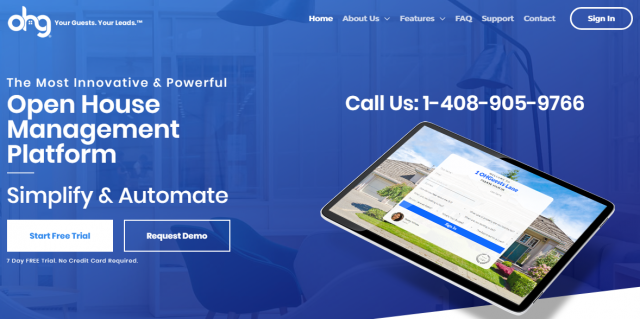 Key features:
robust SSL encrypted sign-in platform;

follow-up and lead manager;

social media marketing;

power analytics; 

notifications;

data import/export;

PWAs, iOS and Android native apps;

Safety Assure feature for open-house events.
Pricing: Free plan for Buyers Agent, Agent Basic, Agent Plus and Agent Elite. 
5. Structurely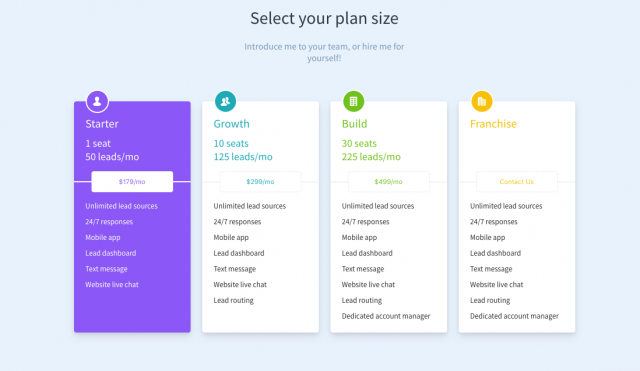 Key features:
human-like lead manager;

long-term follow-up;

integration with lead providers 

Text and Live Chat;

CRM Integrations and admin controls;

Web, iOS and Android apps;

push, email and SMS notifications
Also, you can view Structurely case studies. 
RE crowdfunding projects we were art and part of
So far, we've been involved in several projects where our role was to elevate automated real estate investing systems.
Our prominent clients — CapitalRise, Shojin and Homegrown — are from the UK property crowdfunding niche characterised by a good number of online processes that require the hands-off approach.
We're talking about core business flows such as:
client onboarding;

lending and risk management;

KYC/CDD checks;

property investment and repayments;

financial transactions;

portfolio creation and management;

analytics and reporting;

client support;

customer referral systems.
Based on our experience in automating online fundraising businesses, we developed a white-label solution for you to start up an online fundraising business with little efforts.
LenderKit is an on-demand customisable white-label crowdfunding software that offers you:
5 ready-made design themes;

handy personal dashboards;

powerful back-office to manage registrants and visitors;

reports and statistics export;

automated flows and identity checks;

built-in

secondary market

;

third-party integrations.      
To see what LednderKit is capable of, check Camly, a Vietnamese real estate investment project targeted at both the Vietnamese and the US market.
We've got another property project built with LenderKit — Luxury Shares. The platform is a first of its kind website for fractional ownership investment opportunities.
The client reached out to us with a requirement to build a design generating tropical/luxury vibes and powerful functionality, including investment flows, secure payments, due diligence checks, and VR tours.
To achieve the goal, we deployed our in-house white-label solution for website back-end and WordPress for the front-end. LenderKit is a good match for projects like Luxury Shares since it's compatible with other third-party tools, in particular real estate marketing automation software.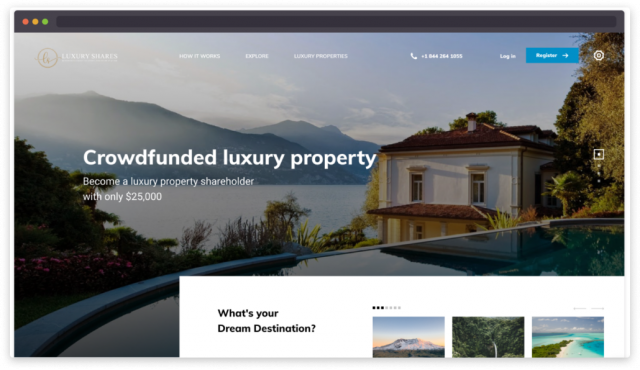 Bottom line
Although the property business has AI and lots of automation, it's unlikely to be fully delegated to smart software and virtual assistants.
Every property-related affair is very complicated and includes the emotional aspect. Remember your experience with renting, selling or buying assets. If there wasn't a human-human interaction, what the outcome you might have got?
So, we believe it's great that in 2020 realtors and agencies can get rid of daunting routines like listings management, reports, home evaluation appraisal, team management and concentrate more on personal relations with clients and staff.