What's the most challenging part of product management, in your opinion? Is it working with stakeholders, managing a team, planning a strategic roadmap?
According to ProductPlan 2019 report, 32% of product managers (PDMs) admit that their most complex task is to create a realistic action plan that leads to achieving a strategic goal. 
Setting short-term & long-term objectives and planning initiatives are key to any website/app development process. They're as important to the overall product success as the market analysis or creating a USP.
Unfortunately, not all managers understand the original mission of roadmaps and confuse them with static presentations of product evolution.
As a result, development machines get stuck on the off-road instead of going smoothly along the predefined path.     
Here we're sharing basic information on how digital product roadmap works and tips on how to build action plans for different audiences. 
What is a roadmap for a digital product?
In tech terms, it's a digital presentation of the product growth that consists of steps (milestones) needed to reach the primary aim. In a broader sense, it's a communication method used by managers for keeping the team and stakeholders involved in the product development aware of the changes in strategy and tactics.
Note, that strategy planning precedes road-mapping that breaks the product vision down into core initiatives. 
Roadmaps are universal instruments helping companies and individuals manage various processes – setting and altering strategies, creating marketing campaigns, implementing innovations, allocating human resources. These visual documents accompany each stage of the product lifecycle – from the introduction to decline. 
It's critical to distinguish release plans from feature backlogs. A feature backlog is a set of the desired functionality prospects are awaiting from your solution. When creating roadmaps you schedule features that come with your MVP and later – with each product update.     
Speaking about product development, there are several types of blueprints for actions you can apply to your processes.
Plans for a single product and a portfolio. If the company is developing several solutions and each is coordinated by an independent PDM, it may become challenging for stakeholders to track the changes in each direction.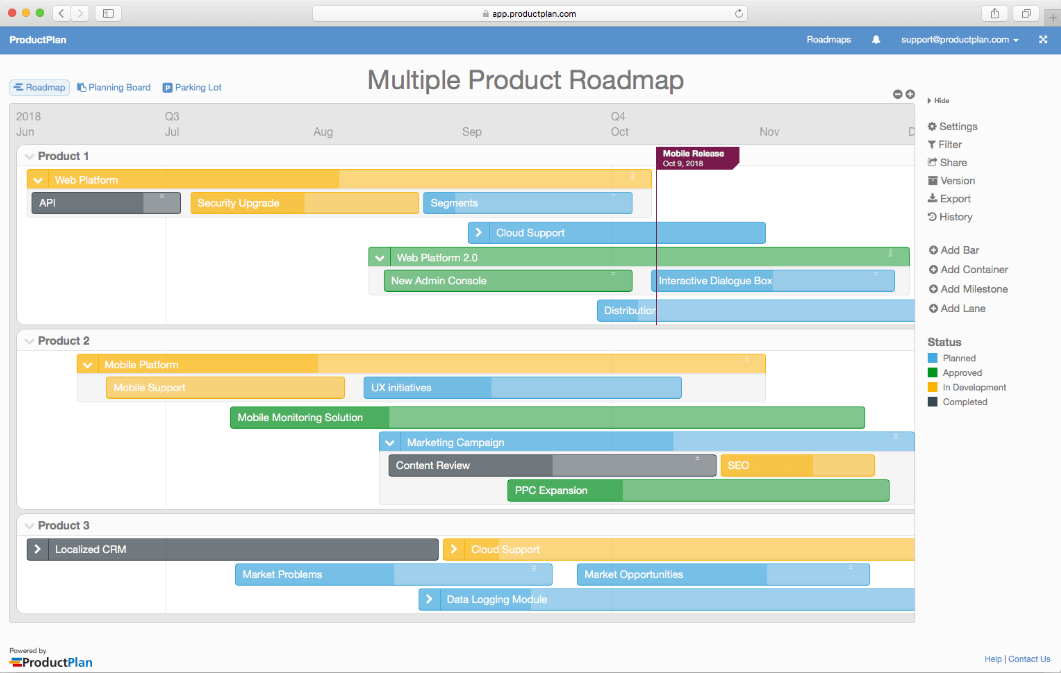 To an end, you can create an overarching plan of actions that is to present the development paths for outcomes grouped under a certain category.
The criteria for clusterisation may be the following:
enhanced performance;

market expansion;

mobile experience;

user satisfaction. 
Since roadmaps are designed for different audiences and serve different purposes, it's a good idea to diversify your plans.
for the dev team

— your blueprint should contain milestones, tasks with status, and timeframes;

for stakeholders

— there should be a release schedule and executions;

for customers

(if you intend to present them with your strategy plan) — all you need is to showcase the product vision and direction you're heading in.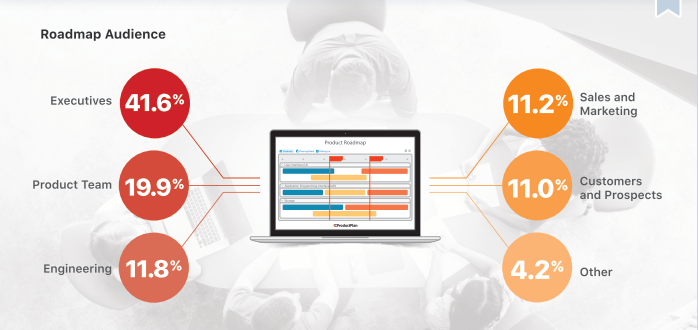 Besides, blueprints differ in the presentation approach — Timeline or Kanban view. Kanban view gives a full picture of task progression and completion. It's oftentimes used for managing sprints and feature releases. 
Timeline presentations showcase the entire product's development with assignees, tasks, and deadlines, which provides the management and the team with a global product concept.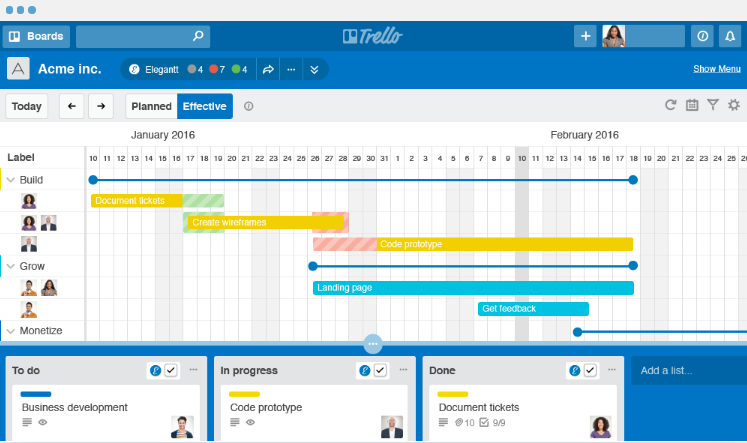 There's another thing to keep in mind. Product plans and product development presentations differ by nature and timescale.
While the former is set for longer periods and reflect the ultimate goal of your website or app, the latter defines major steps and events between product versions releases.       
Core roadmap features
What sets an effective roadmap apart from the rest of the templates? A few important attributes. Check the must-haves in a digital product roadmap you can't (and shouldn't) avoid.
Themes (goals). For instance, you're building a mobile application for food delivery. Then, your theme might be "Users sign up to the platform fast and easy. It's vital to make your message plain and comprehensible so that everyone understands it. To make your goal more meaningful, you can add some data proving your idea.
Goals can be achieved through epics describing functionality or user stories that are necessary to implement. Let's take the above-mentioned example. To let users complete the sign-up faster and easier, you can add epics like "Use emails instead of user names, "Sign-up via external accounts, etc.
The next level-down is stories, development tasks that are performed under a certain epic. The registration procedure via Google and Facebook requires changes in design, front-end and back-end flows.  
All these items explain a planned list of must- and nice-to-have features laid out in product evolution.
Apart from these attributes, visual presentations come with a timeline, swimlanes, and statuses.
Timelines help you schedule product releases and set deadlines for assigned tasks. With swimlanes, you can group items by certain criteria, be it themes, epics or stories. Colour statuses are great when it comes to communicating your tactic and strategy and monitoring the product advancing.  
Does any product company need an action plan?
The answer is definitely 'yes'. Roadmaps are super beneficial to any product development team and here's why:
by using them, PDMs are able to adjust product strategies to constantly changing business environment;


ProductPlan Report — roadmap update frequency

metrics embedded in blueprints enhances the planning and prioritisation processes;

work programmes allow executives to keep CEO, CTO, owners, engineers and the target audience posted on how the product is evolving;

well-thought-out tactical actions determine the success of the strategy implementation;

road-mapping is a collaborative process bringing together different departments and experts;

special software for making blueprints increases the efficiency of PDMs' performance;


ProductPlan Report — roadmap tools

with detailed plans, it's easier to avoid chaos in managing several products simultaneously;

blueprints help companies be effective in terms of time and human resources allocated for product growth;

every party keeps abreast with the ongoing situation and future initiatives.   
And now let's have a quick look at some factual info describing trends in preparation and prioritisation works.
big companies tend to develop plans for longer periods than small businesses;

69%

of roadmaps are updated on a monthly or weekly basis;

33%

of PDMs rely on special software when it comes to road-mapping;

26%

of executives admit that ranging and scheduling initiatives is one of the most challenging tasks;

58%

of managers report that they build different action plans for different audiences;

41%

of blueprints are aimed at top managers and dev teams.  
Steps to craft a digital product roadmap from ground zero
1. Do your homework
Start with the market and competitive analysis. Identify your target audience and their pain points. The functionality of your solution should solve the problems of your clientele. Without a clear understanding of your solution's mission and ultimate goal, you won't be able to craft a feasible strategy. 
2. Prioritise features and attributes
Think about the functionality your product can and may have. Group attributes by their complexity and importance. Then define the scope of features for every product release, schedule versions and updates, and don't forget to set real dates.
3. Season your plan with the right metrics
To sound more persuasive, your document should present some real data. It's essential not to include all the stat related to your product as some numbers may lead the audience in the wrong direction. Here are some examples of data you may find relevant to include in your product plan. Long story short, all the metrics can be divided into a customer- and business-oriented indicators.
4. Your blueprint is ready for sharing
Product plans aren't to be stored on the Google Drive; they should go live. There are plenty of ready-made templates for building blueprints with an option to add collaborators. Unlike Excel spreadsheets or .ppt files, online roadmaps are accessible to any party.   
Creating a digital product roadmap doesn't end after the meeting with interested parties. You, as a product director, should be ready to spend a great deal of the time on updating your blueprint and keeping the audience informed. 
Building a product roadmap: how we do it
At JustCoded, we help startups and mature businesses engineer web and mobile applications from scratch and accelerate existing development processes.
To deliver bespoke solutions on time and within a predefined budget, we follow an established development pattern.
We begin with developing a digital product strategy and roadmap that help us decide on the right solution to meet your product goals. When there is a detailed plan on our hands, we're ready to present release schedule, ballpark estimate and resources needed for a project realisation.    
Teamwork is our helper in the digital product roadmap process.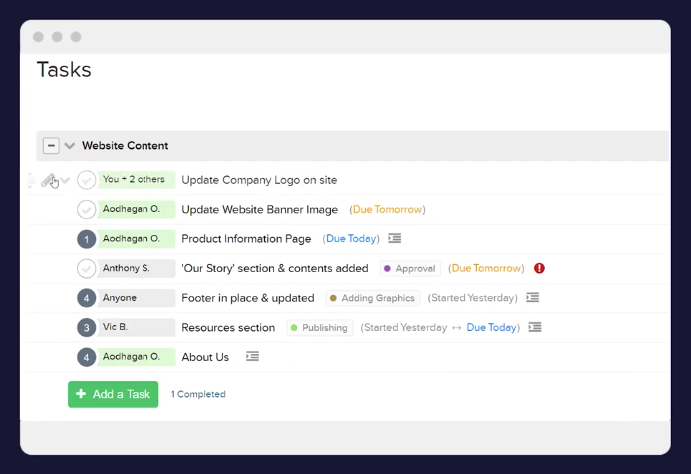 Teamwork has many tools to simplify the daily routine of development units and coordinators: handy environment to enhance planning, collaboration, product delivery and results reporting.
It comes with a combo of great features — BoardView, Gantt Chart, Calendar, Messages, Dashboard and others.
With the Board view, managers can track the task progress and put the workflow on the autopilot. Gantt charts allow you to observe the timeline, set milestones, and assign tasks. 
Ready-made templates are useful if you want to save time on creating similar task lists.
In the collaboration module, you can find parameters and permissions for different user roles. The message function is another great feature letting collaborators leave comments and communicate with each other.
Teamwork is free for small squads who are just starting their development journey.  For larger clients, they have Pro ($9/ mo) and Premium ($15/ mo) plans.
A few thoughts before you go
In the past, battles were won by the armies with effective strategies where each action was fixed on paper. A roadmap is your scenario in the battle for potential customers and product success.
Only those PDMs (Generals) who invest enough time into creating product growth paths and update them on a regular basis may be confident that the team and development are on the right track.
Excel files and presentations have plenty of drawbacks when it comes to road-mapping, that's why we recommend that you try dedicated software that will unite your army around the product concept.
Have a thought on how to create powerful product plans? Drop a comment below and don't forget to subscribe to our blog not to miss a post.